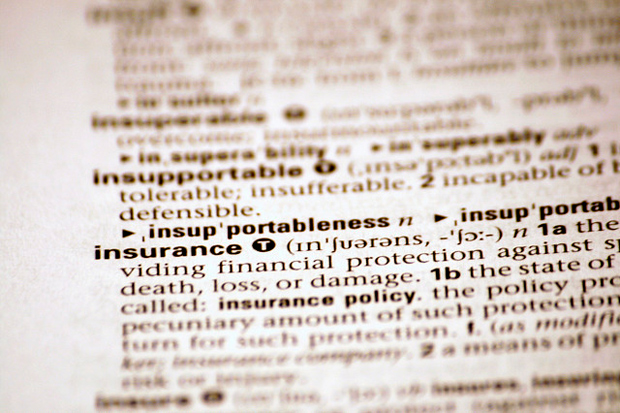 [share_sc]
Note: This is a post from Joan Concilio, Man Vs. Debt community manager. Read more about Joan.
Nobody wants to talk about insurance.
For real. Me included – and my dad was an insurance agent for much of my life.
But when I finally manned up (or, uh, womanned up?) last year as part of our You Vs. Debt course and really paid attention, I realized I'd been paying WAY too much for our car and homeowner's insurance for years.
How did I let this happen?
It didn't start out too badly.
When I started driving in 1999, I shopped around with my mom for a good auto-insurance policy that would cover us both. It was just the two of us – and the deal was that I'd pay insurance and gas, since Mom had paid the $1500 for the '89 Nissan Sentra that I was rocking.
At the time, we got a competitive rate. Later, when I bought my own house, my mom moved in with my daughter and I, and since I was no longer a minor, some companies would not cover having us both on the same policy, though we lived together, which limited our options.
We ended up staying with the same company for 12 years for our car insurance.
Meanwhile, our homeowner's insurance had been with my father's company for most of my childhood. After my father passed away, a friend of his assumed the management of the policy, and we continued to do well on our rates. But that gentleman later retired, and still we stayed with the same agency, being passed from agent to agent.
When I bought my first house, time was of the essence. I asked the same agency to get me quotes from a handful of the companies they worked with, and chose the lowest-priced one.
Later, when my husband and I bought the house we now live in, again, time was an issue, and again, we simply took the path of least resistance, getting what seemed like a decent quote from the same company. We'd been using the same agency (though different insurers) for homeowner's insurance, as a family, for more than 30 years.
We never intended to waste money. We simply applied a "set it and forget it" mindset to our car and homeowner's insurance purchases, and our lack of attention cost us.
Why I finally pulled back the curtain – and what I found
Last year, as part of the You Vs. Debt course, Baker asked us to do an "insurance audit." We were supposed to become informed on our health, life, auto, and homeowner's or renter's insurance.
That meant calling up various agents, human-resources folks and national customer-service lines. It meant digging out long-ago-filed coverage paperwork. It meant paying attention to the "why" behind this money we were paying out each month.
In our case, the areas we chose to focus on were our auto and homeowner's coverages.
When we sat down to evaluate, we found the following:
We were paying about $1,300 a year for car insurance. That covered two paid-off cars – ours, and my mother's – and three adult drivers with clean driving records.
We were paying about $750 a year for homeowner's insurance. This was a middle-of-the-road policy; some money put in for replacement of some items of particular value, but standard otherwise. However, it covered our house at a value it hadn't had for more than four years, thanks to changes in the local economy.
In our case, the LEVEL of coverage was good on both, once we finally figured out what that level was. The biggest problem was price.
We'd never spent much time shopping around, figuring it was "only" $100 a month or whatever. But when you see you're putting out $2,150 for something annually, it suddenly seems worthwhile to comparison-shop.
How I saved $700 a year
This time, we did it the "right" way. We took a few minutes here and there and requested quotes from as many insurers – and brokers – as possible.
Surprisingly, it only took about a half-hour of work to get a REALLY good quote.
This new package bundled together the auto and homeowner's and took advantage of several discounts.
Our new car insurance would be $854 a year for more coverage, a lower deductible AND with the addition of one accident claim that added a $105 annual surchage.
TOTAL CAR INSURANCE SAVINGS: About $450.
Our new homeowner's insurance would be $483 a year. This reflected more accurate coverage based on changes in our property and home value.
TOTAL HOMEOWNER'S INSURANCE SAVINGS: About $250.
For a half-hour of work, I saved almost exactly $700 a year.
We cut our insurance spending by a full third of what we were paying.
In a half-hour.
I was kicking myself for not doing this YEARS ago.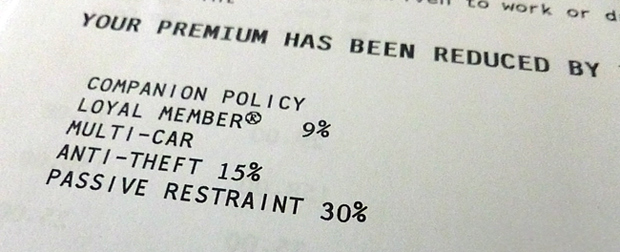 What you can do today to get the best insurance deal
I couldn't believe how much money I was leaving on the table each month.
For instance, simply because both our cars have a passive restraint system – aka airbags – we save 30% on our car insurance. That is our actual "reduction list" above.
I'd never mentioned the to our previous insurer – and they'd never asked.
Similar savings came on our homeowner's policy.
Certain renovations earned a 12% savings; a membership discount (AAA) took off another 10%.
Insurance CAN be complicated – but you CAN figure it out. Here are my suggestions on how to get started today.
1. Be willing to change.
This was the #1 obstacle in our way – we'd been with the same companies, carrying essentially the same coverage, for so long that we became afraid to shake things up. In fact, I mistakenly believed I couldn't switch my coverage before the policy expiration date – which wasn't true, but which tied me down!
Mindset is fundamental to ANY financial change. If you're willing to change, you gain flexibility, and you can often leverage that flexibility into serious savings!
2. Really understand your coverage now – and your needs.
This is exactly what Baker challenged us to do in You Vs. Debt. We had to get on the phone and figure out what we currently had – and learn what that would and wouldn't get us.
You DO NOT want to be Joan in 2008, who only learned that her (fully finished) basement wasn't covered for water damage unless the water came in through the ceiling, since it was below ground level. I learned that when I had water 2 inches deep coming through the walls and floor. I should have known that – and changed my coverage – but I didn't until it was too late.
3. Arm yourself with plenty of quotes.
I don't care if you use ANY of them. Even if you stay with your current insurer, you'll become a ton more knowledgeable by getting – and really reading – quotes from a variety of sources.
Some are valuable simply because they outline what various coverages cost in a clear way – which can help you make sense of your current policy, too!
4. Ask about all possible discounts.
In our case, our biggest savings simply came from bundling two types of coverage together. We also did well by leveraging anything from our AAA membership to home and vehicle safety features to our personal history of being free of most kinds of insurance claims.
A great insurer or agent will tell you about these – but even a good agent may not. Make it a point to ask.
5. Stay actively informed about your insurance.
Earlier, I mentioned I was mistaken about when I could switch carriers – a piece of misinformation that cost me big-time! The sad part is, I had documentation to the contrary in my possession – that I'd never read.
Once you get informed about your current coverage, stay on top of that knowledge. Read the disclosures you get with your policy documents each year.
In fact, I even recommend you call your insurer annually. Simply ask politely whether there have been any changes you should know about, and whether there are any new types of savings you might qualify for.
And if something has changed for YOU, let the insurer know as well! Staying connected will not only keep your premiums reasonable – it will keep your coverage level accurate.
Before my insurance audit, I was still carrying homeowner's replacement-cost coverage on a significant amount of jewelry I'd sold – UGH! On the other hand, if you start a collection of first-edition books and DON'T change your coverage, you might find yourself out a considerable amount if any damage occurs!
[share_sc]
So where do you stand with your insurance?

Are you carrying the right amount – and paying a fair rate for what you carry? Are you informed on your coverage – and taking advantage any applicable discounts?
What one step will you take TODAY on this important issue?
We'd love to know!