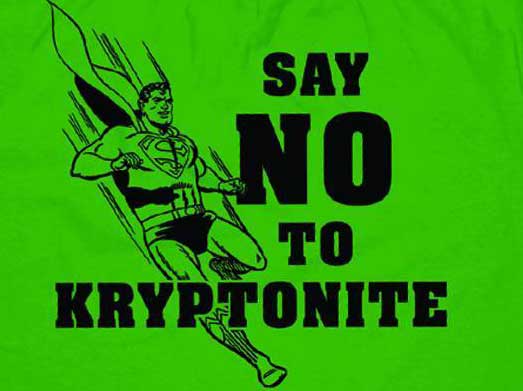 [share_sc]
Note: This is a post from Joan Concilio, Man Vs. Debt community manager. Read more about Joan here.
In our Fall 2011 You Vs. Debt class, one of our members, Jay, created an awesome forum topic titled "What's Your Kryptonite?"
In it, we started talking about those places and things that just seem to kill us financially. Jay's lead-off example was:
"Confession time – my weaknesses are books and coffee – so Amazon.com loves me and as a Prime member I have likely bought them a Distribution Center by now (No joke, ask my wife!) and Starbucks likes me a whole lot. (And it doesn't help I have one 1/2 block away.)"
What were some of the other "Kryptonite" issues? Names removed to protect the less-than-innocent… 😉
"Books & coffee are biggies. But also technology & travel. I'm a sucker for them!"
"Coffee, wine/beer, eating out, my dog … Books/DVDs/CDs used to be my number one but then I renewed my library card. Now I read/watch/listen for free as much as I can carry. It's the best!!" (Awesome idea, Sunday!)
"No lie, at one point I actually bought 1 share of stock in Starbucks because they get sooo much of my money, I wanted some back!"
"Eating out instead of cooking at home."
"Gadgets. Geek gear. I had to drop a lot of the 'DailyDeal' mailings I received and the few I still get are with the arrangement my wife approves any purchases first."
"My kids are my kryptonite … well, spending on them is … I have a hard time saying 'no' to their requests for beautiful clothes, shoes, etc. They attend private school and wear uniforms so they don't have many 'play' clothes. They are in the stage where the 'name brand' matters and I succumb to the madness."
"Electronics of all types but my favorite are Apple products and music related items."
Books were definitely the most frequently-mentioned issue. One member, K, said: "Oh God, amazon.com. I'm an English teacher and I have a Kindle. I actually had to take my credit card off my account. Now when I want to buy something, I have to go find my credit card and type in all the freakin' numbers." (Another good strategy!)
Coffee and eating out rounded out the top three. Others included self-improvement materials; little purchases, like books, coffee, or lunch out; and sports and hobbies (beach volleyball, scrapbooking, martial arts and knitting, to name a few).
Our Personal Kryptonite
For my family, the Kryptonite issues are pretty straightforward. I cannot go into Target for "one thing" – especially if I'm with someone who likes to shop, like my mom or my daughter.
But worst of all, I've probably actually participated in job creation by the level at which I patronize Rutter's, our town's local convenience-store chain. It's SO easy to head there for a Diet Pepsi … a hot dog … a pretzel .. a bag of chips … especially when I've got to be somewhere in a rush and didn't take time to eat.
It's within walking distance to both our home and my husband's office, so even when one of us has the car (because, remember, we share one vehicle), the other of us can get our not-too-healthy-and-there-goes-five-bucks fix. We do pretty well cutting it down to an "allowance" amount for a while, but it always seems to creep back up again.
At the same time, all that crappy food makes the number of the scale creep up, too. (And I'm not the only one – the idea of "Fitness and Health Kryptonite" was actually the subject of this 2010 post by Steve Kamb over at Nerd Fitness!)
So I've got a habit that's bad for me fiscally and personally. I need to break that habit. It all comes down to willpower, right?
That's where it really gets complicated.
What Willpower Is… and Isn't
Willpower is a funny concept. I'm a smart person. YOU are a smart person. And in an awful lot of ways, I consider myself a strong person. You probably feel the same. So if we say we're going to stop doing something… shouldn't that work?
Well, in my experience, yes and no. What my "financial Kryptonite" really is, is a situation in which my current willpower alone isn't doing it for me. My habits are so ingrained that willpower barely comes into play.
In the case of Target, I can get through it on willpower. I can tell myself, "Don't go to Target," or, if I'm there, I can tell myself, "Don't spend money." It's a rare enough occurrence, and one I'm conscious of, so willpower works.
But with the convenience store, I'm not consciously telling myself, "Don't buy a hot dog." "Don't buy a hot dog." "Don't buy a hot dog." … and then failing. That's, to me, what a lack of willpower would look like.
But most of the time, I go to Rutter's, almost without thinking, when I drive by. And when I go in, almost without thinking, I order a hot dog.
And that "requires" a soda. And probably some chips.
Five bucks gone, maybe a pound gained, and honestly, I never even consciously thought about it enough for "willpower" to kick in.
The Power of Habits
So I have two choices. I can work on engaging my willpower, and start consciously telling myself "I won't buy a hot dog" or even "I won't go to Rutter's." I can use that to try to break the habit.
Or I can take it a step farther. I can create a different habit.
On this topic, I'm very much in the camp of Leo Babauta in this zenhabits post. Basically, if you've got a deeply ingrained habit and you try to just STOP doing that, you'll have a vacuum. And that vacuum will strive to fill itself again… and then you're back to square one.
So with our convenience-store habit, I've looked at the roots of it. We use it as our refrigerator. When there isn't something in the house that's readily available for Chris to take to work for his lunch, or when I'm running errands and didn't take time to eat first, it's a convenient option. And we like that food. We probably shouldn't, but we do.
I would bet that if you look at some of the habits that tend to be bad for either your finances or your health, you'd find a similar motivation. It's convenient. It's quick. It's easy. I like it.
Chris and I have been talking lately about how to change this. Our first step is to start including a time in our week to prepare lunches, which seem to be the biggest challenge. (We already plan each day's dinner before grocery-shopping every two weeks.)
We're also going to be conscious about adding some "easy-to-grab" foods to our grocery list for the next trip. Our shopping focuses on meal-preparation items, which is great, but we're kidding ourselves if we don't buy any "convenience foods" for times we're in a hurry.
Our hope is to make our daily "habit" to open the fridge and grab something, either for Chris to take to work or for me to eat at home for lunch.
Habits + Willpower = Our Kryptonite Antidote
Putting it all together, our plan is to work on both the unconscious – our ingrained habits – as well as the conscious – our willpower.
We'll build new habits so that we're not unconsciously stopping at Rutter's each day. But we won't eliminate it entirely – because that's probably not a practical long-term choice for us.
And when we are choosing to go there consciously, we'll use willpower. What are we there for? If it's to get gas, we'll pay at the pump and avoid going inside. If we're choosing to buy lunch, we'll consider some healthier and more filling choices than our usual staples.
When we put this together, that's our "Kryptonite Antidote."
[share_sc]
So, to quote Jay's question in our You Vs. Debt topic…
What are your main spending (or other!) weaknesses? And what's your strategy for breaking the habit?
Is it willpower… or something more?