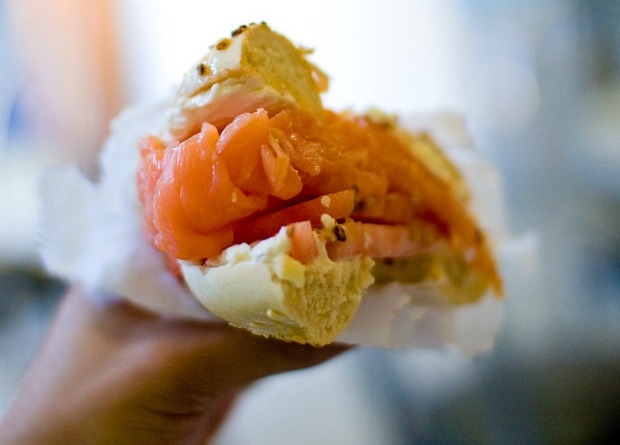 [share_sc]
Note: This is a guest post from Jen Gresham. A Ph.D. scientist turned writer and entrepreneur, Jen inspires people to find the clarity and courage they need to design a fulfilling career at her blog Everyday Bright. She is also the founder of the No Regrets Career Academy and The Bright Entrepreneur's Club. Read more about Jen here.
I told myself I couldn't afford to quit.
On the outside, everything looked normal. I was engaged in my work, did it dutifully, and casually chatted with co-workers in the hallways.
But on the inside, things weren't right at all. My muscles tensed as soon as I walked in the office. I felt drained before I'd even sat down at my desk.
When my request for a transfer to another division was denied, I became depressed. I'd cry into my husband's chest at night, saying "I can't keep doing this."
It took two miscarriages in the space of 12 months before I got serious about calculating the cost of change.
What's your unhappiness costing you?
My normal coping strategy for stress is to eat.
But when my job stress became a daily shadow, food wasn't just an escape, it was my lifeline. It not only got me out of the office, but the pleasure that came with a cup of tea or a toasted bagel smeared with cream cheese was a boost I felt I needed and deserved.
But it's amazing how quickly these "pick-me-ups" can add up. Take a look at my eating expenses:
Bagel and tea at local cafe: $4
Mid-morning snack: $1
Lunch (out): $10
Mid-afternoon snack: $1
That doesn't seem like a lot of money, does it?
But when you multiply it by the number of days worked (roughly 250 days a year), you get $4,000. Of course, you need to subtract the amount you'd pay for eating breakfast at home and packing lunches and snacks. Assuming you can do that for roughly $5/day, the cost of my stress was $2,750 a year.
That's a fair chunk of change.
But it's just the tip of the cupcake.
When I took a closer look at where my money was going, it became clear that a lot of my expenses were pick-me-ups in disguise. Most of them were small: clothes, a box of pretty notecards, a nice dinner out, some apps for my phone, new songs, another dinner out.
You see where I'm going with this? I spent about $2,000 a month on these kinds of expenses, hoping they could fill a hole inside me. (Spoiler alert: They can't.)
What holds many back is the fear that doing what they love will involve a pay cut, and emotionally, they just can't deal with it.
Notice I said "emotionally." The inability to take a pay cut often isn't logical or based on facts.
I'm not saying you should live in complete austerity. But when you add up all the "necessities" that come with an uncomfortable career, it's easy to get a wacky sense of your salary requirements without even realizing it.
Simply by pursuing work that didn't require all those pick-me-ups, I discovered I could easily save more than $20K a year. Your number may be more or less than that amount, but most of the clients I work with find they can save much more than they originally suspected.
Exercise 1: Study your bank and credit card statements over several months. Ask yourself, "Did I buy this because I needed it or because I felt I deserved it in exchange for the trials of my job?" Compute your annual unhappiness cost.
What's your happiness worth?
It cracks me up.
The diamond industry has convinced people that unless you spend the equivalent of one month's salary on your beloved's engagement ring, you're somehow selling the relationship short. And because the ring represents status as much as it does bliss, people go to great lengths to spend as much as possible on that small piece of jewelry.
Don't even get me started on the cost of the wedding itself.
Assuming someone spends 45 hours a week working and commuting, that means 40% or more of their waking hours are spent at work. Apart from their education, most never invest another dime in creating a career they love.
It's not that they're not willing.
Imagine yourself in a unique auction, one that offered the winner work that energized you instead of draining you, that inspired you to fully express your potential. You'd be proud to tell others what you did. You'd feel like you were making a positive impact in a way that mattered to you.
And imagine this work came with a 100% happiness guarantee for one year.
How much would you be willing to pay?
This isn't a theoretical exercise. See in your mind's eye the bidding, the flurry of hands, the rising tension in the room. Are you going to let this opportunity slip away?
Exercise 2: Jot down a figure you'd be willing to pay if you knew, for certain, you could buy a job that was deeply fulfilling for at least one year.
Budgeting for (and believing in) a better life
Believe it or not, the easy part is the budgeting.
First, combine the estimated yearly cost of your despair (your answer from Exercise 1) with the amount you'd be willing to pay for one year's worth of a fulfilling career (your answer from Exercise 2). Subtract that sum from your current income.
This number now represents your minimum annual salary.
A couple of things to keep in mind:
Until you know what career or job would actually provide that sense of fulfillment, this number is generally meaningless, other than to reassure you that you need to earn less than you think. Many of us can, in fact, afford a pay cut.
Remember, you don't have to keep your minimum annual salary forever. Presumably you'll progress faster and make more doing something you're fully engaged in and passionate about.
You may not be able to afford this minimum salary today. You may have student loans, credit card debts, or an underwater mortgage that require your immediate financial attention.
But don't use your finances as an excuse for staying in a soul-crushing career forever.
The biggest hurdle between you and your dream job isn't your bank account.
It's that you've stopped believing in yourself.
When you give the cynic inside you the microphone, everything's impossible. You gloss over your successes and focus on your failures. You tell yourself they call it work for a reason, then convince yourself your dreams are out of reach.
The voice in your head convinces you that you deserve a donut or a new pair of shoes, but not meaningful work. That's for someone else. Someone better.
The Dalai Lama said:
It is very wrong for people to feel deeply sad when they lose some money, yet when they waste the precious moments of their lives, they do not have the slightest feeling of repentance.
That's not a call to be reckless. Absolutely take the time to make your budget. Design a plan to get you there.
But whatever you do, don't tell yourself it's OK to waste one more minute of your precious life.
*****
[share_sc]
You deserve more than just a paycheck. You deserve a better life.
Now go get it.