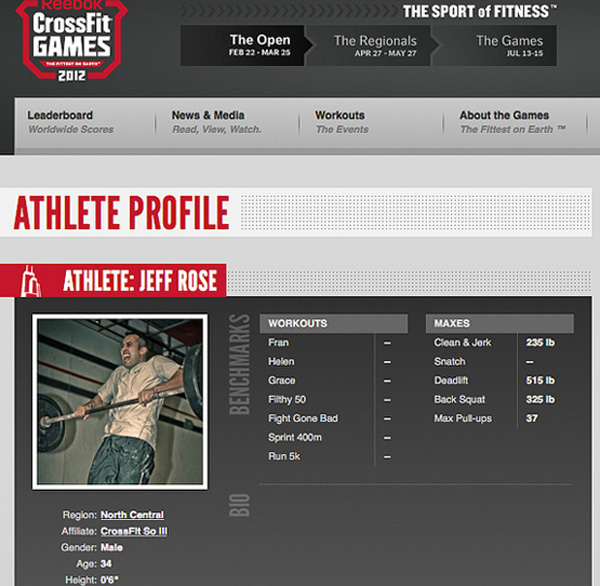 [share_sc]

This is a guest post from Jeff Rose. Jeff's a Certified Financial Planner and the CEO and founder of Alliance Wealth Management, LLC; he blogs at Good Financial Cents and is working on his first book, Soldier of Finance.
Most people that know me think of me as being physically fit. Part of that is probably due to my military background, and I think the other reason people think of me as being physically fit is because they know I do a crazy workout program called CrossFit.
I've dead-lifted 515 pounds and I can back squat 335 pounds. I once did a workout nicknamed "Murph" that consisted of running a mile, completing 100 pull-ups, 200 push-ups, and 300 body-weight squats. In case that wasn't enough, I followed up that workout with running another mile after that!
One of my friends often jokes and refers to me as "super fit." A few years ago, we competed in the nine mile Urbanathlon race of Chicago, although prior to that I had never ran more than five miles in my life and only one time – the week prior to the race.
So while most people think of me as being physically fit, in the CrossFit community, I'm just about average. Actually, I just found out recently, that my fitness level compared to others within the CrossFit community is considered below average.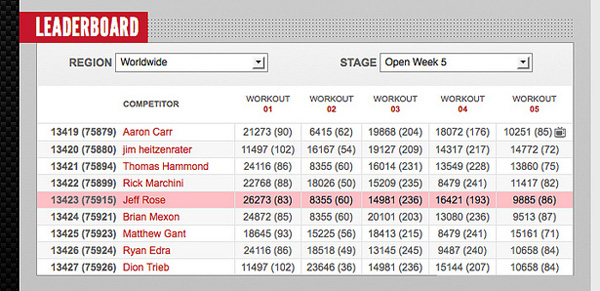 13,423 out of 25,000 male athletes
Each year, CrossFit has what they call their Open Sectionals, which allow CrossFitters from all over the country to compete in a five-week training program.
In this program, everyone does the same workout and we compete to see who can do it either the fastest or with the most weight.
You can go through the results online and see how you place, and if you try to find me in the top few places, you won't see my name.
Actually, if you get to page 250 of 2500 pages, you still won't see my name. Even though I've been an avid CrossFitter since 2005, there are so many other guys that literally kick my butt!
One of the toughest pills to swallow is when you complete a workout and you've given it everything that you've got. You give that workout a 110%, yet your score is only 50% of what the top guy did, sometimes less! Sometimes I get frustrated, but then I have to remind myself not to compare myself with others.
Comparing yourself to others can have some pretty horrible consequences, but not just in the CrossFit or fitness community.

Accept yourself, but make changes where it makes sense
As I said in the video above, a lot of people get caught up in comparing themselves to others when it comes to personal finance, too.
Have you heard of "keeping up with the Joneses"? This is a phrase that describes people who attempt to make their house as nice as the neighbors, or who try to buy all the same things that their friends and neighbors are buying. Don't get caught up comparing yourself to others when it comes to your home, clothes, cars, the latest gadgets, and the latest iPad 3 that they just bought.
You have to make financial decisions based on your own situation, and not as a result of comparing yourself to others.
Just like in the CrossFit open workout, I'm silly to think that I should be close to the top spot. The athletes that are consistently placing in the top spots are training for that – day in and day out. They spend hours upon hours each and every day perfecting their skill, perfecting their craft, and that has put them at the top.
If you have a friend who has job or career that pays them well and allows them to have some of the finer things in life, you cannot get discouraged if your income doesn't really allow for it.
You have to find a way to be fully content with what you have, at least for the time being.
If you have dreams and aspirations of owning a bigger house or driving something nicer, then invest in the time and invest in yourself first, so that you have the income to support those dreams.
Go back to school and get a different degree or a higher degree. Invest in some type of education program that gives you more knowledge and increases your likelihood to get a raise, or to find a job that will pay you more.
Or, find a side hustle that allows you to work on the side doing something that you love so that you can afford some of the things that you want. Don't compromise your immediate situation by buying stuff on credit cards now, in an effort to keep up with the Joneses.
I think it's always important to have a mentor in your life that can give you guidance, but the one thing that has always been helpful for me, especially for the mentors that are much more successful than me, is to realize that it took time, sweat, tears, and blood for these people to get where they are.
They didn't win the mega-millions and become rich overnight. It took time and effort.
Instead of comparing yourself to others – start by looking at what you want to accomplish, and then find a mentor who can help you reach your own goals – regardless of what everyone else is doing.
*****
Baker's Note:  Jeff's an amazing guy to know.  If you loved his post, be sure to check out his personal finance blog at Good Financial Cents. 
*****
[share_sc]
So is there an area of your life where you're busy comparing yourself to someone else, either financially or otherwise?
Are you using that comparison to motivate you, or is it weighing you down?
Let us know!