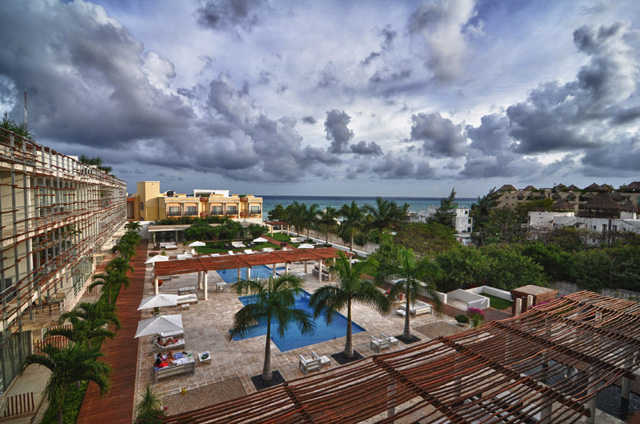 [share_sc]
Baker's Note: This is a guest post from Sean Ogle of Location 180. In his brand new project, Hacking the High Life, Sean teaches every day people how to have experiences most *assume* are reserved only for millionaires. 
The first time I met Baker, we were on the tropical island of Koh Phi Phi, Thailand.
We started our blogs around the same time, and I never in a million years expected our first meetup to be in a place as exotic as Thailand.
After all, only rich people get to travel to places like that, right?
After I graduated from Oregon State University with a degree in finance in June of 2007, I had two goals for my life: I wanted to own my own business and travel the world.
I got lucky and stumbled into a job as a financial analyst six months before graduation. Two years later, we were in the worst financial crisis of our generation, I'd received a 20% pay cut, and I was as far away as ever from both of my goals.
I wasn't happy.
I'd always had dreams of living this lavish lifestyle, with fancy trips full of high-end hotels and restaurants. I could have gotten there in my old job. It'd take about 20 years, and once I had the money for it, I wouldn't have the free time to be able to enjoy it.
There had to be a better way.
Despite numerous warnings from friends about giving up my stable job in a terrible economy, I quit my job, moved to Thailand, and set off to live that lifestyle on my own terms.
Two years later I've created a lifestyle business that gives me the freedom to do what I want, when I want, work on projects I love, and also live the lavish lifestyle I'd dreamed of.
Well, kind of.
No, I'm not rockin' a Ferrari. I don't own a 90″ LED TV. I'm not poppin' bottles or making it rain on anyone, but I've had more high-end, "millionaire" experiences in the last two years than (almost) anyone else I know.
The bottom line? It's not the money most people want – it's the experiences.
They want to tell their friends all about how they scored a sweet ski trip to Vail, or snagged a penthouse condo in Playa for a fraction of its retail value. People want stories.
While you might not be living in a big house, or driving a fancy car, if you put a little effort forth, you can live out lavish, high-end experiences for little or no money.
Here's how.
Seven Ways to Live Like a Millionaire (Without Going into Debt)
1. Take Advantage of Geo-Arbitrage. Have you been saving up to take your annual trip to Hawaii or someplace similar? Consider heading farther across the pacific and go some place like the Thai Islands or Bali.
You can blow thousands of dollars wherever you go. However, basic living expenses are way less in Asia than in the West. Your flight might be a few hundred bucks more, but for the price of a basic room in Hawaii, you can get a lavish suite in Asia. Food? Incredible meals for two or three bucks.
And after all, who goes to Bali? It's exotic and only for rich people, right? Wrong. No matter what your budget, you can afford it. Have the flexibility to go longer-term? It has the potential to be even less expensive.
2. Start a Micro-Business. If money wasn't an issue and you could do anything you want in your free time, what would you do? OK, take that idea, and turn it into a business. Whatever it is, there's a way to do it.
Personally, I love photography. So a friend of mine and I started a site dedicated to HDR Photography. This site makes us more a month than most casual photographers will ever make off their hobby. We get all the free software we want because we've established our expertise in the area. We can take this business anywhere. We're able to write off our photography equipment.
If I had a million bucks, I'd travel to cool locations and take cool photos. Now, I get paid to do this. Think about how you can translate your interests into a small business; you might be surprised with what you can achieve.
These next few strategies have taken some fine-tuning, but when executed properly can lead to some of the coolest experiences of your life.
3. Help Someone Else. Let's say you want to get a free room at a 5-star hotel or free meal at a two-Michelin-star restaurant. Right now, you'd probably say in order to do that, we better whip out the Amex and worry about it later.
Au contraire.
What can you do to help out that establishment? Do you have a personal blog? A relationship with a travel site? Some SEO or copywriting skills? What unique to you asset do you have to help spread the word about their brand?

Leverage that and put together a plan to help them out. At this point you don't need to ask for anything in return. Simply present your idea for publicity or otherwise and start a conversation.
That's step #1, start a conversation and do everything you can to provide actual value to their cause.
I've done everything from writing posts on my blog in exchange for free hotel rooms, to exchanging web services for free golf at world-class resorts.
Baker wanted to take an RV tour. Adaptu needed to legitimize its brand and build a following. It was the perfect example of a win/win scenario that allowed him and his family to have an incredible experience.
Think outside the box, and figure out what the other party wants most, then devise a solution.
4. Build Rapport. People want to help people they like. Have you started talking to a PR or sales rep via email or on the phone to pitch your idea for helping them? Find common ground, ask their opinions, and give them the opportunity to impress you with their knowledge of their location or business.
The more rapport you build, the easier it is to move onto step #5.
5. Don't Be Afraid to Ask. How often do you ask for the things you want? I'm willing to guess not very often. Whether it's because you're too polite, don't want to seem greedy, or any number of other reasons that have been ingrained in you, it's time to change your mentality.
If you're helping an organization expand their brand, it's usually not too much to ask for something in return. After all, many organizations have huge budgets for these kind of things.
For instance, I wrote a post awhile back about how to get luxury for less in Vail – one of the most expensive ski towns in the world. After sending some emails back and forth with a PR rep for the company, I was treated to a free two-day pass to help me write my article – plus an extra food voucher.
I helped open up Vail to an audience who originally didn't think they could afford the town, and in return, I made it affordable for myself. What would have originally been over a $3,000 ski trip ended up being around $500 total.
Moral of the story? If you're doing everything you can to legitimately promote another company or business, don't be afraid to ask for something in return (often, they'll offer it up anyway).
After all, it doesn't cost them anything to toss me a couple lift passes.
6. Willingness to Do What Others Won't. This is a big one.
I've only been able to have these experiences because I took a risk. I sold my nice car, left my comfortable job, and took a risk in order to pursue something that made me happy.
There will always be excuses for why you can't do something. But once again, let's take a look at Baker and his family. Rather than make excuses, they conquered their debt, embraced family, and have lived a life many would kill for.
It won't be comfortable, it will be scary, but some of the coolest experiences this world has to offer are attainable if you're willing to take a small leap of faith.
7. Start Small. Many of these strategies take a lot of work, planning, and a bit of a passion for the process. However, you can get started on a smaller scale.
Let's say you have a passion for food. For me personally, when I first started my blog, I wasn't totally sure what to write about, but I loved doing happy hours in Portland. So once a week I wrote about a different one.
Email the general manager and give them an in-depth pitch about why you want to write about their establishment and promote them with a review. You might be surprised how often they're willing to help out.
If you do a Google search for any of the restaurants I wrote about and add "happy hour" to the query, I still rank on the first page for every single one. Who wouldn't want a glowing review on the first page of the search results – in addition to Yelp and TripAdvisor reviews?
This works even better in tourist destinations, as tourists are even more likely to do searches trying to find the best spots.
[share_sc]
Your Next Step…
Here's the deal. I'm not writing this post to say, "Hey, look at me, and all the cool stuff I've done." Rather, I want to illustrate that if you're willing to think outside the box, you can do some pretty cool stuff.
Don't wait until retirement to do this kind of stuff.
Start thinking of creative win/win situations where everyone benefits.
So, if you could do anything – right now – what would you do?
What creative solutions can you come up with to experience that now?
We want to know!