[share_sc]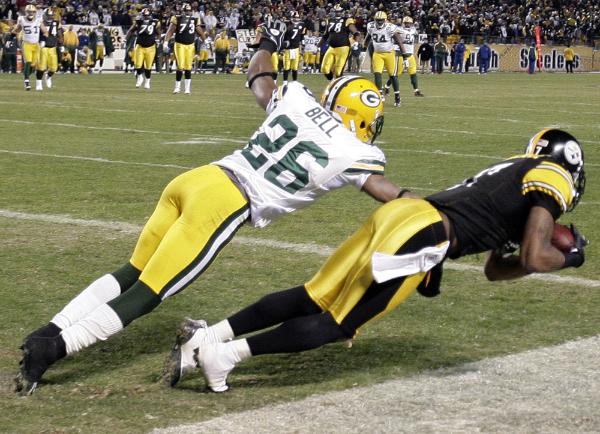 It's been a tough road, but the Green Bay Packers are the best in the world at what they do.
This past Sunday ended the year long journey to prove just that.
In order to win the Superbowl, the Packers had to:
Beat the Giants and Bears – both playoff caliber teams – in the final weeks of the season. A loss to either would have meant their season would end before the playoffs even began.
Travel with little rest into Philadelphia and defeat the red hot Eagles team.
Swing down to Atlanta to challenge the #1 seed, NFC favorite, and well-rested Falcons.
Return back to Chicago to play their cutthroat rivals in freezing weather on a sloppy field of grass and mud.
And finally, travel to Dallas – and amongst all the pomp and circumstance – defeat another tough opponent in the Pittsburgh Steelers.
And they did it. One by one.
If there was one thing that marked the Packers season more than any other… it was overcoming adversity.
Coming into the 2010 football season, most believed the Packers to be an above average team. There was a lot of hope, energy, and optimism about the possibility of a deep run into the playoffs.
But within the first few weeks, players started going down.
Ryan Grant, a hard-running back who helped diversify the offense, was knocked out of the season in the first game.  Ouch.
Then came Jermichael Finley, a nearly unguardable tight-end who specialized in attacking the middle of the field, where Green Bay's offense is most potent.  Out for the season.
Next up, Nick Barnett, the middle linebacker and leader (play caller) of the on-field defense. Again, gone for the season.
By the end of the season, 16 players were on injury reserve (out for season essentially) – 7 of those were starters.
Many others missed big chunks of games before coming back throughout the grueling schedule. Only the Indianapolis Colts had a worse series of consistent injury setbacks.
The only difference?  Indianapolis gave up. Anyone who watched the end of the season will tell you the same. They had lost all hope and it showed – big time.
Even in the Superbowl, when the heart and soul of the Packer team – veterans Charles Woodson and Donald Driver – were taken out of commission, the Packers just plowed forward.
The Packers got knocked down – time and time again. But they always got back up.
They got up… and up… and up… and up… and now they are champions.
Lesson #1:  The ability to adapt is far greater than having a Plan B.
At the beginning of the season, there's no way the coaches could have crafted a plan for losing so many of their weapons and leaders.
Rather than spending their time trying to predict the impossible, the Packers simply worked on adapting. For the last decade, the team has always built themselves deep. The staff and coaches have always striven to select, sign, and reward *value* over raw talent.
As such, they were able to fill in. They could mold to their surroundings.
They could bounce back when they got knocked down.
Sure most of us can handle a single setback. Maybe even a second or third, before collapsing.
But what about setbacks 8, 9, and 10?  What about 16?
In order to handle everything life can throw at us – in sports or life – we have to intentionally choose to be flexible and dynamic.
Flexibility is a choice.
That's why I'm so passionate about aggressively removing restrictions like debt and clutter. For years we've been taught to leverage debt as a tool and that buying a lot of crap would give us security and freedom.
As it turns out, it's just the opposite. We're slowly figuring that out (as are some NFL teams), and we're becoming more and more pissed!
You can't plan for next year. This isn't 1954…your company has no loyalty to you anymore. So stop trying to formulate a Plan B and start making Plan A worth living!
By paying off your debt and selling all the crap in your life you can opt-out. You can actively choose flexibility over a false sense of security.
The Packers have shown us that this investment can pay off big time.
Lesson #2:  Keep your eye on the prize. And make the prize not suck.
The Packers were able to bounce back – and march onward to win the Super Bowl – because every single player bought into the vision.
Every. Single. Player.
They set a clear, passionate, and emotional goal. The Super Bowl. It's not just an event – it's every football player's dream.
Almost all of the players, coaches, and managers live and breathe football – and have all their lives. You rarely get to the top of the game without a long track record of football obsession.
They've been dreaming of this since they were little boys. Acting out the final seconds of Super Bowl glory in backyards, side streets, and pee-wee fields across America.
They've devoted their lives for a chance… just a chance…to try and win a Super Bowl.
But they had to believe, deep down at the beginning of the year – This *is* possible. Not only that, they had to pledge themselves to a game plan, a work ethic, and a resolve to stick together when crap hit the fan.
On many sports teams you can't even get the starters to buy into a system or vision. Coaches fight with star players. Owners fight with coaches. Drama invites more drama and teams are split down the middle.
There is no prize but more money, more attention, and more ego.
That's never been the Packer way.
The Packers have their share of star players, but rarely is the light hugged or fought after. Their coach could care less about fame or credit. Every player on that team cared about one thing.
Winning the Super Bowl – as a team.
I can't tell you what your Super Bowl is.
But nobody loses weight, because it's "healthy". No one pays off their debt because it's "good to do". And no one chooses to reject rampant consumerism because some guy named Baker said they should.
They improve their lives because of the why.
The deeply emotional and insanely passionate WHY of their own lives.
What's that burning desire that makes you wake up in the middle of the night? What's the deepest vision you constantly dream for your family… your children… your future?
That's your Super Bowl.
And every member of your team has to buy into it. No exceptions.
I've heard very few success stories that started with "My wife wasn't on board at all, but despite her beliefs, I did it myself and now everyone is happy." This method almost always ends in some form of disaster.
You've got to have a vision that inspires and rallies every member of your team. If it doesn't… keep adjusting. Work on communicating, on going deeper with the vision, and on adapting 'til everyone starts to enlist.
It *is* possible. It just takes work, communication, and patience.
Lesson #3:  Surround yourself with the best support in the world.
The city of Green Bay has a population of 100,000 people.
Try finding another professional sports team in a market of 100,000 people. It's extremely rare. Larger markets equal more money, so almost any team based in a smaller community sells out to a larger location.
Not Green Bay.
The Packers are the only non-profit, community-owned franchise in American sports (according to Wikipedia). They are the only one left standing in a world full of money-and-power-hungry owners, managers, and players.
I recently read an article that stated a survey showed 73% of Green Bay residents identified themselves as Packers fans. Try finding that in any other city in the U.S.
Clay Matthews recently joked the only thing about living in Green Bay that was negative – was if you missed a tackle or a coverage on Sunday, you heard about it on Monday from the little 'ole lady in the produce section.
Packer season tickets have been sold out for decades upon decades. They are passed down from generation to generation and nearly impossible to get. Packer fans are proud and passionate, regardless of the season or year.
I've written about the power of surrounding yourself with like-minded people in depth.
More and more, I believe it to be one of the largest determining factors of success. You need not only mentors and peers who believe, you need to start helping and inspiring others.
When you fully immerse yourself in support and inspiration – on all levels – it's nearly impossible to fail.
When you're picking yourself up after a stumble, you've got to do the heavy lifting. But sometimes the easiest way to get back on your feet is to have someone there to help you get your balance.
Lesson #4: Make no excuses. Instead, do something.
Whining, finger pointing, trash talking, justifying… that's what losers do.
They are cheap tactics, in sports and in life.
Why do you think everyone hates the Jets?  (Sorry Gary, it's true)
Sure, talk a little. Dance like B.J. Raji when you score a touchdown. Show them who wears the championship belt. When you get a sack… flex and scream your heart out.
But then get back to work.
Don't take turns personally attacking other teams. Don't run your mouth because there are a view cameras and microphones around you.
When you do lose, don't blame teammates. Don't blame single plays, coaches, or unfair officiating.
Take responsibility. Improve. Do the work.
The Packers aren't perfect by any stretch, but as a whole – their coaches, staff, and star players are fantastic at this.
They are humble. They pass around the credit and take responsibility when they mess up. They ooze trust.
Frankly, it's refreshing in the professional sports world and one of the core reasons I'm proud to be a Packers fan.
*****
The economy is bad.
Times are tight.
Some foreigner took my job.
It's nearly impossible to get unemployment these days.
House prices are falling.
I got tricked into a bad mortgage.
Obama is running this country into the ground (just like Bush… and Clinton… and Bush before him…).
*****
Every single one of those may be true. But who gives a crap?
They don't mean anything.
You have a choice of what happens next. You *can* control your personal economy.
However bad your situation, there is help available – if you are willing to get past the dozens of excuses and justifications – and actually do something about it.
It may take months… it may take years… but it'll never happen without being honest about who is to blame for your situation not being where you want it to be.
Life favors those who stop justifying and start doing.
How to be a champion…
Throw away Plan B. Instead, invest in flexibility.
Ensure your prize at the end doesn't suck. You'll never care enough to finish.
Immerse yourself with passionate, like-minded people. You'll need them.
When in doubt, shut up and do something. Step up to the plate.
Life is going to knock you down.
How many times are your willing to get back up?
Xoxoxo,
-Baker
p.s. Everyone knows this was the best commercial. It wasn't close.
[share_sc]