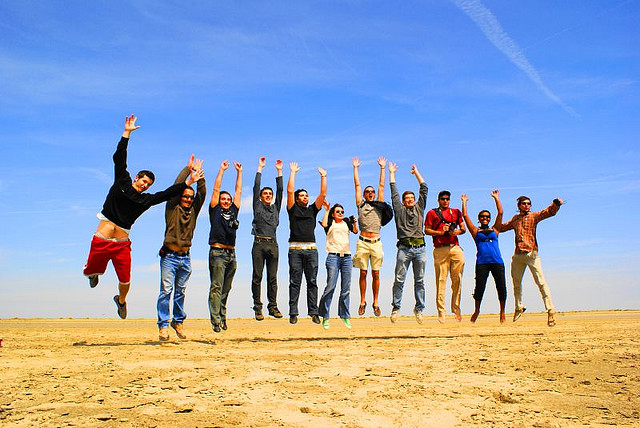 [share_sc] Community.  Allies.  Team.  Support Group.  Alliance.  Mastermind.  Tribe.
I don't care what you call it.  It's absolutely essential to your success.
I've always known this to be true, but it's been undoubtedly confirmed by nearly a hundred independent conversations I've had with people over the past week.  And here's the thing… it doesn't matter what your goal is.
More and more, I'm realizing there are only 3 essential components to lasting success:
An undying, relentless passion.
Clarity of your mission.
Immersion in like-minded people that "get it".
I've known the first one since the first month I started blogging.  I fully realized the second one in the last 3-4 months.  I just filled out the third one here in the last week.
I've discussed the first two in detail on the blog before and will continue to rant on them in the future.  However, today I want to break down the concept of surrounding yourself with like-minded people.
You can use whatever term you like, at the present time my favorite term to use for this is "Allies".
Allies are people in your life or business that are fundamentally interested in seeing you succeed. It's your support system… your safety net… your biggest source of inspiration.
Most people have two problems in this area:
Problem #1:  You have more haters in your life than allies.
Or at least the haters in their life are louder and more annoying.  This can happen in all segments of life.
Attempt to radically get out of debt?  There will be haters.
Try to start a blog to change the world?  Your family will think you are f@(*ing crazy.
Sell everything you own to travel to the other side of the world with your 1-year-old daughter?  Strangers will email you to tell you that if you loved your daughter you wouldn't "drag her around behind you" while your pursued a selfish fantasy.
Look, folks, I've been there.
But here's the thing.  Haters will always hate.  Let them.  Screw them.  Wish them the best and then let them wait to die in whatever way they see fit.  In the meantime, go out and do something for yourself… for your family… for the world.
"Those who say it cannot be done shouldn't interrupt the people doing it." -Chinese Proverb
Here's the best news of all:  you can replace the haters in your life with allies.  You don't even have to convert them!  You can just replace them.
I didn't grow up 50 years ago, but I'm imagining it was much harder to find, tap into, and surround yourself with like-minded people. As a society and a world we were much more location independent.  Your friends, interest, and thus your personality was often molded by where you lived and who else happened to live there.
Obviously, that's still the case today. My handful of closest friends are still the guys I grew up with. Courtney and I lived down the street from each other as kids and started dating in the 7th grade. So don't get me wrong.
However, with the power of technology and the internet it's easier than ever to truly immerse yourself with other like-minded people. No matter what you have a passion for or interest in… you can find a group of people online.  You can find tens of thousands of people passionately building communities, businesses, and charities… pouring their souls and hearts to build up themselves and everyone around them.
So stop trying to convert haters. Even loved ones.  There's no need.  Seek out your allies online. Meet them in person. Help them. Learn from them. Eventually, if the haters are an important part of your life… they'll see the light.  They'll come running.
Problem #2:  You aren't tapping into all three layers of "Allies"…
When seeking out and recruiting Allies, it's important to gain inspiration from the 3 different layers:
Revolutionaries
Confederates
Recruits
Once again, I could care less how you name these 3 layers.  I like cool, fancy names.  Some people prefer others like mentors, friends, newbies.  Whatever.
Here's the point:  You need all of three of these in your corner.
Revolutionaries are the guys and gals at the top…
They are the trail blazers… the ones that lead the charge into battle.  They are the people the inspire you to take action and show you that more is possible.
I've had many people fill this role for me in the last 2-3 years of my life.  Each separate area of my life (finances, relationships, work, passion, etc…) often has different revolutionaries helping grant the inspiration.
My three (current) biggest revolutionaries:
Chris Guillebeau – Responsible for 95% of my approach to business and blogging.
Danielle LaPorte – Constant source of energy, passion, and bluntly authentic writing.
Dave Navarro – Dave produces the most tangibly-valuable free content anywhere.  Not close.
Everyone needs this layer.  It's the juice that trickles down and helps spread to all the other layers. It's where almost everyone starts.
Next, you need Confederates…
The people on the same level as you are.  The men and women in the trenches next you… scratching, clawing, succeeding, and failing in real-time with you.  These are people who "get it".
Confederates are good enough allies that they can tell you when you are screwing up. This is absolutely essential.  The other layers won't be as forthcoming when you f'it up.
I'm lucky to have a small handful of people in this category. They know my business inside and out. They know my struggles and my strengths. They know my plans and my fears. They aren't afraid to tell me when I misstep and are quick to point out when I hit a homerun.
This is a layer that so many people I talk to are missing.  They know lots of people on the same business level… they follow each other on Twitter.  They know another family crawling out of debt or another couple struggling with their marriage.  They may even fully acknowledge that they are "allies".
But they never take the relationship deep enough. They never really ally.  They stay on the surface and thus miss much of the benefit, inspiration, and motivation.
Take action now. Take the first step to deepen the connection.  Create a mastermind group.  Reach out to someone to be a blogging buddy.  Get on the phone and pour out your thoughts to someone on the same level… business or personal.  It'll help.
Need a specific example? One of my confederates, Karol Gajda, recently reached out and rallied together the minimalist blogging niche.  He asked 13 different confederates in the niche to combined 17 different guides into a single package. Karol packaged $225 in value and sold it together for $27 for 3 days only. He called it the "3-Day Minimalist Book Sale" and he sold over 1500 copies of the collaboration.  He donated his first 24 hours to Kiva.org (over $9,000).
How ridiculous is that example?  When Karol told me about the idea, I instantly gave permission for him to include Unautomate Your Finances.  It took me 2 seconds to say yes.  All the bloggers involved can get all their best content into the hands of more readers and fans of minimalism can save $200.  All because Karol had the balls to step up and coordinate it.
What can you do like this?  It doesn't need to be a sale of premium content.  How can you rally your allies? How can you help build up everyone?  How can you help a similar group of families accomplish a similar goal in your community?  Do it.
Don't forget about Recruits…
Most people have the first two layers in one form or another.  A revolutionary inspired them to take action and they have at least one or two confederates (even if the connection could be deeper!). However, many times it stops there.
Don't let it stop there.
Help new recruits. Give back.  There is almost always someone newer to the journey that you can help.  In the middle of paying off debt?  Help the flustered single mother make a list of everything she owes.  Recently sold your excess crap?  Help teach your sister how to list an item quickly and effectively on eBay.
I've been desperately giving back to new and up-and-coming bloggers for the past year.  Do I know everything?  Not a chance.  But I had people who poured themselves into helping me early on when there was no benefit to them.  I didn't have an audience yet.  I didn't have anyway to repay them.  It didn't matter.  They gave their time, provided their expertise, and but their boot against my butt when I needed it.  All for free.  Just cuz.
But you know what?  On all the Skype calls, emails, and phone conversations when I was "helping"…  I was learning.  I was growing. Reaching out and talking to new recruits helped me more than it did them.
Every time I gave advice, it was as if I was looking in the mirror and talking to myself.  I was reminded of what was really important.  I came away emboldened and motivated from almost every conversation I had with a new blogger.  I'd like to say I was "giving back", but the truth was I was taking even more energy from the situation.
So… don't forget.  Give back the first chance you get. Doesn't matter what journey you are on.  Find someone new and help them as much as you can.
All 3 Layers in Practice:  The Unconventional Groupie…
This past week I had the chance to develop all three layers at the same time.  It's been an awesome experience.
This past Tuesday, Courtney, Milli, and I co-hosted Chris Guillebeau's Unconventional Book Tour in Bloomington, IN.  Courtney baked some cupcakes, I picked up some wine from a local winery, and we joined another 20-25 people from all over Indiana (including my buddy Joel Runyon) for a engaging discussion.
That night, Chris was planning on driving to Cincinnati in one shot.  I was planning on going to Cincy anyway (I live between Cincy and Bloomington), so I decided to ride over with Chris.  I called up another confederate, Matt Gartland, who was on his way to bed. Rather than sleep, he waited up and hosted us as we arrived late in Cincinnati for the meetup the next day.
The next day, Matt and I brainstormed his upcoming plans to take over the world for several hours before heading to the coffee shop where the book tour was being held.  Cincinnati was an even larger meetup, with 30-40 like-minded individuals gathering for another amazing conversation.  Afterwards I got to go out to dinner with Chris, Matt, the insanely insightful Jane Friedman, and the engaging Todd Henry (who has his own book coming out).  The dinner conversation finally convinced me to write a book.  Yep, a real one.
At the meetup, Chris turned and said "You know Ann Arbor and Chicago are the next stops…" I still don't know if he was half-joking or half-serious (I guess both), either way I thought… what the hell…  Why not?  A quick call to Courtney and 15 minutes later, it was decided.  I'd keep the fuel coming in by heading to the next two stops.  Chris and I made the 4 hour drive up into Michigan.
It helped that another handful of passionate confederates where coming out to Ann Arbor, including my friends Karol Gadja, Johnny B. Truant, and Matt Jabs.  Around 40-50 other people joined us at the flagship Borders store on the campus of Michigan University. Once again, seconds after I started meeting new people… I knew it was worth it.
That night, Matt (Jabs, this time) hosted me at his house before I boarded an Amtrak train to Chicago from East Lansing.  Quick funny story here.  I mixed up time zones as Chicago is an hour behind Indiana.  This meant that I was going to need to do a radio interview DURING the end of the train ride.  I desperately searched for an empty train car, which there was none.
So I did whatever any sane person would do.  I stood up, announced to the dozen rows of people around me that I would be doing a radio interview, loudly, on my cell phone for the next 30-45 minutes.  I apologized in advance and explained that I was an idiot that mixed up time zones.  Gladly, everyone was cool with it… giving me thumbs up and asking me why I was awesome enough to be interviewed. 😉 So the front of train car 6 got a one-sided interview and the show went off without a problem.
The Chicago meetup had some last minute theatrics as the venue didn't know that 75-100 people were about to converge on them for a book tour, signing, and discussion (there was an obvious mix-up somewhere).  Regardless, it worked out and by the time most of the people arrived things seemed to be clicking.
After yet another deep and rewarding series of conversations, I walked in the rain to Hostel International, crashed for the night, and boarded a bus back to Indianapolis in the morning where Courtney and Milli were waiting.  🙂
Why in the world am I sharing all this?…
Because this is an example of me building my own layers.  I needed this experience to recharge my batteries. I'm deeply influenced by surrounding myself with like-minded people.
I hadn't planned on dedicating 5 days and 4 nights on the road away from Courtney and Milligan.  But I tapped into the flow.  It was so inspiring, on all three levels, that I took as much advantage as I could.  I'm full of passion and dedication right now. Thank you to everyone in Bloomington, Cincinnati, Ann Arbor, and Chicago.  I owe you.
Your situation is different. You may or may not enjoy touring the Midwest by car, train, and bus hanging out with people focused on living a deliberate and remarkable life.  I do.
I got a heavy dose of inspiration from a few revolutionaries, deepened the connection with a dozen confederates, and helped provide advice to a bunch of people who were in the early stages of their own journey.
For me, folks… this is living. This is what "it" is about.
The only thing better would for Courtney and Milli to have been able to join me.  They couldn't this time.  But we are taking steps to ensure that they can in the future.  🙂
What's your next step?…
Mine was 4 stops of a book tour.  What's yours?
*****
How can you expose yourself to passionate Revolutionaries?
*****
How can you deepen the connection with Confederates on the same journey as you?
*****
How can you start helping other new Recruits… now?
*****
Answer these questions.  Literally.  Write them down now.  Take action.
Let me know how I can help.
This is essential stuff people.  You need this.
Do it.
–
photo by Elvire R.
Disclaimer:  This post has affiliate links (currently).  Buying through this link doesn't change the price, but it does help support this site.  Also, Karol is a close friend.  And he gives me advice all the time.  And I think the specific affiliate link is the best value I've ever seen online in 20 months.  I could have gotten all the guides for free… but I already owned them all.  Oh… and I have a guide that's part of the sale.  I think that covers everything. 😉