[share_sc]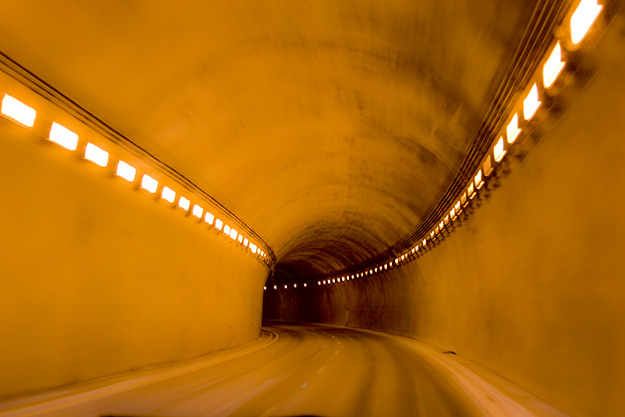 A winding tunnel through a mountain in North Carolina…
Courtney, Milligan and I are rounding out our third full month living and traveling in our RV.
The first leg of our journey has been full of ups and downs, but for the most part – life seems normal. As normal as it can be driving thousands and thousands of miles across the country hosting meetups and visiting friends.  🙂
In the past, I've written extensive "travel updates" chronicling some of the day-to-day activities and sights. Instead of catching up on that for the entire East Coast, I've decided to share our journey in a different format.
Below are 10 truths that I've come to learn through our first few months on the open road. Embedded in between the truths are some of Courtney's greatest photos from Tennessee, the Carolinas, Georgia, Florida, and Texas.
Note: Special thanks to our amazing sponsor Adaptu.com for their help making the first leg of the road tour a success. Stop by and take our "Crush $1000 in Debt" pledge.
*****
Truth #1: Most things in life are way easier than you think.
With the exception of a few bigger things like weight loss, marriage, and parenthood – most things are super easy.  🙂
5 months ago, we knew nothing about RVs. We were still learning the difference between Class A and Class C – and whether diesel was better than gasoline engines.
We weren't sure how or where we were going to find an RV – nor how to drive, operate, or live in one full-time.
And now we do. Well, we know just enough to get by. All those months of worrying and stressing were wiped out when I bought the RV at auction, drove it home, and started asking questions. (Special thanks to Chris & Cherie at Technomadia for answering many of those!)
Look, I know that people go through incredibly tough times and overcome things I will never have to. But I also know that most of us make things way harder than they need to be.
If you want something – anything – bad enough, it's usually not that hard to figure it out. You've just got to get out of your own way.
*****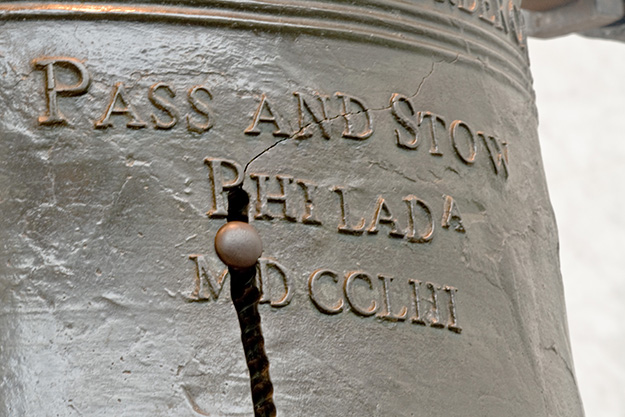 Up close with the Liberty Bell in Philadelphia, Pennsylvania…
Truth #2: The United States is freakin' huge.
Holy cow is this country big. You really don't get it flying around in a plane. I'm convinced you can't fully grasp it until you sit at 60 miles per hour for days upon days at a time.
My first longer-than-it-has-any-right-to-be drive was from Washington D.C. to Wilmington, Ohio. It really shouldn't be that long… I've seen a map many times. They look fairly close… turns out there are some mountains in the way. Mount Negro to be exact.
Ever try to drive out of Tampa, Florida around the panhandle?  No?  Don't.  Just trust me.
And don't even get me started on Texas. Every place in Texas is 45 minutes away – even when it's in the same city. And I swear it's a 6 hour drive from any city in Texas to the next state. I know that seems impossible, but that's how it feels.
Of course, our nation's size is also one of its largest benefits. We are incredibly diverse in not only geography, but in people, community, climate, and values.
*****
.
Truth #3: The ability to adapt is still the best currency in the world.
I've talked about this many times before – but it still rings true.
Nothing has gotten me farther in life than the ability to quickly adapt to a new situation. By default, we train ourselves *not* to adapt. We strive to build a situation that is static.
We design our work lives, financial lives, family lives, and every other part of our identity around this "stable" life.
But in doing this, we limit our ability to adapt. We restrict our flexibility when crap hits the fan. When we lose a job or someone close to us. When an once-in-a-lifetime really does appear, we aren't trained to take it.
Learning how to dive into something head first – and adapt – is a universal currency. It's worth millions and millions of dollars over the course of your lifetime – and even more than that in happiness.
I have no data to prove it – but I'm confident that happiness in life isn't tied to stability or comfort nearly as much as it's tied to the ability to quickly adapt to a new situation.
*****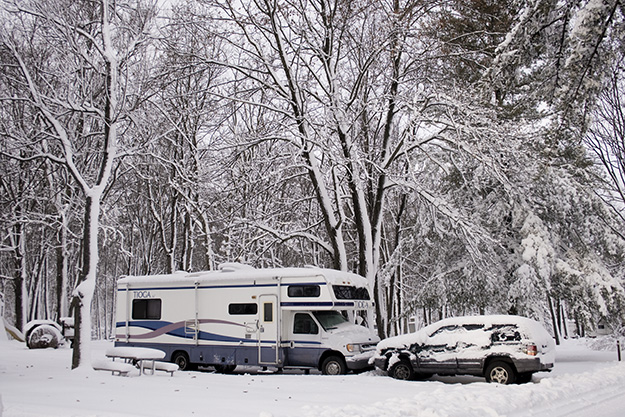 The RV buried in snow outside of Baltimore, Maryland…
Truth #4: Weather changes everything.
I've never fully appreciated the changes in climate and weather as much as I do now.
Note:  As I'm editing this post to publish – it's snowing here in ARIZONA of all places!  How fitting.
Weather doesn't just cause changes to daily plans – but can deeply affect everything from your mood to your financial life. We've been exposed to weather our entire lives, so it's easy to take its impact on our daily life for granted.
In the RV, if it's cold at night – you feel it much more than you do in your home. If it's muggy during the day – you feel that, too. Traveling full-time and living in a thinner shelter means we're much more in tune with Mother Nature.
On a more positive note, our new lifestyle allows us to take much more advantage of the times where the weather does cooperate. It's easy to stay cooped up in a 3,500 square foot house regardless of weather. In a 31ft RV, you welcome being forced out into the weather (on most days).
*****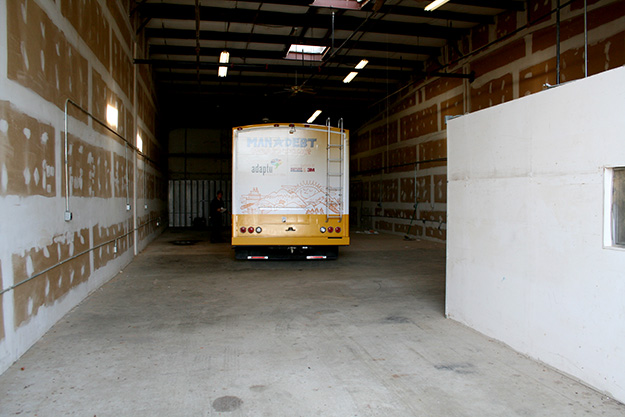 Our first glimpse of the freshly wrapped RV inside a random warehouse in Washington D.C…
Truth #5: I want to "work" with people.
The hardest part of living on the road is finding the time and creative energy to "work". Keeping up with email and daily tasks is hard enough – but by nature, I'm at my best when working on large, audacious projects.
These type of projects are complex enough when you have a designated work space and team in place. Try doing them in and out of random coffee shops and in an RV with your family running around beside you. It's definitely a "first world problem" – but it's a real problem nonetheless!
I used to pride myself on the ability to work from anywhere in the world at any time. And I still do enjoy that freedom.
But I've also matured to realize that I *want* to work surrounded by other people. And you know what? I wouldn't mind an office. You know… a place where I go to work and come home when I'm done.
Also, I like having team members working on projects with me – it helps motivate me (and is much more fun).
So over the next few years, I see myself transitioning to a single top-secret location (with a passionate team in place) for intensive creative work periods – maybe one to three months – and then taking off to travel during the times in-between these large projects.
*****
Truth #6: Food and drink connect everyone.
I'm going to share two secrets with you.
Everyone eats. Everyone drinks.
As we visit different parts of the country and meet new people, sometimes we have a lot in common – and sometimes we have very little.
But the one surefire path to a passionate conversation is to talk about food. What food do you like? What do you enjoy cooking?  Do you cook? What is your favorite restaurant?  Favorite meal?  Favorite dessert?
Everyone really does eat. And many people and cultures identify a part of who they are in the food they prepare, share, and consume. The same is true for different forms of drinks, too.
And it's tough to find a more powerful (and neutral) meeting opportunity than sharing a meal or a cup of coffee. Like it or not, food plays an essential role in our existence as humans.
Food is an incredibly powerful way to connect with other people.
*****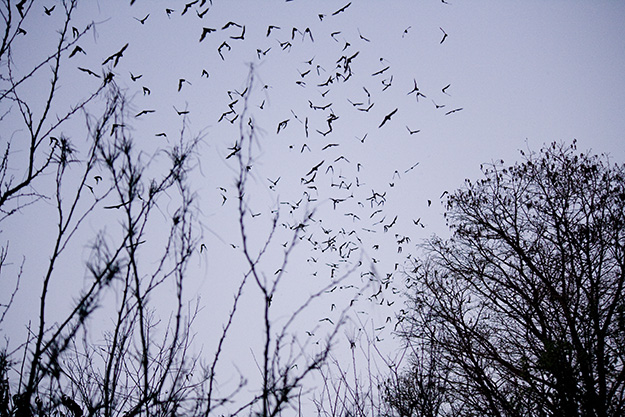 Thousands of bats fly into the night from under a bridge in Austin, Texas…
Truth #7: You consume and produce a lot of resources.
Another benefit of living in an RV – your consumption habits are put into the limelight.
Suddenly you start noticing how much water you use when you have to pump it into the tank every time it runs dry. You notice how much energy you are using when you live a few consecutive days on batteries.
And I promise you are much more conscious of the gasoline you use when you get 7.2 miles per gallon of gas.
Want to get even more personal?
Try realizing just how much waste comes out of your body over the course of a week. Or think about what happens when you use too much waste water before dumping your tanks (hint: it comes up into the shower).
Consumption of all forms – like the weather – is something that is difficult to be conscious of. I'm not sure what changes lie ahead for us in this area, but I'm glad to have had the opportunity to tangibly see and measure the amount of energy we consume and produce.
*****
Truth #8: I do not miss television. Not one bit.
I occasionally miss things about having a single location, but I've never once missed having our television. Not once.
Even when I wanted to watch the Green Bay Packers dominate the playoffs this past season – I actually appreciated having to go out to watch the game. I watched one game at a local restaurant – and three others along-side friends in different cities.
And I may be the most excited person on the planet for the upcoming HBO series "Game of Thrones" – but once a week I'm sure I'll be fine taking a break to watch from my computer (without missing a 60-inch television every night of the week).
Look I won't beat this one into the ground – I'm just making a personal observation for my life. I don't miss it! 🙂
For more on this, check out: 11 Reasons to Ditch Your Television.
*****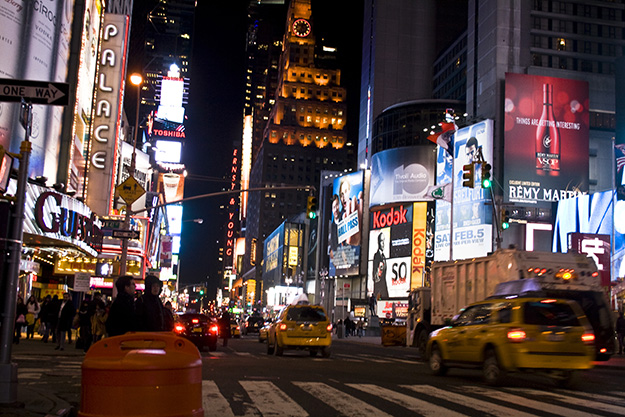 The hustle and bustle of Times Square in New York City…
Truth #9: The faster you travel, the more it sucks.
Nothing new on this one, but we've continued to confirm it over the last few months.
We are traveling slower than we did through Australia and Thailand – but we're still keeping a decent pace. It's tough to find a good balance. Travel too quickly and you'll burn out and miss out on many amazing things. Travel too slowly and you can limit some of the people you can meet and events you can take part in.
Ultimately, we're still trending to slower and slower travel times. Over the next leg of our trip, we'll be spending multiple weeks in most of the major locations as we'll have a bit more flexibility and time.
Even still, I believe we'll shift to a model of staying in one location for 3-month or 6-month blocks of time as we continue. We aren't ruling out having a single home-location either – it's all part of the exploration of what we want.
Remember, there are no "nomadic rules". The point of building a home, growing into a community, or traveling across the world is to live consciously – to choose deliberately what you want to do and where you want to live.
Right now our journey is taking us to slower and slower forms of travel. 🙂
*****
Truth #10: Your life swells to the parameters you allow.
When you buy a large house – your life will swell to fill it.
When you sell everything you own, start from scratch, and limit yourself to two backpacks – your life will fill the backpacks – but no more.
When you decide to live in a 31 foot RV, your life will fit inside the walls.
For better or worse, our natural tendency is to fill the boundaries that we give ourselves. The trick seems to be that most of us live based on the boundaries that are provided by our culture. We choose the default life of our peers – whether or not that truly reflects our values.
My takeaway from this is that we can really live within whatever world we desire if we are willing to immerse ourselves in it. I have no doubts we could live our life in a backpack, in a mansion, in an RV, in a sailboat, in a third world country, or on a tropical island.
It all starts by tearing down the default walls that have been put up around us – and then putting up our own restraints based on values, needs, and wants.
*****
Thanks for joining us on our journey!
If you enjoyed this post, please share it on Facebook or Twitter below:
[share_sc]
West coast here we come!
Xoxoxo,
-Baker