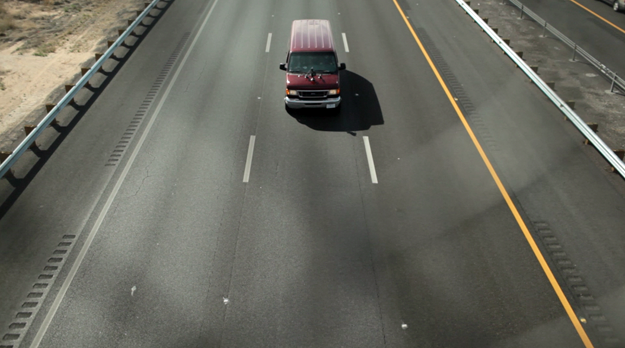 [share_sc]
Note: This is a post from Adam Baker, founder of Man Vs. Debt.
As you likely know, I spent most of February and March producing and filming a documentary on why we, as a culture, default into a life of complacency, instead of chasing our dreams.
I wrote an update from the road on our progress, what we had seen, and what I was feeling about the importance of the project.
Check out part one of "The Making Of" series if you missed it to get caught up!
I left that story with us in middle-of-nowhere Texas at 3 a.m. filming the untouched, starry night skies.
After catching only a few hours of sleep each that night, we continued to plow our way toward Phoenix, Arizona.
For anyone that's driven across the entire state of Texas – you know firsthand how disheartening that can be. It takes a crazy number of man-hours to traverse that ridiculously large piece of land. And frankly, New Mexico isn't much of a reward for succeeding. 😉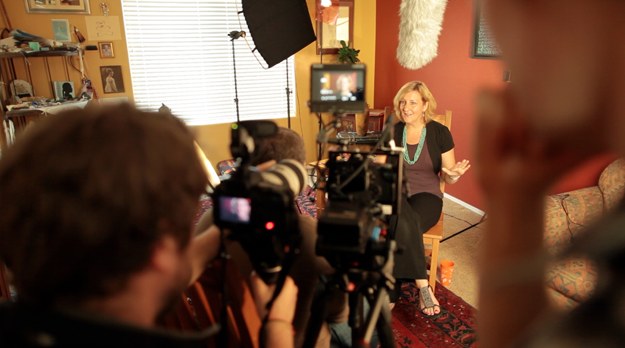 Nevertheless, we pulled into Phoenix in the evening to my friend Pam Slim's beautiful house. (Pam, her husband, her kids, and her dogs graciously hosted a smelly, worn-out group of 5 guys for several days… can't thank her enough!)
Not only was Pam's family open and accepting of us for days, she also took time out to drop wisdom bomb after wisdom bomb into the camera in our interview for the documentary.
Afterward, we packed the set up and headed off to MMA class with Pam.
That's right. I said we went to an MMA training class with Pam Slim. It was as fun to be a part of as it sounds. (Thanks to East West MMA for allowing us to film and being such great hosts!)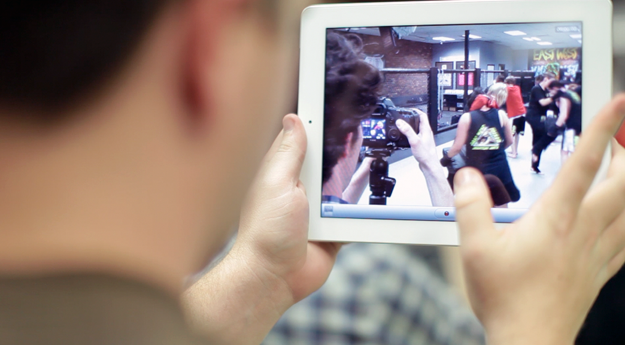 After watching Pam get slammed, tackled, knifed, strangled, and kicked – we decided to call it a night. 🙂
The next day brought insightful interviews with Joshua Becker (minimalist family man) and MJ DeMarco (against-the-grain financial advice for entrepreneurs), before we set off for the wonderful city of San Diego.
In San Diego we spent most of our time with the ever-so-lovable Pat Flynn and his family.
Pat broke down the painful details of how he got fired from his job after pouring every ounce of himself into the career for years and doing everything "by the book." But even more importantly, he shared his remarkable journey to build himself back up to a transparent income of over $50,000/month now.
Pat's realization that geting fired may have been one of the best things to ever happen to him and his family was amazing to listen to and capture on film.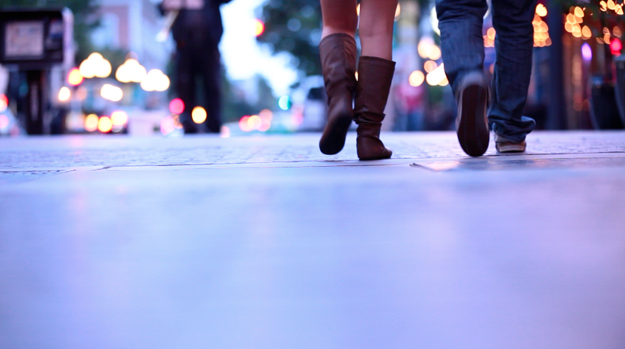 We then spent time filming Pat playing with his (incredibly smart for his age) young son – and following him and his wife on one of their "Thursday Date Nights" in downtown San Diego.
After much fun with the Flynn family, we continue our trek about an hour north to a small music studio between San Diego and Los Angeles.
There we met Craig Zarkos and Kevin Page. Two musicians with different life paths (and professional music paths), but who are now partners in bringing to life a shared dream.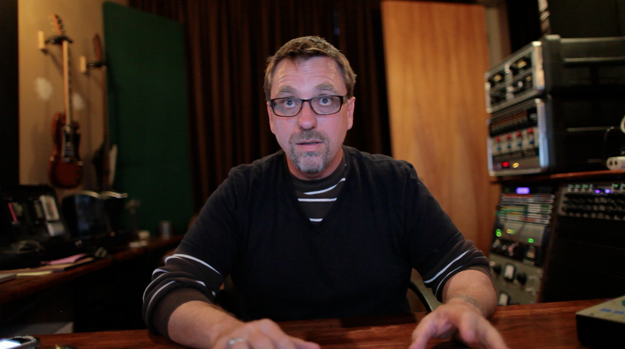 After squeezing what we could out of Craig and Kevin, we got to stay around to film a band come in, setup, rehearse, and then record live in their studio. Pretty cool experience (especially for Dustin, Bryan, and John – who are all huge fans of all kinds of music).
The road wasn't waiting for us, though, and after a long day we still had to finish the drive to Los Angeles.
Let me take a brief moment here to be honest with you: I hate Los Angeles. In fact, of all the cities in the world we've visited (not too many, but a decent chunk)… I hate Los Angeles the most.
There's just something about it that doesn't vibe with me. I can't stand the traffic, the layout, most of the buildings, much of the culture. It's the only city where the majority of people I know that live there – don't want to.
Okay, okay. I'll lay off L.A. for a while. But I figured you're reading this for my opinion and experience on the road – so I might as well be honest!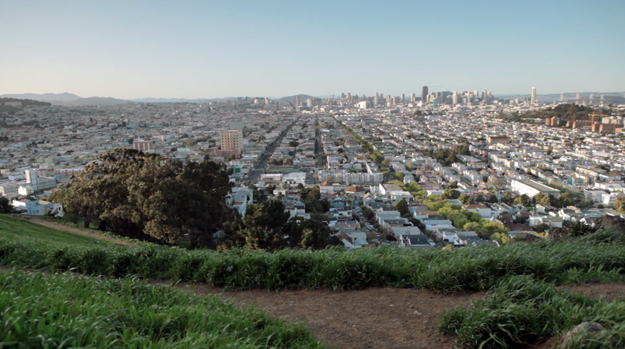 Our director of photography, Bryan, calls L.A. home (and likes it, strangely enough) so we had a blast filming from some of the best locations in the city – and everyone got a little rest as we had an extra day or so in the city.
One of the special personalities we got to talk to in L.A. was Josh Orem. Josh and I grew up together in a small town in Indiana and have known each other since we were just a few years old.
Josh has spent his last few years after college volunteering, despite the cultural pressure to "get a real job" and "settle down." Josh spent a year in Africa (which he detailed in depth during our interview), before volunteering with People Assisting The Homeless (or P.A.T.H.) in Los Angeles. After a year volunteering, he now works in a more full-time role for the organization.
Josh had great experience on the cultural differences of Africa and the U.S. and on society's view of what we "should" do and what is "safe" vs. "dangerous."
Our next stop took us to a track outside of Los Angeles where Lewis Howes was working out with a gold medal decathlete. Lewis is currently recording a video series where he challenges the world's best athletes at different events – and while we were there we got to snap Lewis and Brian training for the long jump event.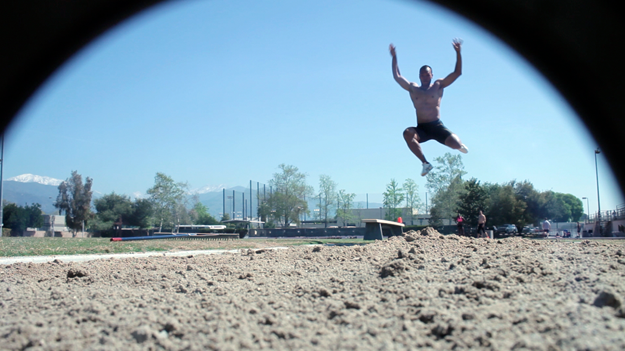 They can both jump about 10 times farther than I can (that's not much of an exaggeration – it's remarkable to watch)!
And finally, we wrapped up L.A. by paying a visit to Eric Handler who runs Positively Positive community (over a million strong on Facebook). Eric spoke about the power of positive thinking, affirmations (which I was skeptical of before we spoke), and of removing negative influences from your life.
And don't let me forget my friends Neal Frankle (a wicked smart CFP) and Amy Clover (who shared her emotional story of finding her passion after hitting rock bottom). Simply put, there were too many amazing people to chronicle!
And, no, we aren't even close to done.
Next came San Francisco for a few days, where our most memorable time was spent on… boats!
First a houseboat with Vanda Marlow, whose story is essentially the British version of "Eat Pray Love" before it was a book or movie! Vanda left behind a high-powered job and scripted lifestyle decades ago to find herself around the world.
She ended up in a houseboat in Marin Bay outside of San Francisco (a houseboat she still keeps for a creative writing space). Did I mention she volunteered for 8 years at the San Francisco Zen Center with the dying?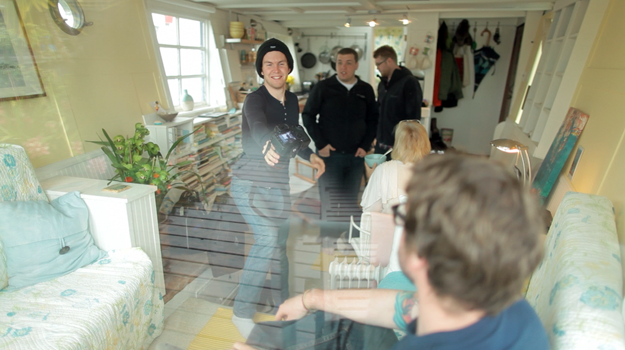 Vanda was one of my favorite interviews due to her wisdom, cultural reflection, and life experiences. We could've talked to her for hours.
Next, we jumped ship (literally) down to a sailboat owned by Jeff Mendelsohn. Jeff's a Sustainable Entrepreneur. Actually, I'm not sure that's a term he'd use – probably he wouldn't. But he's an entrepreneur who focuses on green businesses and sustainability. So I coined that term for him (maybe). 🙂
Jeff spoke about never having really fallen into the "traditional life script" – a circumstance he fully credits to how his parents raised him and his siblings. Jeff now lives on a sailboat where he kayaks over an hour to work on many days. (How cool is that?)
As a side note, our interview with Jeff was interrupted by cannon fire from a pirate ship. True story.
After dodging the pirate ship, the crew would return to dry land and start the long haul to Portland, Oregon.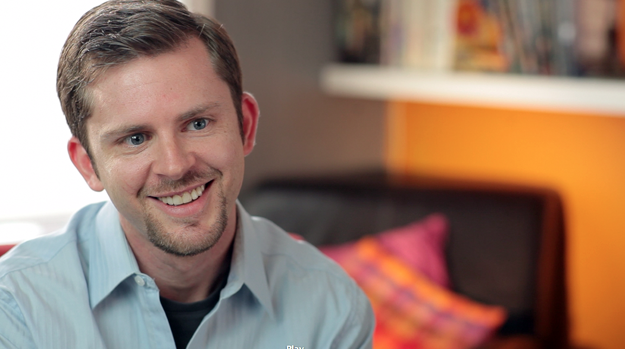 Portland was a blur, mostly due to the fact that so many brilliant people call it home.
Among them, we spoke to Chris Guillebeau, J.D. Roth, Charlie Gilkey, Tammy Strobel (and her Tiny House), Jonathan Mead, Mark Silver, and Shane Ketterman. Each contributed a very different life story, world view, and perspective into the issue of dreams vs. complacency. It was a brilliant two days!
Our trip then became international (at least for 24 hours or so), as we crossed the border to visit Danielle LaPorte in Vancouver.
On the way into Canada, we were selected as one of the vehicles to have to pull over and walk inside of Customs. I can't possibly see why. A huge van, full of $30,000 in customized equipment, five random Americans, three with brand new passports, only visiting for a few hours, with wires and random machines thrown all over the place… what's suspicious about that?
After a few normal, everyday conversations ("Says here you've been charged with a felony before…" "Yeah, that was *charged* not *convicted*"…), and maybe 20 minutes of waiting – we were free to explore mighty Canada.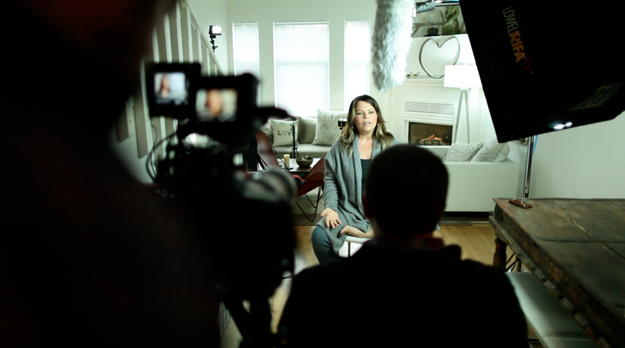 Vancouver seemed cool enough for the hour or two we were in it – but most importantly, Danielle herself did not disappoint one single bit. Danielle has an uncanny ability to speak in what I call "tweetables" or "quotables" or "knowledge bombs." I think we got enough sound bites in an hour to make a separate short film! 🙂
Sleep?
There wasn't a whole lot of it at this point. After our eventful border crossing, and long setup and interview, we had an all-nighter of driving to get us to Boise, Idaho, by the morning.
It was rough, but we made it in one piece.
We were in Boise to visit "Family on Bikes" – better known as Nancy Sathre-Vogel and her husband (John) and two sons.
Talk about opting out of the traditional life; Nancy and John quit two teaching jobs to bike from Alaska to Argentina with their two sons! Yikes!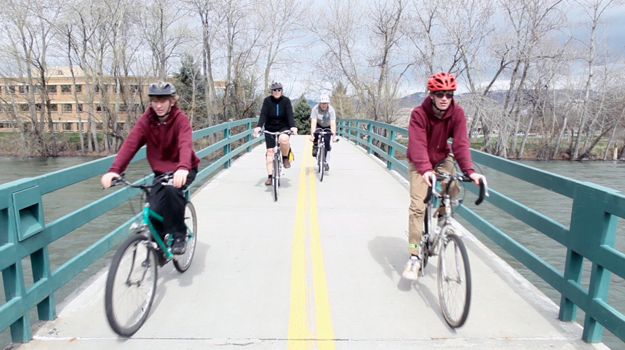 Technically, they biked much longer (and on several different trips), but the most impressive of those was down the entire west coast of the Americas. Nancy and John shared the story of how they decided to undertake the ride, how they feel education has changed, and how they view their lives differently now.
Of course, we couldn't leave without getting some great footage of the family riding down to a local park. Hanging out the back of the bus, in a slight drizzling rain at times, we got some really fun footage!
Exhausted, but seeing the homestretch, we continued on to Jackson, Wyoming – a beautiful town nestled in the mountains.
We spent the morning with a local friend (who ended up being a guide to the best spots) shooting the relentlessly beautiful landscape.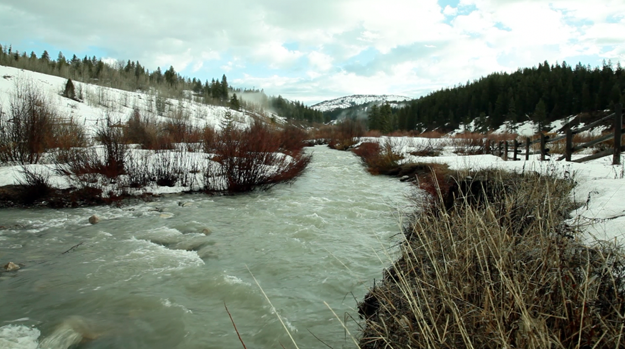 But we weren't just there for pretty scenic pictures (as tempting as they were). We had caught news of a family of 8 (that's 6 kids for those counting) that lived for 18 months in a converted bus.
As it turned out, the story was even more remarkable then that.
We met Joe and Yvette and their six vibrant, energetic kids at a small patch of land in a rural part of Wyoming. Years earlier, Joe was working a six-figure job that had him traveling the far majority of the working week. Away from home for long stretches from his 6 kids, Joe and Yvette finally decided that no job was worth that commitment.
They hatched the idea to quit the high-paying and prestigious job, convert a bus to fit all 8 of them, and move out to a ranch in Wyoming where they would live and eat in exchange for working the land and helping with the animals.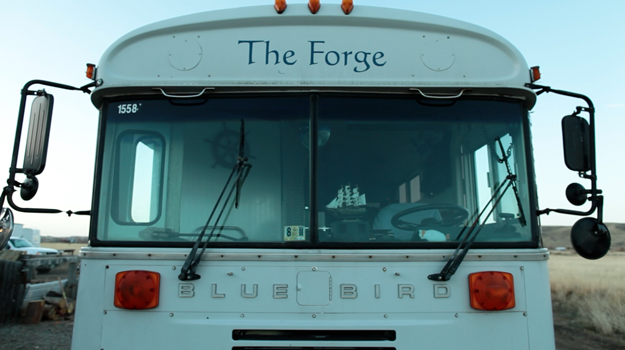 They still have the bus, but have now moved into a small rural home where they keep their own chickens, chop their own firewood, and are stockpiling resources (since they are now debt-free) for their next big adventure. After working minimum wage, basic labor jobs at first, Joe has now found another great-paying job where he routinely turns DOWN promotion that would require too much of his time away from his family.
We packed up the bus (with all the warm bodies) and headed down the road to a river campground where all the kids could run crazy and play. It was an inspiring sight to see a family choose this path – and the kids were amazing sports at being filmed (movie stars in the making)!
It was nearly midnight before we let the family get to bed and said farewell – and once again we found ourselves driving the majority of the night toward Madison, Wisconsin (it's a long, long way across this country).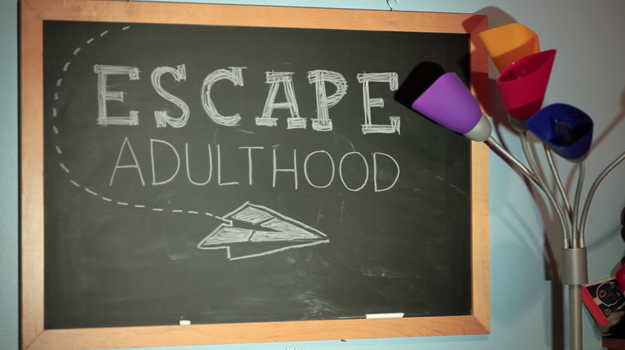 In Madison, we spent quality time with another great family, Kim & Jason Kotecki.
Kim and Jason teach the world to fight against "Adultitis," which they describe as a disease that infects the far majority of our current adult population. They are wonderful examples of how to keep the spirit of a child around in your everyday life.
After diving deep into a multitude of topics, we spent the evening having a dance party and baking chocolate-chip cookies with their two kids. (You know, the typical "official duty" tasks that someone has to do.)
Saying goodbye to the Kotecki family was hard, but by now we were experts at saying goodbye to amazing people!
Next up was Chicago, where we met with another remarkable woman named Karen Putz.
Karen is a sponsored barefoot water skier, mother, writer, speaker, and positive ball of energy. She's also deaf.
Karen's family has a gene that makes them all hard of hearing. However as a young girl and teenager, Karen was able to hear with the assistance of a hearing aid. That was, until she tripped and smacked the water as a young adult while barefoot water skiing (her favorite passion).
The accident left her deaf. And for the next two decades she gave up her favorite passion.
A few years ago, after decades off, she finally got the will to take back up the mostly male-dominated sport. She now skies, speaks, writes, and encourages everyone she meets to chase their passions now – while they still have the chance.
Listening to Karen talk about how rediscovering her passion has changed her marriage, how she parents, her health, and her happiness was a wonderful experience. And to think she lip-read me for the entire hour-long interview (incredible)!
The next morning, the crew would spend time barefoot skiing with Karen, her friends, and even trying it themselves (I was sent some funny iPhone picture of some epic crashes).
Notice, that I said "I was sent pictures."
Well, this was because the night after finishing Karen's interview, the boys drove me to the airport, where I caught a flight down to Asheville.
The entire trip we were playing it close – with Courtney being just a few weeks away from her due date. Toward the end of the trip, Courtney was having a hard time sleeping through the night, was incredibly sore, and having to handle Milligan, the house, and all our other life responsibilities herself.
After talking with the team, we knew the right decision was for me to fly home – and for them to finish the last day and a half without me. 🙂
Courtney's doing great – and happily – we still have no early news of the baby yet (but expect her any day now).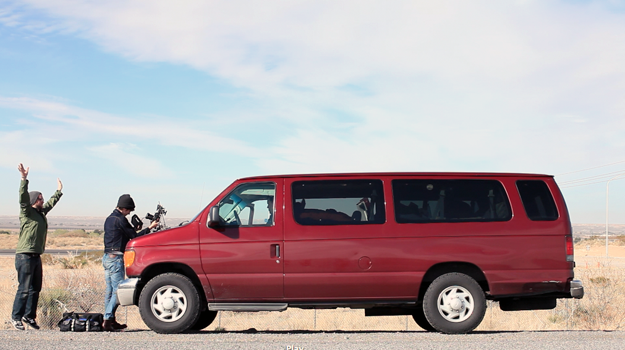 The guys finished the last shoot and successfully made the 6-hour drive back to Wilmington, Ohio – where the adventure started 6 weeks earlier.
We made a complete loop around the United States, some 12,000 miles, on an average of maybe 5-6 hours of sleep per night.
We met so many incredible, life-changing people – and had to pass up meeting many times the number we did simply because of timing issues.
I've said this before, but I know at the end of the day none of our lives will be the same.
And now we have the wonderful excitement of condensing this amazing journey – and the thousands of hours of knowledge into an experience we can share with you this summer. 🙂
That specific job looks like it'll take us to San Francisco.
It's about 95% confirmed, but Courtney, Milli, Charlie (new baby girl), and I will likely spend May and June in San Francisco finalizing the film with an amazing studio there.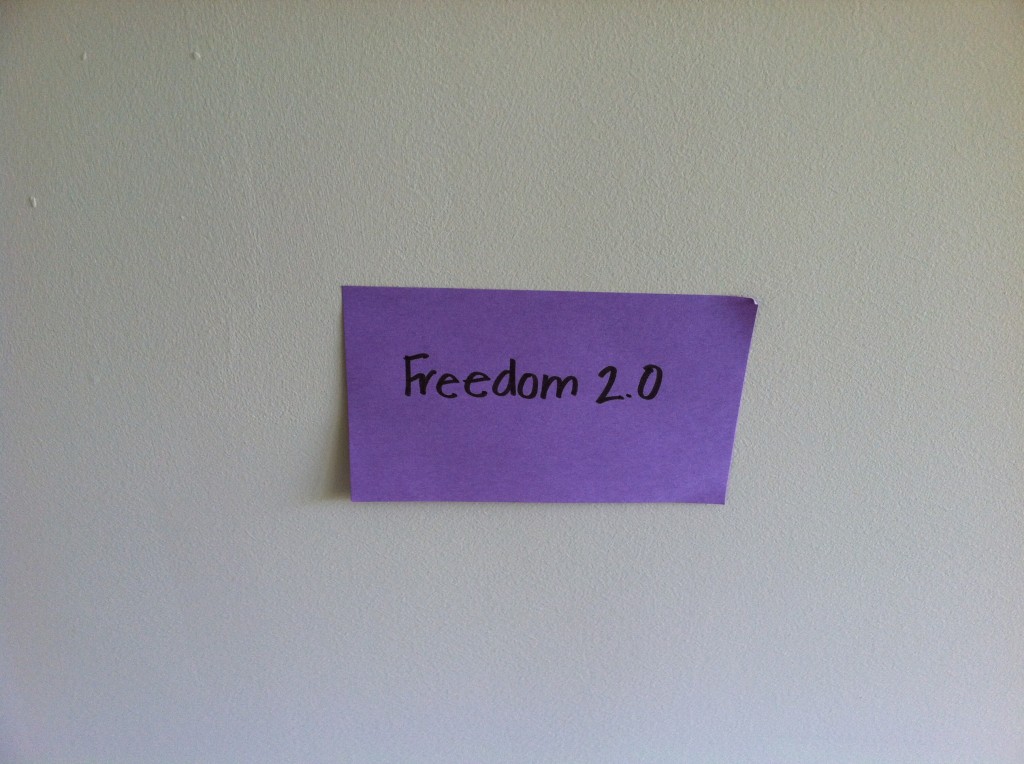 The other day, after coming home, I saw a note I had forgotten about hanging in my office.
It read "Freedom 2.0".
It was written on a sticky note, back in August, as a reminder to consider the idea of making a documentary (that was our codename for it). It sat in the way for months and months as a reminder before we took any action.
But when we took action… we REALLY took action.
I'm proud we finished what we set out to do (record this puppy) and excited for the even bigger challenge of producing a story from it in the coming months.
Last August, I put that sticky note up on my wall.
By this August, you'll have a chance to see the movie yourself.
If you're still reading at this moment, do me a favor…
Take a Sharpie and a sticky note and write a big, hairy, audacious goal. Stick it on your wall, your mirror, or your ceiling above your bed.
And between now and this time next year… Make. It. Happen.
[share_sc]
Don't forget to check out I'm Fine, Thanks!
Xoxoxo,
-Baker