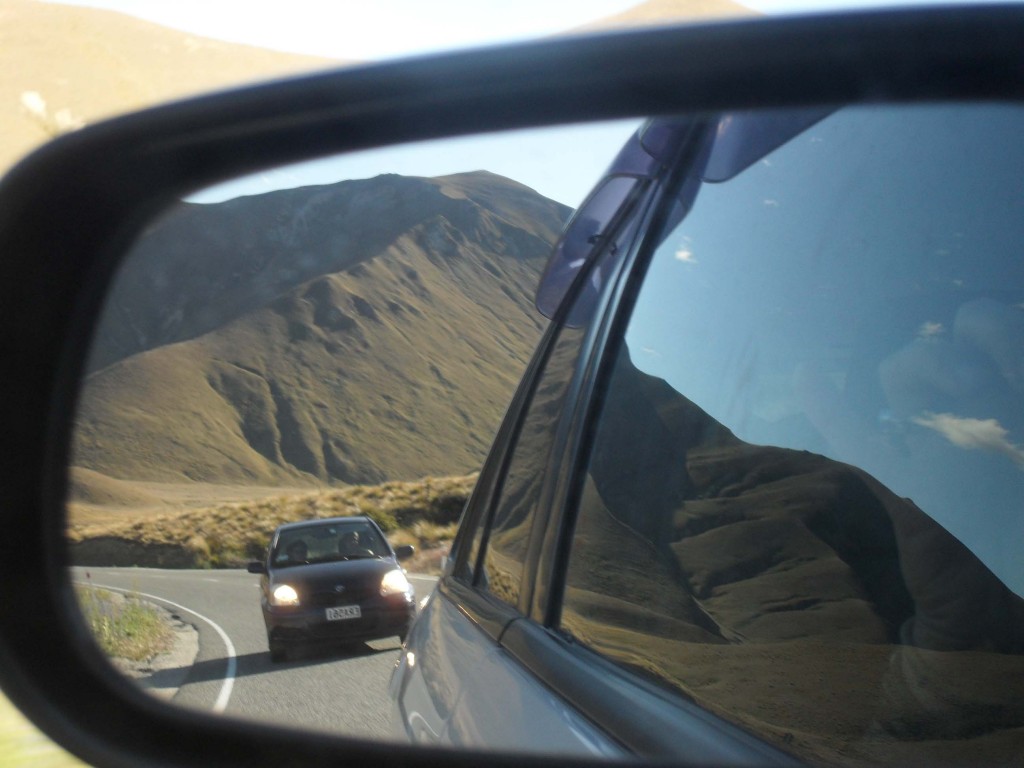 [share_sc]
This post is a travel update of our two-week driving tour of the South Island in New Zealand.  We have some serious catching up to do around here! If you cannot see all the videos, click here to visit the post directly!
At the end of Part 1 of our NZ driving tour, we left you heading towards the city of Wanaka through the Haast Pass.
The drive was less up and down and more huge sweeping left to right curves.  Less craggy mountain and more dominating, in-your-face hills.
Camping in the Haast Pass
Tired, we decided to stop around 3/4 of the way through the drive, which left us around an hour or so outside of Wanaka.  As soon as we left the car, we quickly found out the sandflies were not exclusive to the previous parts of the island we had traveled.
Courtney bravely fought the swarms of insects (which were like an annoying version of gnats … if you can imagine) to cook dinner on our small, single gas burner.  I opted for the incredibly frustrating task of setting up our tent.  Little did I realize this would involved also tearing it down and re-setting it up three more times, as my stubbornness got the better of me.
After over 30 minutes, I came to the conclusion we were missing some pieces, let loose a few choice words, and gave up.  Finally dinner was done cooking, so we literally sprinted to the tent with our plates and huddled inside to enjoy the meal (without becoming one ourselves).
Being in the pass, between two hill/mountain peaks on either side, the sun set.  It got very cold, very quickly.  It had been slightly chilled the previous night camping, but we still had to shed our sleeping bags part of the night.  Not this night.  Milligan was tucked tightly into Courtney's bag and I actually made an extra night run down to the car to get socks and extra layers of clothes.
As I took down the tent in the morning, I was still a little surprised to see a layer of frost on the outside of the tent.  I made a mental note to my future self:  Next time you have an hour left, go ahead and make the drive out of a mountain pass before pitching the tent.  Wind chill makes a difference. 🙂
Lake Hawea and the Blue Pools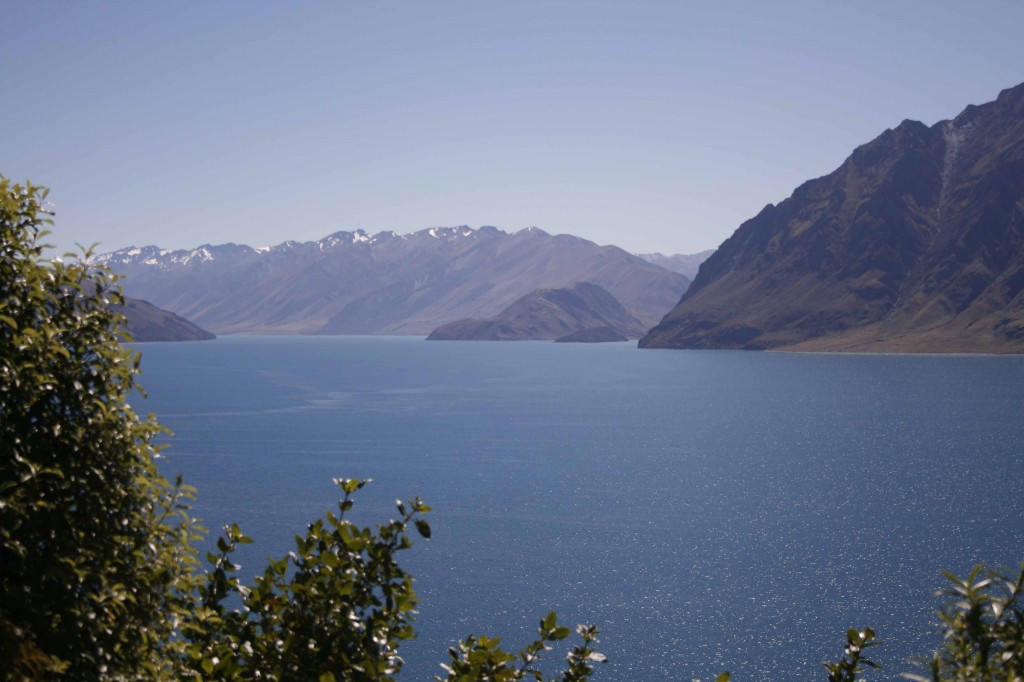 While this section title sounds like a bad 80's band, it was actually two of the coolest features that lined our last bit of the morning drive to Wanaka.
Lake Hawea is a fairly long lake that stretches out along the road (actually I guess the road stretches along the lake). We stopped at least 3 times along the lake to take scenic photos.  What I remember most about it was the intense blue of the lake.  While the above picture doesn't do the effect justice, I actually commented to Courtney how the lake looked photoshopped.
It was the first time, I had actually referred to a scenic view in real life as looking …  well, fake.  But it wouldn't be the last on our trip.  I just wasn't used to seeing that rich of colors next to each other.  Maybe some of you scientific types can tell me a reason for this.  Is it the air?  Something in the water?  An illusion?  Unspoiled terrain?  Either way, it was really neat.
The "Blue Pools" is a patch of water (there may be more than one, but we only could find one) that feeds into a river, where the visibility is incredibly transparent.  Even standing on a swing bridge at least a couple dozen feet above the pools it was easy to see fish spurting by and the detailed contours of the rocks at the bottom of the shallow pool.
It's only a short hike, maybe 5-10 minutes, off the main highway, but offered a great morning break from the drive.
Wanaka, New Zealand
Wanaka was the largest town (at least from our experience) since we had left Christchurch.  We spent the first couple hours running some routine errands.  We used the internet a little, restocked on groceries, filled up on gas, and finally played at the lake-front public park.
Suddenly Courtney turned to me and said, "You know what?…  This is a perfect little town with a perfect little view".
And she was right.  Honestly, it was the first town since Townsville/Magnetic Island in Australia that we immediately could see ourselves wanting to 'settle down' in.  Obviously, there's much more to a city than you can experience in just a morning/afternoon, but that gives you an idea of it's instant charm.  🙂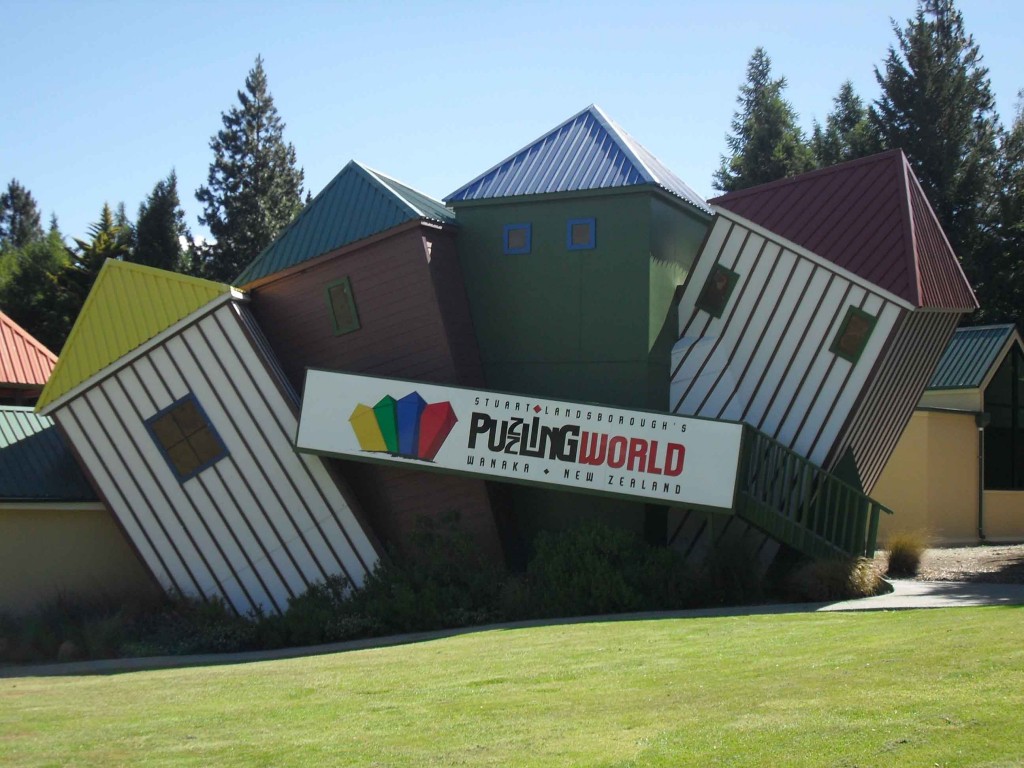 In the late afternoon we headed up to Puzzling world, which is located on the outskirts of Wanaka.  While it's hard to fully explain, it's basically a museum of sorts for illusions and puzzles.  It's certainly a one-of-a-kind place and in my mind a must-see if you are ever in the area.
Just a couple of the features included:
An 'Ames room' – which is a room which looks normal but is actually slanted to where one side of the room is around half the height of the other.  When two people stand at the opposite ends of the rooms on looks nearly twice as tall (or Milli looks half my height) :-).  This effect was widely used in the filming of Lord of the Rings.
A 35 degree slant room – not sure what the actual name of this room was.  But the floor was literally at around a 35 degree slant.  The trick was the room was painted and had all the features hung so that they looked as if the floor was flat.  Hard to explain, but take it from me.  Every step you take feels normal, but is really on a huge slant.  It actually made me sick to my stomach (there are warnings against pregnant or sick people entering).  It really messed with your mind.
A full-size human maze – out back there was a large, human-maze built that you can walk through.  There are four tours and tons of tricky turns and dead ends.  You can a small section picture below: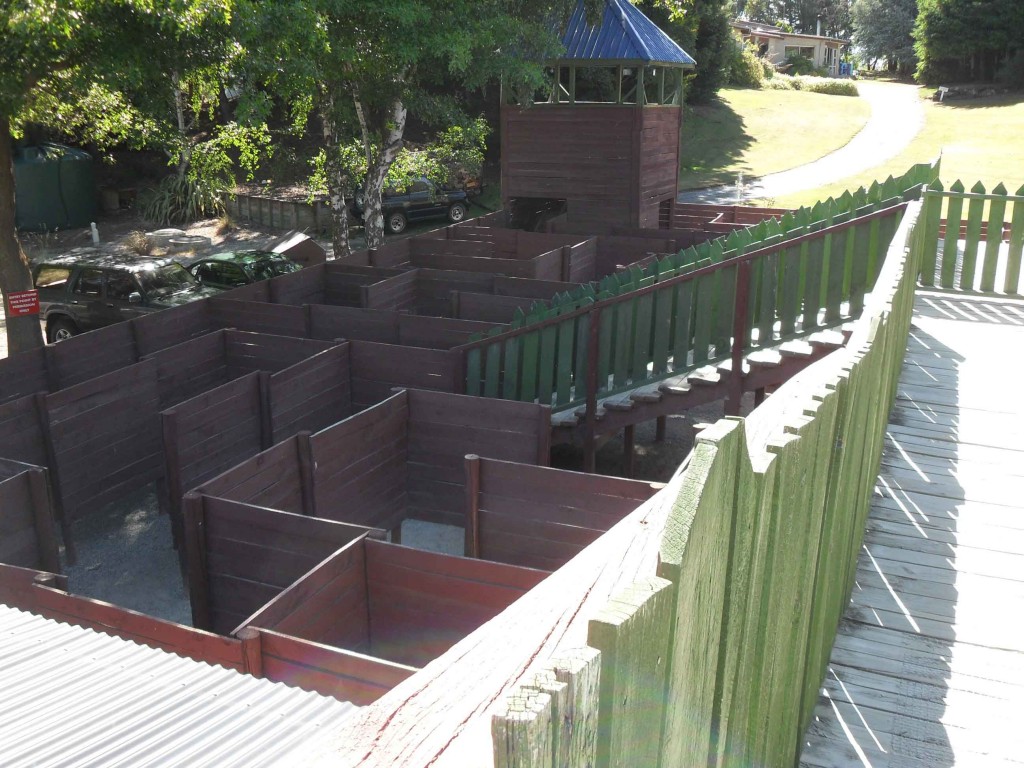 As with most things in my life, I was waaaay over confident.  I laughed when it said that the average time for doing the corners in a specific order was 60-90 minutes.  So Courtney and I pledged to do the 'hard' mode at a normal walking pace (with Milligan) to see how we could fare.  Here's the result:
First, it was much more difficult than I expected.  The real trick was doing the towers in the specific order.  Embarrassingly, there were several times when we got completely turned around and had to stop and say, "ummm… wait a sec."
When compiling the video above, I realized that I didn't take any just average footage in the middle of the maze.  Oh well, you can use your imagination.  🙂
Drive to Mount Cook
After our afternoon at Puzzling World, we decided to go ahead and make the drive to Mount Cook.  Mount Cook is the tallest mountain on the South Island (actually I think it's the tallest in New Zealand overall, too).  We'd be traveling through yet another pass, the Lindis pass
In true New Zealand fashion the drive was only a couple hours, but contained short, brown tussock landscapes (reminded me of Arizona), full pine trees, dry scraggly scrubs, and snow-capped mountains.  Once again, maybe someone smarter than me can point out why the terrain changes so drastically in so short of distance.
Geek Note:  Most of the drive reminded me almost perfectly of Rohan.  Sure enough, many of the scenes involving the Riders we filmed in the hills of that area.
Before it got too dark, we were pulling into the campground just outside of Mount Cook Village.  It's as close as you can get driving and/or camping (well…  in a campground) to Mount Cook.  We were convinced that this would be our coldest night, however it wasn't that bad at all.
First thing in the morning, we decided to take a 4-hour hike down the Hooker Valley Trail, which left from our campground and walked towards Mount Cook until it met the start of a glacier-fed river.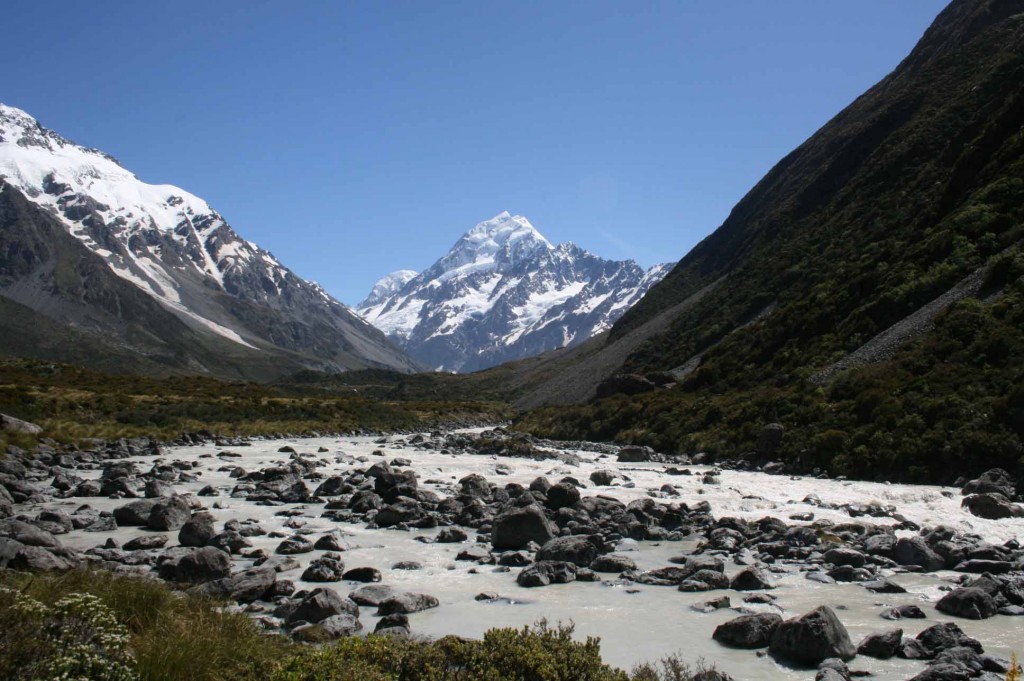 The hike took us across a couple swing bridges and by a memorial to everyone who has died on Mount Cook over the last 100 years.  After just under two hours, we reached a murky lake of sorts where the glacier slowly melted in the river that had been running along side of us through most of the hike.
Hungry, I turned to Courtney, "Honey, can I have a peanut butter bar."
"Um…  Milligan just ate the last one in my bag."
"You only brought ONE PEANUT BUTTER BAR on a 4 hour hike?"
"I thought YOU were bringing the peanut butter bars"
Now even more hungry (which tends to happen when you realize there isn't any food), we slowly turned around and prepared for the 2 hours of backtracking.  Milligan having just ate a pretty big snack was ready for her mid-morning nap.  And when Milligan is ready for a nap … she takes her nap.
I don't know how many of you have backpack carriers, but when the little ones go out, it's nearly impossible to keep carrying them in the pack, especially when you are trying to jump from rock to rock to cross a stream.  So we took Milligan out of the backpack and traded carrying her on our chests, 15 minutes at a time, all the way back out to the camp.
We were sunburned, hungry, and exhausted.  Finally arriving back at the car, the day old, left over Subway never tasted so good!  Here's some video of the Mount Cook experience:
As we drove away from Mount Cook Village, Courtney astutely noted that it looked exactly like the Other's camp from Lost.  I couldn't help but nod my sunburned head.
A little backtracking and some riverside camping…
We drove back down to Wanaka, where we let Milligan hit her favorite Dinosaur for a few more slides (or thirty) and Courtney went to the Information Center to book her Bungy Jump for the next day.
The older lady behind the counter issued a warning, "Now, before I book this for you, I have to let you know it's NON-transferable and NON-refundable.  So when you get to the top, if you choose to back out, you'll lose out the money."
It seemed less 'legal jargon' and more 'I'm speaking from experience here, lady'.  Courtney confirmed she understood, but after forking over the money gave me a look with a tiny hint of nervousness.
Baker: "For $250 NZD, if you don't jump, I'll shove you down the next cliff we encounter.  Just remember that."
Don't worry, I was half-joking.
As the evening settled in, we drove just a couple minutes outside of Wanaka to a riverside campground site in Albert Town.  For the first time on our trip, the site was free of swarming insects.  I figured being beside the river would actually make it worse, but I've already admitted not being smart enough to figure out this island.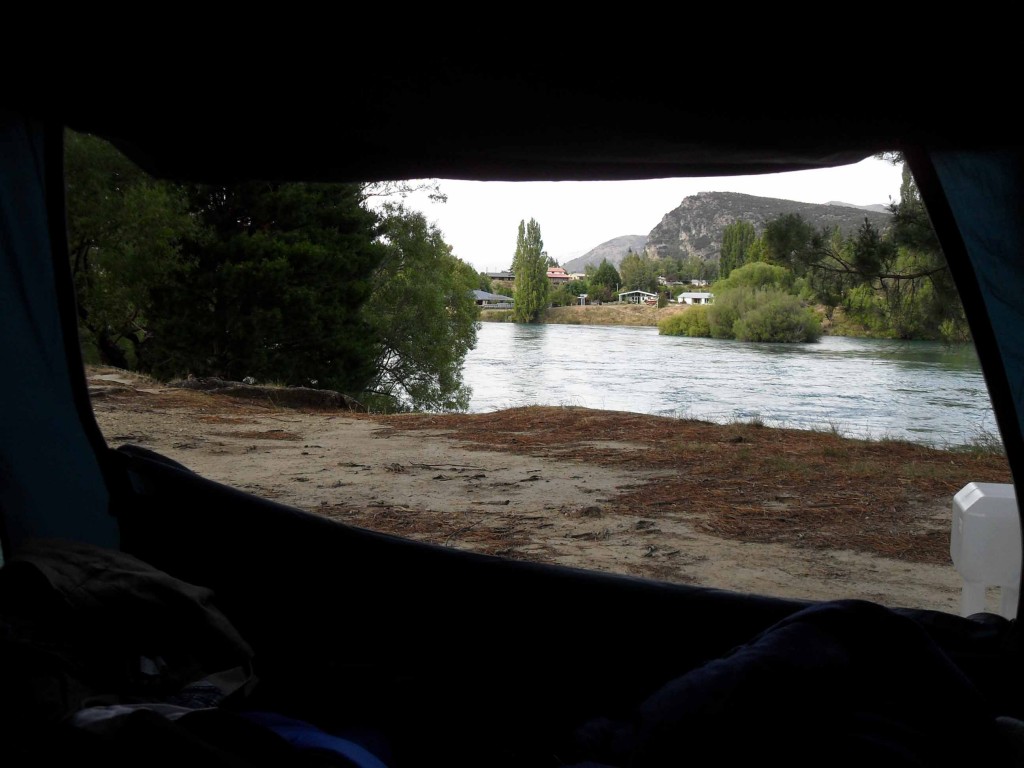 We took the opportunity to actually eat our dinner outside of the tent or the car, picnicking on the bank of the river bend as Milligan gave angry stares (and grumbled) at the various ducks which ever so slowly inched closer and closer as she ate her sandwich.
The absence of howling winds even let us open the front flaps of the tent to take in a new-to-us orientation of stars gleaming off the slow running river.  Ah…
The Cardrona Pass towards Queenstown…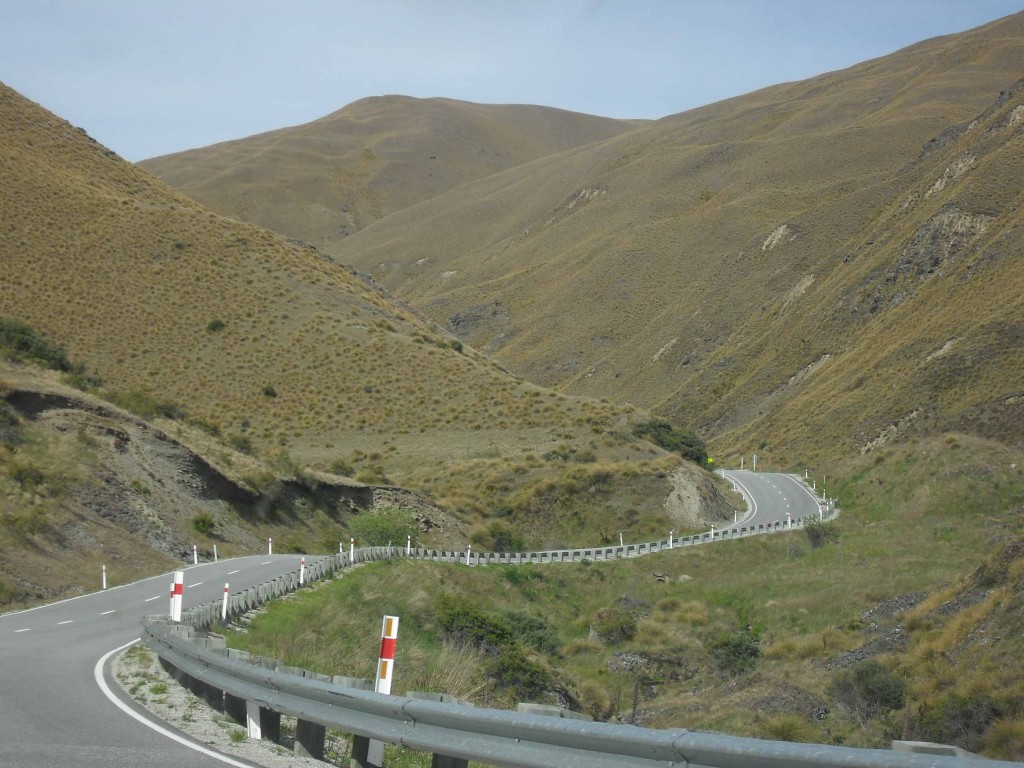 In the morning, we packed up and set off for the famous adventure destination of Queenstown.  The Cardrona Pass (as if we needed another pass right about now) closely mimicked a narrow river as it carves its way through a winding valley.  The drive featured plenty of "Check Brakes Now" signs along the way, which I will admit made me tap the breaks each time I read one.
Even though the European settlement of New Zealand is relatively young compared to most other countries, some of the first towns were built along this pass.  We were provided with ample opportunities for small historic towns with one-of-a-kind claims to a range of 'firsts in New Zealand'.
Our first and most immediate goal was to make it to our lakeside cabin where we'd be spending two days, including Christmas Eve.  At $120 NZD (~80 USD) per night it was a planned Christmas splurge/break for us from camping.
As we pulled into the driveway at the edge of Queenstown, we knew something was wrong.  First, Courtney noted that the house looked nothing like the photo.  Second, there was two cars in the driveway of a supposedly empty holiday rental home. Third, and most convincingly, there were wet clothes hanging up on the close line.  Awkward.
We double and triple checked the address both on Courtney hand-written notes and then by digging for a copy of the printed e-mail the homeowner had sent.  We were in the right place.  But obviously, it wasn't the right place.
Courtney tried calling the homeowner (no luck) as I drove us to find internet in Queenstown.  Once inside, we pulled up the listing of the house again.  Definitely not the house at the address she had sent us.  With no luck on the phone we started to look up back-up options as Courtney bungy-jumping time grew closer.
To our joy, fortune sided with us this time, the homeowner ended up returning our call and realizing that she had accidentally mistyped the address in her e-mail.  It was 917 not 971.  Sort of makes a difference.  Around 2 hours squandered, but it didn't dull the warm showers and decent beds we were looking forward to.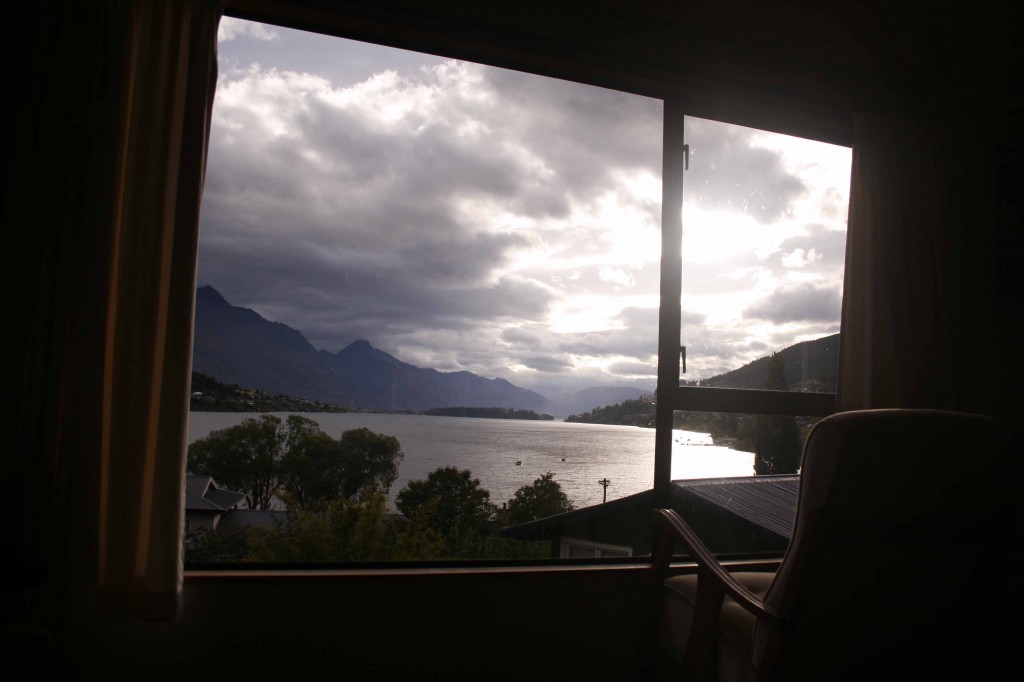 The view from our cabin … once we finally found the right one.
Jumping 440 feet…
Before we had any time to settle in, it was time for Courtney to jump!  Here's her story of what happened after Milligan and I dropped her off in Queenstown:
There I was, sitting in the A.J. Hackett bungy station listening to the pump-you-up music overhead and watching the footage of previous jumping victims replay over the monitors. I can't claim that I was horrified yet (that would come later). At this point, I was just kind of detached from it all.

Our driver arrived and herded us to the shuttle bus for our forty minute ride out to the site. Joking along the way, we passed the first commercial bungy jump ever the Kawarau Bridge jump which is 43 meters. My jump today would be a 134 meters, three times the distance of the one we were driving by.

Finally, we reached our destination. We shifted from the shuttle bus to a 4WD bus that hauled up a steep gravel road. As we scaled Mt. Everest (at least that's what if felt like), I couldn't help but look over the cliff edge and notice there were no guard rails. This is the moment I first felt horrified.

At the top, they harnessed and strapped us inside a pod that was attached to a high wire. The pod scoots across the high wire out to a landing pad that swings in the middle of the high wire over the valley. This is the first time I really saw what a 134m looks like from above.

It's far … really far. At the bottom is a rocky riverbed which appeared to be ooh… 0.4 inches deep!

My instructor informed me that the river bed is actually several feet deep and not to worry because I shouldn't get more than 10 meters away from it. This was not the thing I wanted to hear as I headed to the ledge. I didn't want to hear that once I jumped I would be falling all the way down to that water, all the way except for 30 feet!

Here's the thing about jumping. It's hard to take the first step of the ledge. After that, you have nothing left to do but enjoy it. So 1-2-3, I took a deep breath and dove off the ledge. The whole way down I was staring at the blue water, and I'm convinced that I was closer than 30 feet. Watch the footage; you tell me.
While Courtney was jumping, Milligan set out to tackle some task that were long overdo (and others that were just relaxing):
Cleaned the bits of trash, smashed food, and heaps of maps/brochures out of the car.
Tried to eliminate the smell of wet tents, dirty diapers, and less than daily showers from said car.
Reorganized and properly packed all the camping gear.
Grocery shopped for 2-3 meals.
Actually cooked a meal (curry of course) in a real and private kitchen.
Rented two movies.
Started a load of laundry.
Showered.
Watched two movies (this one was later with Courtney).
Doesn't sound like a compelling travel itinerary, but it was an extremely welcome combination of events.
Camping with Frodo and Sam in Glenorchy
After spending Christmas Eve and Christmas morning relaxed in our comfortable cabin, it was time to hit the road again.
This time we'd only be making a short drive outside of Queenstown through Glenorchy (a.k.a. LOTR Heaven) and to the aplty-named area, Paradise.  This whole area (and the specific drive) is scattered with set locations from the filming on the Lord of the Rings.
Here are a variety of pictures and videos of the region: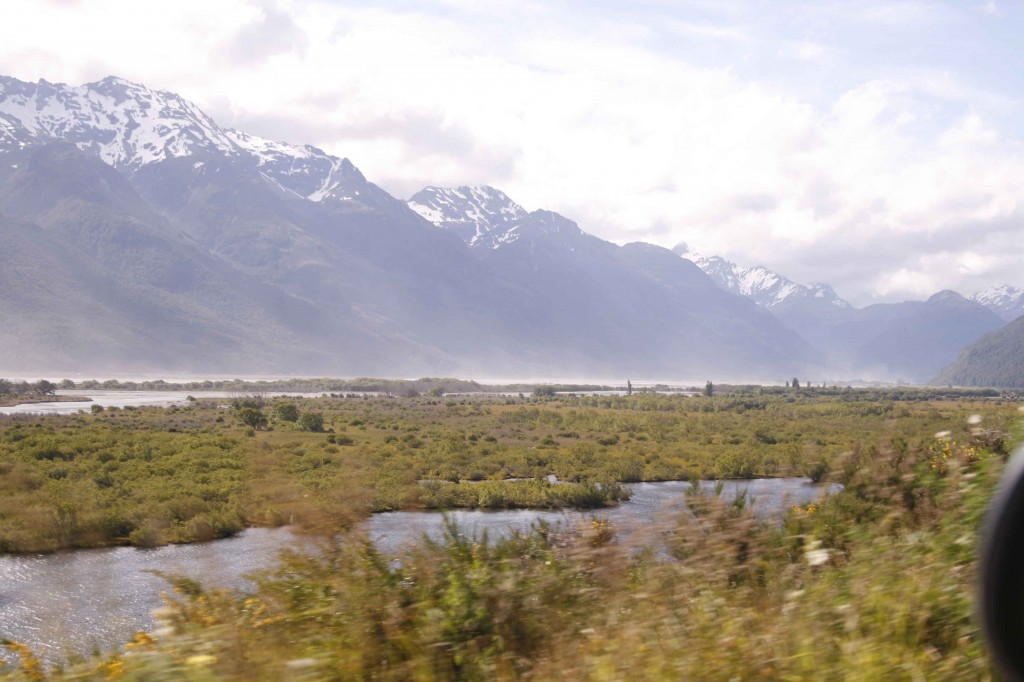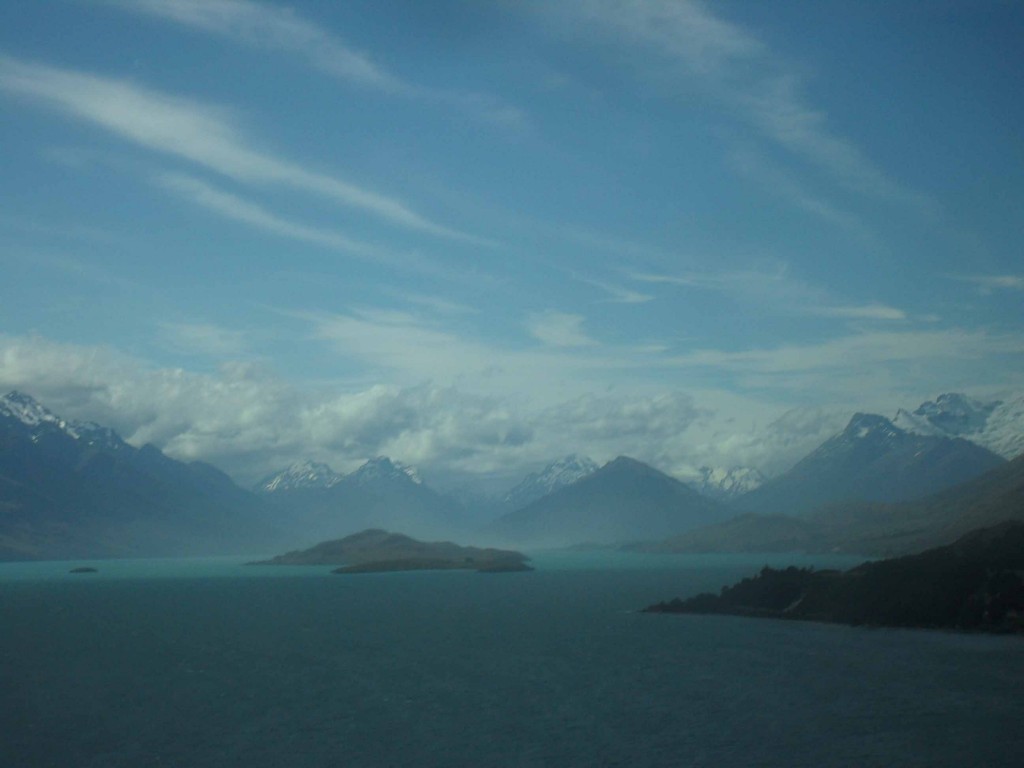 An Ominous Transition…
After our short time in the wonderful region of Glenorchy, we needed to hit the road yet again.  This time we'd be driving to Milford Sound, a place that carried a hefty reputation as one of the best sites in New Zealand.
We make a quick pit stop in Queenstown to stock up on gas and food.  As we started to drive away, Courtney realized she was missing her small camera, which was just in the car.  Retracing our footsteps, we realized the only likely place for the camera:
The trash can back at the gas station.
Borrowing some gloves from inside, Courtney shifted through the trash (it was raining, of course) and after several minutes of pulling out wet, nasty (insert random item) she located the camera.  It was covered in Ketchup, but after being cleaned up still shows no sign of any damage.
Getting back into the car, Courtney turned and said, "Well at least it can't get much worse than that!"
Actually, honey, it turns out you were wrong.  And if you remember right, we are about to prove it…