Today, I want to revisit a common (but always interesting) discussion, covering "Should married couples or those in a long-term relationship have  joint or separate accounts?"
I say "revisit" because I brought up this topic over a year and a half ago on this very blog. It was in my early days of blogging and this post was actually the first time I received hate email (and hate comments).
Admittedly my title, "Married with Separate Finances: I just don't get it", and early tone was a little forward. And if you didn't make it past the first two paragraphs, I can see why some of that hate mail came in.
However, many people did make it past the first few paragraphs and carried on the conversation into the comments. A year and a half later the post continues to get a few comments every week or so.
What I didn't fully realize at the time of writing this post (that I do know now) is how insanely passionate of a topic this is for people. It combines relationships, love, trust, and money. Try as we might to make it black and white, it involves very real and often raw emotions.
How Courtney and Baker Managed Their Finances…
As you might guess from the original post title, Courtney and I have joint finances. That hasn't changed over the past year and a half.
We have one personal checking account. We have one business checking account. That's it.
At no point in our engagement or marriage did we ever consider NOT having combined financial lives. In other words, we've never tested or experienced marriage with separate finances.
I only tell you this so you know where I come from. 🙂
I also have met many, many financially thriving and intelligent people with long-term, great marriages. J.D. Roth, a friend, and mentor, who runs one the largest financial blogs on the internet – has talked about how he and his wife have separate finances many times.
The more I talk to people I respect on this issue, the more examples I have of people making separate finances work. Still, Courtney and I won't be switching anytime soon as we still love our combined financial life.
3 Core Reasons We Love Combined Finances…
I discuss more than three reasons in the original article on this topic, however, I want to reiterate three of our core ones. And this time I'll spin things around in a more positive direction.  🙂
We love joint finances because:
Core #1:  It encourages us to communicate, understand each other, and to exist happily together.
In our young marriage, finances, and money has been a strength.  God knows we've had our share of weaknesses, but the skills we've learned in working together to have a joint, harmonious financial life have helped support other areas.
It's not always easy, but we've learned to communicate, control selfish impulses, and allow each other financial individualism inside of combined finances. I honestly believe our marriage is stronger as a result of our combined financial life.
Core #2:  Income – no matter where it comes from – is "ours".
This is another huge one for us. When Milligan was born, I sold a property management company I had worked my butt off to build. For the two years after that, Courtney made the "majority" of our income. She taught early on while I stayed home. In New Zealand, she taught once again, so that we could sustain our lifestyle abroad. And now, the tables are turning quickly. But that's o.k. – we embrace that either one of us can "provide" and are willing to invest in what we think is best for us.
I feel like having separate financial lives, incomes, split bills, responsibilities, and financial goals would make us… roommates – not spouses. I realize that's likely a huge over simplification, but it wouldn't feel right to me.
Part of what makes a shared life with Courtney great is our common visions and goals. Sure they move, shift, and radically change from time to time – but that's life. Like it or not, finances play a huge role in enabling or squashing those visions.
Core #3:  Simplified, straight-forward financial life.
This will come as no shock to long-time readers, but I'm a big, big fan of simplified finances.  Shelving emotions completely for a moment – joint finances is just less complicated.
Could we make our finances work with one joint account, two separate accounts, and our own credit cards, retirements, and savings strategies?  Probably. But that just seems – well, complicated. I fully understand it's not possible for everyone, but Courtney and I really love having very few, simple accounts. It's another major benefit of combining finances for us.
Again, I'm just one person. Our system works great for us, but I also want to share the perspective of others below.
Can you open a joint bank account without being married?
Yes, it is possible to open a joint bank account without being married. In fact, there are many situations in which people may want to open a joint account with someone they are not married to, such as business partners, roommates, family members, or couples in a committed relationship who do not wish to get married.
What You Need:
To open a joint account, both account holders will need to provide identification, such as a driver's license or passport, and their Social Security numbers. The bank may also require proof of address, such as a utility bill or lease agreement.
Things to Consider:
It's important to note that opening a joint account means that both parties are equally responsible for the account. This means that if one account holder overdraws the account or fails to pay fees, both account holders will be held responsible. It's important to establish clear communication and trust between both parties before opening a joint account.
Additionally, it's important to understand that joint accounts can be subject to legal issues, such as bankruptcy or divorce. In the event of a legal dispute, the account may be frozen, and both account holders may need to seek legal counsel.
Let's take a look at an interview.

An Interview with Corey Allen of SimpleMarriage.net
[If you cannot view the video, click here to watch in your browser.] In the video above, Corey and I discuss:
How Corey and his wife handle their finances.
The pros and cons of joint and separate finances.
Leveraging money for "the bigger picture".
Not taking everything in marriage so personally.
As promised (and frequently requested) I've attached the full and very long transcription below:
Hey everyone, it's Baker from Man Vs. Debt. And I am joined here today by Corey Allen of SimpleMarriage.net. Corey, thanks for joining us.

Hey, glad to be here.

Good. Well, I wanted to get you on and talk a little bit about personal finance and marriage. And this is always just a very juicy topic. I did a post about a year and a half ago called, "Married with separate finances? I just don't get it" and that was, at the time, one of my most commented posts. And really opened my eyes to how big of an issue joint or separate finances, and the whole concept of sharing a life or sharing a financial life, is to people. So my first question for you is, how do you and your wife handle your finances? Because that's always the most interesting for people.

Sure. Well, first off, for the record, I am married to a CPA. So you know squarely where the nitpicky detail, all of that—you know whose shoulders that resides on.

And for the first part of marriage—my wife and I have been married for 17 years, and so for probably the first five or six, we had joint accounts. And it worked okay. There was lots of fights, there was lots of, "Hey, what's this?" That kind of stuff, because I would—and usually it was my laziness that instigated it.

So then we kind of made the decision at that point, "Hey, what's going to work best for us is separate accounts." We both had jobs. We both were working – didn't have any kids at the time. And so we went to separate, and we've been that way ever since.

For us, it works because she has learned, and had to learn, how to just let go of some things and let some frivolous spending occur. And I've had to learn how to take care of my own stuff and deal with it in a more upfront way. Because part of what you talk about with the idea of—it's a loaded issue, is there's a lot of history surrounding money and people, when it comes to their family and what money means. And I grew up with money being a secret kind of a thing. And my wife grew up with money, everything's on the table. And so naturally you're going to collide with that.

So I think that's very interesting. We didn't actually talk about this beforehand. So I had assumed that your finances were joint, and it turns out that they're not, which makes this even makes it more interesting.

I know a lot of people, now you included, who have healthy relationships with separate finances. It's hard for me to grasp that concept because I've just always been raised as a joint finance person.

However, my biggest issue with separate finances is, anytime I have my own account, even if it's very small amounts, I feel like I'm encouraged to be dishonest. That doesn't mean that I'm dishonest. But that means that I have avenues to begin to maybe make purchases that aren't—that are out of line with what I know are our common goals. It's easier for me to fall off the wagon, I guess is what I'm saying.

So many people view this having that to bounce it off your spouse as a bad thing. I actually view it as a positive thing. It's not that I can't spend. It's not that we haven't had those fights. It's not that we haven't made that discussion. It's just that when I do, I know I'm going to be held accountable if it goes a little bit haywire, and vice versa. I think that's healthy.

So my question for you is – you have separate accounts. How do you fight that? Do you ever have the urge to sort of like, "Oh, I could spend $50 on this, or $100 on this, and my wife would really never know." Do you ever have those sort of urges to sort of hide things, and how do you fight against that, obviously?

Obviously, I have that urge because that's deeply ingrained in me. Because I was raised by parents that—my mom would take us shopping, and it was classic. We would buy more probably than we were supposed to for back-to-school or whatever. And it was, "Don't tell your father about this; I'll tell him" kind of stuff. So immediately starts sending that message of, "Hey, it's OK to lie about money." And that's an extremely difficult thing to overcome.

But even with separate accounts, it's not like it's just a free-for-all with money, because there's—money's a finite resource for most everybody. So when I have those urges, if you will, to go and just eat out, pick up something, it's not like I'm hiding it necessarily.

Because if it's something that I'm purchasing, my wife's going to find out about it anyway. Because it's something that I've brought home, it's something I'm going to wear, it's something I'm going to use. And so it's bound to bring up this, "Hey, where's that from?"

So you immediately have to deal with it anyway, when she goes to look at the credit card statement or she goes to look at the checkbook, if it's a joint account. We have the separate accounts, but we have access to each other's account. We're signers on everybody's account. I can log into the bank and see everything she's got. She can do the same with mine and the kids'.

It's still one of those that allows for a lot of possibility of dishonesty, but to me, if you're dishonest with your spouse, that's a bigger issue than just money.

Absolutely. It's just, I don't want to put myself in a system that points me in that direction, even if that's not what I would normally do. And it sounds like you guys overcome this by just having layers of honesty inherent in your plan.

Like you said, you can log onto each other's accounts, you guys are into—but I've heard a lot of stories, through Man vs. Debt and through some other resources, of people where it's not that way, and where separate finances tends to have one person—where the finances are separate and one person dominates it. Where maybe both aren't working, and one person makes the money and controls the finances and gives an allowance to a spouse. And that seems extremely unhealthy.

Again, I'm not an expert, so I'm not going to judge other people's situation. But I see many unhealthy relationships that fall into that line. It's just an interesting topic. There's no even question in there. It's just, I love talking about how other people do it, and comparing and contrasting, and just getting that issue out there. I think the more transparency we put on that, the better.

Sure, and one thing that's important, I think, to bring up when it comes to the whole concept of money is, money—and I think Chris Guillebeau's really good with this.

Money in and of itself is really nothing. There's value attached to it, you know? There's something—there's a meaning behind it. And that's the point of—when it comes to marriage and it comes to money, it's not fighting over money.

Like the example of, you know, the stereotypical husband where he's the major breadwinner, or he's the only breadwinner. And the wife is a stay-at-home mom, and the husband then has to give an allowance, quote-unquote, to his wife. If he is controlling over that, or lords that over her, then money to him is power. So she then probably is getting her power in other ways. And it could be by manipulating and being sneaky about things, or—who knows? I mean, you could get into all kinds of different scenarios there.

But then it comes down to, it's really all about meaning, and what does that thing mean to each person? And when you can understand that a little more from your spouse, and for each other, and more importantly for yourself, you really can start to disarm some of the power that argument has in a relationship.

Because you realize, for me personally, money used to be status. And I was really big on, I want to have the latest thing and I want to look the certain part, I want to dress a certain way, I want to drive this certain thing. And you know, over the last six years or so, when my wife and I have been on a pretty big simplicity kick, that's really—I've had to redefine what that means.

And now to me, money is freedom. And so we're working towards that, and that's our primary goal, and that's something we've both latched onto.

And this is a perfect transition. It's like we talked about this beforehand, but we didn't. And what I wanted to talk about, sort of move into, is leveraging that money—the issue of money is not really the issue. But also getting down to leveraging a joint financial journey, I guess in pursuit of a larger, more passionate goal. That's a very wordy way of saying it.

Courtney and I have been married three years. We've had ups and downs, obviously. But finances have been a strength, because we're on the same page. It's exactly what you just said. We've positioned ourselves where, when it comes to finances, we're not exactly the same. But we're on the same page, in that we want to live our financial life a certain way because it empowers a deeper goal for us.

The goal for us is also freedom. It's also the ability to not have to worry about money, but at the same time, not worry about money because we make $1 million a year. But to make a decent living, but to not worry about money because we understand the way it works. We're able to control it. We're able to communicate about it. And that openness, that flexibility—I guess freedom, flexibility, the ability to adapt—all of that is very much at our core.

And we've used it recently to travel. That's obvious from the blog, and we plan to do some more travel coming up. Without revealing any top secret plans or any personal information, do you and your wife have underlying, big, powerful, emotional goals that help pull you through and keep you on focus in your finances? Do you have any? Do you use that same sort of system?

Yeah, we do. And for us it's really—it's a bigger picture than just money. It's, we have latched on, within the last three years, to this whole idea of life as a story. And there's a larger story going on in our life than just us and our kids. But there's  a camaraderie and a community and a force, if you will.

I mean, I add spiritual components to that because it's an important part of my life. But it's this whole idea of, we want to be a part of something bigger than ourselves. So we work towards that, so money then has to fit into that. Our giving has to fit into that, to other people, whether it's monetarily or our time or expertise or whatever.

And so once that kind of came around, it started to give a purpose for what we do and how we deal with things. And it allowed us—it gave us some more motivation to have those tougher discussions of, "Hey, maybe we should live on a budget, quote-unquote," because that's the word I always hated growing up.

And that's the word my wife lives within every day, because she loves the Excel spreadsheet, and getting everything nitpicked out, and I can't stand it. So that's one now that, as we kind of got a hold of this idea of, "Yeah, there's something larger we want to do and be a part of," and we may even fail at it. That's OK.

But it's about the journey. It's about the journey.

Yeah, we want to do it. And that's allowed us to have those conversations of, "Maybe we should cut this expense. Maybe we should get rid of this. Maybe we should"—just recently, in the past three weeks, we have stopped eating out completely.

Well, let me rephrase. We have a small allowance we have allotted each of ourselves to use, and when that's gone each month, it's gone. And so that's all we can do if we want to pick up something quick. Other than that, we're eating at home. And that's a huge difference for our finances. And that's just $5 increments at a time, but still that's a big deal.

And again, it all comes back to, you're doing that together. In the last three years, we've always had what I felt was an open relationship. And I think that's been one of the pluses of our finances. I think it's actually the most important element of finances, which we've talked about here at the beginning of this conversation.

But as it applies to the relationship as a whole, it hasn't always been completely easy for me. It's not that I have trouble hiding things. But it's sometimes that I have trouble being completely vulnerable, and completely open and honest about my feelings. And so that's been the biggest sort of transition for Courtney and I.

Do you have two or three tips—doesn't have to apply to finances, I'm just talking about life in general. Do you have two or three tips for helping people sort of be more raw, open, and vulnerable? Because that's just been a really big thing that Courtney and I have been working on.

Yeah. I think that it's—again it comes down to the meaning you attach to whatever it is that's going on. Because one of the components that's going to naturally be at work in every single relationship is this whole idea of, "We want to be together."

I want the togetherness with my spouse and what that offers and what the relationship can only provide. But I also want my own autonomy and I want to be my own person. So a lot of times, those defensive, tense, emotion-laden conversations are usually butting into one of those.

And typically if it's money, it's the separateness issue. My wife is questioning some of my judgment. OK, no she's not. She's asking why I've spent $20 on a watch or whatever. But I interpret that as much more than just an expense, because to her it's something different.

So the biggest example I've got, or biggest tip I have for every couple is to realize a majority of what goes on in relationships is not personal. It's not a personal attack. It's not a defamation of character, if you will. It's more just somebody speaking up for something that they hold dear, or is important to them, or will bring them comfort.

And I have to allow my spouse the freedom to speak up about those things and address it honestly. Because if I try to cover it, or I don't know where I stand on it, it's going to perpetuate. And it's going to continue to be there and fester. And it typically then spills over into the bigger areas of life, and then you start building up walls and resentments and you just start co-existing. You're not heading together in the blissful romance that marriage can be, even though that's not what it always is either.

I think that's a really great core tip. That's that just because a conversation is started about something—whether it's an activity, whether it's a fault, it's a behavior—doesn't mean that it's a personal attack. And it's so easy to take it as a personal attack, because you're so close and intimate with that other person.

Almost every argument that we've ever had I can trace back to that one thing. And obviously you've provided that tip before, because when I think back, having heard you say that, it is at the root of almost every problem.

And that's the whole idea of lots of couples—and this is a little bit of a detour from what we're talking about, but it applies. Lots of couples will come to me and say—or one of their main complaints is, "We can't communicate. We can't get along with this," whatever.

And my response is, "Yeah, you can. In every single relationship, if it's important to you especially, you cannot not communicate. The problem is, you don't like what the other person is saying or not saying."

So it's learning how to handle the message and another person being free to be what they want to be and believe what they want to believe, and that's not an indictment on you, 'cause you have the same freedom. And then you start navigating it together based on your own values, and then it starts become choice, and it starts to become planning, and it starts to become dreaming, and it starts to become that guided path together rather than a fight the whole time.

Because you're going to fight in relationships; that's just a non-negotiable. You're going to have disagreements and conflict is good, because it makes us better people.

Awesome. Awesome advice, and you current—just new out the last couple weeks— released a new e-book, and it's insanely cheap, I must say. I read every word. You sent it to me—full disclaimer—you sent it to me and I really did read every word of it. I thought it was great. It's an issue that I don't read enough on, so that's why I love the message that you're sending out.

But you have a new e-book. It's called Buck Naked Marriage. It's insanely cheap. Tell us a little bit about how this e-book came about, or why you decided to provide this information basically as an e-book.

Simple Marriage, my site, the blog that I do, started  two and a half years, almost three years ago now, as a way to try to reach people that just want to experience more in marriage. They want a better marriage. It's not necessarily for crisis or dealing with issues. It's more for, "Marriage is OK, but I want it to be better."

Since then, it's kind of evolved into a broader reach, but some of that belief has stayed. And so a year ago, I just conducted a quick research study, ended up having over 1,000 people respond. And I just asked one question of, what's the basic element necessary for marriage or a committed relationship to thrive?

And so from all those respondents—each one was able to give me up to six different answers—I just put all that into some stats work and all my doctorate kind of junk came into play here. Put that into some stats, came up with the top 10 according to what the research showed, and then there's the 10 chapters of the first part of the book.

So it's the basic common sense kind of things that you think of that is important in marriage of honesty, communication, love, respect, friendship, those kinds of things are an important part of every relationship. And I just wrote up my take on each of those.

And then part two, I just added another component of, "Here's some of the major things that trip people up," being money, obviously is one. And then family, kids, rest, contentment, that kind of stuff. And so just kind of wrote a little bit of a guide of how to deal with those, and the idea just kind of sat for awhile, until it was like, "This is really good research, I've got to do something with it." And so, spent several months kind of working it, massaging it, writing it. And then launched it, so it's out and available.

Awesome.  Your site is a site that I regularly read. I consider you one of the authorities on this. I love the work you're doing. Obviously it's a big part of my life. And I think that people underplay the importance of marriage, not only in their financial lives, but in their quest to live lives of passion.

Because if you're married—and the far majority of people are either married or going to get married and going to be in serious relationships—it's just at the core. It's at the very core, everything starts. And it's taken me awhile to learn this.

Everything starts with my marriage. It doesn't matter if I'm trying to make money, grow a business, travel, do what I love, sell my crap—whatever the thing is in my life, it all starts with that. And so I love that there are people as intelligent as yourself attacking this issue, helping people out. So thanks for your blog. And I appreciate the 20-25 minutes we've spent together today. So thanks for joining me.

Thanks for having me on. It's been great.

Cool man. We'll talk soon.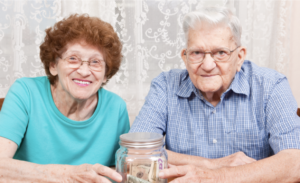 What others have shared about joint vs separate accounts
My original post, not-so-surprisingly, stirred up a lot of feedback. Some was non-constructive, but the far majority added to a great discussion.  I wanted to share a few of my favorite comments, from all sides of the issue.
Kyle commented:
My wife and I have separate accounts and a joint account. We don't really have separate finances though. Our separate checking accounts are for our personal spending like gas for our cars, blow money, and eating out for lunch. It is essentially just a budget item which gets moved into two separate accounts.

All bills and household expenses are OUR expenses and are handled through the main account. The separate accounts makes it easier for us to keep up with our blow money and keep play separate from the business end of our joint finances.
Kevin commented:
Completely, 100% agree with you.

Last time I checked marriage was supposed to be about unity and joint-ness rather than just living together. Just goes to show how far our society has gotten from God's design of life. "Yea, I just live with my wife. I don't know what she does with her money." (palm-face-smack image here)
Dan Malone commented:
I think that having separate finances is great. It works very well for my wife and I, as linked above.

We discuss our finances openly, but never fight about money because we are individually responsible for our own money. If she wants to splurge on shoes, its no skin off my back and vice versus if I want to buy power tools. It ultimately allows us to become closer.
Brett commented:
It sounds like you have a great financial partnership and you should be thankful.

However, not everyone is so fortunate. You should keep in mind all of the challenges of having an irresponsible spouse. When this happens, all of the talking in the world doesn't work, because they really don't care about the finances. They just want to buy whatever they want, even of it hurts the rest of the family. They consider excessive spending to be a right, not a problem.

I personally know many couples who have gone through financial nightmares because of irresponsible spending by one of the spouses. For the responsible spouse it's the most helpless feeling in the world. Separating finances is one of the few things that may work in this situation. It can be the single thing that saves a marriage.

The reason you can't list any negatives of joint finances is because you probably haven't experienced any of them. It's like saying you don't understand alcoholism, when you don't have a drinking problem. When joint finances go wrong, bankruptcy and divorce are the two biggest negatives. They are also very common right now.

Try talking to someone who has been there and then you will know what it's like. It's an awful feeling when you go to pay the bills one day and find out all of the money is gone. Imagine you have a single income for a family of four, the bills are due, the refrigerator is empty, it's two weeks until payday and all the money has been squandered on junk.

Having said all of that, I can now say something a little more positive. We are still married after 18 years, our finances are in pretty good shape and Yes, we still have separate bank accounts. We have both become more responsible and we rarely fight about money any more. Many other couples I know aren't nearly as fortunate.
Emily Davis commented:
I love you to death. Stay away from my money.

Seriously, I can't imagine SHARING my finances with someone else. Money is like water. You have it, you give it. You need it, you take it! But a joint bank account? No, thank you. My boyfriend (I wince at the term boyfriend, we're both professionals in our 30′s with a two year old) and I are talking about getting a quickie marriage license, to have a nice fam unit for our daughter.

But I don't agree with half the things he buys, he shudders at half the stuff I buy. So what? We're working adults and we can do what we want with OUR OWN MONEY. We would strangle each other with a joint bank account. Does that mean we don't love each other and want to be a family? I don't think so. We're also very generous with each other. I've helped him out with medical bills before. He bought me a HD video camera when my little digital video camera broke. But we have separate finances.

The only reason we're considering skipping marriage is because we don't want to file our taxes together. I'm a big girl and I can handle filing my own taxes. but I'm penalized for it because i'd be married. Argh!

Can't I have my own financial identity AND get married?
Priscila commented:
I've been married for over a year and every time I bring this subject up it's an argument. My husband makes more money (+15k) than I do and he feels he is entitle to all his money. He feels I need to live within my limits and not ask him for money, because he doesn't ask me for money.

I had to hear it when I asked him for 20 bucks to help pay for the pet's vaccination. If one of the pets get sick, he expects me to pay for the bill as I came to this marriage with the pets, so they are mine.

We had plans to have children but I got that totally off the book. There is no way we can raise a child under these system. I'm looking for a second job besides my full time job and part time school to help me pay for all my expenses.

We have a joint checking that we put a certain amount of money to cover bill and groceries. That was another fight over 4 months to get done. He would go to the store, pick his junk and separate them at the cashier. I ended up paying for all the groceries that I cooked and both of us ate. I had no money for groceries and I had relatives from outside of the country over.

I asked him for money and he limited me 50 bucks for grocery. Next day he shows up with an Opus One and I found his bank statement showing 1,600 available for over 3 months in his checking account. I cried so much and I decided it had to end.

That's when I finally won the joint account for bills only. Oh did I mention he wanted to file separate with IRS and I had to speak up? What do I do? I'm starting counseling, will try to bring him to couple's therapy but I'm seriously giving up and thinking seriously of divorce. I feel he is selfish and maybe he is hiding things from me.
Julie commented:
My spouse and I both make about the same amount of money so we share the bills equally. The way we handle our finances is this. We both have separate checking accounts where our paychecks get deposited into every two weeks. Immediately after pay day all the money we need to pay our bills, and put into savings for that period is automatically deposited into our joint account. That is the same amount every paycheck.

Whatever is left in our separate accounts is left for us to spend freely on entertainment, eating out, clothing, toys. We sit down every few months and decide how much we want to save and for what purpose: vacation, big purchases, retirement, etc.. That way we can adjust the automatic transfer amount that goes into our joint account.

This allows us to work together easily to pay bills and save towards our joint goals. It also allows us to not feel guilty if we occasionally splurge on something for ourselves. It works for us!

I think everyone is different and you need to work out what will work for your relationship. There is no one best way, although I enjoy reading about different approaches to get ideas. Thanks for this post!
Slinky commented:
Two people meet, each handling their own money, they get married and then combine finances. As this is generally how it goes, I think the more valid question is why combine?

For what reason do people abandon their existing system and move to a new one? Why did you? What's the benefit to doing so? Where is the advantage?

It's not that I think combining finances is horrible or anything like that, I just don't see why we should go to all the bother when what we do works fine. So, the answer to "why not?" is "why should I?"
Many of my blogging friends have also tackled this issue:
As you can see, the issue is not only popular but has many levels. Some deeply emotional and some not. It affects different people in different ways.
Bottom Line: This is an extremely complicated and intricate issue!
What I *have* learned recently…
With all this talk about relationships and money, I've done a lot of thinking.  While the core position of my preference on this issue has changed very little – my tone has changed.
You see, when I first started blogging and forming my opinions on personal finance subjects, I had a tendency to try to figure out the right answer.  I wanted to highlight the most effective way of doing things.
I'm also well aware that in life, generally, people want to be told what to do. We think we want to educate ourselves on a topic, but mostly we just want to know what to do. If I want to lose weight, consciously I may be interested in learning about how, but subconsciously I just want to know *exactly* what I need to do.
In other words, the inconvenient truth is that it's many times more effective to pick a side and support it – rather than continually weigh the pros and cons. This is especially true when trying to positively influence others.
On issues like credit cards, television, following your passions, I realize there are pros and cons. I've researched and studied them myself, but I still passionately suggest a very specific way of handling these topics.
The same was true for the issue of combining or separating finances… until very recently.
If someone asked me for specific advice, I'd still encourage them to combine finances in most cases. However, I just want people to be happy.
Long-term relationships of any sort are complicated, emotional clusters… you know what. While some financial issues are more cut and dry in my mind – how couples treat finances isn't. I'm much more in tune with that now.
Some people have decades of financial history, assets, and responsibility that they bring – especially if the marriage is not their first. Others choose to stay together and never marry – complicating the legal side of the equation. Others are wounded (or arguably wiser) because of a past divorce or violation of trust.  Some couples can't marry.
I get all that. I really do. I hear stories everyday – many of which are from you guys.
And at the bottom of this one issue… I just want people to be happy.
Rather than be the number one issue couples fight about, I'd love for more couples to have it be the main source of strength.
Does that make me a bad advice giver? Probably. Telling people "be happy" rarely helps solve a problem.
Ultimately, I think more light needs to be shed on how couples manage their money – both good and bad. The more we can expose the ups and downs the more we can learn from each others experiences.
I'm really tired of this subject being so taboo.
What about you? Are you willing to help share how you treat (or have treated) finances with a spouse or long-term partner?