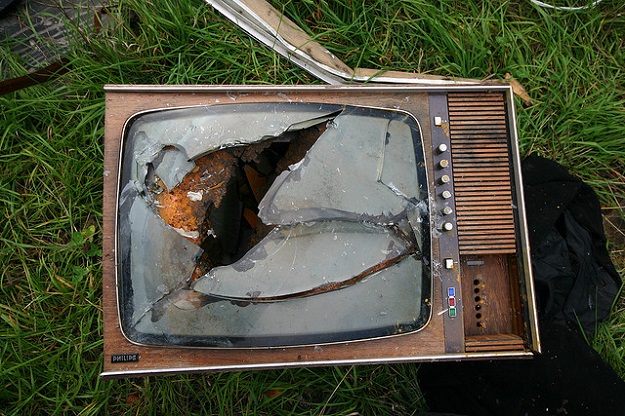 In a report, (according to a report by Nielson), the average American household had 2.55 people living in it.  That same average household owned 2.73 televisions. I doubt 2023 is any different.
Yep.  On average, American households have more televisions in the home than people living in it.
I guess the good news is that on average we can now safely watch whatever we want, whenever we want, without having to share or spend time with anyone else. An average family of four can each sit in different rooms and watch different television show at the same time.
What could be more American than that?
The same 2006 report showed that the average American watches 4 hours and 35 minutes of television each day. So at the very least, it looks like we are getting our mileage out of all these televisions.
Note: According to this blog post by Nielson, it appears that last year the average increased to over 5+ hours per day.
5 hours per day? As an average? Like… every day?
It's mind-boggling how much television and its programming has become a default (and accepted) part of our society. I know it's been that way for decades, but it still blows my mind.
And if you know us at all, we are all about selling your stuff that we built a step by step sell yoru stuff guide to get TOP dollar with 328 pages and 110+ screenshots to help you do that today!
Our roller-coaster love affair with television…
Over the last few years, we've gone back and forth on the television front. Prior to our decision to sell everything and move overseas, television played an important role in our life. It's tough admitting that, but it's true. Television (and watching movies on television) was our primary form of entertainment.
On the other hand, during our year traveling abroad we rarely, if ever, watched television. Obviously, we didn't own a television, but even when we stayed in places that had one (like our apartment in New Zealand) we just never turned it on.
For starters, we weren't familiar with the majority of the programs. But more importantly, television simply wasn't part of our daily routine. So even when it was readily available, we didn't automatically default to it for mindless entertainment as we had done in years past.
Earlier this year when we made the decision to spend 6 months back in our home region of Indiana, television was one of the first items we acquired. At first, we just got it for movies – or so we claimed. But we got sucked into a cable/internet combo package as we went to hook up our internet.
So once again, we were back to life with cable television. To start, we just watched one show together – American Idol. Then, occasionally, I'd watch a sports game or two. Then we started watching another series… and then another.
A few months in we had half a dozen shows we "watched as a family". We had nearly one show for each night of the week.
Last month, we once again downsized as we moved from the 3-bedroom house we were renting into our new, temporary 1-bedroom apartment. One of the first things to go? The television.
After a fresh month without the magical box of mindless entertainment, Courtney and I have been reminded of the reasons we love life without television so much.
I'm not claiming we'll never, ever have a television in our house. But here are 11 reasons why we aren't going to be rushing out to purchase one anytime soon:
1.)  More Conscious of Entertainment
One of my biggest griefs with television is how quickly and easily it can become the default option. Maybe there are people who can control it better, but whenever I have television available it seems to slowly, but surely become the default option for any downtime I have.
One reason for this is that our society sets it up to be that way. For most of us, our living rooms are built around one main feature – the television. It dictates where the other furniture goes and how the room is set up. When we consider moving into a new apartment or house, most of us walk into a empty living room and first think "the t.v. will go here." It's our first priority in one of our most lived-in spaces.
If you've followed this blog for more than a couple of weeks, you'll quickly realize I'm a big fan of conscious, intentional choices.
I've come to be able to admit that the majority of my television watching tends not to be a conscious, intentional choice. Sure, there are certain shows or sports events I actively and passionately choose to watch. But then there are the hours of time before and after where I just drift in and out… surf for something to distract me so I can "veg" out.
2.)  Start A New Hobby (For Me, Testing Wine Subscriptions)
When giving up a TV, you become more conscious of your entertainment, and you can also free up more time to spend time with friends and pick up a new hobby.
When COVID happened, I had a new hobby of purchasing wine subscriptions and trying them out, which resulted in me rating different wine subscriptions. It was really fun.
What I ended up deciding on was Last Bottle because it had great deals when pricing those details on Vivino, and it's not a subscription service, so I can pick and choose what wine I won.
Voila, it was so fun to turn off the TV, and thankfully, if you are interested, you can also find a Last Bottle promo code that provides $10 off your first purchase.
3.)  Increased Creativity
Along the lines of the first reason, the less access to television I have the more creative I become.
Without television, I find myself practicing and playing the guitar more. We read books more. We listen to more music as a family (rather than having the television on in the background).  We play more games together – a much more intimate and active form of entertainment.
You may be different, but I find that the more creative the form of entertainment – the more happy I am.
Lack of television as the default option forces you to brainstorm more diverse solutions. Sure, we sometimes can find ourselves simply replacing television with another dominating option (think online games or internet surfing for example), but eliminating or drastically reducing television is a step in the right direction for us.
4.)  More Active
In addition to increased creativity, our entertainment also tends to be more active by nature without a television. We go outside more. We are more likely to take a walk or play a game outside.
We are more likely to stick to exercise plans and spend more time cooking (rather than opting for the quickest option we can eat in front of the television).
Heck, we even run errands more often. Rather than putting off and piling up small to-do's, we actually take some evenings to knock a couple of them out. At the very least, this gets us out of the house, moving around, and reduces the number of stressful "to do list" weekends.
5.)  Better Sleep (Thank you SlumberPod)
An article I found on Psychology Today pointed out that when surveyed, between 76-89% of people reported watching TV in the hour before they went to sleep each night.
With children, it can be really challenging to get that much sleep. With little ones, I find that sleep can be interrupted at any time. When we were in a small duplex, we had one baby in our room at any time. As such, we researched and decided to purchase the SlumberPod which is essentially a tent for kids. It worked great, so I found SlumberPod coupon codes that can help you save money on a SlumberPod.
Is there any doubt in your mind that this negatively affects both the amount and the quality of sleep? There's not one in mine.
For most of us, there are far more effective techniques for "winding down" than staring at a television screen. But, once again, television is usually the easiest and most readily available. So we go with that.
I know this for sure:  without a television, I generally go to bed earlier and sleep better. It may not affect my habits every single night, but access to a television increases the chance I find myself channel surfing at midnight. My brain seems less restless and calmer if I can avoid television (and the computer) for at least an hour or two before bed.
6.)  Deeper Conversations
One of the greatest benefits of not having a television has come in the form of deeper and more meaningful conversations with both Courtney and Milligan.
We don't sit down and have philosophical talks every night. But I've noticed a sharp increase in the amount of times Courtney and I have put Milligan to bed and then gotten lost in a two hour conversation. No tv. No computer. Simply sitting and talking. Sometimes over important topics… sometimes over random ones.
I really love it.
I've noticed the same increase in quality conversations with Milligan. At 2.5 years olds, she's at a critical crossroads for her speaking and reasoning development. If you give her the chance, and truly engage her, you'll be amazed at how long she'll carry on a conversation (and where it'll end up leading).
The sad truth is that this happened far less frequently when American Idol was on last season. When Milligan grows older, I doubt she'll remember who finished third in Season 9. Neither will we.
7.)  Reality is Reality
Reality television.  Blah.
I've noticed a trend with people the last few years. Everyone I know talks badly about reality television. The talk about how it's not real, how the people are fake, how stupid a form of entertainment it is… and then they watch it regularly (me included).
As a culture, we have an obsession with programming and/or shows we view as "real" or that we can "relate to". But the truth is that 99% of what's on is sensationalized crap.
Ask any police officer, lawyer, doctor, federal agent, or soldier how closely popular television shows depict their day-to-day lives. They will likely laugh in your face. (Ok, they may be a little nicer than that – but they'll want to laugh in your face.)
Violence is shown in situations that make it seem acceptable or even heroic. Sex is hyped up, over played, and grants nearly impossible expectations and standards to live up to.
Speaking of sex…
8.)  More Sex
Look at #2, #3, #4, #5. More creativity and variety in entertainment. More activity and exercise. More rest and getting to bed earlier. Deeper conversations.
How can that not help your sex life?
I recently read a statistic (couldn't find where) that couples with no tv in the bedroom have sex 2-3 times more than those that have bedroom televisions. Sign me up.
I won't pretend to be a sex expert (Courtney may be falling out of her chair laughing at this point), but when given the choice between watching television before heading to bed and doing just about anything else before heading to bed – history has taught me that choosing the latter usually pays better returns.
9.)  Less Cost
You knew this was coming.
It costs less to not pay for cable. It costs less to not upgrade to a new model of television every 12 months.
Many alternative forms of active, creative entertainment are far cheaper (or free).
10.)  Less Exposure to Advertising
Please, please, please don't give me any lines about how advertising doesn't affect you.
It does.
If affects us, too. And why it's nearly impossible to tangibly measure the benefit of less exposure to advertising – I know it's there.
Yes, I know it's possible to record shows and skip the commercials. That's a better choice than watching them, but doesn't reduce the exposure to product placement or cultural obsessions with trends. Not watching the commercials during Glee is pointless is you download every album, collect Glee action figures, and drink coffee out of your new fancy Glee mug.
As with anything, if that stuff truly brings joy and purpose into your life – great. But if we allow it, most of us get swept up into frenzies and fads which lead to us spending our time, money, and energy on crap like this that just doesn't last.
Companies spend billions and billions each year on convincing us that something in front of us brings joy or value into our lives. Turning off the television is one way to ensure that your choices and spending is more in line with those things that truly do.
11.)  Prevent Zombie Kids
From the Center for Screen-Time Awareness:
Research now indicates that for every hour of television children watch each day, their risk of developing attention-related problems later increases by ten percent. For example, if a child watches three hours of television each day, the child would be thirty percent more likely to develop attention deficit disorder.–D. Christakis, Pediatrics, April 2004
Studies have also correlated the average amount of television watched (by children of all ages) to increased obesity, lower reading levels, and lack of social development. As they develop into teens, television provides a warped sense of reality that leads to all sorts of physical and emotional challenges and pressures.
There's nothing new about these statistics and problems. We've known about the negative impact of too much television on kids for years and years.
For me, more impactful than reading any statistic has been watching Milligan's use of television (and our laziness as parents) change over the past few months.
As we came back to Indiana, we slowly began to allow Milligan to watch more television. This wasn't hard as she hadn't watched nearly any the year we spent mobile prior.
At first she just watched with us – which in limited quantities was fine. Then we allowed her to watch a few select shows -specifically, Martha Speaks and Clifford. It was a slippery slope from there.
It began as a treat, she was excited at the rare opportunity when we'd turn one on. Slowly, it became more of a habit. We kept recording of the show on DVR and put it on whenever we needed a half an hour of uninterrupted time.
For 30 minutes, Milligan would sit and stare at the television like a zombie child. She wouldn't move. I'm not even sure she blinked. She just stared. It was as if I could see the television waves omitting from the screen and slowly creeping into her brain.
Some of the times we cut it short – or cut it out all together. But it was hard. Martha Speaks was the world's best babysitter. For the first time, I could see why so many parents let their kids watch so much t.v. Let's be honest. It makes life so much freakin' easier.
After a month or two of increased television, Milligan started whining for it.  "I wanna watch MARTHA SPEEEEEEEEAKS!" Anytime she was tired, or sad, or hungry, or upset… "MARTHA SPEEEEEEEEAKS"
We knew it was time to wake up. We not only were letting Milli watch too much television, we were setting a bad example ourselves. We ditched the television. For her – and for us.
As a side note, you wanna guess in the last two months without a television how many times Milligan has whined about or asked for Martha Speaks?
Yep, good guess. Zero. Not once.
12.)  T.V. as a Social Opportunity
Even now, it's not like we never watch television. We do sometimes. But without one readily available in the center of our living room – we have to be more creative.
Just last night, we drove to my mother's house to watch Sunday Night Football. The Packers beat the Vikings in Brett Favre last appearance (let's all hope) at Lambeau Field. We watched and chatted and ate Chili.
It was fun.
I know other people who all get together, once a week, for a specific show to watch together. They have XYZ-watching parties… they pick sides… they dress up.
Another group of friends ordered the most recent UFC fight, had a bunch of people over, grilled out, and used a projector to watch it on the side of their house outside.
To me, this is awesome. It's the highest and best use of television – as a social medium to bring people together. And yes, I fully realize that to host an event like this you need a television (or a white house and a projector). That's fine.
The big whammy is that the majority of the time our televisions aren't used for this purpose.
*****
Bottom Line: I'm not anti-television (neither is Courtney).  We are anti-television as the default, addictive, subconscious form of mindless entertainment. In our life, we've noticed the best way to fight back is to simply ditch the television altogether.
*****
What role does television play in your life?
Are you o.k. with that role?
This is one subject where I'm particularly interested in what you have to say.  Please let me know in the comments below.