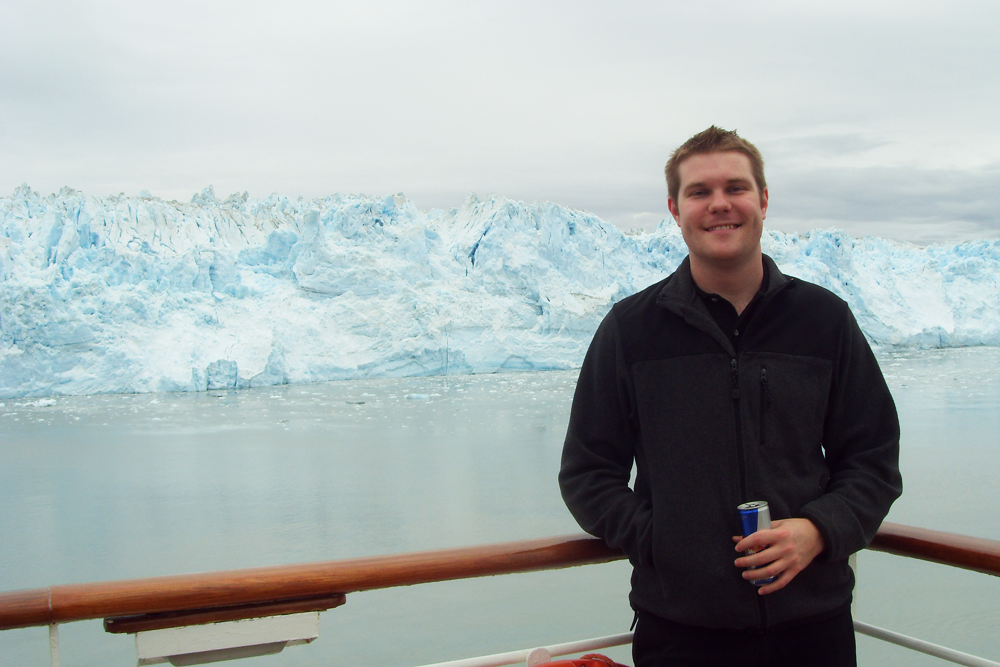 [share_sc]
Note: This is a post from Adam Baker, founder of Man Vs. Debt.
I've written a lot about our own journey to redefine freedom over the last few years. But this community is so powerful because it's made up of thousands of stories of people chasing their own dreams.
We've shared some of these stories before – and I'm always ecstatic to shine the spotlight. I've got another great story for you today.
Dustin Koester (in the picture above) has been a long-time member of the Man Vs. Debt community. In fact, he's been around longer than any of you!
You see, he was part of the community before it even started. Dustin's a life-long friend of mine – and responsible for almost every graphic (including the very first logo) and design you see on Man Vs. Debt or our guides/courses.
Dustin's great at graphic design and helping as a creative consultant on projects, but that's not what he was born to do.
Dustin was born to play the drums.
In elementary and middle school, that's an acceptable dream. All of us encourage it, foster it, and support it. You want to play drums? Great… go for it… do it!
So throughout this time, Dustin played in a band with his friends from middle school. Their parents helped fund the gear. They played after school all evening. They even recorded and burnt CDs of their first "album". Dustin was widely known for his talent as a drummer amongst his peers and fellow students.
But as we get older, high school rolls around. In high school, playing drums in a band can be "cool," but we're slowly taught that it's not realistic to try and play drums to make a living. There's still a fading glimmer of hope left… the possibility of trying to get into a specialized college or program still exits.
Dustin continued to play in a band throughout high school and played drums in the marching band, jazz band, and show choir competitions. His talent was obvious for anyone to see, yet there was still an underlying force pushing Dustin away from drumming.
Society's real message was clear: Keep playing drums for fun, but it's time to find a career or job that'll pay the bills.
As we graduate high school and move onto college, that message is pounded over and over to us. The dreams that were acceptable and encouraged as kids are now shoved to the back burner. "It's the responsible thing to do," we tell ourselves.
Dustin went along with everyone else to college (Indiana University to be exact). At college, Dustin struggled to find that "responsible career" he was suppose to be working towards. As he was pushed and pulled from one focus to another, there was one consistent factor in the chaos…
Drumming.
Dustin joined the respected "Big Red Basketball Band" and continued to play in a college rock band at the bars and clubs on the weekends. When life got hectic, scattered, or confusing… drumming was Dustin's constant.
After college, Dustin did what everyone else does – tried to find a job. He worked several, from barista to graphic designer, from security system installer to substitute teacher. He got an apartment, bought some things, and tried to "settle" in.
But something wasn't right.
This life path he was on didn't feel like his own. He was trying to do everything he was suppose to. Get decent grades. Go to college. Find a career. Get a steady job. He was doing his best, but none of this was what he really wanted to do.
He really wanted to drum.
It was a simple realization, but one that changed the course of his life.
Not too long after, a friend of a band he was playing in mentioned his brother was a talent agent who booked musicians for cruise ships. With a spark of interest, Dustin asked for more information – and two weeks later he was auditioning for his first gig.
Over the next few years, Dustin would travel the world doing what he loved… playing the drums. He lived and played on cruise ships with destinations all over the map:
Italy
France
Greece
Turkey
Portugal
Spain
Egypt
Tunisia
Sicily
Monaco
Ukraine
Bulgaria
Croatia
Malta
Alaska
Canada
Mexico
Colombia
Costa Rica
Panama
Bahamas
All along the way he was housed (more on this later), fed, and paid to travel the world and perform.
It's not an opportunity for everyone – Dustin's the first to admit that. He had to get rid of a lot of his stuff and start focusing on his finances to make the shift possible. For him, he welcomed the added flexibility to chase his dreams.
In between cruise ships, Dustin also was given the opportunity to travel the US and fill in on the Jesus Christ Superstar National Tour. He's met hundreds of fellow professional entertainers, musicians, and industry professionals along his travels.
His journey to chase his dreams and follow his passion for drumming is just getting started. But his mindset about what's possible has completely changed.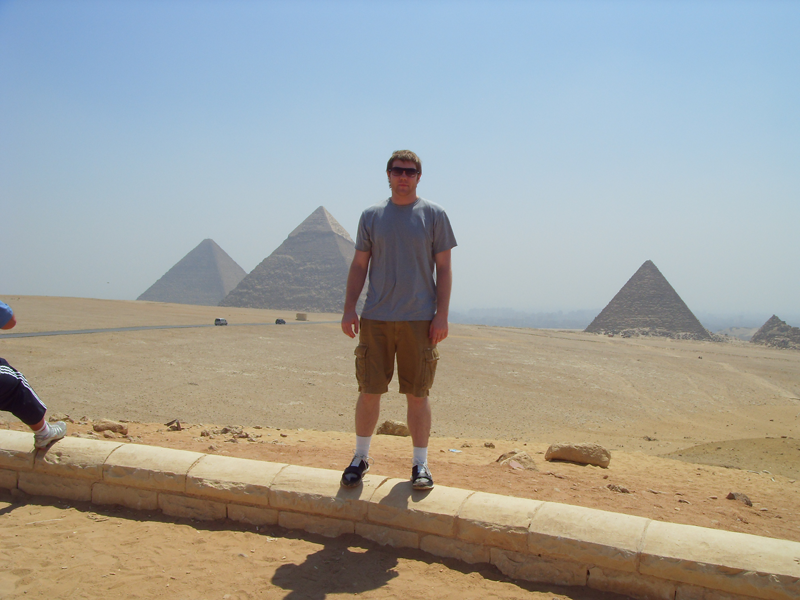 More from Dustin's Point of View…
How long have you been drumming?
I started playing drums in 5th grade when my dad bought himself a drum set. Although I played guitar at the time, drums quickly stole all my attention.
When did you realize drumming was your biggest passion?
Honestly, not until recently. It's always been an interest of mine, but it's taken a while to realize the severity of my involuntary dedication. There's an indescribable feeling – It's the only place in the world where I feel completely confident, and the notion of time just disappears. At the risk of sounding like a hippie…it's like I'm in another dimension.
How did you get started with the Cruise Ship opportunity?
I was sitting in with a friend's cover band and after the gig we were all hanging out & talking. A friend of the band mentioned that his brother was a talent agent who booked musicians for cruise ships. About 2 weeks later I got in touch with him, he got in touch with his brother, and I had an over-the-phone audition scheduled for the next week to join my first ship later that month.
What's your favorite part of the process (traveling and drumming)?
I really enjoy the traveling aspect of the cruise gigs. It makes me feel on top of my game when I've got a company flying me from place to place and staying in hotels all around the world before joining the ships. It's also part of that surreal period where I'm realizing 'I'm about to live on a ship for X months…again."
What's your least favorite part of life on a Cruise Ship?
My least favorite part of the cruise life is the housing. The rooms are quite small, but that's to be expected, I guess. In general, what goes on behind the scenes on a cruise ship would turn a lot of people off to the cruise industry. It's like any of your large Vegas hotels – it's all glitz and glamour on the floor, but behind the scenes it's business as usual.
Would you recommend it to another entertainer/musician/crew member?
I would recommend it to anyone who has a passion for traveling…and not everyone does. It's certainly a different lifestyle for a musician onboard a ship and some don't prefer it, but if you want to see the world and get paid while doing so, cruise ships are a great introductory way to do that.
How would you suggest someone getting started… do you have any tips for someone wanting to do this?
The best way to get started is to audition with an agency. Mine is Landau Music, Inc. which operates out of Pasadena, California. Larger group auditions are usually held at Universities and sometimes auditions can be held over the phone. The best way to be prepared for an audition is to have your sight-reading skills to a point where you're very confident going in, and to also be familiar with a lot different styles.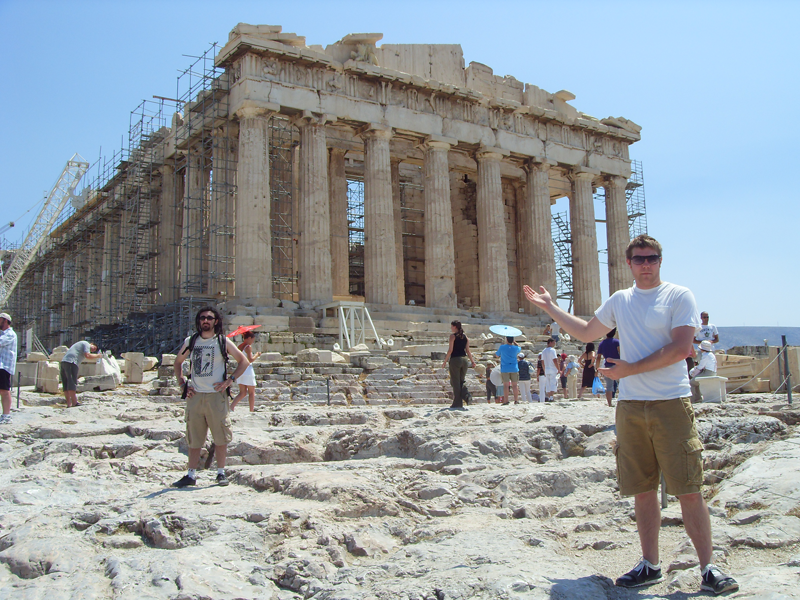 We're proud to say that Dustin is now drumming full-time in California. That means it's possible – and you can do what you love too.
What dream have you been pushing to the back of your mind?
What passion have you been sacrificing?
What dream do you want to chase?
[share_sc]
Leave a comment below!