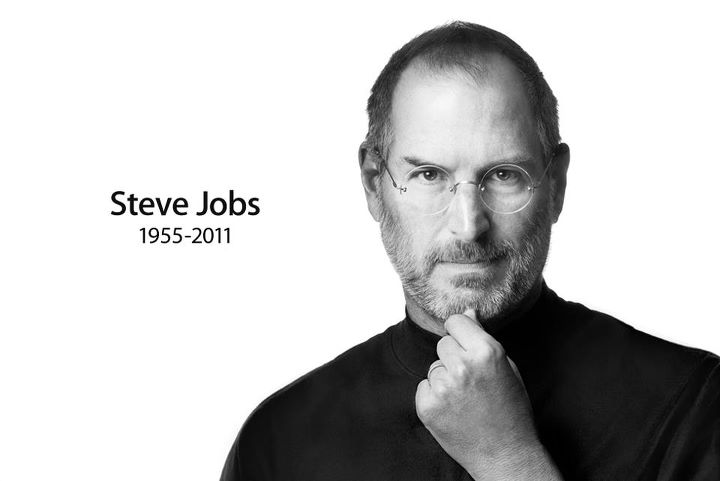 [share_sc]
Note: This is a post from Adam Baker, founder of Man Vs. Debt.
"Laura, did you hear about Steve Jobs?"
"Yeah, I can't believe it. I'm surprised at how sad I am really. It sucks."
"Me too. It feels like my favorite musician died, you know? I feel a weird connection…"
I was surprised last night to hear Steve Jobs passed away.
As I watched the tweets pour in, this is what I came away with: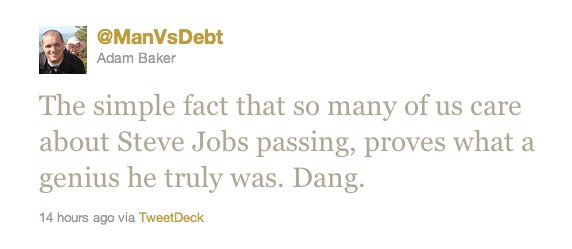 Seriously, when's the last time we cared this much about the leader of a billion dollar company?
People around the U.S. are getting together and protesting greed, excess, and bloated corporations as we speak… yet we celebrate this man who ran one of the largest, most powerful brands we've ever seen.
What did he do so different?
The answer may be in a video tweeted out by Richard Branson last night. It's a 1997 Apple commercial narrated by Steve Jobs himself:
Or maybe the answer can be hidden in what I consider one of the most motivating videos on the internet (Steve's commencement speech at Stanford):
Or maybe we can find the answer in this simple quote:
"Being the richest man in the cemetary doesn't matter to me… Going to bed at night saying we've done something wonderful… that's what matters to me." -Steve Jobs (WSJ 1993)
Steve Jobs inspired millions to change the world.
In honor of Steve, here are my two new life goals:
I will help one million people get out of debt.
I will raise one billion dollars for charity.
Over the last three years, I can point to at least 100 emails of people who've claimed we've helped them in whole or part get completely out of debt. I will record the names of each person, all the way to one million.
I've also helped raise $45,500 for charity so far through this blog and other online avenues. Before I'm done this will be $1,000,000,000.
The people who are crazy enough to think they can change the world… 
Are the ones who do.
[share_sc]
How will you change the world?