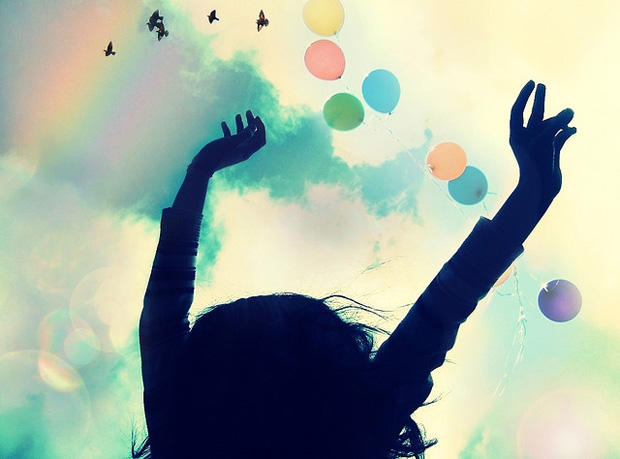 [share_sc]

This is a guest post from Amy Clover. Amy is the author of Strong Inside Out, a blog devoted to helping her readers overcome life's obstacles through fitness and positive action, as well as a new book, Make This Your Moment.
What would you say if I told you you're wasting your life?
You'd probably want to do one of these things:
Punch me in the face
Yell and scream, then blame it on someone else
Cry and hide in a corner
Shut down completely
But what would say if I told you…
If that's what it takes to get you to realize that you are capable of so much more, so be it.
When I talked to Adam and the team of Crank Tank Studios for the "I'm Fine, Thanks" documentary, I was hard at work on my book based on the same theme. I couldn't wait to talk more about this radical idea of creating your own happiness!
Yep, happiness is a pretty radical concept compared to the semi-miserable social norm that most of the world is stuck in nowadays. I'm not just saying this from my high-and-mighty-pedestal; I've been there, too.
You see, I used to live my life making excuses for why I couldn't do things.
I can't get out of debt because there's just so much of it!
I can't lose weight because I can't stick with the program.
I can't be happy because I was diagnosed with clinical depression and that's a life sentence!
I can't write a blog – let alone a book – because no one wants to hear what I have to say.
When I realized that the responsibility to change my life solely resided in me, everything changed.
The choice to be happy was mine to make.
When I had this epiphany, I turned my life around completely:
I devoted myself to fitness because it made me feel good inside and out, and changed my career path from miserable actress/waitress to personal trainer and wellness coach. Now I look forward to going to work every day! I've since left the corporate gym to work for myself and now make more money than I did working almost half as many hours.
I slowly crawled my way out of debt by putting myself on a payment plan and finding more ways to increase revenue for my business. I am now completely debt-free and even have (gasp!) rainy-day savings! My fiancé and I are planning to pay for our wedding without going into any debt at all.
I lost about 30 lbs of fat and gained about 10 of muscle after developing mindful eating habits and finding workouts that I enjoyed.
I finally created happiness in my life by taking actions to reframe my perspective and clear the clutter that made me unhappy. When my depression comes up now (which at one point led me to almost take my own life), I cope with it and take actions to feel better, rather than wallowing in it and letting it rule me.
You must make the decision to change and take responsibility for your life because – as far as we know – you only get one.
You might be thinking: "That's all fine and dandy, Ms. I've-done-it-all Guest Poster, but it's a lot harder than you say."
Sure it is! I'm right there with you! Having been through it and having hit rock bottom, I'll be the first to admit that change is freaking HARD – but it's worth it!
The choice to be happy is YOURS to make.
I'm here to push you over the edge. I'm here to show you that change is possible.
This is why I chose to write Make This Your Moment: A Step-by-Step Guide to Changing Your Life … for Good.
Most of the people I talk to who are "stuck" in complacent or semi-miserable lives run into problems when it comes to making the decision to change and sticking to it, rather than the goal-setting aspect commonly covered in blogs and books.
It's fun to dream and think of all the things you could possibly do with your life, setting goals to reach and not worrying about when you'll get there.
Deciding to go after them, and sticking to your guns even when it gets hard, is the tricky part.
So I wrote my book about making the decision to change.
Today, I want to share with you some of the principles behind Make This Your Moment, and why I think it's necessary for you to change NOW… before it's too late. These steps will kick-start change and get you on your way to the life you deserve!
1. Realize what you're giving up.
Every day that you refuse to face what's making you unhappy is a wasted day – because you could have been free of that already!
Are you semi-miserable today?
If you haven't done anything productive to get out of that state, you are committing to wasting one more day of your life.
You have all the power to change your life! Here and now, all you have to do is say: "How I am feeling is not OK and I am going to change it right now."
Passively or actively, your life is what you make it. If you're sitting, waiting for something great to come to you, I have some nasty news for you: You'll probably waste your entire life waiting for it to come while other people take action to go get it.
Let's take getting out of debt as an example. No one really likes being in debt. It's just that some people think they don't have a choice.
If you have seen other people like you achieve the changes you want to make, start asking this: Why not you?
Why can't you be the success story you read about in magazines? Why can't you be that triumphant person that has gotten out of all their debt and now has savings?
There is nothing special about the people that achieve great success except for the fact that they have the balls to go after it, fear and all.
Make the commitment right now. Choose change.
2. Identify what's holding you back.
After you've decided to commit to change (and have sufficiently patted yourself on the back), it's time to start identifying what you need to address.
Ask yourself this: What is adding to my unhappiness?
Is it a person, job, void in your life, or the way you look at the world?
Take out a pen and paper, open a blank document in Google Docs or Word or even Pages (for you stubborn Mac people out there), and start jotting down some notes.
Think about how you feel after you come away from someone or something.
Which people or situations drain your energy, leaving you exhausted afterward?
Is it debt constantly looming over your head that drags you down? Is it a person that sucks the life out of you every time you talk to him/her? Is it a job situation that makes you spend the entire weekend dreading Monday?
These are the things you need to start addressing. These are your roadblocks on your path to happiness.
3. Do something about it!
Now that you know what's standing in your way, the path gets a lot clearer.
All you have to do now is act.
You know what's bothering you.
What can you do about it?
There are many answers to your problems. Brainstorm a few and write them down. Though there should be a few options to deal with every issue, often the solution is the most obvious one.
If it's debt, there are so many tools on this site (and You Vs. Debt) to explore to help you overcome it. Explore a few here.
If it's a person, ask yourself what you can do to limit your time with him/her or even cut them out of your life completely.
If it's a job, brainstorming other options, possible switches within the company, or exploring a new hobby to offset the everyday can lead you to action.
The people who achieve happiness and success (however you define that word) are the ones who choose to face what makes them unhappy and refuse to settle for less than what they're worth.
This is the fun part.
We are all – every single one of us – worthy of a happy life.
If you come away from reading this post knowing only this, I'm happy.
I'm happy.
You're happy.
What could be better than that?
[share_sc]
What's making YOU unhappy right now? And what one tangible step will you take to make a change?
Leave us a comment and let us know!