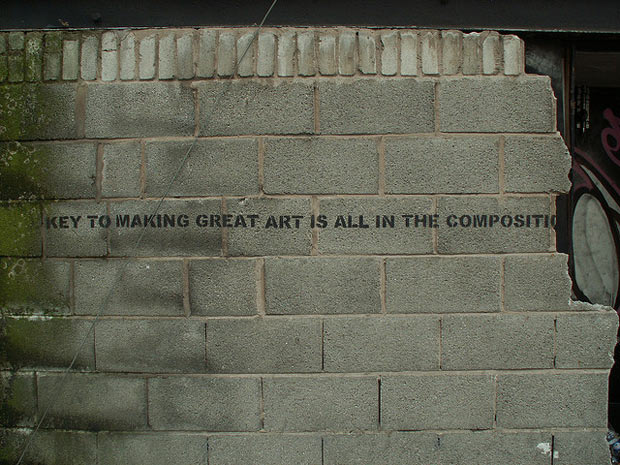 [share_sc]
Note: This is a post from Joan Concilio, Man Vs. Debt community manager. Read more about Joan.
I don't believe in coincidence or luck, but I do believe that sometimes things come together in a way that can only be considered amazing.
Call it God… call it the stars aligning… call it fate… whatever you believe the cause might be, I've been feeling the collision of forces in my life in recent weeks with one message:
Create.
All through October, I followed along as urban artist Banksy turned New York into a daily "installation," leaving a new piece of graffiti, sculpture or other urban art somewhere in the city. You can see all of his NYC works here – and the photo atop today's post is a Banksy creation in Liverpool, England, from several years ago. 
The key to great art is all in the compositio… n? I loved that as soon as I saw it.
Banksy's "art" is not for everyone. Some people pay hundreds of thousands of dollars for an authentic work from the pseudonymous artist; some view it as a public nuisance at best, a crime at worst. I'm a huge fan of reclaimed art, graffiti and generally making the world a canvas, so I guess you can tell which view I take… 😉
But as I watched the photos and story of Banksy's "Better Out Than In" month in New York evolve online, from a cinderblox Sphinx to a tribute to musicals (er, sort of) to a traveling meat truck full of adorable things no one would slaughter, I felt called to look differently at the world around me. 
To see the art in the day-to-day sights of buildings and signs near my home.
To look for the beauty in the commonplace.
Especially, I'm trying to create beauty where it's hard to find.
***
The day after Banksy's month of stealth art concluded, my social-media streams filled with friends taking part in November's NaNoWriMo – National Novel Writing Month – in which the goal is to get 50,000 words hammered out in a month through daily commitment to sitting down and making it a priority to write.
And it's not just an "aspiring" novelist kind of thing… every year, bunches of books from NaNo get published and sold. Some of my friends, already published writers, are working on their third or fourth or eighth or 10th novel. One's almost 6,000 words in already – in three days!
I signed up, too. Not because I (necessarily) want to write a novel – I'm pretty well entrenched in nonfiction, and across my various writing jobs have a sad commitment to more than 50,000 words a month already – but because I want to be surrounded by people who love to write. Hanging out on the NaNoWriMo message boards, even if I never get past typing "Chapter 1," is making me remember how much I love doing what I do.
Whether we're writing fiction, crafting blog posts or writing ebooks, we're all there because we love putting words together in just the right way.
Reading about the things others are working on, maybe providing some advice or just a friendly "keep at it," is another way in which a creative project causes me to see things differently. In the past few days, I've taken more time with my words.
I've worked to say what I really mean in conversations.
I'm taking more time in my writing to focus on meaningful phrases, not just "the first thing I think of."
I'm trying to make sure my words matter.
I'm striving to make the things I say (or write) have lasting value.
***
Finally, I got a message today about something that I've dreamed about for quite a while.
In recent months, I've been creating art with an amazing mentor who's become a friend as well.
It's a new style for me – one that's abstract, and messy, and hard to control.
One that has taken a huge leap of faith to get even a little bit comfortable with.
And when my mentor/friend emailed me today to talk about being part of a creative mastermind group starting in a few weeks, I was floored.
A chance to create – and to be part of a shared mission to create space for OTHERS to create?
I'm no genius, but I get it when the universe is trying to remind me of something.
Create.
In my world, creation is a lot about words and art. That's awesome – and it's just right for me.
You might create in other ways.
Maybe you help people create connections with each other.
Maybe you create comfort by being a good listener.
Maybe you teach or mentor – and in so doing, help people create themselves.
There are any number of ways to create.
Part of doing what you love is finding your own way to create awesome things, and doing it DAILY. 
[share_sc]
My challenge to you today is to Commit to Create.
What are you creating?
We'd love to hear your vision in the comments!