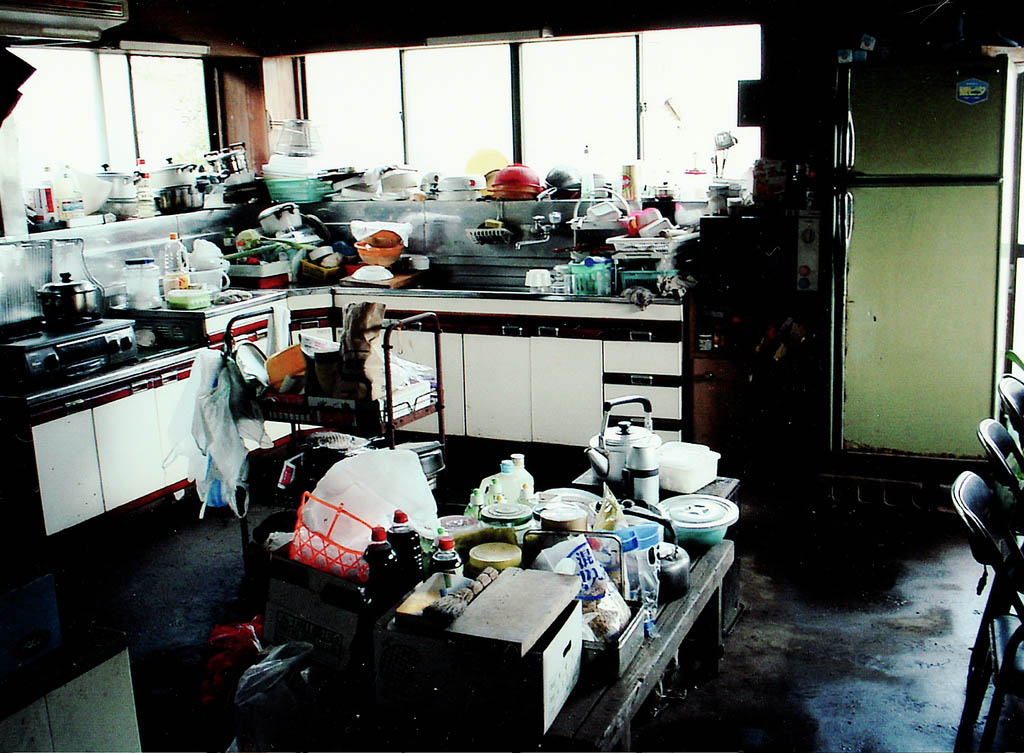 [share_sc]
Note: This is a guest contribution by Jenny Newcomer. Jenny is a woman who wears many hats!  She runs a business which designs and sells eco-friendly organziational products (how else could someone juggle 3 businesses and 2 kids?) 
When I say I sold my stuff, what I really mean is I sold my crap. Crap that I shouldn't have bought in the first place.
Earlier this year, I knew it was time to get rid of my remaining school loans once and for all.  I've added two kids to the mix recently and judging by the estimates in cost of college, I'll be shelling out $100,000 per kid in 18 years even for state college tuition.
To add insult to injury, I'm not even using either of my two degrees in my daily life right now.  Like I said, it's time to put these loans behind me!
The problem was how?
Our spending plan was already tight.  I didn't want to tap into any of our savings.  It certainty wasn't the type of emergency that dictated tapping the emergency fund.  And the fees made withdrawing from our IRA and expensive option.  On the income side, we already own 3 business and are raising 2 young kids, so getting another "j.o.b." or starting another side project seemed down right insane.
I had a burning desire to get these loans out of my life, but didn't now how it was going to happen.
But right after the holidays a bell went off in my head. As I began to look around our house and clean up after the post holiday madness, I realized how much stuff we owned.  Bags, shoes, dvd's, books, ipods, old laptops, old kayaks, skis that didn't fit, bikes that we no longer used, the list went on for miles…
This was stuff we didn't love and certainly didn't need.  So I started listing about 10 items a week on eBay (and a few larger items on Craigslist).  Some weeks when I had a few extra hours I'd list more and other weeks I didn't have time to list anything.
I kept at it, though, and slowly but surely things started to sell.  Every time my Paypal account reached $500 or $1000 I transferred it over to put an additional payment towards my student loan balance.  Little by little the amount owed kept going down. When I got it under $10,000, I was stoked and motivated.  Over the next few months, I saw it decrease to only $5,000, then $1,000, and then before I knew it… $0.
Since I've paid off the loan, though, I haven't stopped!  I'm selling more stuff as we speak to pay for plane tickets to Mexico this winter.
Here come the excuses…
I hear them all the time…
"I don't have anything to sell."

"No one wants my stuff."

"I don't have time to learn how to sell stuff online."
The truth is nearly everyone has stuff they can sell.  It's much easier than you think and you'd be absolutely shocked at the prices people will pay for your neglected possessions!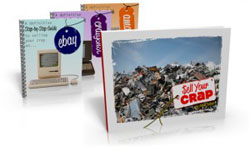 You can receive in-depth guidance to listing your items on Craigslist, Amazon, and eBay in our Sell Your Crap guide.
Quit holding on to things you don't need
Know exactly where to sell each item
Go step by step to create a listing that sells
Basic tips to get the ball rolling…
Take stock of your inventory! Go through your house, basement, and garage and make a list of items you could sell.  Gather smaller items into a pile in part of your house or garage.  Think beyond just clothes – look at tools, small appliances, sporting equipment, books, craft supplies, kids toys, etc.  At the same time you are doing a selling inventory, collect items that don't have much re-sell value but that you could donate to a local shelter or thrift store.  You can de-clutter, help a good cause, and get a tax write-off for these.  If I think an item will sell for under $20, I usually just donate it to the local women's shelter.
Set-up your eBay and PayPal accounts. Many of you might already have these.  They are very easy to set-up by visiting eBay.com and PayPal.com.  You may also want to create a basic Craiglist account for bigger items that may be hard to ship.
Take great pictures! The better the picture (and the description for that matter), the better the selling price.  It's as simple as that.  If you don't have a digital camera borrow one from a friend.
Estimate shipping costs. At this point get an accurate estimate on shipping costs.  You can check shipping prices online at www.usps.com or www.ups.com.  This step is often overlooked, but is important to know so you don't lose money on shipping the item.
Check 'Completed Listings'. Next check to see what comparable items sell for (you can search for an item and then click on "completed listings" on the left hand side for items that have ended).  This will help you to determine a starting price and/or expected market value for your item.
Create your listing! There are many 'advanced' techniques, but I like to keep it simple.  I list all of my items on Sunday's for 7 days (so they end on Sunday and not mid-day on a workday).  I skip the extra 'upsells' like bold or premium listing to minimize my cost associated with listing the item.
Check your messages at least once a day. Sometimes you'll get messages from potential buyers.  They might want to clarify something or have a question about shipping and bidding procedures.  More bidders means higher end prices for you.
After the sale, ship the items promptly and leave feedback for the buyer. Be sure to help avoid negative feedback (and honor the buyer's purchase) by shipping the items quickly after the buyer has paid in full.  Normally the quicker you can ship, the more likely they will leave you a raving review!
Here is the most important part of all, though:  Resist the temptation to use the money that you just earned to buy MORE stuff!  eBay can be a blessing and a curse.  Use it to your advantage!
Baker's Note: Before we left for the trip, Courtney went insane on eBay, Craiglist, and at local garage sales.  There are plenty of 'advanced' tips for maximizing these sites, but Jenny's personal experience provides a create basic guide for those looking to get started.  For those wanting to jump in even deeper, check out this recent killer guest post featured by Ramit Sethi.
[share_sc]
What are your own tips for selling on sites like Ebay and Craiglist? Have you had success purging your unused clutter like Jenny? Are any excuses keeping you from cashing in? Help everyone out by sharing your experience below!