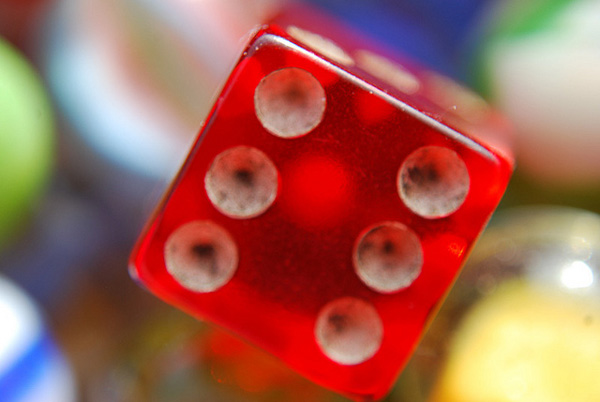 [share_sc]
Note: This is a post from Joan Concilio, Man Vs. Debt community manager. Read more about Joan here.
In the past week, I've been thinking a lot about luck – specifically, financial "luck."
To be honest, I haven't really been thinking. I've been pouting.
A friend's father just won free gas for a year.
Another friend took his daughter out of town and ended up getting upgraded to a suite at their hotel – and then getting it for free due to a fairly minor problem.
Yet another friend and her family will be debt-free (including their mortgage) as of this Monday, thanks to a combination of a lot of hard work – and an unexpected windfall that allowed them to finish ahead of schedule.
And here I sit, farther behind than I was on my own financial goals thanks to my water heater and new tires.
And I start to ask myself…
Is there such a thing as luck?
I'm often guilty of saying that if it wasn't for bad luck, I wouldn't have any luck at all.
But the fact is, I don't really believe in "luck."
I look at the good things that come to me as unexpected blessings, and I look at the bad things that happen to me as just that – bad things that happen. Not a "random draw" in which Joan gets selected in the great cosmic water-heater lottery, not God pointing the finger at me and striking, but simply as an obstacle to be overcome.
Or, at least, I think those things when I'm being rational.
Then there are days like today, when I get kind of irrational. I get jealous. "Where's MY luck?" I grumble. "Nothing good like that ever happens to me."
I'm sure I'm not alone in my pouty grouchiness. (At least – I hope not.) But as I write this, I realize how much "luck" is beside the point.
Don't confuse luck with probability
In the case of my friend's dad winning free gas, that's a matter of probability. I buy gas at the same convenience-store chain occasionally – but not very often.
If he shops there more often – of course he's more "likely" than I am to win.
Yet I saved $10 on my gas today by using my "discount points" at our grocery store's gas station. And I do this regularly – every month, I am guaranteed to save on my gas cost by choosing to buy it at the grocery store.
I'm taking the sure thing – the savings – over the smaller probability of winning free gas.
Don't confuse luck with the normal course of events
My friend whose hotel room ended up free would probably have preferred a working shower, especially after walking around sight-seeing on an 80-degree day.
While they could make do by washing from the sink, the fact is, a hotel room is supposed to have a functional shower. And when it doesn't work, the right thing to do is to make the stay complimentary.
That's not really "good luck" on my friend's part – it's what should happen in the normal course of events.
I received a check in the mail this week for $25 – I'd accidentally overpaid on a copay for my daughter, and I didn't know it.
That's what should happen. I overpaid, and I was reimbursed. Yes, it was unexpected, but it wasn't luck. It was the normal course of events.
That said, it matters what I do with the $25, and that brings me to the last point.
Don't confuse luck with good decision-making
I think this is the most important example.
In the case of my friends whose unexpected windfall allowed them to pay off their mortgage (their last debt) early – that's a matter of making good choices.
I've known plenty of people who came into money through an inheritance, a stock dividend, a lottery win or other means – and then blew it. They never came out looking "lucky" – because they quickly had nothing to show for their supposed good fortune.
My friends had already been working hard to pay off their debt. And when money became available, they made a choice to use it to finish the payoff.
In the case of my $25, I could, I don't know, buy a lottery ticket. I could go to Rutter's and get some junk food. I could browse Amazon.
Instead, I choose to use it to help rebuild my checking-account cushion. You know – the cushion I deflated with my unexpected expenses?
If I do that with $25 EVERY week, in about eight or nine months, I'll have my $1,000 cushion back.
Some people say you make your own luck. I say you make your own choices, and I choose to meet my current financial goal with any unexpected money that comes my way.
Choose to change your perspective
I can't say good things didn't happen to me this week.
I saved $10 on my tank of gas today. I got the unexpected rebate of the $25 copay.
These aren't "huge" things, maybe. But they help underscore for me the value of not confusing luck with other factors.
Probability isn't luck. Things that should happen in the normal course of events aren't luck. And making good choices isn't luck.
Do I wish that I might someday win something like free gas for a year? Well, sure.
But I'm going to keep a good thought in mind and not get too jealous. After all, I'm pretty "lucky" – like I said, I prefer to think blessed – that I've had some great times with family and friends in the past couple of weeks that go beyond any kind of value calculation.
And when I start feeling the green-eyed monster, that's the part I'm going to try harder to remember. I am blessed.
[share_sc]
So what do you think?
Do you believe in financial "luck" – or that you make your own luck?
And more importantly, what do you do when you get jealous of others' good fortune? How do you turn that thinking around?
I want to know!