[share_sc]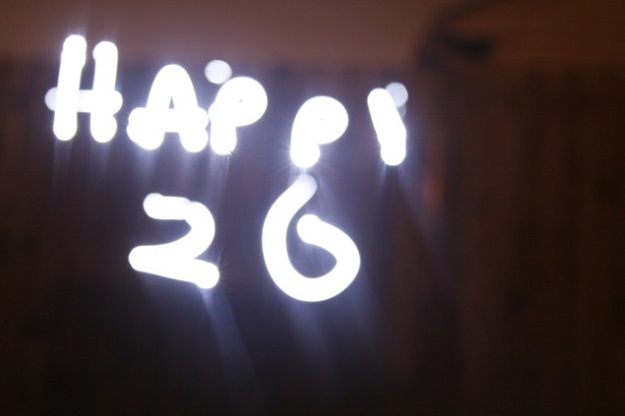 Today, I turn 26 years old.
[pause for cheering]
A little over a month ago, I wrote the post "3 Lessons I've Learned in 3 Years of Marriage".  I'll be the first to admit, I wasn't sure how the post would be received.  To my surprise, it was a big hit (even if being a bit of a random topic)!
Due to the reception of that post, I decided that the best way to celebrate my birthday was to reflect.  This morning, I sat down and wrote out the first 26 "life lessons" that came into my head.  This isn't meant to be some master list, it's just a reflection of a lot of the events in my own life currently.
I'm guessing you'll be able to relate to at least a few!  🙂
Life Lessons…  Version 26.0…
Being a parent is harder than you think. Before I had kids, I used to get annoyed by kids whining on airplanes.  I used to think "Gosh, get control of your kid" in a lot of situations.  How hard can it be? And now… I know.  Even with only one (who, by the way, is an angel 95% of the time) I get it.  I can't believe how easily I become frustrated sometimes.  I can't imagine those of you with 3, 4, or 5 rugrats.
Being a husband is harder than you think. Of course, this was the main topic behind my original 3 marriage lessons post.  Everyone told me marriage takes dedicated and consistent effort.  I acknowledged the words, but detached myself because I assumed we were an exception.  Doh.
There will always be haters. No matter what you do or how much you give, there will always be haters.  I'm making a pledge to rid my life (and my online world) of any consistently negative, non-constructive forces.  If you want to hate… go get your reaction someplace else.
Be willing to give away the glory. One of the best ways I've found to have someone accept an idea/concept is to make them feel like they came up with it themselves. Many of the people I respect most are amazing at sharing and giving away the limelight when it comes.  They are constantly taking a back seat to build up others.
You can do anything you want.  No seriously… you can literally do anything. As kids, we are always told this, but most of us dismiss it as foo-foo.  It's not.  In the last year, I've really come to terms with this.  I can literally do whatever I want.  Some of that is confidence and some of it comes from just having my eyes opened recently.  The largest thing between you and what you want is whatever glob of excuses you can pile up.
Very few decisions in life require intense research. 90% of research/data-gathering is a waste of time.  I've found this true in my personal life and I've certainly found it true in my business.  Nearly without exception, I over analyze every decision I make.  Stop talking… stop thinking… stop planning… start doing.
Intensely research any decision that limits a large amount of your freedom. 🙂  As a rule, the more freedom that is at stake in a decision, the more I'll research it.  The real reason is that I'm o.k. if research leads to indecision in cases where freedom is at risk.  Take buying a home, deciding to have kids, or taking a new 80 hour/week job, for example.  It's not really a bad thing to second guess yourself there.  Things to stop analyzing?  The perfect weekend to go camping, a new product/service you want to launch, or whether or not to let your kids paint their room neon pink.  Do it.
The majority of people think they are above average. I constantly remind myself of this fact.  By nature, we tend to over estimate our own skills and/or contributions.  Not only that, but we are much less aware of what other people contribute. I do it and you do it, too.  So recognize it.  Go out of your way to thank people for the things you do notice.
The best feedback you'll ever get is when you try to sell something to someone. So this is a purely entrepreneurial one I've learned.  It goes back to #7.  The most valuable data/feedback you'll ever have is after you launch a product, service, or idea.  Seth Godin refers to this a "shipping it".
People automatically devalue anything they get for free. While we are on the topic, be careful about what you give away for free.  This can be applied beyond business, too.  Family, friends, clients, colleagues…  We automatically place more value on things we have to pay (money, time, effort, energy) for.  Give someone something for free consistently and they quickly begin to expect it.
Instead of teaching kids to study concepts, we should be teaching them to solve problems. I won't dive too much into what I know is an insanely deep and polarizing concept.  Courtney is much more equipped to discuss education system intelligently.  However, I'm not sure teaching kids to "study" a concept (many times something that's in a weakness) is an empowering approach.  Instead, I'd love to see us playing more to kids strengths (whatever those may be individually) and focusing on obtaining solutions to problems.
Choosing the correct mentors is the #1 most important factor in success of any kind. Modeling a mentor is the fastest way to success.  It doesn't matter if you are climbing the corporate ladder, starting a web-based business, playing professional basketball, or studying religion.  You've gotta find your Branson, your Jobs, your Jordan, your Jesus, or your Buddha.
Surround yourself with people who inspire you. Mentors are essential, however you've got to also find a relate to inspiring people on a daily/tangible level.  My wife and daughter inspire me.  I want them to be involved in everything I do, including my business and my passions.  Many of my fellow bloggers inspire me.  A couple blogger who are in similar spots, yet continually inspire me are Glen Allsop, Corbett Barr, Everett Bogue, and Grant Peele.
You don't need nearly as much money as you think you do. Another revelation that has come into my life in the past year or so.  You really *need* far, far less that what you think.  There are single people who travel and live on $5,000 a year.  There are families of 5 that eat on $100/month.  As a culture, we absolutely squander.  I know Courtney and I do.  It's that straightforward.
Money doesn't buy happiness, but it buys everything else! 🙂  This is my fun way of saying that I like money.  I want a lot of money.  While true, don't let #14 fool you.  I want my family to live a remarkable, yet secure life.  I rarely worry about money now, but I want to all but eliminate it as a concern altogether.  I want to be able to focus my life on giving in the coming years, while still being able to have an income.  But even with money, I want to ensure we embrace…
Experiences almost always trump possessions. I don't mind spending money (you shouldn't either), but the key is to do so consciously.  For me, conscious spending is concentrated on 90-95% experience and 5-10% actual "stuff".  Up until the last few years, I had it backwards.  I liked to talk about how I loved "experiences", but I spent my money on stuff.  I want to keep our focus on experiences whether we are making $20k per year or $200k per year.  *Note:  Unless we are talking about an iPhone.  Seriously, have you seen this thing?* 🙂
Focus the bulk of your energy on leveraging your strengths, not on improving weaknesses. I touched on this in #11, but it doesn't just apply to our approach to education.  When we think about ourselves, many of us tend to try to work on our weaknesses.  In doing so, we limit the time we spend leveraging our strengths.  I'm not suggesting to ignore areas in which you need improvement, but every time I focus the bulk of my energy on my strengths (without totally ignoring other areas), I achieve much better results even within my weaknesses.  It's a matter or positive perspective and sustaining motivation.  It really works.
Be the change you want to see in the world. Yeah, I know…  a little foo-foo.  But this one is a good one.  If you are trying to convert people by knocking on doors and handing out pamphlets, you are doing it wrong.  It'll always be an uphill battle.  Try modeling for people.  Try impressing… try inspiring.  Use your actions to show me not only the how, by the why.
The answer will always be no if you don't ask. Seriously, if you want something you have to ask.  Don't be a blunt prick.  Ask genuinely and ask politely.  If you just ask…  you'll be surprised more often than not.
The worse I eat, the less productive I am.  The less productive I am, the worse I eat. Also, I've realized that feeling like crap on a regular basis is not enough motivation to eat healthier.  Sad, but true.  And I don't think I'm alone on that one.  Most of us know that it's the cause of so many problems, yet we don't change.  You don't get out of debt because "you should".  You don't eat healthy and exercise because "it's good for you".  Find your motivation (I'm talking to myself here).
Empowering other people is what really matters in life. I want to empower.  I want to empower Courtney to be the most amazing and fulfilled person she can be.  I want to empower Milligan to do whatever passions are currently bringing her joy (right now she really likes playing with her purple ball, playgrounds, and taking naps).  I want to empower complete strangers to see opportunities in their own lives that they've buried under mounds of stuff, debt, and excuses.  🙂
Saying "no" politely is far better than saying a half-assed "yes". Learning to respectfully and politely say "no" is one of the skills I desire most. Especially in the online world, I tend to want to say yes to everything.  There are so many amazing people, opportunities, projects, and feedback.  It's all right here, right now.  But, I've been saying "yes" and then completely letting people down way too much recently.  It's not a matter of being "busy" or "important".  Everyone is busy and important.  It's a matter of really being to knock the socks of the projects I can do.  I want to either give 110% or 0%.  I want to learn to say "no" in a way people enjoy.
There are very few unique personal problems. Chances are millions of people have gone through whatever issue you may have.  Chances are at least one of those people is much closer than you think.  Problem is we think any issues we may have are unique and we assume those close to us wouldn't understand.  Wrong.
It's o.k. to be a fan. I used to reject the concept of being a fan.  I didn't want to be seen on a "bandwagon".  I didn't want someone to call me a "fanboy".  I wanted to think for myself.  Now, I've come to terms that being a fan is fun.  I like cheering for the Packers.  I love my man crush I have on Chris Guillebeau's work.  I love how much passion Eddie Vedder brings to every song.  I love watching Wine Library TV even though I've never tasted a wine in my life that I enjoyed.  I love the fact that Big Mike was saved by the judges last week on American Idol…  (too far?).  🙂
The more I act like my daughter.  The happier I am. The more I play, mimic, tease, and chase my daughter in any given day… the happier I am when I go to bed at night.  The simple act of being silly is one I lost over the last 6-7 years.  It's taken a toddler to slowly infuse this back into me.  I want to embrace it even more.
As a child, I never once worried about food, water, shelter, or love.  I was never once abused or neglected.  I got everything I needed and most of what I wanted.  Both my parents were (and still are) hard-working, supportive, and have great values.  The older I get, the more I realize how insanely fortunate this makes me.
And there it is…  everything I know.  😉
Want to give me a birthday present?  Click here to Stumble this post on StumbleUpon!
[I'm exempt from self promotion guilt today… sorry!]
[share_sc]