[share_sc]
It's almost surreal to think that our time in Auckland is winding down to a close.  Didn't we just get moved in?
In a week and a half, we'll be fully packed into backpacks again and catching a plane to start the next leg of our mobile lifestyle.
Kelly Tarlton's Aquarium
Early this past Saturday morning (while Daddy slept in), Courtney and Milli headed over to Kelly Tartlton's Antartic Encounter & Underwater World.  I believe this is the third aquarium we've been to in our travels, but apparently I missed out big.
Courtney pointed out that this blew away the other aquariums.  First, there is a huge van that makes free trips from the city center out to the aquarium.  The cool part?  It's shaped like a huge freakin' shark.  Pretty funny to see actually.
Milligan's favorite part was the penguin exhibit, which you actually get to board into an enclosed antarctic vehicle and ride through.  The penguins actually come up to the vehicle and peer curiously inside to the delight of all the kids (and grown-ups alike).
Of course, I go to the two crappy aquariums and sleep through the good one!  Just my luck.  🙂
A picnic with Craig & Linda Martin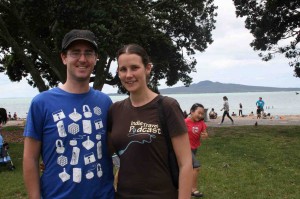 Yesterday, all three of us made the 15-minute bus ride over to Mission Bay on the east side of Auckland.  There we met Craig and Linda Martin for a picnic down by the beach.
Craig and Linda are the brains behind The Indie Travel Podcast, which now features regular audio and video travel podcasts, in addition to a blog and even a magazine.  They are busy folks!
We chatted about personal finance (they sacrificed several years before traveling to pay off their debts), our upcoming travel adventures (they are setting out in February again), and about podcasts, blogging, and the ups and downs of entrepreneurship.
After Craig and Linda had to leave, Courtney and I capped off the afternoon with the best ice cream we've had so far on the trip at Movenpick (swedish).
The coolest street performer yet…
One of the fun things about living downtown (I assume this is the same everywhere) is the abundance of random street performing acts.  We walk up and down Queen street here almost everyday which is one of the most popular spots for musicians, mimes, artists, etc…
I've only so far given spare change to two performers.  And one was yesterday on the way home.  I only caught the very last part of this performance on video and it's at a horrible angle to get a clean shot.
Almost all of the acts we've seen dozens of times by now (there are only so many), but this was the first time for these guys.  Somehow we've missed them up until now!  It was really neat.
[If you can't see the video of the street performer, click this link to watch it]
Man Vs. Debt Updates
The only major MvD update this week is the announcement of the winner from the Unclutter Your Life in One Week book giveaway.
After tallying 120+ comments, 100+ Facebook and Twitter entries, and another 100+ Militia entries, I threw pulled up Random.org which spit out…  23 (out of 343 total).
23 is mapped to comments (they went first) and represents:
Earl who commented "It's amazing what you find in Twitter."  Yes, Earl it is.  Congrats!
The week ahead…
I have a busy week planned as I prepare for my first extended time away from the blog later this month.  This week includes working on a slight site redesign (don't worry not changing too much).
On the agenda before I leave are a tribute to Jim Rohn, a in-depth reflection of our time in Auckland, and a detailed update of our stuff as we hit the road (probably a video of what we are packing, etc…).
Oh and I should be running one more giveaway/interview, which I'm expecting to be just as popular as the last.  Once the details are finalized I'll let you know!
Xoxoxo,
Baker