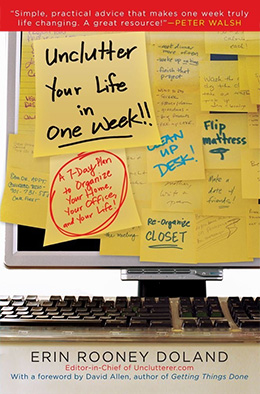 Today's post is simple…
I'm giving away a free copy of Erin Doland's new book, Unclutter Your Life in One Week!
For those of you that don't know, Erin runs the insanely popular Unclutterer.com, one of the premier blogs on the internet for organization and productivity.  I'm a huge fan of the site and it is one of only a dozen blogs in my "must read" RSS folder.
Erin's packed her years of experience into her new book, Unclutter Your Life in One Week.  Since we've been traveling, I've been unable to find the book (and have hesitated having it shipped internationally), but if you are looking for more information, I recommend Trent Hamm's recent review on The Simple Dollar.
Uncluttering our life played a major role in our journey to initiate traveling this past year.  We continue to actively track our limited possessions and can't stop reading stories about people paying down debt by selling their excess clutter.
Erin's graciously offered to ship a copy of her book to the winner herself, enabling me to run this giveaway even while being overseas!
I've moved most of my book giveaways over to The Man Vs. Debt Militia e-mail list (we've given away 4 different books so far this month…  you should enlist!)… However, this is a special book that I wanted to make available for everyone!
[share_sc]
How to enter to win a FREE copy of the book!
I'm going all out today.  I'm going to offer 4 different ways for you to earn an entry.  You can do each only once, however you can do all 4 if you'd like to increase your chances!
1.)  Leave a comment on this post!
This is the easiest way to enter, which only takes a couple seconds by scrolling below.
Please don't enter more than one comment or reply to anyone else.  Only 1 comment per person!
2.)  Add a comment to the Man Vs. Debt Facebook Fan
Visit the Man Vs. Debt Facebook Page and leave a comment on the main thread I started specifically for the giveaway.  It's the one that starts with "I'm giving away a FREE copy of…"  :-).
3.)  Tweet out the giveaway on Twitter!
Simply tweet out (copy and paste into Twitter) the following message:
Baker is giving away FREE copy of "Unclutter Your Life in One Week" over on @ManVsDebt – http://bit.ly/4Ef8pR – #MvDFreeBook
Just make sure that you use the #MvDFreeBook and the link to this page somewhere in your tweet, so I can track the entries!
4.)  Enlist in the Militia before this Sunday!
Last, but certainly not least, I'll be sending a special link out to the Militia e-mail list on Sunday.  Be sure to join before then if you want this last opportunity
Chances to enter end Nov. 30th at Midnight EST!
At the first sign of December, I'll tally up the total entries and use Random.org to select a winner.  I'll send an e-mail or DM to the winner, who will have a week to get back to me!
If we have a mad rush of entries, I'll even purchase and extra copy or two to give out as bonuses!
Whether or not you win, take a few minutes to check out Unclutter Your Life in One Week,  the blog Unclutterer.com, and follow Erin on Twitter (@erdoland).  Highly recommended!
[share_sc]
Don't forget to leave you comment below…