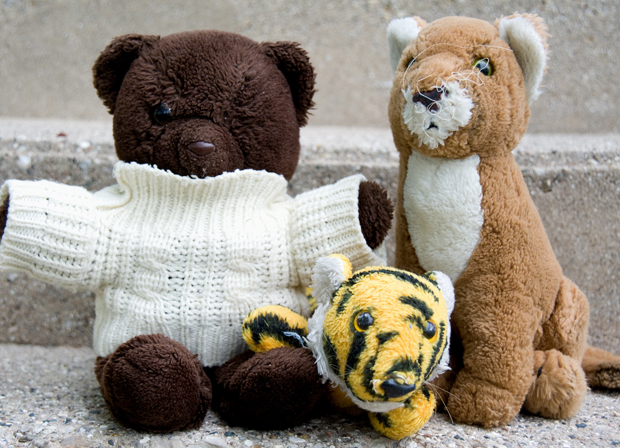 [share_sc]

This is a guest post from Chris Tecmire of Simple Family Finance. Though Chris, his wife, and his 6-month-old son live on a very modest salary, they have been able to increase their net worth over $60,000 in the last two years alone and pay off all non-mortgage debt. His blog aims to inspire others to do the same through the idea that anyone, at any income level, can find financial freedom.
I'd like to introduce you to three of my most important friends as a child.
1. The teddy bear on the left is "Jer Bear," named after my Grandpa Jerry. He lost an eye in a gruesome battle with a canine ten times his size – the bear, not the grandpa.
2. The tiger in the middle was given to me at birth by another grandpa, so he's the eldest of the bunch. He shows his age. His nose is only half attached to his face.
3. The third member of the group is the mountain lion, aptly named "Mountain Lion." Besides his scraggly whiskers that can't decide which way to go, he's probably in the best shape of the bunch.
My stuffed animals meant the world to me as a child. I probably had 20 or 30 different animals, but these were my 3 favorite. I had to say goodbye to the others years ago, but Jer Bear, Tiger, and Mountain Lion have stayed with me until now.
Yes, I'm 32. No need to mock me. I know that grownups don't play with stuffed animals – that's why they've been packed away until now.
Like so many people who feel overwhelmed by their stuff, my wife and I are trying to clear a little clutter from our lives. We recently decided to dismiss 25% of our belongings as part of an experiment on my blog. It's an attempt to see how attached we are to the items that we own, as well as discover how much we really need. Whatever the result, we're going to be selling a lot of "crap," as Baker so elegantly puts it.
Tough Decisions
So, that brings me to an important point. Some of our "stuff" simply consists of rarely-used glassware from Bed Bath & Beyond and a collection of books that I've been meaning to read for years, but other items have real meaning.
Some of our stuff has a history. Sometimes there are precious memories attached, and those are the difficult decisions. I'm sure you've been there.
Remember that #1 mom mug your children gave you 15 years ago – the one with the coffee stains and the small crack down the side? You'll never use it again.
You would be wearing your morning coffee within 30 seconds of filling it up. That's why it's packed away in your attic. You wouldn't dare use it, but you wouldn't dare part with it either. The guilt would be too much. After all, your kids gave it to you!
Why is it so supremely difficult to say good-bye to the lifeless items that we hold so dear?
It has very little to do with the item itself. It has everything to do with the memories that are attached. We feel as though we must hang onto the mug or the stuffed animal in order to maintain those memories. It's as if your memories of your son would cease to exist if you ditch his old G.I. Joes.
There's nothing wrong with hanging onto sentimental items, but something needs to be done if you're honestly trying to simplify your life because there will be memories everywhere you turn.
The Solution: Break Free With A Sentimental Scrapbook
My wife and I have recently started taking pictures of our special somethings. Once we have enough pictures, we're planning on creating a "sentimental scrapbook". I figure that people do this all the time with photos of people and experiences, so why not stuff?
Disclaimer: I'm not a crafty person. In fact, I despise scrapbooks. I can't stand the little construction paper flowers, tiny beads, and $20 stamps. The point of my rant is that the "scrapbook" can be what you want it to be. It can be crafty and flowery if you wish or simple and understated if you'd rather.
Our book will most likely contain a picture along with a story or description. That's it – just something to glance at from time to time in order to remember some of the important items from our past.
If you like the idea but are allergic to scissors and construction paper, services such as mixbook.com allow you to design your scrapbook online and simply print it out.
Let's look at it from a logical point of view. If the sentimental clutter is simply stored away in your basement or attic, you aren't exactly reliving those memories anyway. Creating a sentimental scrapbook allows you to relive the good times anytime you like. Just head over to the bookshelf and thumb through it at your leisure. Isn't that a whole lot easier than having to dig around in your basement?
Time to Say Goodbye
So, what's going to happen to my stuffed animals? In the spirit of clearing clutter, I'm going to get rid of one of the three animals.
The others will be the founding members of my son's future collection. He's nearly 6 months old now and pretty soon he'll need a few furry friends too. However, I'm also aware that he probably won't want to have nothing but hand-me-downs from his dad, so I'll pass two of the three down to my son and let Mountain Lion go.
Sorry Mountain Lion. We had a good run…and now I'll have a picture to prove it.
*****
Read more about Chris's journey at Simple Family Finance – including his wrapup on the "cut 25%" experiment!
*****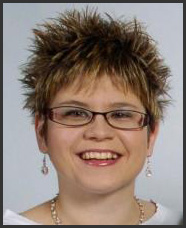 Note from Joan: I have to admit that Chris's post struck a HUGE chord with me. I, by the way, am a 29-year-old chick who sleeps with a teddy bear – and my favorite childhood blanket – and am totally proud of it.
My blanket, in fact, works just like Chris's "sentimental scrapbook." In my case, I had a huge problem getting rid of old T-shirts from things like high-school teams, concerts, my dad's wardrobe (he passed away when I was in middle school), etc.
The blanket (actually a Mickey Mouse sleeping bag) was one of the last gifts my dad gave me, a Christmas present the year before he passed away. That was in the early 1990s – so you can imagine how threadbare it was getting.
Lightbulb! My mom helped me patch the blanket with squares cut from the old T-shirts. They'd only been sitting in a drawer anyway… so 99% of the "shirt material" hit the trash can, and I have one (useful) thing that helps me remember not only my dad, but tons of great times from the past. Some of my daughter's baby and toddler clothes are even sewn on!
[share_sc]
So I'm really going to challenge you today to get creative.
Really think about Chris's example – and mine – and find a way to downsize some of that sentimental "stuff" – especially if it's packed away in "storage oblivion."
Tell us what you're willing to part ways with in the comments!