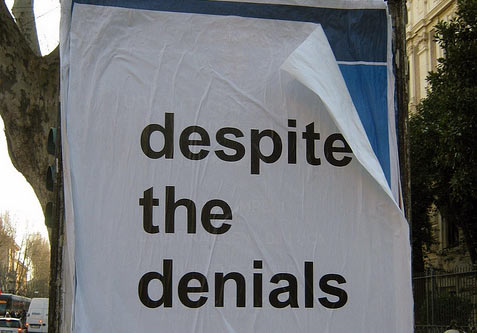 [share_sc]

This is a guest post by Jeff Rose, CFP®. Jeff blogs at GoodFinancialCents.com and just published his first book, Soldier of Finance. You can check it on Amazon and other major book retailers. Jeff previously shared The Danger in Comparing Yourself to Others with our community here at Man Vs. Debt.
"We really don't have that much debt……"
I love when clients try to play off their situation like it's not as bad as it really is. I know better.
It's no different than asking my 6 year-old son why his little brother is crying and he tries to convince me that he has no idea. Sure, kid, I'm sure it has nothing to do with the fact that you just put him in a headlock…
I had the same gut feeling feeling when I met with these clients that something didn't seem right.
They were more than 10 years away from retirement and didn't have nearly as much saved as any financial planner would feel comfortable with. Despite their lack of savings, they did have some positive things in their favor.
First, their house was completely paid off. That's a huge accomplishment for anyone.
Second, they were really confident regarding their overall debt picture, boasting to me that that they didn't have that much debt.
But when I pressed them to share with me how much debt they exactly had, they couldn't answer the question.
It wasn't the fact that they couldn't give the exact total of the debt that they had that troubled me. It was the fact that they couldn't even give me a range.
They knew their car loans were about $15,000, but beyond that, they were stumped.
Before we could move forward on any planning, I gave them a homework assignment to find out how much debt they really had.
A week later, they emailed me their findings and the results were not pretty.
The financial truth revealed
On top of the $15,000 car notes, they also had a camper that they still owed $10,000 on. That was just a small zinger when they revealed the total amount of credit card debt they had – to the tune of $25,000, some of which was on department-store cards that carried a 19% interest rate.
Yuck!
So let's recap….
New clients come in claiming they don't have that much debt…
Turns out they really don't know how much debt they have….
Further discovery reveals they have $50,000 of debt.
So in their minds, "not a lot of debt" = $50,000 of consumer debt. Anyone else see the issue here?
This isn't the first time that I've encountered a couple that was in denial about their finances. This couple definitely took the prize for being the most clueless, though.
Be honest
Research has shown that we are all in denial about something. It's a way of protecting ourselves from issues that are just too much for us to address. With the couple above, they were concerned about retirement and hoped they could retire when they wanted. I believe they discounted the amount of debt they had to avoid the reality that retiring early wasn't even close to being an option.
It's easy to fall into this trap when you don't pay attention to the big picture. This was evident with another client I met with.
This guy had convinced himself that as long as he could afford the payment, he would be OK. With this jaded rationale, he had purchased new cars, a new boat, a new four-wheeler and a bunch of other stuff that he didn't need. All on credit, of course.
When I tried to explain to him that being able to afford the payment was a distant cry from being able to pay cash and be debt-free, I felt like I was speaking alien to him.
My efforts fell short and he kept buying stuff and making the minimum payments. What money he had invested with me was gone in a few short months (it was a small settlement he had received) and the last I heard from him, he had filed bankruptcy and gotten divorced. Sounds like affording the payment isn't all it's cracked up to be.
This guy was in major denial. I felt at least the first couple I met with had some hope.
Time to 'fess up
Who knows why these people sought me out? Deep down, they must have figured that they needed help. The scary thing is that if they wouldn't have scheduled an appointment with me, who knows where they would be?
Challenging them to tally up every debt they had, so they could visually see it, was the wake-up call they needed to break the state of denial that they were in.
After our next meeting, which felt more like a scolding, the couple acknowledged that they were in much worse financial shape than they had led themselves to believe. They vowed to work hard to pay off their debt and planned on tackling the crazy-high interest rates first.
Pointing fingers
It's easy for many of us to point fingers and say, "That would never happen to me", but it doesn't take much for the cycle of denial to take shape. In college, I was running up credit card debt so fast it felt like was trying to qualify for an Olympic trial. Compound that with the student loans I was taking out, I was on a path to financial destruction. What made the issue even worse? I didn't believe it was a problem.
I thought that I was good and planned on making BIG money one day, and it would be easy to pay off the debt "later."
I think I had the biggest case of Denial ever. (Yes, I spelled Denial with a capital "D" on purpose because I had it bad!)
The wake-up call that I needed was my girlfriend (now wife), who challenged me when I informed her I was getting ready to head to Best Buy to purchase a 42″ flat-screen TV. I was going to put it on my credit card, of course, because I could pay it off later.
Yeah, right.
At first I fought it and disregarded her remarks, thinking, "How dare she challenge me?!" After a few days, I finally came to my senses and realized she was right.
I had allowed myself to become in denial of how ugly my debt had become.
Stop avoiding it
After my girlfriend called me out, I took a serious look at the debt that I had built up and realized it was time. I had to make myself fully aware of what was going on because, truth be told, I didn't know exactly how much credit-card debt I had.
If there's anything that you're avoiding – credit-card statements, 401(k) statements, whatever – it's time to take a serious look and really see what's going on. With a clearer vision, you can now formulate a plan and kick your denial to the curb.
As painful as the debt realization was for my clients and myself, I can assure you we are both much happier because of it.
*****
Note from Joan: Jeff is a longtime friend of the Bakers, an all-around awesome guy and the organizer of the Debt Movement, which recently hit the $1,00,000-paid-off mark. When told me that his new book, Soldier of Finance, was now out, I wanted to make sure we let the MvD community know about it right away. I asked Jeff if he had any advice to share, and WOW. He hit one of my favorite topics!
In addition to just being awesome, Jeff agreed to send one lucky Man Vs. Debt reader a free copy of Soldier of Finance!
[Update: Our winner is commenter #2, Gwen! Congrats, Gwen!]
[share_sc]
Tell us your biggest "denial issue" – past or present. If you've faced up to it, how did you get there? We'd love to hear your stories!
Comment and let us know!