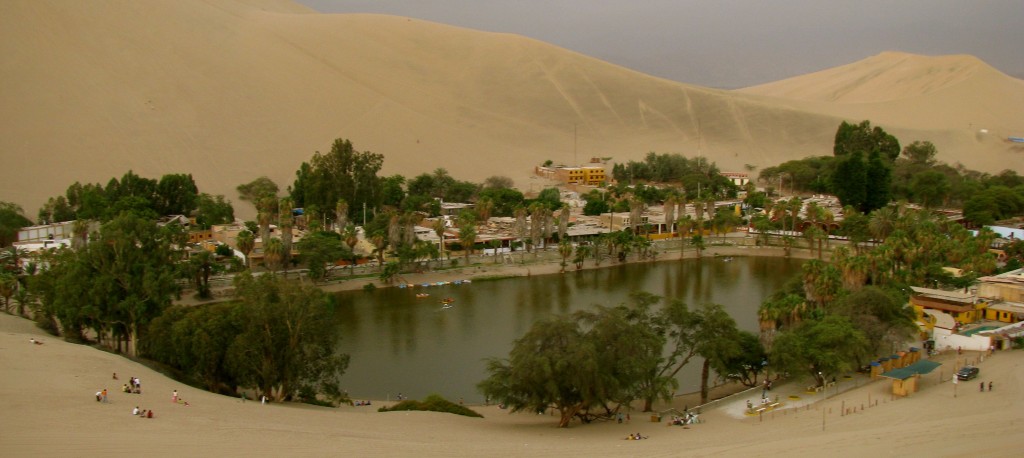 This article is a guest contribution by Casey Armstrong. Casey is a renegade traveler and kick-ass amateur photographer.  He blogs about his travels over at The Journey Is Our Goal.  His recent article on what to bring when traveling overseas is a fantastic read before you start packing!
[share_sc]
Why do I travel?  Why do I leave behind everything I am familiar with and embark into the unknown?  Is it the famous sites?  The cool beaches?  The outdoor activities?  The cheap beer?  Yes, yes, yes, and yes!
Honestly, though, those are just the perks of the one real reason why I travel:
The possibility for something to really move me.
…

It was just another day in Huacachina, Perú.  An oasis town that I couldn't even fathom before my arrival.  I was truly in the middle of sand for miles all around me.
My two day stop had turned into five.  I couldn't leave.  Wake up in the morning to fellow backpackers laughing and talking.  Some new.  Some the same.  What should I do?  Maybe sand boarding.  Maybe read on the dunes.  Maybe I'll catch breakfast next door.  Or just relax.  All of the above was usually the end choice.
At night, I would go down the road to the only place that was open with some people from my hostel.  We would talk, play cards, and drink a few beers.  Other nights this led to dancing around a bonfire, but tonight was different.
Tonight, there were two girls quietly sitting at the other end of the room.  They weren't foreigners, but locals.  One of them was rather attractive and caught my eye.  My Spanish left much to be desired, but I figured what the hell.  I mean, how bad could it really go?
Everything started smooth and they were receptive to my joining them.  But after ten minutes or so my Spanish started to run a little dry.  The room seemed to fill with an awkward silence.  Suddenly, the girls started talking really fast between each other.  I just sat there with my smile as I had no idea what they were saying.  The girl I came to talk with, Cinthya, turned to me with a big grin:
"You know I teach English in my town?"
What?  Really?  Why are we speaking in Spanish? I was happy to get more practice in, but I'm sure it was like talking to a 4-year-old at best.
With this new bit of information, our conversation was able evolve from the "I'm from California," "this place is pretty," and "I like sports" gems I was dropping.  All three of us talked and laughed for another couple of hours before her friend had to go home.  Cinthya and I decided to walk outside to enjoy the beauty of Huacachina.
Dunes for miles around us.  We felt so small.  No lights, just the reflection of the sun off the moon guiding us up the hill.  We made it to the peak before we sat down to take everything in.  Deep breath. Disfruta. Enjoy.  The slight breeze felt so nice in the dry air.
We talked more.  We laughed more.  We sat in silence.
I was admiring the endless sandbox we were perched above when I felt her shift her head toward me.  As serious as her tone had been all night, she asked, "you know what I pray for?"
I turned towards her and she looked deeply into my eyes.  "Rain," she said.  "Rain?"  That was all I could think to say. "Yes, rain.  We suffer from serious drought, you know?  When it rains, everybody runs into the street.  We dance.  We thank God.  We cry in joy."
As we were in an oasis it seemed so obvious, but it really moved me.  Nothing materialistic, instead something from Mother Nature.  Something so simple.  Just plain water… the gift of life. Grown women crying in the streets because they are thankful for the water from the heavens.  Children dancing in the puddles.  Life has been made easier.
…
It was at that moment in time I realized what truly mattered:  Family, health, shelter, water, food.  The basics.
Back at home, I didn't have to think about these basics.  The closest I would come was having to choose what item of food to order off the menu or making sure I remembered to pay my rent on time.
But on the road, these type of things were part of my daily life.  Where I was going to sleep, what was safe to eat/drink, or even how much I missed my family were regular thoughts.  Life on the road seemed to encourage focusing on the basics…  focusing on what was really important in my life.
That is the real reason I travel.
Thank you, Cinthya.  I hope to be back to dance in the rain.
Baker's Note: I really loved this story.  Courtney and I have noticed very similar moments throughout our travels.  Somehow, travel like this just seems to encourage you to focus on the essentials.  Like forced simplicity in a way.  It's been a welcome addition to our lives.  By the way, that picture was taken by Casey of the actual city in the story.  How freakin' cool.
Why do you travel? Have you noticed a similar connection to the 'basics'.  Do you feel a sense of liberation?  Excitement?  Or just love growing through new experiences?  Do you travel at all?  Let me know in the comments below!