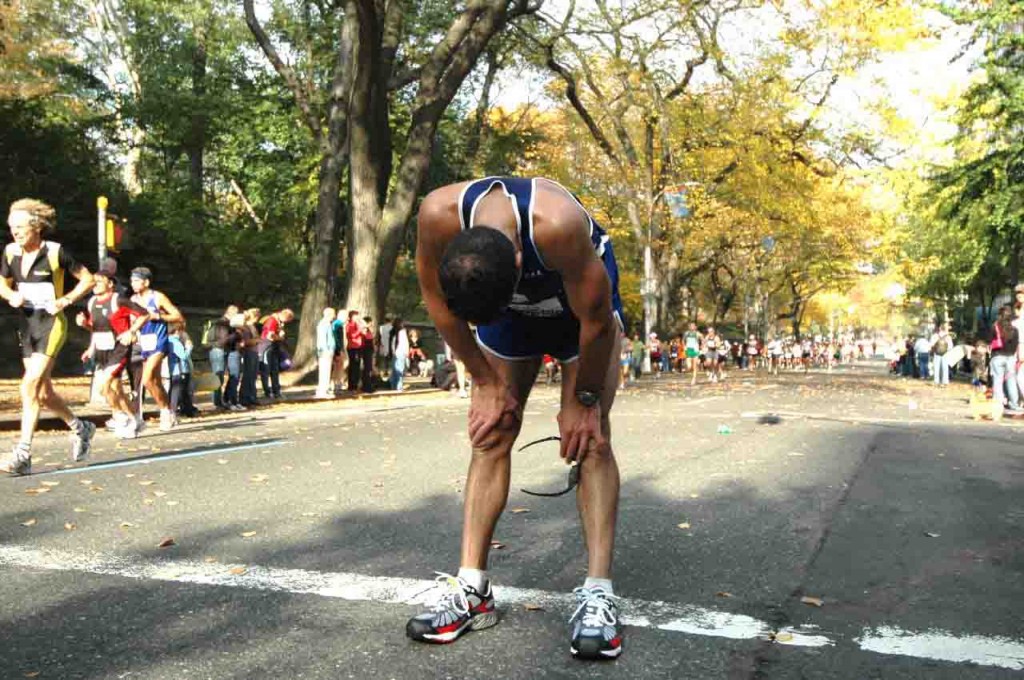 This article is a guest contribution by Michael Henry.
[share_sc]
Is there a more tired analogy used in the personal finance community than the "building wealth is a marathon, not a sprint" cliché?  And like most annoying clichés, this one happens to be pretty true.
Reading Baker's decision to attack his level of fitness with the same gusto as his personal finance situation caused me to reflect on my own parallel journey with finances and fitness.  As I write this, I'm preparing for Washington D.C.'s Marine Corps Marathon this Sunday (October 25th).  And by preparing, I obviously mean freaking out and obsessing.
I might be running participating in a marathon, but I'd hardly be mistaken for a runner. I'm 6'3", 225lbs and I just polished off a single with cheese from Wendy's (plus a large root beer – let's compound our mistakes!).  I enjoy a good scotch on the rocks and exotic-sounding cigars… not exactly the prototypical runner.
But a couple of months ago I got pulled into a conversation between a co-worker and our boss where they were discussing how they were going to train for the marathon.  Some gentle prodding mixed in with some ego-baiting convinced me that I should also sign up.  I mean, I ran Cross-Country in High School… I could do this right?
And thus, I began my training.
I started out running short distances to get my legs underneath me in May before moving on to an actual training program that began on Tuesday, June 23rd with a three mile run and finally ended this past Thursday with a light two-miler.  That's almost exactly four months of running at least four times a week, up to 20 miles at a time.
For those who haven't already established a regular exercise routine, going from nothing to an intense four month long training regimen can be quite hard.  And it hasn't always been smooth.  I've had to maintain my training despite:
Three out-of-state trips for work and the long days these business trips tend to bring.
Two illnesses that rendered me bed-ridden, including one just two weeks ago!
A foot injury that forced me to take a week and half off on the account that it hurt just to walk!
Of course, this doesn't even take into consideration how out of shape I started and my continuing lack of commitment to any reasonable diet!
Although I'm nervous, I know that Sunday I'll show up to race, and at some point I'll cross the finish line.  It won't be pretty, and God-willing, there won't be pictures taken (my wife feels otherwise, just wait until she sees me, she'll change her mind), but I think I can do it.
So how does this have anything to do with personal finance?
Looking back, I can draw a lot of parallels between what I went through in order to get to this point as far as marathon training is concerned, and where I am financially.  Specifically, these five points come to mind:
Starting is easy, continuing is hard. I must have "started" my pre-June training regime at least a dozen times.  I'd run a day or two, and then just take a week or two off out of pure laziness.  The same is true with managing money.  It's easy to say you're going to cut off your spending and then not go shopping on the weekend.  Maybe you entertain yourself at home and start to feel pretty good about things.  But then it's so easy to "reward" yourself with a shopping trip the following weekend, and the next thing you know you're back in your old habits.  I know it has happened to me, both with my exercising and with my money management.  But after a while it "clicks", and you start developing newer, better habits.  And that's a great feeling.
Be equally cognizant of short-term and long-term goals. Both training for a marathon and saving for retirement (or any other money-related goal for that matter) involves making short-term sacrifices in order to satisfy a long-term goal.  And delayed gratification is hard!  But it can be helpful to remember that you told yourself that you wanted to save an extra $200 this month, and not buying that video game that you'll just be bored of in a month will help you reach that $200 goal.  Saving that extra $200 is step towards an early retirement.  Same with running.  A 12 mile run isn't exactly a barrel of laughs but you have to focus on being in the moment and finishing, all while understanding how much it's going to help you reach your larger goal of 26.2 miles.  When you're able to put the pieces together and see the whole picture, it can sure help through the rough times.
Having a setback is not equivalent to failing. This is probably the hardest lesson to learn, but the most important if you want to be successful.  About mid-summer, I went through a period of time where the perfect storm of laziness, illness and out-of-state travel converged and I got off track.  I seriously considered dropping out of the event entirely.  After all, what was the point?  I had lost a couple weeks of good training time and was significantly behind.  Plus I had a Master's thesis to work on, and work was getting kind of busy, and I like spending time with my wife, etc…  Fortunately, and for reasons to this day I'm not entirely sure of, I decided to get back on the horse, and work extra hard to get back on track.  And I did.  It took me about a month but I was back on schedule and ready for the race.  The same thing can be applied towards how we approach our spending.  I swear I have been out shopping, saw something I liked and thought to myself, "hell, I've already spent a bunch of money today, why stop now?"  It's a pitiful, yet very effective justification.  And again, it's so easy to fall back into old, bad habits.  The hardest thing for me to realize was that it is ok to have setbacks, in fact, expect them.  But you can get past them, and come out the other side better because of it.
Understand why you are doing what you're doing. This goes back to having goals.  You need both the stick and the carrot to succeed.  I'm running a marathon because it's a personal challenge; it's something that I wasn't convinced I could do but I need to stretch my limits a bit.  Plus I'm horribly out of shape and I was hoping having a goal with a date would help me maintain my focus.  With my finances, I have three main goals:  save for retirement, save for a house, and save enough money to start a business with my best friend.  Those are three disjoint goals but they're constantly on my mind whenever I make financial decisions that could affect them.  Having them helps keep me on track.
Enjoy the finish line but know that your work is never truly done. I can't expect to finish the race on Sunday and be in shape for the rest of my life.  Likewise, saving for a house takes effort and energy and diligent planning, but after accomplishing that goal how about boosting your retirement savings?  Or perhaps creating accounts that will allow you to save for your child's education?  Or maybe you've always wanted to retire early or take trips oversea.  The goals may change, but the process stays the same.
We'll see how Sunday goes – by the time this is posted the race will be over.  But my running career won't be over! I plan to keep at it after the race – after all my hometown Indianapolis Mini-Marathon is next spring and I'd love to be in better shape for that.  So wish me some ex post facto good luck, and I wish all of you luck in your own personal finance marathon!
Baker's Note: I wanted to feature a post with a hint of fitness or health and this one was a great fit.  I just got off the treadmill after 3.0 miles…  and can't imagine running 26.2!  For those interested, Michael DID finish the marathon, although he admitted to getting passed by two guys in hotdog costumes!  🙂  That doesn't take a single ounce of respect away from me.  I'm in awe…  nice work Michael!
What other similarities do you find between fitness and money? I'll admit that looking at my student loans FEELS like a marathon and I don't even have a mortgage!  What about you?