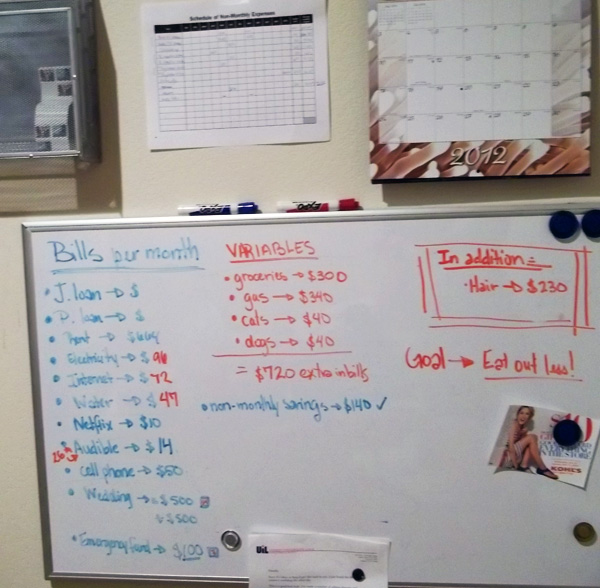 [share_sc]

This is a guest post by Karina Dupree. Karina is a writer, designer, traveler, and tech enthusiast and considers herself a Jane-of-all-Trades for everything creative. She writes about all her adventures at The Flying Cashew. Currently residing in Texas, she spends most of her free time writing, playing video games, and hanging out with family and friends. Follow her on Twitter @theflyingcashew.
Money, sadly, is a big deal.
And as you get older, the money thing tends to get trickier, especially if you're in a serious relationship where money seems to become an unavoidable topic.
I've heard all kinds of stories concerning money and couples.
The biggest one is that it tends to be the top reason for broken marriages. Why does it become such a huge issue and spoil what is such a beautiful and even blissful thing?
As a part-time designer and writer with a full-time job, I didn't need money to take away any more moments from my puppy and my fiance.
Simple would be the only type of financial system that would work for me, so that it wouldn't scare me away from actually going through with it.
Here's my suggestion for a first step toward approaching bills as a young couple.
Manage your joint finances with a whiteboard
A whiteboard along with weekly "meetings" with your significant other can be a great foundation for a healthy financial relationship.
You've done all the other work of getting to know each other, with your quirks and habits, but money can become a deal-breaker even in the most committed relationships.
Openness is key.
Our overall whiteboard setup is above. It includes our mail outbox, calendar, non-monthly expenses, and the almighty whiteboard. We're in the middle of paying for our bills this month, which is why the amounts are in different colors, paid vs. unpaid.
Here's why I believe the whiteboard system works.
1. It lays everything out in the open.
A key to a successful relationship is communication.
A whiteboard serves as a tool to illustrate what is coming in and out of your household. You should have a section for income, and another larger, detailed section for expenses.
You can see our monthly expenses on the whiteboard above. Our consistent monthly bills are on the left-hand side, while the expenses we have the most control over, like eating out, groceries and gas, are listed under "variables."
You can and probably should also list your income, especially when you first get started!
To help figure out the "not every month" expenses, a tool that I used in the beginning, before we officially "combined" our income, was the personal monthly budget Google form. That will give you a clearer view of what expenses you might come across.
A good template to list those out for quick reference that I've personally been using is this one.
You can see our schedule of these hanging above the whiteboard – and in detail here: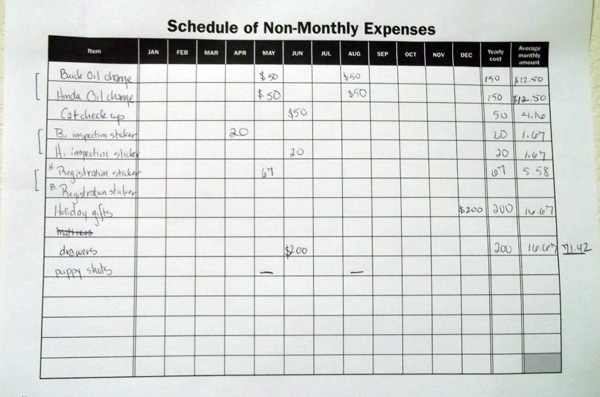 With all this in front of us, it's very obvious what money we have coming in and going out.
2. It's a tangible starting point for couples trying focus on their finances.
Depending on personality and your own personal situations, your budget and discussions about money may get more complex later in your relationship.
But you need a good solid starting point for making your shared finances a priority.
Quick, simple and visual. That's what we're going for.
3. It leaves room for quick revisions and open discussion.
Whiteboards are cheap, they're fun to write on, and they save paper, therefore saving trees (doesn't it give you that nice, happy do-gooder feeling?).
A good idea before even talking about budgets is writing out your expectations from each other.
Clear out the air.
Say one of you expects to save every single penny you have for a huge joint purchase, but the other would like some spending money to go out with friends.
This would be a chance to find middle ground to keep both people happy; that means you're more likely to reach your financial goals.
Here you can see our "negotiated points" on the right side of the whiteboard. I wanted to get my hair done, and we both agreed to try and eat out less. These are the things to discuss, and they're easy to change as you go!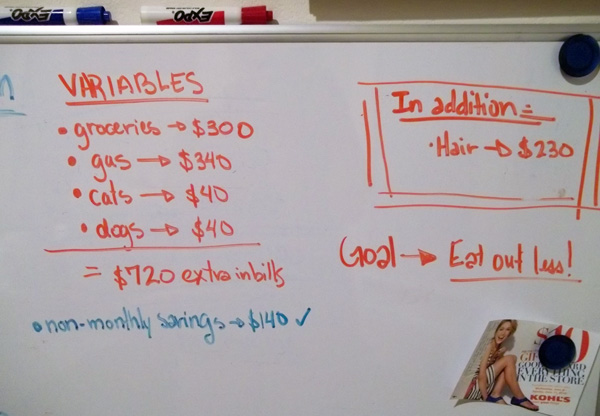 4. It's a visual reminder of what's due and how your budget is shaping up for the month.
When both my fiance and I began thinking about pooling our money together, I was honestly freaking out. I came across Dave Ramsey's book at a night job I had. I will say, I haven't tried any of his other products, but it got me thinking about how to view monthly budgets.
Budgets change every month. So expect have a fresh start the first of every month, where you "reset" your whiteboard. And be sure you're keeping up with it as you go!
And don't forget to check those non-monthly expenses we talked about above, so you can reflect those appropriately too.
5. Keeping it updated gives you a good reason to check in with each other weekly.
Remember, you're in this together. I'm serious about this one.
You can't read each other's minds, so don't even try. Hold a weekly check-in meeting to update the board and make sure that you're both taking the steps you agreed on to meet your goals and express any concerns you're having.
Doing this could prevent serious problems in the long run.
[share_sc]
This method has worked well within my household, but it may or may not work for you.
The important thing is that you find something that works for YOU. No matter how long you and your significant other have been together, what have you done to ease the transition into a more financially committed relationship?
Tell us in the comments!