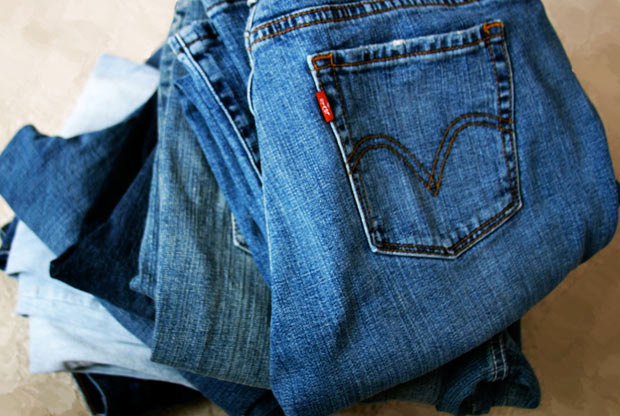 [share_sc]
Note: This is a post from Joan Concilio, Man Vs. Debt community manager. Read more about Joan.
I've needed a new pair of jeans for a while. I hate buying jeans. I am, I guess, not jeans-shaped, which is to say that they never feel like they fit well. Normally, if I can find ones that are "good enough," I go for them.
And I certainly don't like to spend much money on jeans.
Well, here's an interesting thing. For a long time, I'd limited my jeans-trying-on to stores like Walmart and maybe Old Navy. The occasional T.J. Maxx. Kohl's, on a REAL splurge. Since I never like them anyway (even expensive pairs), I figured, why bother looking at brand-name stores? They're going to be more expensive!
Fast-forward to last weekend, when I decided to go jeans-shopping. My jeans from about three years ago were from Old Navy, and while their jeans are cheap when on sale, they're something like $29 or more regular price, well more than I wanted to pay, especially after trying on something like 6 pairs and not finding any that felt even "pretty good."
So I tried to remember what other brands of jeans I'd worn in the past, and decided to check out the Aeropostale in the mall… mostly out of desperation, and because I knew they had a particular cut I sometimes wear. I resigned myself to the fact that these high-end (for me) jeans would be more expensive, but reasoned that since I buy them so rarely, I could deal with it.
Guess what? I walked in and out with $16 jeans in less than 5 minutes. Couldn't believe it. And they weren't having a big sale – they were just standard, not-new-for-this-season jeans, and they were $16 and fit as well as I ever get jeans to fit.
So I started thinking about my brand preconceptions.
You know…
If I buy it at that store, it will be more expensive (or, if I buy it at this store, it will definitely be cheaper)…

That brand-name food tastes better than this generic food…
It doesn't really matter what brand of TV I buy…
Some of those things are probably true. But my shopping was starting to default to guesses about quality and value that aren't necessarily the best-informed!
What Man Vs. Debt readers said about name brands
Over the weekend, I asked our Man Vs. Debt community on Facebook to share some thoughts about name brands vs. generic or "off" brands. Here's what you had to say!
Veda: I won't skimp on shoes or bras, so I watch for what I want to go on sale . I do a lot of grocery shopping at Aldi, it's a good place to save on basics. New clothes have to be something that will get a lot of use, otherwise I get those items & housewares secondhand.
Stacey: Aldi's is great. They even have gourmet generics.
Medricka: Mayo…I only (buy) brand name.
Christy:  Food…Parmesan cheese (that's the Italian in me, Dairy is preferred to be Organic (milk, eggs) I can definitely taste the difference…and toilet paper/paper towels (both have to be recycled..I like the white cloud). Note from Joan: The Italian in ME is happy with this.
Erin:  Don't ever go for generic cheese! It won't even melt..
Heather: I mostly will buy off brands if they are cheaper with the exception of peanut butter, I haven't found any that taste as good as JIF!
Clare: I will usually buy name brand for things I don't buy often "ie ketchup", especially if i have a coupon, but most other things, stores brand or generic is just as good.
Jennifer:  Food wise, I've never noticed a discernible difference between generic or store brand and name brand. For clothes, I will buy quality (ex. gently-used Prada shoes from a NYC consignment shop) if it's something classic I expect to use for a long time, otherwise I'm shopping clearance racks/eBay/garage sales. For household wares, I look for vintage items from garage/estate sales and thrift/consignment shops. Anything "new" I've received wears down rather quickly, but my grandma's kitchen utensils see daily use and are still going strong!
Jenn: I do 95% of my shopping at Aldi – over the years I've only found a couple of their products to be sub-par (the refrigerated cinnamon rolls and their canned black beans). Everything else is AWESOME and I save 30-50% on my grocery bill. Clothes – I like decent brands but try to get them second hand or new on mega-sale. I never pay retail. There are only a few brand-name things I gravitate towards…Bounty paper towels, and toiletries (shampoo, hairspray, etc.). I definitely don't care about brand names for shoes, clothes or handbags – I have a strong aversion to those high-end brands that print their logo all over everything (Coach, Louis Vuitton, etc.). I guess I'm a little anti-brand in that regard!
Sarah: Hate brands that print logo all over. .. in that case they should pay us to carry/advertise for them…ha. People put too much emphasis on stuff like that. That being said I like high quality…w/in reason. I hate crappy shoes… usually comfortable and cute will cost you but worth it in my opinion. Would rather buy awesome jeans used over cheap new jeans! As far as food, cheaper potato chips usually can't tell much difference.
Queen Buzzy: The only brand loyalty I have is for shampoo/conditioner (Nature's Gate: sulfate free!) Everything else really just depends on the sale price  Couldn't care less about clothing labels. I'll buy clothes at the grocery store if they look cute.
Michele: Toilet paper, laundry detergent, shampoo/conditioner, tampons/pads, and Cheerios have to be brand name for me. Tried the generics and they're just not as good & for some of those items we're apparently just picky. Won't do us any good to save the $ if we end up not using the product.
Laura: I buy name brand on cereal. The generics are never as good.
Sidney: As General Mao puts it – it doesn't matter if the cat is black or white – as long as it catches mice. LOL
Katie: Only care about name brand with laundry detergent and some clothes and shoes!
The thing that stood out to me is that it sounds like most of our community members have at least tried generics and aren't defaulting to brand-name purchases! I also loved seeing how value factored in to people's decisions. Because that's my biggest takeaway.
Joan's take on brands and cost per use
I've talked about this in relation to clothing in particular before. When I wrote How We Buy Our Clothes: When Frugal Isn't Cheap last year, I pointed out that there are things we ALWAYS go cheap on, and others that we tend to be willing to spend more on up front (or be brand-loyal to) in order to ensure longer wear. In return, though, we know the ways to get our quality buys much more cheaply. Our consignment shop is a huge win; we pile up rewards points at particular stores; and Chris has even been known to get Chaps button-ups for a dollar at the economy store!
The same is true for groceries. There are things we KNOW we prefer brand names on. Simply Heinz ketchup… sorry. That's all there is for me. Not even regular Heinz. I want THAT ONE KIND and I know it. Same with paper towels. In that case, it's not one brand, but the cheapest of about three, but with five cats and a large dog, paper towels have to absorb a certain amount of… ick. I have had way too many experiences of buying paper towels that were two-thirds of the price of the name brand – and buying twice as many. That's NOT saving money.
I'm probably the most mixed on electronics. Despite working online, I'm not super-gadgety. My iPod is from 2005, bought used THEN, and holds something like 200 songs. It's fine – it does what I need it to do. Most of my other devices are work purchases, and we have a grand total of one TV and it's not even a flat-screen, let alone HD. That said, it's a brand-name one – Sony – and probably the only reason it's lasted for the past 6 years or so, including that time I sort of dropped it, is that it was high-quality for its day. On the other hand, my daughter has KILLED a handful of generic MP3 players over the years. She uses them daily, and has tons of music, and essentially they all have to be wiped off and reprogrammed about once a month because they just crash. (She takes good care of them; they're just not made for that, I don't think)! So in her case, I think it's probably worth it to buy her a decent iPod – and that may be our Christmas choice for this year.
Overall, I want to be clear that I'm interested most in VALUE, not cost. That's what I mean by cost per use – a $200 purse that I use daily for two years and counting, like my current one, has a LOWER cost per use, at about 27 cents a day, than my previous habit of buying $15 purses that I used for about a month before they ripped or were stained, with a 50-cents-per-day cost. Yes, I'm hard on purses, but it's a great example FOR ME. If you're not hard on purses (or, y'know, you're a guy), the $200 leather Coach satchel is probably not a good value!
In your case, maybe it's high-quality running shoes that don't leave you with a podiatrist or chiropractic bill, or gluten-free foods that keep you feeling well. Whatever it is, your budget is best off when you know where you want to scrimp and where you are willing to spend more up front to get a good long-term value!
The thing I'm trying to become even more conscious of, however, is not making assumptions. Not assuming that jeans at Walmart or Old Navy will be cheaper than those at a "brand-name" chain. Not assuming that if I don't like generic ketchup, I probably won't like generic mustard – without trying it. That I need to get a new iPod because mine is so old.
That's not value. That's silly. And I'm working to change that thinking and to continue to be a conscious consumer when I do need to buy something!
More interesting reading on brand consciousness
Brands Are Imprinted On Our Brains: Now this was fascinating. A study done in Germany showed that people's brains actually physically responded differently after seeing a name-brand label on soda – even when drinking the same thing three times in a row, the pleasure cues sent to the brain when the drink was labeled Coke or Pepsi were different. Our eyes can override our taste buds? That's pretty crazy!
Store Brand vs. Name Brand Taste-Off: Consumer Reports tests a bunch of generic and name-brand products and weighs in on where the differences are noticeable. Most are probably not surprises – yeah, we all know Ben & Jerry's is a bit tastier than other ice creams… (CR also has this great read on the difference between brand-name and off-brand TVs that's worth checking out.)
Focus on Quality Brands that Hold Up Over Time: This is an awesome read from Trent Hamm of The Simple Dollar. It hits a lot of the topics I talked about in my post above about when frugal isn't cheap related to clothing – and when a high-quality item is really more economical over time. It's also a great breakdown of the cost-per-use concept I mentioned.
[share_sc]
So what do you think? Brand-name? Off-brand? Some of both?
I'd love to hear your thoughts and experiences.
Tell me in the comments!