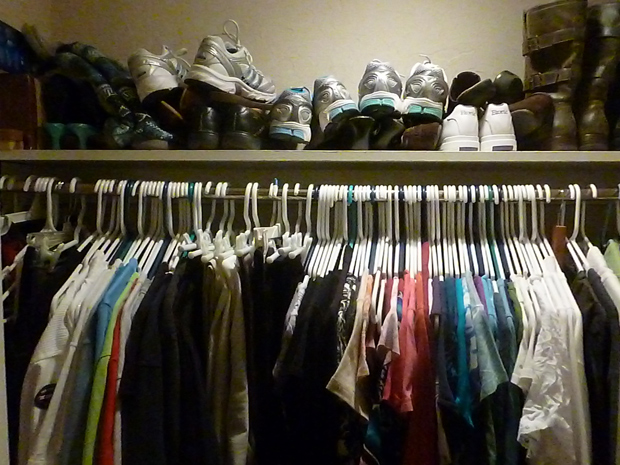 [share_sc]
Note: This is a post from Joan Concilio, Man Vs. Debt community manager. Read more about Joan.
We spent almost $500 on clothes in the past three weeks for our family of three.
That's as much money as we routinely pay over our balance each month on our most-hated credit card, and it's halfway to the $1,000 cushion we'd like to return to in our checking account.
So why blow it on our collective wardrobe?
Well, here's the fun part: Other than the occasional odds and ends, we shop for clothes less than once a year in most cases.
Our recent trips have equipped us through at least next summer, with the exception of a couple pairs of jeans for my daughter in the fall if she grows more than another inch or two.
Some people love shopping for clothes. We don't. So if you're a "shop-for-fun" type, bear with me as I explain how and why we've developed the sartorial system we have – and why it's not always cheap to be frugal!
To start, let's take a look at how we choose our clothes in the first place. (That's my whole wardrobe above, minus jeans, socks and underwear – we hang almost everything up!)
Joan's clothing philosophy
The best thing about working from home is that I can wear jeans and T-shirts, with a few "dressy" exceptions. With that in mind, my wardrobe goals have evolved as follows:
Everything has to be able to be washed and dried normally with few wrinkles. Nothing dry-clean-only. Nothing that needs to be ironed (ugh!) I hang a select few things on a drying rack, but everything else is fully washer-and-dryer compatible.
Layerable. I'm always cold. It's currently 76 in my house and I have a blanket around my shoulders. So I get a LOT of mix-and-match layerable pieces, like solid-colored short-sleeved and long-sleeved T-shirts and camis.
Versatile. I don't have a ton of dressy events to attend – but I need tops that can go with both a pair of black dress pants as well as a cute pair of jeans – and shoes that can do the same.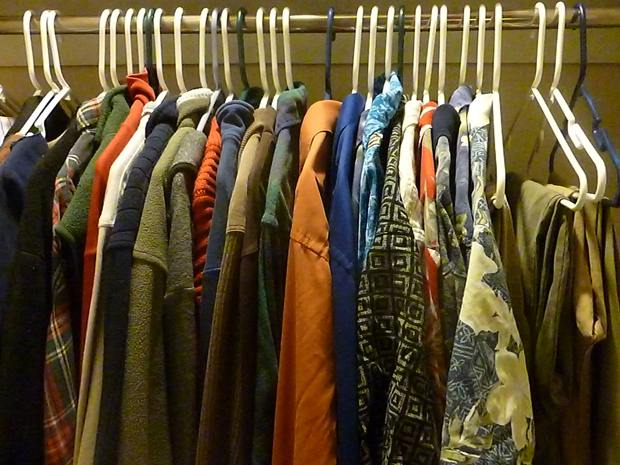 Chris's clothing philosophy
OK, so first note: This is "Chris's clothing philosophy as seen by Joan," but I think he'll agree with 90% of it. I mean, he DID agree to let me take a picture of his entire wardrobe, sans T-shirts, jeans and underwear, which you can see above. It's a little, uh, thinner than mine.
Solid colors and earth tones. This is a man who owns very few clothes – and they all need to match each other. By sticking to a color family he likes, and mostly solid colors, he can easily make 20 basic articles of clothing go from work to the grocery store to a restaurant dinner.
Durable. Chris will wear a pair of pants three days a week for three years. Granted, he's not patching a roof in them or anything, but even so, they've got to be made well enough to last.
Have only what you need. That means Chris never has more than two pairs of jeans, and when he has more than five pairs of shoes, he gets a little stressed at having "so many."
Sarah's clothing philosophy
Good-feeling. Sarah has significant sensory processing issues – so FEEL and texture are the most important factors to any of her clothes. She's had wonderful things given to her as gifts that she absolutely cannot wear because of a stiff collar or a scratchy waistband.
Simple. Much like her dad, Sarah's not into complicated outfits. In fact, when she finds something she likes, we buy multiples of it – five pairs of the same jeans lasted her the past 18 months, for instance.
Predictable. This is predictable in a good way. Sarah likes to know exactly what she's going to put on, so each day's outfit is much the same. Our current uniform includes a pair of basketball shorts and a solid-color T-shirt, day in and day out, and in the winter, that switches to jeans, t-shirt, hoodie, day in and day out. Not a lot of decisions required!
What we scrimp on
Despite being picky about certain things relating to clothes, there are many things we never spend very much on. Here are the biggest ones, by person:

For Joan: I NEVER spend much on short-sleeved or long-sleeved plain T-shirts. I like them thin, for layering, and I wear them out every year. So these come from places like Old Navy's Black Friday sale or the craft store, for about $2 apiece.
For Chris: Button-up short-sleeve shirts. Chris wears these to work, buttoned up, or open over a T-shirt when he's not working. We get these at our local economy store when they're on sale for $1 a shirt. Sometimes they're decent brands, and sometimes they're completely generic, but for $5 to $10 each year, Chris has almost all the shirts he needs. (That's a dolla-dolla shirt, y'all, that he's wearing in that picture above; Chaps, no less!)
For Sarah: T-shirts, short-sleeved and long-sleeved. She gets most of these as gifts, because between her size and her sensitivity to different materials and styles, it's just about the only clothing item relatives can get that they know will be a win!
For all of us: Socks and underwear. Even the "cheap" versions add up after a while, so we stick to basic brands. (And Chris and I share socks, which helps offset that cost!) This is the one area we don't buy secondhand, though.
What we splurge on
For Joan: Shoes and insoles. I have had horrible knee, foot and back problems most of my adult life, and cheap shoes are by far not worth it for me! I usually have one pair of high-quality sneakers, a pair of orthotics to insert in those, and both black and brown well-supported, name-brand dressier shoes for each season. In all, this is cheaper than paying for all the physical therapy copays I used to have, but it's pricey up front!
For Chris: Shoes and pants. Chris will wear a pair of "work" shoes more than 50 hours a week for over a year, so it's much more economical in the long run to buy one $80 pair that will last that long than to buy a $30 pair every 3 months. The same is true for pants – a $50 pair of pants that Chris can wear 300 times over two years works out to a better "price" than a $20 pair that he can wear for two months.
For Sarah: Jeans that fit. No one in their right mind would buy their 12-year-old five pairs of $40 jeans, right? Well, if your 12-year-old is 4-foot-8 and weighs 62 pounds, you know that if the jeans fit, buy 'em! (If you have such a child, I highly recommend Levi's skinny straight jeans in slim sizing with an adjustable waist; they're worth every bit of the $40!)
For all of us: Good outerwear. Chris is still wearing the same brown winter coat that he bought in our first year of marriage (we're in Year 8 now). For Sarah and I, I prefer the three-in-one style coats from Columbia or LLBean, where you can wear the inner piece, the outer piece, or both pieces together, and we too can make those last several years.
5 ways we fit the clothes we like into our budget
So, to sum up, we like to have certain pretty nice things. We scrimp where it doesn't matter, but we've made the decision to fund those "splurges" from the above list, and here's how.
1. Shop as infrequently as possible, and buy everything each person needs all at once.
When we started trying to manage our budget better, we began grocery-shopping every two weeks, instead of here and there as we needed things. That, combined with a solid list, saved us a LOT of money… so we applied that "less is more" strategy to our clothes shopping too.
This helps for a couple reasons. First, it's a definite motivator not to overspend. I know what I really need for each person – and how much money I have to get as many of those things as possible.
Second, you can be sure that everything goes with everything. Chris and I shopped for his annual wardrobe at Kohl's two days ago, and he tried on the shirts with the pants with the shoes. Sarah did the same a couple of weeks before.
2. Limit your total number of clothing items.
Here's the thing. I like a nice purse and an expensive pair of sneakers. But I like one nice purse and one expensive pair of sneakers – not five of each!
I have a goal to be under 200 items of clothing (including socks and underwear) by my 30th birthday this November. There's nothing special about that number – but keeping it in mind keeps me accountable and prevents many impulse purchases.
3. Make money selling no-longer-needed clothing.
After we get back from a shopping trip, we generally practice "one in, one out" and purge our closets of the things we're no longer wearing.
Much of this gets donated to our local economy store (home of the dollar shirts; it's only fair!), but good-quality, brand-name items are sold on Craigslist or via our local consignment shop.
Even if we make back $50 out of $500, hey, that's 10 percent of our clothing budget!
4. Stick to one store and know your sales.
I'm a little crazy with this, so bear with me. I don't mean I only shop at one store, ever.
But when we know we'll have multiple, major clothes-shopping trips in a short period of time, we try to do it in such a way as to stack discounts.
Here's how this worked for us this month:
Sarah had a $50 Kohl's gift card from Christmas, which we'd saved until she needed clothes. We also had a coupon for 15% off your entire purchase, and we held on to it until they had a great sale and were giving out "Kohl's Cash" toward future purchases.
We spent $150 for about 20 articles of clothing for Sarah and 3 items for me, and earned $30 in Kohl's Cash. (Side note: I forgot to use the gift card. Fail.)
Two days later, I went back WITH the gift card and paid $15 out of pocket for 3 more items I needed, and earned $10 more in Kohl's cash.
Two weeks later, Chris and I went to get HIS wardrobe needs. We used the $40 in Kohl's Cash, and paid $260 or so out of pocket for 10 items (including a high-quality pair of shoes.)
In so doing, we earned $50 MORE in Kohl's cash, which I will use along with about $50 out of pocket to finish up the last of my shopping needs!
Notice that I'm the flexible piece here; Sarah and Chris finished their shopping in one trip apiece, but in this case, I got more for our money by splitting my purchases into a couple trips.
Maybe you don't have a Kohl's. That's fine. The point isn't how cool they are; it's that I learned to make their system work for me. Whatever your store of choice, stack coupons and sales whenever possible!
5. Make the quality stuff last.
We can sell our used higher-quality clothes for a good price, even though sometimes they're three years old, because we take care of them. We can MAKE our clothes last for three years of regular wearings because we take care of them.
Our biggest tip in this area is simple: Have a good laundry system.
Don't let your clothes sit in the washer, and put things away promptly after they're done in the dryer.
Hang up anything you can.
Don't wash every item after every use. (Some people hate hearing this – but, really? I sit on my butt and type. Surely I can make a pair of jeans last at least two days before washing; in reality, it's probably closer to four!)
Treat stains immediately. (Many thanks to my mom for instilling this in me!)
Use good-quality laundry products. Cheap detergent does NOT get my whites whiter, sorry. It's worth the added expense to add a year of wear!
[share_sc]
The frugal path is not always the cheapest up front.
I do think we spend less annually on clothes now than ever before, but I've also paid more per item in the past two years than ever before.
I think it's worth it in the long run.
What do you think?