[share_sc]
I first read about the concept of creating a financial network map from Jim over at Wallet Hacks.  Since then, I've become very interested in how other people set-up their financial accounts.  Some of my favorite posts involve other bloggers discussing their unique systems and preferences for handling their own accounts.
What exactly is a Financial Network Map?
In his post, Jim describes it as:
A financial network map is a one-page diagram that shows the links and relationships between each of your financial accounts, which include but are not limited to bank, brokerage, mutual fund, retirement, credit card, and service accounts.
Alright, So What Does One Look Like?
I'm so glad you asked!  I happen to have my current map right here…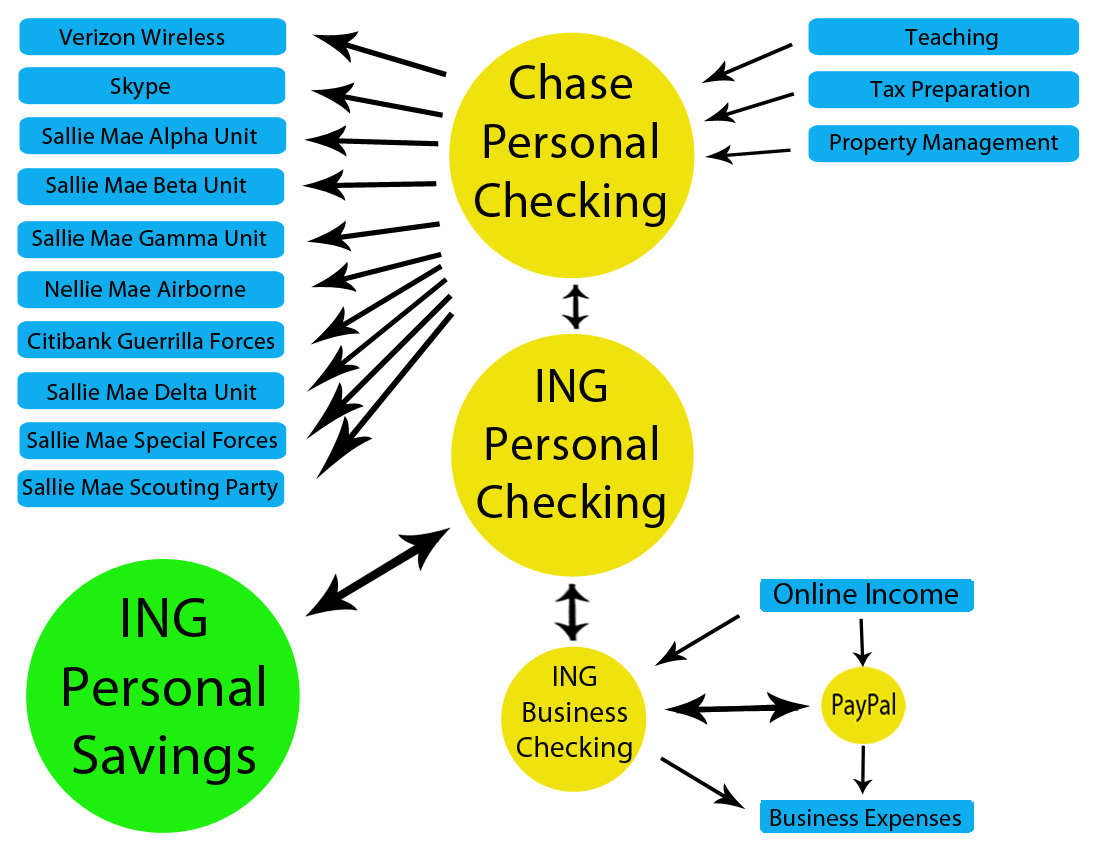 This looks much more complicated than it really is.  In fact, our accounts are actually fairly simplified!
Important Notes About Our Financial Network Map
We are transitioning from our brick-and-mortar bank (Chase) to our online bank (ING)
Every account we have is a joint account
We have no credit cards
We have no retirement accounts
We have no brokerage accounts
We pay the vast majority of bills with cash
Relocation To Australia
As most of you know, we are prepping for our move to Australia in just under two months time.  As part of this process we have decided to move away from using our traditional bank (I've been a Chase customer for 10 years) towards using an online bank (ING Direct).  In case of an emergency, we won't be totally closing our Chase account.  This will provide us a way to quickly give or receive funds from family if needed.
The majority of our money will be held in our ING Savings Account and will be transferred into ING Checking to pay our student loans on a monthly basis.  In addition, we will need to open a checking and savings account in Australia.  If we open an online savings account with ING Australia we can minimize transfer fees when exchanging US Dollars into AUS Dollars.  For this reason we will have an Australian ING Savings account, in addition to a checking account at a smaller community bank in Cairns.
Upon arriving in Australia, we plan for our Financial Network Map to have these updates: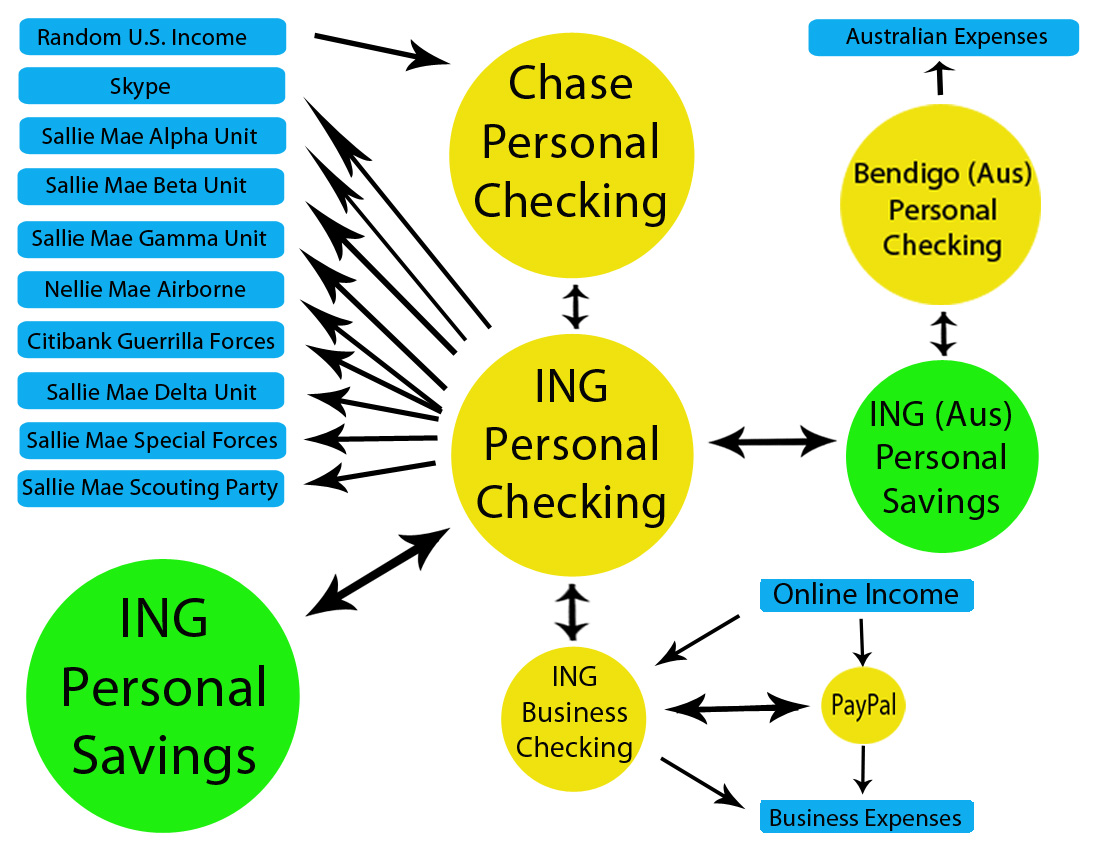 Even though I maintain great awareness of my financial accounts, creating my own Financial Network Map has been an eye-opening experience.
There is something additional that comes out of being able to actual see how your accounts flow together.  Another benefit is that in the unfortunate event something were to happen to us, our loved ones would have an easy to read diagram of each of our accounts.
I strongly suggest you consider taking the time to create a Financial Network Map of your own.  If you have any questions about the process or how I made the (awesome) diagram above you can e-mail me directly at [email protected] or simply Tweet me anytime!

What do you think of my map?  Have you already taken the time to draw out your own personal Financial Network Map?  Do you have any suggestions on things I could add to make this even more complete?  Let me know below…