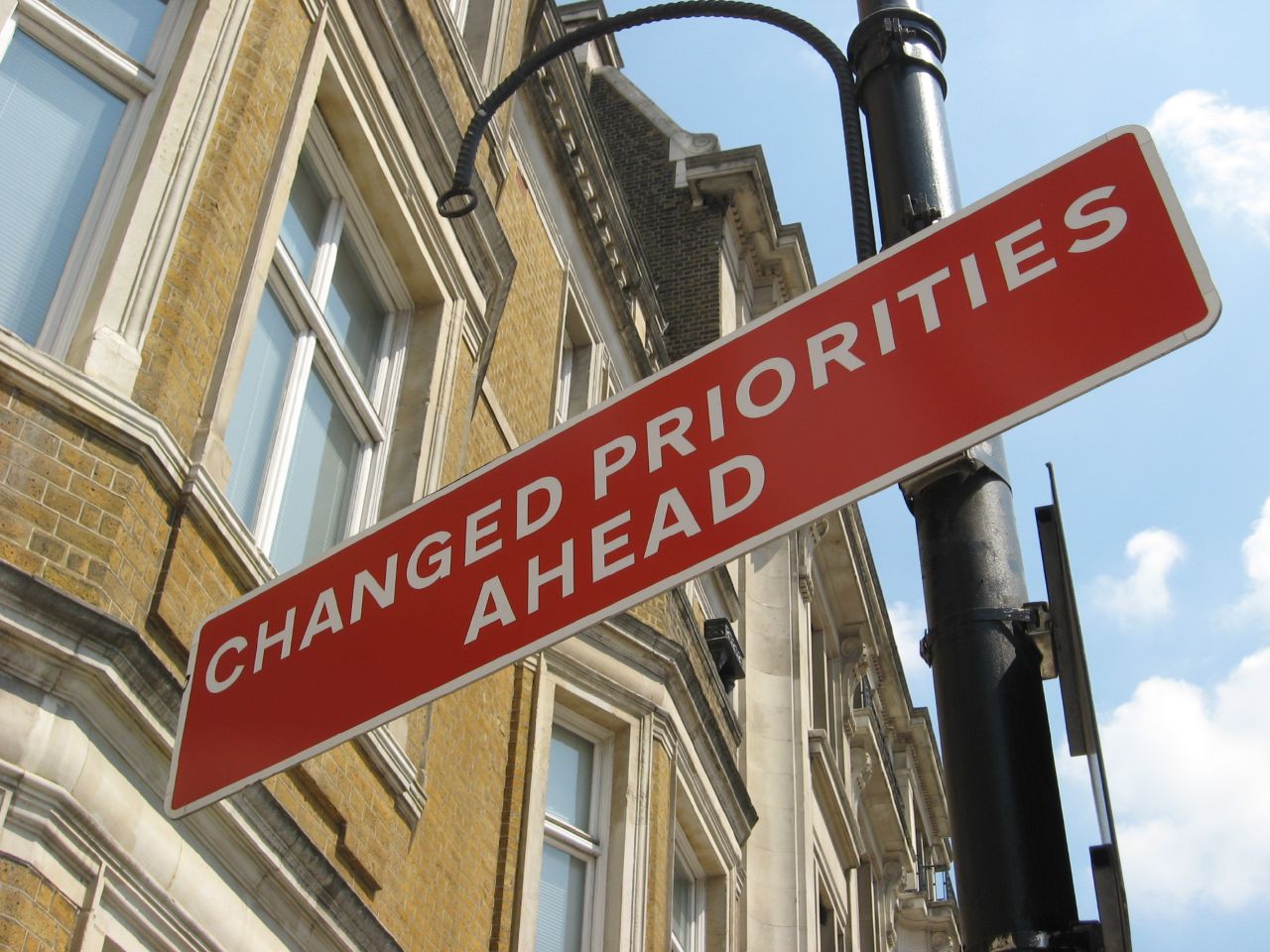 [share_sc]
I recently received an e-mail from Jon, a Man Vs. Debt reader, discussing his views on my recent post about Maintaining Balance: Is Getting Out Of Debt A Need Or Want.  In his e-mail he reflected on how his he and his wife had juggled their own balance issue while climbing out of debt:
"While scrimping to retire our debt and save appropriately, my wife and I have come to realize that each person has their own priorities, and we can't measure ourselves next to them because each family is putting their resources to use in a different fashion, according to their priorities."
Jon brings up an excellent point.  Our underlying financial priorities are what truly guide our decisions and actions.  Each person or family will have a slightly different order of their priorities.  Therefore, it will always be hard to measure our successes or failures alongside of them.
Through my discussions with Jon, I've come to the conclusion that committing to constantly growing the awareness of your own financial priorities may be a more effective route.  Discovering your current financial priorities is the first step in being able to restructure them to meet your long-term goals. Without knowing where we've been and where we are, it's nearly impossible to predict where we are going.
Jon continued on…
"We NEVER went out to eat in the first aggressive year of our debt reduction period, but we soon realized that we connected as a couple best when we got out of the house and got to a quiet restaurant and let someone else prepare our food and clean up after us.  We now eat out once a week.  It's a priority for us.  Relationships are important to us too, so we also decided we weren't going to turn down a dinner invitation from friends or family because of money.  We each drive a car that has 100,000 miles on it and carry a mortgage that's just 20% of our monthly income, but we've allocated some resources to other areas that are priorities for us."
This statement seemed liked a glimpse into my own future.  Right now we are still extremely motivated and committed, but as I've outlined in past posts we are struggling with overall balance.  Once we complete our move overseas, prioritizing our social lives will be absolutely essential.  We have a strong support network of family and friends here, but don't know even one person where we are going.
The key to all of this is that Jon is mature enough in his financial journey to be able to sit down and reflect on his priorities and how they have changed throughout the last few years. His awareness would enable him to adjust his priorities if he so desired, just as he did to help achieve better balance in his relationships.  This seems like a key step that is often overlooked by people.  I know I still am working on establishing this sort of maturity in my own life.
An Honest Look At Our Own Financial Priorities
Basic Essentials –  So far, we've always managed to place our basic essentials before anything else.  For us, this includes budgeting for food, shelter, utilities, clothing, and transportation.  We do our very best to maintain these at their "basic" levels.  We eat the majority of meals at home, rent cheap shelter, work to minimize utilities, buy used clothes, and drive cheap paid-for cars.
Insurance – This is so important to us that I almost included it in "Essentials."  We are careful to always carry health and car insurances.  Both are high deductible and simply meant to help in the case of a rare catastrophic event that could ruin our financial situation.
Avoiding new debt –  This has shot up the list over the last year.  Sometimes it feels like this could even be #1 on our list, but deep down I know I would go into debt to buy basic essentials or to keep the minimal amount of insurance in place.  Luckily, we've been able to lower our living expenses and save enough to where I feel confident we will never need new debt again.
Emergency Fund – Again, this is relatively new on our list within the last 6 months.  I can't explain how awesome it feels to have a nice emergency fund to be able to fall back on.  We would only touch this money if we had exhausted every other option in the event of a true emergency.
Frugally Traveling – It's obvious by our recent actions that moving to Australia has taken priority over any of the other lower items on this list.  We've been saving very diligently for this and I've outlined my struggle between saving for traveling and paying off debt many times before.  It should be noted that we plan on backpacking very frugally and working once we arrive.  We hope to minimize the amount of sacrifice required from our other financial goals.
Paying Extra On Debt – The next three categories are where maintaining balance becomes difficult.  Right now we are allocating much more resources to paying off extra on debt.  Because of this, our social interaction and material rewards are a little tight.  Overall, this is the priority that will allow us to accomplish our other goals faster, as long as we don't get burned out in the process.
Social Interaction – Other than a few really close friends, we've really been slacking in this area.  Since the birth of our daughter, we've done very little to build new friendships or rekindle old ones.  We are starting to crave this priority, which will be absolutely essential when we move to Australia.  We'd like to allocate some extra resources here.
Material Things – This isn't as big of a desire for us right now.  Like everyone, we still like to occasionally have material things, but almost all of them are related to our upcoming trip.  We've done an awesome job of selling most of our possessions in order to be able to travel extremely light.  This also goes hand and hand with our desire to minimize expenses while traveling.  I would like to keep this at the bottom of the list!
Notable items that are currently not on our list of priorities at all…
Retirement – We've decided to prioritize both getting out of debt and traveling while we are younger ahead of retirement.  I really struggled this year, on several occasions, with wanting to fully fund two Roth IRA's using our newfound savings.  We understand we are sacrificing some down the road, but are firmly committed to eliminating debt before focusing on retirement.
College Funding – My daughter turns 1 year old this week and I really wish we were in the position to have some college funding already underway.  This simply isn't in the cards for another couple of years as we will be debt-free with retirement underway before we start committing to college.
House Fund – Please don't bring this one up around my wife.  She's got a little case of the house fever, but there are several factor against moving this onto the prioritized list.  Again, we want to be debt-free before buying a home.  We're also committed to traveling the next few years, which doesn't lend itself to home ownership very well.  Buying a little $80,000 house here in the Midwest and having the government give us 10% off is really testing our financial goals, though.
Life Insurance – This is something I would like to move up with the other pair of insurances.  If I'm being honest though, we don't have it, so I can't sit here and say it's a priority.  I know I would like 5-10 year level term insurance, but just haven't lit a fire under my butt to research it.  Maybe I'll chronicle my search in an upcoming post to help motivate myself.  Any advice here would be appreciated!
Real Estate Investing – As you may or may not know, I started and ran a property management company before selling to my partner.  In addition, we've owned 8 low-income rental units over the last couple years.  I am a firm believer in the power of 4-20 unit multifamily apartments and would eventually love to get back in this business.  However, before this could be a real possibility everything else above would have to be firmly underway.
Just like my Financial Network Map, the process of sitting down to construct this post has been an eye-opening experience.  I read a ton of personal finance content and like to think I have a firm grasp on my situation.  There is nothing like actually putting it in print to really test your understanding.  If you haven't actually wrote out your own financial priorities I strongly suggest you do so.  If you feel the urge, I'd love for you to share them below!
Have any suggestions or insight to shed on my financial priorities?  Is there anything I forgot?  What is the order of your own priorities?  Are they similar or drastically different?  Please leave your comments below or e-mail me directly!