[share_sc]
This week's focus is on "Balance," specifically the "Balanced Money Formula," from the book All Your Worth by Elizabeth Warren and Amelia Tyagi.  Since this is a topic I struggle with on a daily basis, I am excited to hear the hosts' unique experiences with balance in their own lives.
For those of you unfamiliar with the "Balance Money Formula," below is a graphic borrowed from a great post by J.D. at Get Rich Slowly in which he discusses his own history with balance.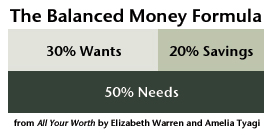 Needs Vs. Wants
The biggest problem people can bump into with this system is their definition of needs. For example, it's pretty easy to see that Food, Housing, Utilities, Transportation, and Clothing are needs.  The gray area exists in just how much of each of these categories is really a need.
Food –  We all need food to survive, right?  Most of us agree that dining out should fall into the wants side of this equation.  However, just because you buy something at the grocery store doesn't automatically make it a need. Is a 24 pack of beer-a-week really a necessity?  What about 4 $10 gourmet frozen pizzas?
Housing –  Let's not even get started about the negative effects of buying too much house.  Renters don't get off the hook either!  Is renting that apartment at $2150 per month really a need for your family?
Utilities – Besides implementing some frugality tips, this isn't one of the leading discretionary categories.  Of course, the larger your housing, the larger your utilities, on average.
Clothing –  Often times people use this category to justify making over their wardrobe every 3 months.  It isn't until the annual "closet purge" that people start to really visualize the difference between their clothing needs and clothing wants.
Transportation – This is where we really began to step on some toes.  I'm not advocating driving something that could explode upon turning on the left turn signal.  However, this is the one category people justify more than any other.  In fact, honestly ask yourself if a car is even necessary!  Yeah, I just went there…
Look, I'm not trying to say that these things are not needs in your current situation.  In addition, there is nothing wrong with driving a nice car, drinking beer, eating pizza, having a big house, or buying fancy clothes… as long as you have room on the wants side of the equation to do so. Too many of us get in the habit of perpetually justifying our wants in our lives as needs. Once we feel comfortable with our new paradigm of needs, we suddenly feel like we aren't spending enough on our wants.
This is where budgets, spending plans, and balanced money formulas usually break down. It never hurts to challenge those things we take for granted to help us realize that most of us are constantly spending on both our wants and needs.
The Flip-Side
Like many people before me, I've personally gone from what I described above to the exact opposite.  I used to take way, way too much for granted.  I thought I deserved to be able to spend on things like a $15,000 car, eating out nearly every day, renting a huge house in high-end area of town with my other guy friends.  I was able to accomplish my goals at that time with the help of Visa, American Express, and Sallie Mae.
Lately, though, I've swung the other way.  My wife and I have been focusing on debt consistently for over a year now, but in the last nine months our intensity has gone through the roof! We've officially declared war on our debts, cut up the credit cards, even frozen our credit reports.  We've ridden our wave of passion to eliminate $10,000+ in credit card debt, while consistently pounding down our student loans.  More recently, we've been able to save over $10,000 in cash, which is a first for us.
Our narrow focus, though, has begun to whittle away at other areas in our life.  For me, I've gone from making a commitment to run a mini-marathon to video taping the race from the sidelines.  My time spent in front of the computer continues to increase as I read/write personal finance blogs, articles, and news stories.  We've all but eliminated going out with friends, going to the movies, or doing anything that cost more than $5 bucks. In the last three months we've gone even more extreme, even going as far as to move in with relatives so we can meet our savings goals for a temporary relocation to Australia in early June.  We've been planning this trip for years, sacrificing so much along the way.
When I look at our savings account… when I run the numbers to figure out just how much it will grow in the remaining two months, I should be excited.  It should represent all of our hard work, finally paying off…  a chance for us to accomplish our goals of living an adventurous, meaningful life.
You want to know the truth?…  The truth is I can hear our student loans in the back of my mind. They are taunting me.  They are laughing on the sidelines.  I look at our savings and think, "Man, this sure could go a long way towards our debts.  In fact, it would knock out both the $1500 Sallie Mae and the $4000 Citibank without even blinking!" I should be having feelings of pride, excitement, and relief that we've accomplished our savings goals.  Instead, I'm left second guessing our decision…  wondering if we are making foolish financial choices and spending frivolously.
It's all about finding balance.
How does one balance paying off debt with actually living a life?  When referencing the "Balanced Money Formula", it is commonly suggested that one should allocate the "20% savings" to pay off debt (if debt exists).  Personally, that just doesn't seem to be enough for me.  Treating 'paying off my debt' as a need has been slowly poisoning my mindset and is becoming a detriment in other areas of my life.  But, is there anything wrong with wanting to pay off debt?
Would it be wrong to pay 40% to debt, 10% to wants, and 50% to needs?  Does that ratio fit the spirit of the "Balanced Money Formula" or is it the type of ratio that the formula was designed to prevent?
I have no freakin' idea!
There's no one that can answer this question for me but me.  The same is true for your own struggles with balance.  I do know that exposing yourself to information that consistently challenges your current way of thinking is the first step in determining the right amount of balance in your life.  Part of this is constantly being open to other points of views and perspectives on the matter.
It is for this reason that I look forward to hearing Jim and J.D.'s own experiences with these issues, in the hopes that I'll be able to apply bits and pieces of wisdom that connect with me personally.  As always, I would be honored if you would share your own experiences and thoughts by commenting below or by contacting me directly.  See you all tonight!