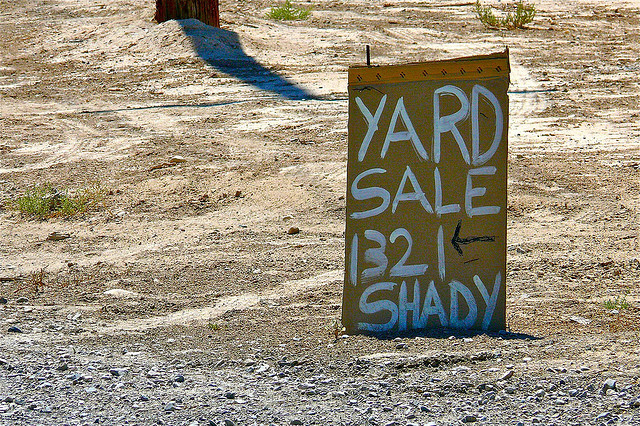 [share_sc]
Note: This is a post from Adam Baker, founder of Man Vs. Debt.
In the world of selling, Yard and Garage Sales get a bad rap. People assume that they are a waste of time to host and that you can only find useless junk at them.
That's just not true!
Sure, there *is* some useless junk in most of them, but you can find everyday useful appliances, furniture, tools, clothing, and even automobiles at a fraction of the price it would cost to buy these new.
However, I don't mind being honest on this one… I can't stand yard sales. I don't like hosting them or going to buy from them. They get under my skin…  they give me goosebumps!  I find myself wanting to take a large trash bag and scrape almost everything I see into it.
At the same time, I know that would be stupid…
It's stupid because there are plenty of people who would pay for many of those items. It's stupid because there are hundreds of needy people who could use those items when donated.  And it's stupid, because many of those items can be recycled or re-purposed elsewhere.
Luckily, though, Courtney loves hosting Yard and Garage Sales!  Whoo-hoo for me!
In fact, just a couple days ago (over the weekend), we pitched a chunk of our stuff into a multi-family yard sale hosted by one of our family members.  Courtney helped set up and run the sale, which ended up netting us $133 dollars on a couple handfuls of our crap that we had accumulated!
Hey… $133 for crap we didn't need and couldn't sell elsewhere… not bad!
I say couldn't sell elsewhere because we tend to use yard sales as what I call "catch alls" or "last ditch effort" sales.  I talk about this in much more detail in Sell Your Crap, but the simple version is this:
We decide an item no longer brings joy, value, or purpose into our lives.
We prefer to sell it on eBay if it has a market and meets our threshold (worth our time to list it).
If it's not worth it or can't be sold on eBay, we prefer craigslist.
Media items above $5 (our threshold for listing) go on Amazon.com.
If it doesn't sell (or isn't worth it to sell) on these platforms, it goes in a big SELL PILE.
We pull out everything in the SELL PILE to sell in a Yard Sale.
Whatever is left after the yard sale, we donate, recycle, or trash.
As you can see, we don't usually default to yard sales on most items.  Simply, it isn't the best way to maximize your money. However, yard sales are awesome for one thing…  you can sell almost anything.
It does very little harm to throw an extra item into a sale.  In fact, you want more items and more variety in the sale… this will help draw people in and keep them around and interested.
As you might have guessed, this past weekend I did very little to help. Nothing actually. But I did find time to grab a camera and head over to the yard sale.  I got there late (shocker) and there were plenty of "big ticket items" that had already been sold and hauled off!
Luckily I did get there in time to swindle Courtney into jumping in front of the camera (despite only an hour or two of sleep) to recap some of her secret ninja tips for hosting a yard sale.  Here's the video for those interested:
Below I've listed some tips and tricks I've gathered from Courtney, Sell Your Crap, and other great resources around the web.  Some of them are touched on in the video above!
Step #1:  Part ways with your crap…
In the video above, when I asked Courtney about her "yard sale secrets" she didn't start rattling off a list of tips or tactics.  In fact, the very first thing she mentioned was parting ways with your stuff… getting comfortable with the fact that your somebody is going to come along, buy your thing, and leave with it.  Often in yard sales, this happens at a deep discount!
After she said that, I realized that this *was* the most important tip of all.  I spent 20,000 words recently talking about this concept, but I was going to leave it out here!  Doh!  So before you get started planning, advertising, or hosting a yard sale… start with realizing your items for what they  really are.  They are crap.  You will sell them.  You will get cash.  It'll all be good.  🙂
Don't be afraid to sell anything…
O.k., almost anything.  Don't sell anything illegal or that would deeply offend anyone.  Use common freakin' sense.  However, don't be afraid to throw an everyday item in because you think it is too cheap or too expensive.
In the yard sale this weekend, we put our car in it!  Yep… it didn't sell, but we did have several people ask questions about it.  In addition, Courtney actually put food into the sale.  Crap that was in our pantry that we were never going to use…  an unopened jar of olives, packages of spices, and a can of unopened Folgers (I'm much too sophisticated for Folgers… psh).  I made fun of her several times for taking the 60 second to pull that stuff out…  but it sold.  Quickly actually.  All of it, by the end.
Bundle cheap crap…
For cheaper items, bundle them together with other like items.  Rather than try to sell old VHS tapes individually, you can bundle them by genre and sell lots for $5.  This can be done with most smaller or cheaper items and will drastically improve the chance that they sell.
Advertise.  Yes, for real, like in newspapers…
The more foot traffic you get to your sale, the more successful you'll be.  It's that simple!  I'm not a huge fan of traditional print advertising, but yard and garage sales are one area where it is still ultra-effective.
Our particular sale took place in a medium-sized local community, where most of the residents still read the paper and look for garage sale notices on Friday and Saturday leading up to the weekend.  Many local publications offer discounts and have regular sections where they feature these sales.  In addition, be sure to use any popular community/church bulletin boards that are available for these events.
Be sure to include start time, end time, exact location, and any big ticket items that may attract shoppers in your advertisements.
Use more signs than you think…
Several years ago when I was running a property management and real estate company, I couldn't believe how effective basic signs were.  Even with the amazing amount of technology and databases these days, the FAR majority of leads and sales came off people driving by and seeing the signs (or seeing the signs and telling their friends/family).
Yard sale gurus all say the same thing. Signs! Signs! Signs!  As many as you reasonably can.  I show our example in the video above.  The house that was hosting the yard sale was on a fairly busy side street in our local hometown.  A couple hundred feet down the road was a major state road.  Courtney put signs up for both directions of the state road and covering the cross street at the other end of the block, as well.  She also put a large sign in the back of a pick-up truck parked directly across the street from the sale!
Unite forces with other families and community organizations…
You don't have to host a sale on your own (and fill it with all you own stuff).  Sometimes you may only have a dozen (or a couple dozen) items you would like to purge.  It's tough to run a yard sale with only this amount of items.  Instead, join forces with other families or community organizations in your area that are hosting sales.
There were 5 different people that had items in our sale.  Each person marked their item with their initials and it's price.  When people paid, whoever took the money simply jotted down whose items it was and a total price sold.  It's a simple and effective way to get more people in on your sales (or to join another sale thats happening).
The more stuff (aka crap) that is for sale, the more potential buyers will be attracted to stop by.  This means more money at the end of the day for everyone involved in the selling. Many times neighborhoods will pick one weekend over the summer and hold a huge neighborhood wide sales.  There will be dozens of people hosting individual sales in the same area, but the "event" will help bring lots of people that'll drop in on everyone's sale!
Highlight "Big Ticket" Items…
If you are selling expensive or popular items be sure to highlight them in any ads or bulletins you employ before hand.  In our sale this included several book cases, a desk, a lawnmower, a couple power tools, and some decent camping equipment.
On the day of sale, place these "big ticket" items in an extremely visible area so that people driving by can see them.  In our situation, our yard ran along side the house, but next to an alley.  It was especially important to display these items so they could be seen from the main road.  This encouraged people to park, stop in, or pull down the alley for a closer look.
An extra tip in this area is to put out a little something for everyone.  Place out some furniture, along side some tools or golf clubs (for the guys), next to a big flashy yard toy (to get the kids excited).  🙂
Start early…
In the yard/garage sale world they have a term for people who go out super early… "Early Birds".  I didn't make this up.  These people go out almost every Saturday at the crack of dawn.  Stopping by your sale as early as 6 a.m. at times!
Courtney and her mom are ultra-hardcore.  They have even been know to stay up all night putting together the yard sales they host and getting ready for the Early Birds.  It's true that a lot of the big tickets items can go early.  I shot the video above around noon and most of the biggest items were already sold and taken away!  Yikes.
Have plenty of change…
You are going to need change… lots of it!  Look, I know this seems kind of obvious, but it's one of those things that if I was left in charge… would have a good chance of being left to the last minute!  Get several rolls of quarters and a bunch of 5's and 1's ready to go. And don't price anything in smaller quantities than $0.25.  When possible sell cheap items in lots for higher amounts!
Electrify your sales…
Literally.  Roll out an extension cord to help power any electronics, tools, or gadgets that people may be interested in.  In our sale, we plugged in an outdoor "zen" fountain we had, so that it would be running when people stopped by (it's much more sexy that way). I also saw dozens of people testing electronics and/or firing up tools to see if they worked before buying them.  It's quick, easy, and will help put people's nerves to rest.
Have plastic bags…
Another great idea that I wouldn't have thought of!  Courtney keeps a pile of used plastic bags to re-purpose and help people carry the items they buy.  It's a great way to keep the basgs out of the trash and people seem to really appreciate it.  Also, I saw a couple people carry around their bags and head back for more… something they may not have done without it being so convenient.
Be friendly…  Chat it up…
When people arrive, great them warmly.  Most of the people that came through our sale loved to chat!  It helps pass the time and makes the potential buyer more comfortable.  It also makes the negotiating process less awkward and many people may have legitimate questions about an item.
Obviously, don't take it too far!  A few people said hi and then wanted to just browse on their own.  You can pick them out from a mile away.  Give a quick wave and let them stalk your items on their own agenda.
It was good while it lasted…
Set an end time for your sale.  We ended this one around 3 p.m.  It's easy to let things keep going, especially if you have one or two stragglers that keep slowly creeping by.  As time goes on and traffic dies down, it won't be worth your time to continue to camp out for just a few extra sales.  You've likely been at it all day anyway!  Scheduling an end time will also let buyers know that if they are going to get anything… they better hurry up!
Adapt as the day winds down…
As the day continues along, you'll need to adapt as items get sold.  Spread out any remaining items so that it doesn't look as if the best items have already been picked through.  Also, be willing to bargain a bit more as the auction gets closer to ending.  Remember, if you are using a yard or garage sale as a "catch all" option, your entire goal should be to get things sold, even if they go very cheaply.
Donate everything that's left…
If you are using a similar system to ours, this was likely the last shot for most of your items to sell.  We have a rule that we do are darndest to stick to:
If it survives the Yard Sale… it gets donated.  Period.
Obviously, this isn't going to be the case for our car (which we threw a sign on during the yard sale), but for 95% of the items we make it the rule of thumb.  We've already tried eBay and craigslist and, in reality, most of these items now have very little chance of ever being sold.  It's easy to go into justification mode and save everything that's left… but resist.  Resist, if you can!
A great tip to help with this is to schedule a pick-up from a charity an hour after your sale is scheduled to end.  Many local and national non-profits and donation centers will schedule pickups.  Box up and package whatever is left and help them load it into the truck!  Say goodbye to your crap knowing that it'll help go to someone who can put it to good use.  🙂
Final Thoughts:  Is it worth it?…
That's always the first question with Yard and Garage Sales.  Is it worth the time to sell off your items at a discount?
At the end of the day, I think it is.  I'm glad I don't have to do it, but I'm super glad my wife is willing to step up to the plate.
Courtney spent a large chunk of her Saturday putting together and hosting the yard sale over the weekend.  But she got to have some fun, spend time with her family, and we made $133 bucks as we purged some of our items that were no longer useful.
Look, I'd much rather sell items on eBay, craigslist, or Amazon.  That's the first part of the master process we use and I outline in Sell Your Crap. But not everything sells well (or sells at all) through those mediums.  For the crap that doesn't, its worth it for us to throw it in a yard or garage sale and get as much as we can for it!
More Yard and Garage Sale resources from my friends and allies:
[share_sc]