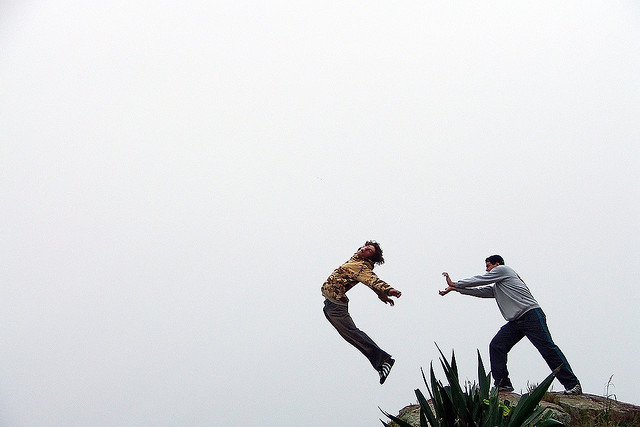 Each month I share the details of the income and expenses generated by this blog.  In this month's recap, I also want to share my end-of-the-year goals – as well as a dozen or so recent updates I've made to the website in the past few weeks.
But first I want to talk about learning to leap. Or maybe being willing to leap.
Do you know what I'm talking about?
I'm talking about those moments in life where you are on the verge of something… big.
Something that feels right deep down – but wrong on the surface.
A life change, idea, job, decision, or relationship that has the potential to… change everything.
You with me, yet?
I've been leaping a lot recently. I've been leaping in my business (mostly behind the scenes) – and Courtney and I are getting ready to leap very soon in our everyday lives as well.
I've realized there's a fine line between being frivolous and being caged.
Life these days seems to be about finding that line – and then taking a running jump over it.
What do you say… you ready to leap with me?
"It doesn't work to leap a twenty-foot chasm in two ten foot jumps" -American Proverb

"Faith is a process of leaping into the abyss not on the basis of any certainty about where we shall land, but rather on the belief that we shall land." -Carter Heyward

"The artist never entirely knows. We guess. We may be wrong, but we take leap after leap in the dark." -Agnes De Mille

"All growth is a leap in the dark, a spontaneous, unpremeditated act without benefit of experience." -Henry Miller

"I advise you to say your dream is possible and then overcome all inconveniences, ignore all the hassles and take a running leap through the hoop, even if it is in flames." -Les Brown

"We must walk consciously only part way toward our goal, and then leap in the dark to our success." -Henry David Thoreau

"When in doubt, make a fool of yourself. There is a microscopically thin line between being brilliantly creative and acting like the most gigantic idiot on earth. So what the hell, leap." -Cynthia Heimel
*****
New Man Vs. Debt Site Changes…
So I've been a busy little bee behind the scenes recently. For the last few months, I've been wanting to do a little house-cleaning around here. I finally got around to knocking most of the to-do's off the list!
If you look around, you may notice some of these changes:
"5 Barriers to Freedom… (and how to destroy them)" Email Series – Now when you sign up for email updates for the blog (new graphic at top of the sidebar to the right), you'll get access to a free email series I've put together. It'll be delivered every couple of days straight to your inbox. You'll also be the first to receive new blog content as it goes live.
Email subscriptions delivered through Aweber – The "Militia" Newsletter is no more. Instead, I'm using Aweber to deliver full posts to subscribers (as well as the email series above). I'll still be providing exclusive giveaways (as was the case with the newsletter), but they'll be fewer and larger!
Combined the "Store" and "Products I Love" pages – I've redone the Store page to highlight both the premium resources I've created as well as a few resources that I use and recommend. You'll find "My Premium Guides", "Unconventional Guides", and "Man Vs. Debt Runs On" sections in the new condensed Store.
New "Where Are We?" Page – By popular demand, I've added a page called Where Are We? This page not only displays our current location, but also provides a quick recap of our travels. I've also provided links to many of my "travel-based" posts – as well as past episodes of the Do What You Love Show.  Check it out to get caught up!
Updates to "About MvD", "Our Stuff", and "Our Finances" Pages – I've updated a big portion of the beginning of our About page – mainly clarifying the "message" of the site.  For the "Our Stuff" we are working on getting a full up-to-date list of possessions as we speak.  "Our Finances" has been updated with a list of these "income/expense" reports, as well as old links to post which contain personal budgeting transparency.
Facelift to the Man Vs. Debt Facebook Page – The facebook page for Man Vs. Debt got a fancy new welcome graphic (thanks Dustin) and several updates. It's a great time to join us over there!  🙂  I'll be sharing more pictures and video in that space over the next few months.
"You May Have Seen Us In" Graphic – In the sidebar to the right you can see a new "You May Have Seen Us In" graphic that shows off some of the places we've been mentioned – both online and in print editions. It's something I'm proud of and have been wanting to feature for a long time!
In other words, take a stroll around and let me know what you think about the new changes. They've taken up some of my time the last few weeks, but I'm glad to have the far majority complete and ready to go!
October's income/expenses…
Net from UYF Sales:  $179.29
Total Guides Sold (Oct):  17
Income (less Paypal fees):  $258.68
Affiliate Payments:  -$79.39
Net from SYC Sales:  $2752.79
Total Guides Sold (all versions):  76
Income (less Paypal fees):  $3271.16
Affiliate Payments:  -$518.37
Additional Income:  $1850.45
Direct Expenses:  -$1249.51
Blog World:  -$615.22
Website tech work: -$270
HostGator:  -$143.52
Design:  -$55.48
GoDaddy:  -$38.23
Guides:  -$34.95
Aweber:  -$29.00
Skype:  -$18.00
Shipping:  -$15.17
E-junkie:  -$10.00
DropBox:  -$9.99
VodBurner:  -$9.95
Net (Income – Expenses):  $3533.02
Over the last 8 months of monetization, this brings average to: ~$2050/month
Note:  If you have any questions about the list above, leave them in the comments below and I'll do my best to clarify them.  🙂
*****
Finishing 2010 With a Bang!
Last month was a great month for me. Sell Your Crap rebounded from my launch blunders with steady sales throughout the month. It's likely to slow down at least another 50%, but I'm extremely happy of the feedback/results that are being generated (and it's ability to bounce back as a product).
I've been quick to share some of the lower income months over the past few, so I'll take time to celebrate some of my recent wins. November has already passed the income levels of last month in just the first week thanks to a couple of early-month payments from affiliates and partners.
In October, I also began working with a couple new consulting clients – a few individuals and personal finance company, which means that December and January will be extremely solid months as well.
In all honesty, I had planned to roll out public consulting and speaking as part of these "site updates". I wanted to have a space on the blog where I offer a couple packages for people looking to work closely with me. As it turns out, I've pushed it back – at least a little while – as my plate has just filled up really fast.
Consulting and speaking are two things I'm insanely passionate about right now. The process is really fulfilling for me. This is one area that I always wanted to pursue more, but didn't feel like I was "ready for it" from a business perspective.
I've realized that's complete bullshit. This is something I love doing and something individuals and companies have echoed that they receive enormous benefit from. People are coming to me and asking for it. I'd be a moron to not accept fulfilling work based on silly mental barriers.
So it's time to leap… to step up and fill that role more – it really is a win-win.
In other words, don't be surprised if I sneak in a "Work with Baker" page soon.  As soon as my schedule clears up, I may this emerging side of my business more readily available.  🙂
Other upcoming "Man Vs. Debt" events:
My only "launch" for November won't actually be through Man Vs. Debt itself. I'm joined forces with one of my closest online allies, Karol Gajda, to partner on a top-secret project. It'll go live late in November – but will be separate from MvD.
Announcement of the next "adventure" or chapter of our personal journey – if you will. As I mentioned, Courtney and I are working on a big leap in our personal life, as well. This is taking a lot our time right now – more details in a week or two.
More killer content. As you may have realized, I've been pouring a lot of energy in the last few weeks into creating large, content-focused, resource posts. I want to continue this trend to close the year out with:  10,000 subscribers, 10,000 twitter followers, and 1,500 Facebook Fans.  These numbers are just benchmarks to help motivate more great content.  🙂
How can you close out 2010 with a bang?
Whether your working on personal or business goals… we have 8 weeks left in 2010. We'll all set ambitious goals in a couple months for the new year – but what about right now.
Diet? Finances? Clutter? Time with family? Business?
Don't wait for the New Year… let's get some momentum now.
Leap with me…
photo by r'eyes