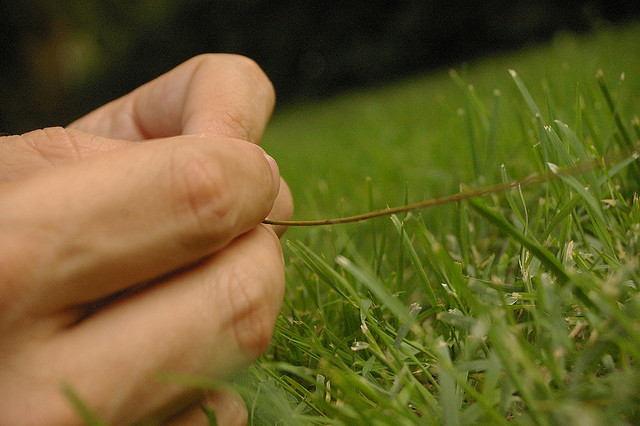 Lately, I've been bombarded with external influences on "focusing on what truly matters".
No matter where I go or what I do… motives around this issue pop up. In the last few weeks, I've been deeply touched by text, audio, video, and even stories from random strangers – all with this central theme.
It's one of those cases where it feels like someone somewhere is trying to send me a signal. I don't walk around life thinking the Universe itself is trying to communicate with me… but at times like this it's hard not to feel like just that is happening!
So, I'm going to continue to share it with you guys. In today's post I'm sharing a new book, an amazing TedX video, and a captivating blog post that have had the biggest impact.
Leo Babauta's new book – "Focus".
Last week, Leo sent me a full premium copy of his new book Focus.  Leo is the founder of ZenHabits.net – one of the largest and most respected blogs anywhere on the internet – and best-selling author of The Power of Less: The Fine Art of Limiting Yourself to the Essential, in Business and in Life.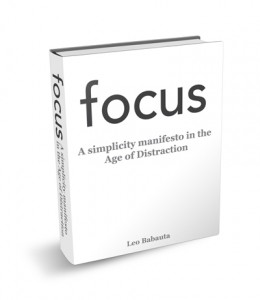 Leo's new book, Focus, has a text version that is 100% free. Yeah, it's a no-brainer on that one.
He also has a premium version available that includes bonus chapters from him, bonus chapters from guest authors, five how-to videos, PDF guides, and audio interviews with David Allen, Seth Godin, and Dave Navarro.
While Leo sent me a free premium version, I enjoyed Focus so thoroughly that I actually went and paid for a premium copy in full myself. I don't get paid a dime for recommending Focus – I just genuinely find it valuable!
I invited Leo to join us for a video interview. He accepted, however our connection on Skype that day wasn't great. The video was clearly cutting out even as we recorded.
No problem… we'll switch to audio. We recorded a great 15 minute audio interview for you, however upon running it back – Leo's audio is choppy throughout that, as well. Oh well!
So as an alternative, I decided to record a video myself recounting the major talking points of our conversation – and my personal thoughts – around distractions, email, single-tasking, and tools to help you focus:
Note: I know many of you have requested transcripts – I'm listening! I tried to have one done for this video, but it was too low of quality. I'm still working at finding a good transcription company solution. I'll committed to getting these for you, but I messed up today!  By next video… scout's honor.  🙂
In lieu of a full transcript here are some benchmarks so you can skip around if you like:
[0:40] – My plug for Leo Babauta new book, Focus.
[2:05] – Top distractions in Leo and my life. Replacing "bad" distractions with "good" distractions.
[3:30] – Tips for processing email. Setting expectations. Art of the short email.
[6:10] – Single-tasking in an age of Muli-tasking
[7:35] – Leo's top "tools" he leverages to focus and single-task.
[9:10] – Leo's question for you: "What are your biggest distractions?"
Keep Going Until We Stop…
So, I knew *of* Scott Stratten and his brand "UnMarketing" (blog and book) before I saw the talk below. Honestly, though, I only sparingly followed his posts and tweets – and hadn't read the book yet. Marketing is part of my business, but I don't necessarily go around following marketing blogs and thought leaders very much (maybe I should more).
A couple people recommended Scott's speech below, so "I'll listen to the first little bit" I thought. "I like TedX talks for the most part."
Holy cow… not only did I listen to every word – I teared up twice during the speech. Not a word of it is about marketing – at all. I absolutely loved it. Afterward, I subscribed to Scott's blog, added him to priority list on Twitter, and bought his book. I'm a new raving fan and disappointed it took me this long to give him the benefit of the doubt.
Best thing about this speech above is that it isn't inclusive of any one type of person. We *all* go through the crap Scott talks about. It applies to people who work day jobs, side jobs, online jobs, and own businesses. It's about life – and how we try to rush through it.
Look, if you can't tell, I think it's really, really good. It's stuff like this that push me into want to speak myself more and more. I want to be able to communicate a message like this.
Awesome. Scott, if you are reading this, I'm impressed. Very impressed.
Unicorns, rainbows and work-life balance…
Lastly, the can't miss blog post on this subject (one of the best in the last few months in my opinion in this area) came from Pam Slim.
Stop now. Click here –> Read Pam's Full Post.
It's a reflection on a particular exhausting day of juggling kids, work, big picture thinking, details, friends, events, exercise, spouses, and… life. It's like a buffet of awesomeness – a little portion of everything about life that just had me going "Uh-huh…" a dozen times as I read it.
Here's an excerpt of one of my favorite parts. I love Pam's writing:
Do I enjoy my life while I am living it?

When you step outside in the morning, do you take a deep breath and marvel at the wonder that the sun keeps coming up each day? Do you watch your kids (or pets!) intently and notice how perfect they are in their own quirky way? Do you ever look at your bank account and marvel that one person, let alone many, were motivated enough to give you some of their hard-earned money? Do you reflect on how amazing it is that the random thoughts in your mind can come out through your fingers, onto a magical virtual page that, when published, reaches tens of thousands of people, and is indexed by the Big Google God in the Sky so anyone, anywhere with access to the search box can find you?

If you hate most of what you are doing most of the time, and miss the beauty of a full moon or the smile of a stranger because you are so busy rushing around, you may want to slow down and pay attention.

As Josh told me the other day:

"You Anglos are always rushing."
You really should read the rest of the post here. I loved it, as well.
What are *YOUR* biggest distractions?
I've talked about some of my distractions and shared three resources that have really helped me focus.  They've helped me focus on the real work in my business and helped me focus on what really matters in my life.
What about you?
photo by visualpanic