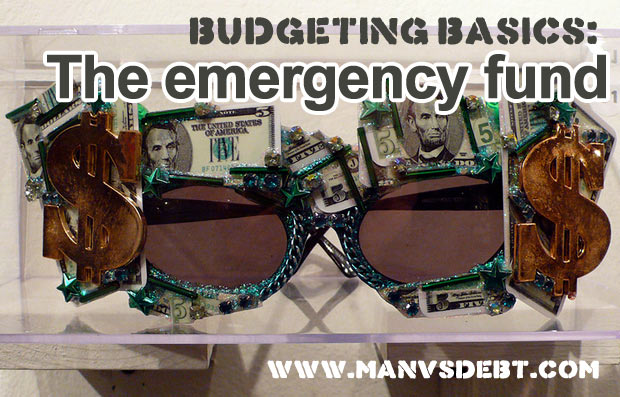 [share_sc]
Note: This is a post from Joan Concilio, Man Vs. Debt community manager. Read more about Joan.
2014 is going to be a "rebuilding year" for my finances. A lot of good things happened in 2013 (and you can read more about the ups and downs of the year here), but some pretty major changes have left me feeling like it's time to buckle down, get back to basics, work on the fundamentals… insert your favorite sports-team metaphor here! I want to turn things around before a few bad moments become a losing streak.
I think maybe I'm not alone. No matter where you are financially – in debt or not, saving for retirement or not, making ends meet or not – it's the time of year to get A Plan in place, right?
So as I'm rebuilding my system, I'm going to share a post or two here on Man Vs. Debt each month about getting back to the basics, financially.  These posts are adapted from what we shared in our long-running You Vs. Debt course, plus my family's personal experience. It's a good time to remind you that I'm not a financial professional – just someone willing to talk dirty about money and hopefully share a couple suggestions!
To kick things off, I thought I'd spend this week and next tackling a topic I've fielded in some reader emails recently: The emergency fund.
What is an emergency fund?
An emergency fund is for emergencies, and an emergency is an expense you had no way of anticipating.
Your emergency fund is a separate pool of money used to fund one-time expenses that fall outside of predictability.
We'll talk about what is – and isn't – an emergency in a minute, and next week, we'll talk about how much should be in this separate pool of money and how to get it saved. First, though, let's hit a couple key points to remember about an emergency fund.
Location:

 Your emergency money should NOT be in your main checking/spending account. C'mon. You know what happens. Even when you have the best intentions, something will happen and $20 here and $50 there will get eaten up. I'm OK with linking the accounts, up to a point. For instance, my emergency savings fund is an online account through Capital One 360, and it is paired to our checking account at our local brick-and-mortar community bank, but I purposely do not use my emergency fund as "overdraft protection" on my checking. Nope! If money needs to move between the two accounts, I have to move it.

Liquidity: Some people prefer to keep their emergency fund in cash, and I think that can work depending on your level of comfort in various systems, your lifestyle and how much money we're talking about. Whatever you do, you don't want to make your emergency fund too easy OR too hard to access. In my case, it takes 2-3 days for money to transfer to my checking account from my emergency fund, which is generally fine. There's a barrier there, as I mentioned before, but not one that prohibits me from accessing my funds. In my mind, an emergency fund does not belong in a long-term investment vehicle that's hard to liquidate, but neither do I want it in cash around my house that's easy to fritter away.
So you've got a separate pool of some amount of money, gettable if you really need it but not able to be spent accidentally. Now what happens to it?
What should you use your emergency fund for?
I said it above, and I'll say it again. A (financial) emergency is something you had no way of anticipating.
One of my financial role models, Dave Ramsey, says it well: Christmas is not an emergency! Last I checked, every year, on December 25, there it was. Having your standard prescriptions filled is not an emergency. A sale at your favorite store on that thing you're going to need anyway? Still not an emergency.
An emergency fund is also not a savings account. If you know you need to save up to buy a new car in the next three years, that money needs to go into a car fund. You know about it. It's not an emergency. It can be budgeted and planned for.
So an emergency fund is not checking-account overdraft protection. It's not for buying gifts. It's not because you get paid next Tuesday and there's this great sale that ends Monday. It's not a place to dump your budgeted money for future expenses like vacations or new cars or home renovations. OK, what does that leave?
Home emergencies: I make sure to budget some money each month into a fund to deal with general home expenses, everything from lightbulbs to paint to minor plumbing needs. But sometimes, something crazy happens. You know, like when my washer randomly freaked out, flooding my finished basement and burning itself out. It was a perfectly good washer with several years of service left, so we weren't yet budgeting to replace it (or, uh, dry out the downstairs). THAT is an unplanned emergency, and we covered the cost from our emergency fund, which we then replaced over the following two or three months.

Car emergencies: This is a hard one, because I really believe everyone should have a little bit in savings over time for car stuff. That said, that's an end goal – not one you're going to start out being able to do! So, at least as you're getting started with budgeting, real car emergencies are fair game for your fund. That doesn't mean routine oil changes – those can be anticipated and budgeted for. But if your alternator goes, sure, I'd say tap the emergency fund.

Medical emergencies:

This is really up and down depending on your situation. If you have access to something like a flexible-spending account or health-savings account, I recommend using that as a medical "emergency fund" of a sort. Again, certain things should not be emergencies. Your routine prescription costs and doctor copays should be accounted for in your overall budget. If you know you have a deductible to meet, that amount should be planned for. But again, a lot of this comes over time (sometimes years and years)! At first, anything that isn't a standard monthly medical expense might need to come out of your emergency fund.
Notice a theme? Over time, "emergencies" will become fewer and fewer, because you'll have more money saved up to cover expenses in particular categories.
That said, there's always going to be a comfort level that you need to achieve with your emergency savings. I can imagine the day when I'm debt-free, including my mortgage, but I'd still feel most comfortable with something like $5,000 in a specific "emergency-only" fund outside of any planned budget categories like health needs or car costs. (And I'll share more about this idea of what I need to be comfortable in my next budgeting basics post!)
The most important thing is to adjust as needed. If you're tapping your "emergency" fund every month for $100 for medical expenses, then probably you need to change your overall budget and change those expenses from "emergencies" to "planned spending."
[share_sc]
As I share these posts on budgeting basics, I'm PARTICULARLY looking for your feedback and questions. (We always love you to comment on our posts, but these are some of the most foundational topics we cover, and we need to know how you're doing!)
So what questions do you have about an emergency fund? 
What would you use it for – and what do you consider NOT an emergency?
Please let us know in the comments!