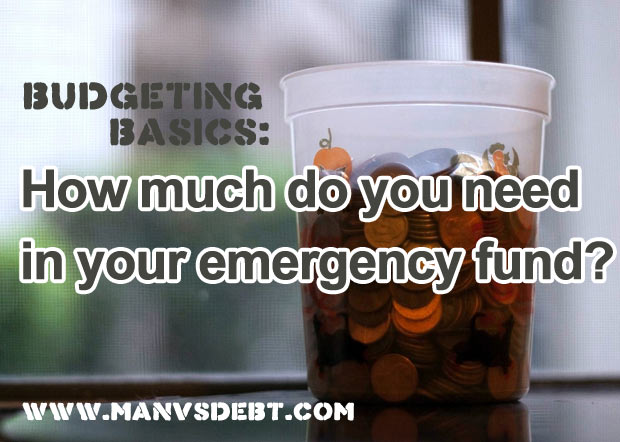 [share_sc]
Note: This is a post from Joan Concilio, Man Vs. Debt community manager. Read more about Joan.
Last week, I kicked off a series about Budgeting Basics by tackling What Is An Emergency Fund?
We talked about what such a fund should – and shouldn't – be used for, and I promised then that I'd talk more about the financial details this week.
So let's dig deeper and peer into the amount that should go into your emergency fund – and how on earth you're going to get it!
How much should you have in an emergency fund?
Easy answer here: Whatever amount makes you comfortable.
Personal-finance experts will give you all sorts of figures here – $1,000; two mortgage or rent payments; six months' living expenses; a year's mortgage or rent payment; a year's living expenses; almost any amount you can think of, there's someone out there who espouses it as the magic number.
My take? There is no magic number for your emergency fund. Only you know your income and expense circumstances. But I do believe this works in phases, and I have some ideas about how to find the right amount for you.
Bare minimum:

 My suggestion is that EVERYONE should have a base $1,000 in an emergency fund before tackling debt repayment, a piece of advice we espoused wholeheartedly in You Vs. Debt. If you use some of this base fund, you halt any extra debt-repayment or savings goals until it's replenished. This amount won't change the world, but it will go a long way toward dealing with a standard car or home repair or medical issue, the most common types of real financial emergencies.
While in debt: While you're paying off debt, it's your choice how you deal with savings. I personally prefer to keep at least one month's mortgage/tax payment in my emergency fund at ALL times. I need a house. And if a real crisis hit, that one month of breathing room would mean a lot. The goal of the emergency fund for me is to reduce fear. So what scares me? Losing my house. One month's mortgage payment in my back pocket reduces fear. Here's the key: Having two months' mortgage payments doesn't reduce my panic level any more significantly than one. So that's what allowed me to make this decision – I figured out what gives me comfort, and saved at that point.
No debt? This encompasses a huge set of circumstances. Maybe you're debt-free but living paycheck to paycheck. In that case, if it were me, my "reduce fear" factor would tell me to work, over time, to build up a significant emergency fund. What if you're debt-free and dropping one income of a two-income family into various savings goals and investments? Well, in that case, you probably don't need a huge "emergency" fund, because you've accounted for most potential needs as planned expenses by, for instance, funding a medical-expenses budget that would cover such needs if they come up.
Irregular income: A particular note here for those whose incomes are not fixed: Any advice you read will tell you to save more money if your income is inconsistent. I agree. In fact, I'm in the process of making this change myself over the past year, as I had spent the previous seven years budgeting using two fixed annual salaries, which has changed to, at this point, two freelance incomes! Some of it is "steady" income, but even so, our needs and our fears are different in light of our irregular income.
Again, the amount in your emergency fund is entirely up to you, but my suggestion is to focus on one question.
What scares you? And what amount of money would it take to reduce that fear?
How do you "fund" your emergency fund?
Ooh. This is the hardest part, especially at first.
If you currently have zero dollars set aside in any kind of savings and are living paycheck-to-paycheck, it probably seems impossible to get $1,000 set apart. This is the question we hear most often in emails here at MvD: How is it possible to get started?!
Honestly? My best suggestion is NOT to set aside small amounts from each paycheck. Later, that's great, but you'll spend two years building a modest emergency fund and probably get hit with five "emergencies" in that time if you do it slow.
There are two key ways to get a base emergency fund established, and then a couple additional ways to keep it growing or rebuild it after it's used. So, to establish your fund…
Sell your crap. C'mon, you knew this was coming. Doing a focused purge and getting some money for things you're no longer using is probably THE top way to make extra money fast, and it's great because it doesn't require an ongoing investment of time. Get a bunch of ideas on how to get started crap-selling here.
Side hustle. You saw that coming too, right? You're not going to "save money" and get big dollars to put toward an emergency fund by cutting out coffee for a month. You should definitely do that if it's right for your budget, but spending less has a cap, where earning more does not. That's where side-hustling comes in. Get an extra income stream. I believe that EVERYONE can make an extra $200 a week, at least for a short period of time. Do that for a month, and you're most of the way there!
Once you have a minimum of $1,000 in savings, you can keep selling crap and hustling to get to the dollar amount that makes you most comfortable in your present phase of life.
But you can also add in other techniques, like making regular automated transfers from your paycheck or checking account. This treats your emergency fund like a bill to be paid each month, and is a good way to keep the fund growing and to build it back up if you've had to dip in.
[share_sc]
We tackled several questions about emergency funds last week in the comments. Once again, I'd like to ask you to share your questions, successes and struggles.
What's your "fear factor" emergency fund amount?
How did you – or are you – funding your emergency savings?
Please let us know in today's comments!