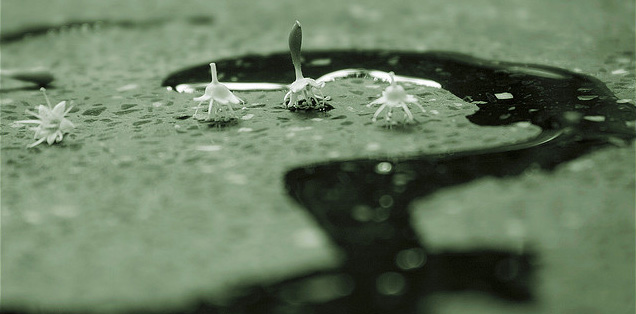 I'm a big fan of a process I call "imprinting mottos".
No, that's not a official or scientific term.  In fact, it's a widely popular concept and probably does have a real name.  Instead of trying to figure that out, I just made up this ghetto name.  Only I know what it is, so it's useless to everyone but me.  I tend to do this a lot.  *shrug*
Anyway, "imprinting mottos" is what I call the process of latching yourself onto a phrase, a motto, or a saying so intensely that it becomes part of your thought process.  Some astute people may call it "anchoring"… sure, that's cool too.
Whether we realize it or not, we do this all the time.  "I'm not good enough…"  "I'm cold never earn that much…"  "Just one piece is o.k…."  "I work hard, I deserve this car…"
These sayings become part of our thought processes… part of who we are.
By nature, most of my automatic "imprinting" or "anchoring" tends to be negative.  They are mostly justifications or excuses to make me feel better.  What I try to do is find sexy, compelling quotes or concepts to help reverse my unfortunate natural trend.
For example, Tony Robbins lent me this one "Nothing tastes as good as being fit feels!". Sure, it doesn't always work (especially for me), but occasionally I do find myself passing up certain foods or extra helpings because this phrase pops into my head.  I've made an active decision to adopt this…  I've repeated it to myself…  I've made it part of me (at least a small… small part).
I'm not talking about affirmations here, either.  I'm not suggesting you repeat "…and gosh darn it, people like me" a hundred times while doing jumping jacks.  I'm not against affirmations, but I'm not captain of the fan club if you will.
Let me find the point of all this…
Don't ask… Don't get…
Ah yes, I remember.  Probably the best example of "imprinting" I use in my life is with the following phrase:
If you don't ask, the answer is always No!
I don't remember where I first heard that saying, but as soon as I did…  it was mine.  I own it.  It's a core part of who I am now.
Any time I find myself in a situation where I'm stuck or contemplating my options… this phrase pops into my brain.  I'm not smart enough to know how I imprinted it so deeply.  All I know, is that it happens all the time now.
And nearly every time it pops into my brain, it spurs me into action.  It gets me to do the most important thing 95% of the time when stuck…
Ask.
Ask for help.  Ask for what you want.  Ask for a discount… a raise… for an honest opinion.
So many of the best things in my life have come out of simply asking:
"Will you marry me?"
"Do you really want to go to Australia?"
"How specifically did you build this community?"
"Wait… how in the heck did you get pregnant?"
Ok… so maybe the last one isn't a good example.  But the first three are questions that radically changed my experience of life for the better… and are all in situations where I was nervous and/or stuck.  Break through the hestitations and just ask…
Ask for a discount.  Ask for a better rate.
Ask for a raise.  Ask for a promotion.
Ask for advice.  Ask for honest feedback.
Most things in life aren't going to just fall in your lap.  When was the last time you were at the register, getting ready to pay, and the clerk said "you know what… here's a 20% discount." Sure it happens, but not as often as when you ask.
You think your boss sits around and says "If Sally doesn't mention or hint at a raise for another two months… I just may give it to her." Again, rarely if ever.  You'll get it faster by asking for it professionally and confidently.
Don't get me wrong, you will still be told no.  Sometimes that's the answer either way.  But one way to guarantee you never get a yes… is to avoid asking altogether.  You can play chance or you can make your own.
Don't just ask others…  ask yourself…
In all the examples above, we're asking others.  That's where I started.  It's helped me break out of decision-making paralysis and the far majority of the time actually ends up with a "sure" or "yeah" as the result.
But recently, I've realized that this isn't just for asking others.  It applies to asking yourself, too.
So many times, I find myself trapped by fake excuses and barriers.  I, like you, put these up to keep me from uncomfortable change.
Leaving to live in Australia with a one year old was impossible all the way up until the point that… it wasn't.
I'm not being funny, I'm being serious.  It was literally impossible in our minds until the actual point that it wasn't.  You know what changed?  We asked.
We had thrown around the concept for a year, both laughing and sort of brushing it off.  It was an inside joke… it was a someday-it-would-be-nice dream.  It was impossible anyway, no need to think about it seriously.
Then, on a day filled with a unique amount of clarity, we simply asked… "Hmmm, is this actually possible?  Do we really want to go?  Could we really do it?"
All the sudden, the answer was Yes.  It went from impossible to probable in the time it took to ask a question. A year later we boarded a plane with no consumer debt, two backpacks, and a baby.
For Pete's sake…  go look in the mirror and HONESTLY ask yourself what is possible.
As those of you know that have followed the blog for a while, not everything will be automatically peachy (wasn't for us).  That's not what I'm saying.  I'm not telling you that asking will always get you a yes.  I'm not saying that Yes is always the best answer for you either.
My point is this: The most powerful concept on this planet is a question.  Asking one, whether to yourself or someone else, has the potential to revolutionize.  If you never step up to the plate and ask, though, I can tell you what the answer will be.  It'll be No.
Here's to asking.
photo by Epi.Longo