It's been a long, long time since I shared a list of the blogs that regularly influence my life and my business.  It's time I did so.
We've gained several new readers in the past couple of months, some interested in personal finance, some in the travel aspect.  Others in entrepreneurship or ditching their clutter.  With such a diverse community, I decided it would be best to share the leading blogs I follow for inspiration in several of these niches.
At one point, not so long ago, I followed over 100+ blogs.  More recently, I simply don't have the time to keep up with many of them, despite the information being incredibly valuable.  So slowly, but surely, I've eliminated my RSS Reader down to just most of the sites below.
Keep in mind I have dozens and dozens of other blogs I regularly follow via Twitter and Facebook.  This isn't simply a list of my blogging friends (while some of them are good friends), it's a compilation of what sources have been the greatest influence on me in several topics that I'm currently interested in.
I hope you enjoy what turned out to be a fairly beefy list.  If you happen to find any new sources for inspiration amongst these rockstars, please help share the post by stumbling it below:
Pay Off Your Debt
Personal Finance blogs to spark momentum, regardless of what financial stage you are in.  While those familiar with personal finance surely already recognize the sites listed below, I firmly believe that for someone new, 95% of personal finance is well documented and covered in the sites below (and there is something for all tastes):

Get Rich Slowly is the online baby of J.D. Roth, an average guy who started studying (and sharing) personal finance knowledge to turn his own situation around several years ago.  For the last 3 years, it's been a industry leading source of information.  It is still updated daily and was one of the first influences on my own financial journey.  I'm consider myself lucky to be able to contribute to GRS these days with a weekly article!  For a great place to start, check out J.D.'s twelve money tenets featured on the about page.

The Simple Dollar is written by Trent Hamm, a father of 3 (or soon to be three) whom also turned around his own finances and shares what he learns online.  TSD and GRS are often compared, however I find Trent's writing to have a much different voice than J.D.'s.  I enjoy reading Trent's amazing book reviews, in-depth cooking posts (for cheap, tasty meals), and his productivity-focused content these days.

I Will Teach You To Be Rich is the title of both the blog and the best-selling book by Ramit Sethi.  While the name may seem like a scam, it's simply a genuine bi-product of Ramit's witty, in-your-face style.  Ramit primarily focuses on Automation, Earning More Money, Entrepreneurship, and Psychology.  He posts far less frequently than traditional personal finance blogs (something I've picked up from him amongst others).  I'm constantly learning about marketing, momentum, and presentation from Ramit.

WiseBread is multi-author blog, which focuses on everything from frugality to productivity hacks.  They feature several articles a day, from a wide variety of columnist and authors.  In terms of traffic and size, they are the Godzilla of the personal finance niche.  I've had the pleasure of contributing several articles and can personally attest that the WiseBread team:  Greg, Will, Lynn, and Lindsey, are some of the nicest, most genuine people you'll ever meet in person.

Erica Douglas created erica.biz after selling her startup for $1,000,000 at the age of 26.  She uses what she learned in the startup would to help teach entrepreneurs how to make more money (both online and off).  Some of the topics Erica covers (and her opinions on them) can be fairly polarizes, a concept she fully embraces.  Her style may not fit everyone, but it helps give me a kick in the pants when I need it.  🙂
Sell Your Crap
Leading blogs focusing on simplicity, minimalism, clutter, and/or organization.

Zen Habits was the first official blog I ever followed consistently.  Actually, it was Leo who turned me onto personal finance blogs like Get Rich Slowly and The Simple Dollar early on.  Leo has been driving the online Simplicity-movement for years now and shows no signs of stopping.  If you are new to Zen Habits, I suggest starting with the Zen Habits Guided Tour Leo has put together.  There is some truly remarkable content buried within this site!

The Happiness Project is both a blog and a best-selling book by Gretchen Rubin.  While the Happiness Project (both the blog and the book) covers all facets of happiness, Gretchen devotes a big portion of the beginning of the book to talking about how she attacked the "clutter" in her life (I nodded my head the first several chapters)!  Gretchen does an amazing job of engaging her community, asking for input, and reaching out via video.  The Best of The Happiness Project page contains popular links on everything from Clutter to Relationships.  Start there!

Unclutterer is a blog edited and run by Erin Doland.  Almost all of the content on the blog is extremely tangible (how-to's, gidgets, gadgets, or specific information) and the far majority is focused on either decluttering or organizing in some fashion.

Illuminated Mind is a glimpse inside the brain of Jonathan Mead.  Jonathan was one of the very first people to reach out and challenge me when I was getting started.  He pushed me to blog less frequently, but more passionately.  He pushed me to break away from a traditional mold and to carve out my own brand and space.  On the site, Jonathan touches on alternative productivity, fitness, and entrepreneurship (and lots in between).
Bonus

:  3 Rising Minimalist Blogging Stars!
The Simplicity/Minimalist online movement is exploding with inspiring up-and-comers.  Here are a couple of my favorite making big moves in the niche:
Far Beyond The Stars – E.V. Bogue is cultivating some explosive growth on Far Beyonds The Stars with in rich, quality posts and content.  It seems nearly every post is both thought provoking and packed with applicable tips.
Becoming Minimalist – Becoming Minimalist maps a young, Vermont family of four's journey into minimalism.  While this family is a couple years ahead of my own, I connect deeply with the personal journey and writing.
Rowdy Kittens – Rowdy Kittens is run by Tammy Strobel and Logan Smith and discusses a variety of specific minimalist-topics (including fun stuff like car-free living, biking, and the tiny house movement).
Do What You Love
My biggest influences in following your passions and online entrepreneurship!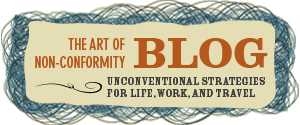 If you put a gun to my head and made me pick only one blog to follow, it would be The Art of Non-Conformity. Chris Guillebeau's writing has helped incite my travel adventures, encouraged me to be transparent, and radically changed my small business (see: 279 Days to Overnight Success).  In other news, Chris is opening up enrollment in his Empire Building Kit for good today.  You can see my thoughts on it here:  3 Online Business Truths I Learned from Chris Guillebeau.

The Art of Manliness is one of those things that I thought in my head "this would be cool if it actually existed". Well, thanks to Brett McKay, it does.  Deep down, I'm a man's man.  I love manly movies.  I like learning about combat, weapons, surviving animal attacks, and fitness.  Not that I do any of these things… but I like to read, watch, listen to information on them!  Particularly, you won't want to miss 100 Must See Movies:  The Essential Men's Movie Library and the "So You Want My Job" interview series (with people in interesting careers).
If in the social media or blogging world, you've almost surely heard of Gary Vaynerchuk.  Gary catapulted to success leveraging his intensely passionate personality and love of wine with the video blog Wine Library TV.  Gary has shifted in the last several years to the social media niche, where he's become a leading authority.  I find Gary's energy and transparency addictive, and I'm extremely jealous that his GaryVaynerchuk.com blog is nearly all quick, valuable video (what I'd most like to do).  If you are new to Gary (and into blogging or social media) check out his 2008 Web 2.0 Expo Keynote that changed my outlook on blogging forever.

Tim Ferriss is the best-selling author of The Four Hour Workweek, a book that was really game changing for dozens and dozens of people I know personally.  Tim's tagline is "experiments in lifestyle design" which is a perfect indication of what you can find on his blog.  I admire Tim's ability to take a subject, break it down, obtain a certain level of comfort or mastery, and then move on.  He does it with topics from weight loss, to sleep optimization, to travel hacking.  Ultimately, that's the lifestyle I want to lead in my own hobbies and interests.

Kim and Jason is a blog by a passionate couple (well, young family now) with the mission to eliminate what they call "adultitis".  It's silly, it's goofy, and I can't stop reading it.  With so much "life hacking" and "personal development" floating around these days (hey, I'm more guilty than anyone), it's refreshing to read something positive and uplifting.  In addition to the content on the site, Kim and Jason's online store The Lemonade Stand is one of the most well-branded and awesome online stores I've ever seen.  I'm jealous!
Blogging Blogs
The most influential blogs and websites I read for tips on blogging, writing, launching products, and building traffic.

Copyblogger is my go to source on anything writing and/or marketing.  There are probably many good sites on this type of content, but I've yet to fail to find something I was looking for when searching Copyblogger.  If you are interested copywriting tips, headline writing, or crafting landing pages, Copyblogger is your answer.

In the last year, those of us interested in marketing, blogging, and online business got a huge gift…  Glen Allsop switched his primarily focus into ViperChill.  There isn't a better example online on how to launch a blog or how to build momentum by delivering value to a community (at least I haven't seen one).  Glen is famous for his huge, comprehensive, guide-like posts on specific topics.  Among his best are ones on SEO, launching an eBook, and guest posting.

The Launch Coach is a blog by Dave Navarro about…  product launches, of course!  That may be selling it a little short as Dave talks about all aspects of a product-based business.  There is something about Dave's writing that spurs me into action.  It was a post of Dave's that finally led to a 12 hour work session on my first guide (getting me over a huge hurdle).  It was a post of Dave's that finally led me to start building an e-mail list.  And, I've yet to read a better guide to networking than his free networking workshop.

Not many people know this, but when I started blogging… I knew nothing.  I didn't know what WordPress was.  I didn't know how to host my own domain name.  I didn't know how to set up an about page or how to build traffic.  For the first month, I used Problogger.net almost exclusively.  Particularly, the 31 Days to Building a Better Blog Series started early in my journey.  I doubt there is a more deep and rich archive of blogging content anywhere on the internet.
My Business "Coaches"
I'm the type of person that thrives with a good coach.  If I had the money, I'd have a business coach, a personal trainer, an several instructors in different hobbies.  Until I get to that point (smile), I get my dose of business coaching from a specific folder in my Google Reader.  Here is my rag-tag coaching team for my business:

Jonathan Fields is the rockstar author of Career Renegade and continues to dispense his wisdom over on his blog.  I particular enjoy Jonathan's interviews of other creative rockstar types (a lot which are in video), as well as his ability to take quirky angles on common topics. (For example, he recently shared research that watching porn positively affects test scores!)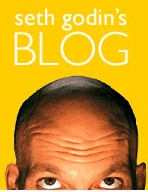 Seth Godin is one of the most popular and respected marketing minds anywhere.  I've lost count, but I believe he's up to 7 or 8 best selling books to his name.  His blog is just as popular as his books, yielding a massive audience.  Seth is known for his short, focused-on-the-point writing, with many of his posts being less than 150 words total.  His talent for conveying abstract concepts make his tidbits easy to read, but nonetheless thought provoking.

Escape from Cubicle Nation is, once again, both the title of a blockbuster book and blog by Pamela Slim.  While I don't have a traditional cubicle to escape from, I still deeply connect with Pam's writing.  Uniquely, most of my appreciation from Pam comes from how see interacts with other people on blogs, in video, and in groups like the $100 Biz Forums.

This is probably selling both of these individuals short, but for me (or their effect on me), Johnny B. Truant and Naomi Dunford are the same person.  Yes, I fully realize they are different unique people (even different sexes), but their message has such similar impact on me that I group them together.  They are in-your-face, even brash at times.  They curse a lot (yeah, more than me even) and their wit is dangerously sharp.  But above all else, they are motivating.  Anytime I need a shot of adrenaline, I had over to one of their archives.  I hardly ever go wrong with either.

Charlie Gilkey is my productivity coach (and he doesn't even know it).  Charlie spends most of his energy at Productive Flourishing helping creative entrepreneurs (and creative people in general) get more amazing work accomplished.  These days, I can use any and all the help I can get in this area.  I didn't realize how challenging it could be to maintain productivity and motivation in this space, until I did it myself.  Charlie is my fuel when I'm running on empty!
Bonus: 5 Lesser Known Blogs that are going to EXPLODE!
Get in on these blogs, before they become household names…
Ridiculously Extraordinary – Karol Gadja blogs about "Freedom + Health + Travel + Life".  Karol is an ex-internet marketer, who traded in his fancy house and car for a single suitcase to travel the world.  He's grown his blog remarkably fast (from 100 –> 1,000 with one guest post) and just released his a guide based on his experience, How to Live Anywhere.
Fluent in 3 Months – Benny Lewis takes us along on his missions to learn new languages in only 3 months!  It's easy to see why Benny's blog is one of the fastest growing, once you experience his contagiously positive attitude and his passion for helping others learn languages.  He's currently learning German and has also just recently released his own 30,000+ word guide, The Language Hacking Guide.
Nerd Fitness – Steve Kamb has combined his passion for fitness and his love of all things nerdy and geeky (comic books, star wars, video games, etc…) into one heck of a site.  This is by far my favorite fitness oriented site (a.k.a. the only one I read).  Recently, Steve quit his day job to take up his mission full time!  Whoo-hoo!
Healthy Lifestyle Design – HLD is probably the newest blog on this list, just launched by Matt Gartland.  I can honestly tell you, that I've never been as impressed with meeting someone as I have been with Matt.  He seemed to come out of nowhere and completely blew me away with his dedication, passion, and content writing skills.
Think Traffic – Corbett Barr of "Free Pursuits" fame launched this new blog several month ago centered around building traffic for websites and communities.  His advice is targeted and actionable.  This is yet another amazing example of how to launch a well-designed, well-branded, value-focused community!
What are your favorite websites and blogs not listed?
It's impossible for me to include all the blogs I love and the friends I've made.  What are some of your favorite blogs (from any niches) that inspire you?
Have any suggestions for new ones I may not have heard of?  Let me know below!