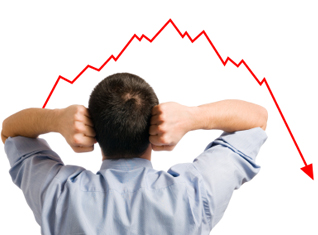 A big part of this blog from the beginning has been financial transparency.  I've shifted from sharing the details of our daily spending (what we used to do), to sharing the details of the business side of the blog.  It seems many of you are most interested in this one segment of our financial journey.  🙂
May saw the lowest dip in income generated online, since the release of Unautomate Your Finances back in March.  This was expected and anticipated, although I did nothing to help it.  I had planned on guest posting and exposing new lists and audience to my first guide, as well as attempting to push forward the launch date of my forthcoming guide, Sell Your Crap.
Neither happened.
Instead, I posted only a few posts here, with absolutely no guest posts, no new exposure, no attempt at media mentions, and no additions, bonus, or specials on the first guide.  Not exactly a great business plan!  🙂
The only silver lining is that almost all of the income I received in May was very close to passive.  A far majority (as high as 90%) of the sales were initiated from old "evergreen" posts and content.
Here are the numbers for May:

Net from UYF Sales:  $481.81
Total Guides Sold (April):  33
Income (less Paypal fees):  $577.35
Affiliate Payments:  -$95.54
Additional Income:  $525.97
Direct Expenses:  -$110.90
Hosting:  -$14.95
Aweber:  -$29.00
ScribeSEO:  -$27.00
E-junkie:  -$5.00
VodBurner:  -$9.95
Kiva MasterMind: -$25.00
Net (Income – Expenses):  $896.88
A couple notes to highlight.  First, I had two new business products I affiliated with in May, but which technically paid the first few days of this month.  This is $1000+ dollars of income that was "earned" in May, but paid in "June".  This helps prop up the month a bit.
I will also have a couple affiliate payments that didn't meet thresholds and thus rolled over to June's payout date.
This months brings the average of the last 3 months (since UYF release) down to:  ~$2100/month
While I'm not ecstatic about that number, it's not terrible for a start.  The goal is to double it by the end of summer.
June's Business Plans…
June will see the release of Sell Your Crap, my second premium guide.  This will have several modules, have extremely targeted value across different mediums, and will probably end up in the more traditional $30-$40 dollar range.
I don't expect sales for Unautomate Your Finances to dip in June actually.  In fact, they will probably go up due to promotion regarding Sell Your Crap. I'd like to see UYF net between $800-$1000 itself.  My goal for the second launch will depend on the final content included in the guide and the price point.
As you all know, 90% of my effort and content will remain 100% free.  I'll continue to openly share our journey to eliminate our debt, our battle to avoid accumulating clutter, and the ups and downs as we attempt to pursue our passions!
For those of you on a journey to produce online income yourself, feel free to e-mail me any specific questions you may have!
Hope everyone has a fantastic June!
Xoxoxo,
-Baker