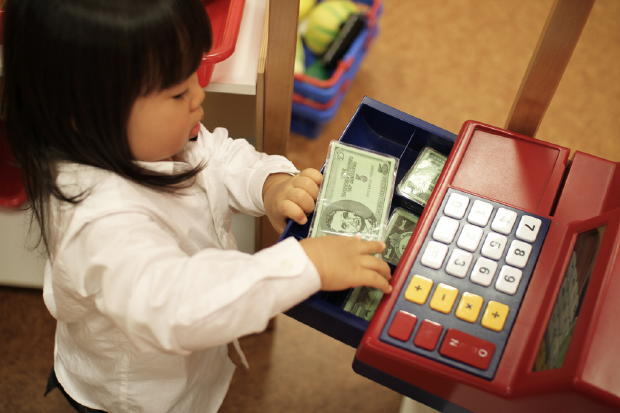 [share_sc]

This is a guest post by Ivan Chan. Ivan is the founder of Wealthy Without Worry, a Star Wars fan and a martial artist. He loves to share with other busy professionals personal stories and simple ways to manage money and worry less in life. Follow Ivan on Facebook and Twitter.
Your child is looking up at you with those big, sad-looking eyes.
"But why wouldn't you buy this for me!?"
You don't want your kid to grow up to be a spoiled brat. So what are you supposed to say?
Do you make up an excuse to delay the purchase because you think you spoil your child too much already? Do you give in to the guilt, knowing full well it will cost you later, perhaps in more ways than just money? Or do you give the famous response of "because I said so" because… well… just because?
While your mind is spinning like a hamster in its wheel, trying to piece together the right words, your child is still looking up at you. The tears are starting to flow now, about to be served with a full order of your kid's flat-on-the-floor-heels-kicking-lungs-screaming tantrum special.
You can feel the judgmental gaze of everyone within earshot, burning into your back.
As a parent, this is a defining moment for you.

What will you say?
The "Other" Birds-and-Bees Talk
As a parent, you will have to do "the birds and the bees" talk with your little one sooner or later. You know, talk about sex and pregnancy?
Icky, right?
If you're like most parents, the mere thought of doing so probably makes you all squeamish and giggly like, well, a kid in elementary school. That's probably why the euphemism of "the birds and the bees" was created – so people don't have to speak openly about THAT topic.
Now isn't it funny how the topics of sex and money are so similar?
Neither topic is discussed openly in most schools and households. Yet, we expect our kids to magically know "how to do it" for both areas of life. At least parents and teachers attempt to talk about sex, cute euphemisms and all.
When was the last time you taught your child about money?
How to Talk to Your Kid about Money
When I was a kid, my parents made a special effort to teach me about money.
They not only explained what they do with money, but they also taught me why. They taught me both theoretical and practical ways to manage money. They were open about successes and failures, about what worked and didn't work for them.
I will share some of what (and how) they taught me with you today. Here is a list of things your child needs from you when it comes to talking about money.
You can't be a hypocrite. This is probably the most obvious rule. But it's strange how SO many parents forget this when they deal with their kids. Your position as a parent doesn't mean you get to be a hypocrite. No one will listen to you if you say one thing and do another. That includes your child.
Treat them like adults. If they ask you a question, provide them with a reasonable response. Don't make up some cutesy answer to get them off your back. Don't say that you'll tell them once they get older. And definitely don't preach about how little kids don't need to know such and such. Your kid is growing up faster than you think. Seize every teachable moment you have with them. They are asking because they want to learn from YOU. Do you want them turning to someone else to figure out this stuff because you've turned them away?
Know when to shut up. Just when you're about to be straight with your kid, I'm now telling you to stop talking. Why? Because too much information IS a bad thing. Be honest with your kid about savings, budgets, credit cards, debt, and so on. But don't overwhelm them with so much information you end up confusing or scaring the crap out of them. Stop talking when they stop asking questions. My parents are always honest with me when I asked them about our family's finances. But they don't broadcast the information unsolicited. If I ask, they'll answer. If I don't ask, it's because I don't care to know. Your kid probably wants to be treated the same way.
Tell them why. Explain your reasons for doing something. Relax, you don't need to justify every last bit of your spending. But you should explain the principles and rationales behind what you're doing so your kid understand why. This teaches them how to think and make financial decisions. Life isn't a strict set of rules like a computer program. Make sure you prepare your child accordingly.
Stop chasing them out of the room. Have you ever waited until your kid is out of the room before you really "talked" about money? Perhaps next time you should do it during dinner with everyone present. You talk about school, work, family, perhaps even your crazy neighbors at the dinner table. Why not money? Your kids will be talking about money for the rest of their lives. Why not model good communication behaviors for them to follow now?
Let them watch you negotiate (and fight "nicely" over money). Talking to a loved one about money is not the same as talking to someone outside the family. Your child needs to learn how to do both. Be courteous in your financial dealings with others, but also stick to your principles. Know when to press for what you want, and when to make a concession. Yes, fight over money in front of your kids – just do it nicely with whomever you're fighting with. Life is full of conflicts and disagreeing points of view.  Once your little one grows up, he or she will inevitably be fighting with someone over money too. Consciously or subconsciously, they will be fighting as they have seen you fought. By modelling the behavior you want to teach them, they will learn the proper ways to resolve disagreements over money.
Show them the checkbooks. Show them your day-to-day money management in action, right down to the nitty-gritty details. Of course, you don't have to do this everyday. But you should do this once in a while, and certainly when they ask you about it. Get your kids to help create your monthly budget. Provide them with the money and ask them to pay a restaurant bill (while you watch over them). Take them to the bank when you deposit your paycheck. Theoretical talk about money is nice. But nothing beats actually seeing and doing it for real.
Be humble with the good. By all means, enjoy your monetary success with your kid. Money is meant to be enjoyed after all, right? But you should make sure they understand that good things in life are a privilege, not a God-given right. Teach them to appreciate and be grateful for what they have today.
Be honest with the bad. It's tempting to hide. That purchase decision seemed like such a good idea at the time, but now it is a glaring embarrassment you just don't want to bring up. But the fact remains: you've made the decision so own up to it like a real adult. Doing so teaches your kid accountability. And as an added side benefit, holding yourself accountable also forces you to confront your mistakes. While you are at it, you may even learn what not to do next time. Now wouldn't that be a smart thing to do?
Make them feel like a member of the team. When the money situation is good, everyone is – not surprisingly – in a good mood about everything. But when the money situation takes a turn for the worse, the whole family seems to break down. It's critical at a time like this that you rally everyone towards a common goal, and that includes your kid. Whether it be conquering your debt, getting through a job loss, or surviving a tragedy, you have to work together as a family to get through this. Tough times will pass. But your kid will forever remember – and reminisce some day – how all of you were a team and how together you all triumphed in the end.
Teach them concrete tips, not vague clichés. Telling your kid to "save more" and "don't get into debt" is good advice, but that's not enough. Because what exactly does "save more" mean? Are we talking $50 more than they save now? How about 10% more? How do you even decide? If you want concrete action, you have to teach measurable ideas.
Help them get started. Always remember that the smallest of actions is better than the biggest of ideas. Teach them what they need to know, and then get them to take action on those ideas. Start a child savings account. Show them how banking works. Whatever it is, get them to start DOING as soon as possible.
Let them know it's OK to screw up. Admit it, we've all made dumb decisions with money. As shocking as it may to you, your kids will too. This will probably happen a lot when they first start out. Try not to freak out when they screw up. Instead, pick them up, give them a hug, and help them try again. That's what you would do if they fell on the sidewalk, right? Then help them do the same on the road to financial literacy.
Let go. Now that you've taught them, shown them, even picked them up a few times after they've screwed up, it's time to let them go. Yes, it's going to be hard. Yes, you'll feel like they're not ready. Yes, you'll want to hold onto your little baby for just a while longer. But you have to trust them. As a parent, all you can really do is prepare your child as best as possible for the future. Ultimately, it's their future and they must face it themselves. And for that to happen, you must let go.
It All Starts With Parents
My personal financial situation today owes (figuratively) a lot to my parents' teachings. I still talk to them about money to this day.
Our relationship with money is greatly influenced by our parents, whether we admit it or not. Perhaps there's little you can do to change the way your parents handled money talks. But it's not too late to make a difference in your child's life.
I'm not rich by any means, but I am rich in knowledge. That is all thanks to my parents.
Raising a New Generation of Parents
Do you want your child to be rich in knowledge too? Do you want to be a parent who makes a positive impact to your kids' financial future?
Do you want to be someone your little baby will always talk to, even after they've grown up, because they care about what you have to say?
Then talk to your kid about money.
Make up cute euphemisms about money if it makes you feel more comfortable. Tell epic bedtime stories about how you conquered your debt or slay your mortgage. Or simply be honest with your child.
Whatever you do, just do it.
You know this stuff is important, right? It's important because even after you're gone, your teachings will stay with your child forever. Then it will be passed onto their kids, and then their kids after that.
[share_sc]
It all starts with you. I know you can do this.
This is your defining moment.
Your child is listening.
***
Note from Joan: Ivan reached out to me with this post idea right after I shared It's Time to Talk Dirty… About Money. I was serious when I said this is a topic I'm going to keep pushing.
We need to be talking about finances. We need to be open with our spouses, our parents, our friends, and yes, our children.
Ivan's right. Your children ARE listening – either to what you are saying, or to what you aren't.
Make sure you're sending the right message.