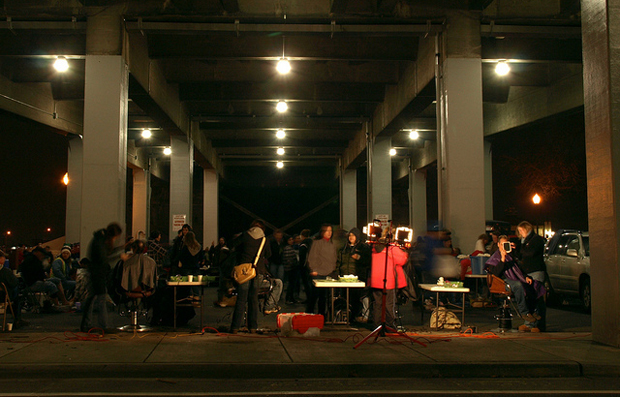 [share_sc]

This is a guest post from Jenna Forstrom, the former community manager at Adaptu who's now an account executive at a local PR firm.  She's still staying on top of her personal finances, selling (er – donating) her crap since she bought her first home a year ago, and brewing beer. Find out more on Twitter.
I know this is a little un-Man-vs.-Debt-like, but I've been CALLED to stay put.
Not to move around, but to buy a house and set roots.
I actually did exactly what Baker said not to and bought a house at the ripe old age of 25. My home is in Portland, Oregon, the microbrew capital of the world, home of the best coffee roasters, nestled between Mt. Hood and the Pacific Ocean. It is the best place on earth. There is just one problem.
Portland is also home to the largest homeless population in the U.S. Meth, black-tar heroin and alcohol are easy to come by in my city. Abuse and brokenness are all over the streets. So as someone who is fiercely in love with the city, I'm forced to make a decision. I can choose to:
Ignore the problem.
Or be part of the solution.
To be completely honest, I didn't make the choice. The choice picked me.
See, I was guilty of believing there was nothing I could do to help these guests (a term the team I'm part of now uses for "homeless"). They had become part of the scenery in Portland, camouflaged into the architecture. When I did see guests, there were the lies in my head:
"They are lazy and just don't want to work."
"They are just going to use my money for drugs."
"They might go crazy and hurt me."
"They must have done something really bad to end up homeless."
In reality, those are all just lies. These people are simply … Human.  With the same problems and junk that even I struggle with.
I realized all this standing underneath the Burnside Bridge on a Thursday night in the fall of 2011. I was helping to chaperone a youth group volunteering with a program called Night Strike, and while I'm no longer involved in youth ministry, I've been faithfully showing up under the Bridge for over a year and a half now.
Night Strike is a unique opportunity for people to gather under the Burnside Bridge every Thursday night and love people because people matter. It's an opportunity for the members of Portland's homeless community to hang out, enjoy a hot meal, receive a haircut, shave, have their feet washed and have their old shoes/clothes/sleeping bags replaced. It is also a chance for volunteers to come down and share in the experience, help serve the needs of the homeless in the community, and more importantly, invest in the lives and build relationships with the people you meet under the Bridge.
That is how this tiny, white girl ended up serving Portland's homeless community and is helping to bring radical relief, mobilization, and transformation in the lives and the city of Portland.
This year, I'm taking my service up a notch and helping to raise $27,000 for a mobile medical clinic by my 27th birthday on Aug. 27, 2013. With this mobile medical clinic, Night Strike will be able to provide medical, dental, veterinarian, and ID procurement services. We will also be providing training to volunteers to walk with guests through the process of transformation in their lives.
Want to help me with my cause?
Consider donating to Beyond the Bridge to help fund a mobile medical clinic!
In Portland or coming to visit? Come volunteer at Night Strike!
Be the change in your own city
I believe (and I think Baker would agree with me on this one) in stepping outside your boundaries. Getting outside your comfort zone for the sake of others. That is where compassion is truly found. It stretches your boundaries of humanity and opens your ability to love, care and consider others beyond walls, barriers and boundaries of fear.
Personally, it reminds me daily that I serve a God who is fighting for justice and is telling a story of redemption here in Portland. I'm reminded that everyone I see in my life is loved by God, so who am I to withhold anything from them? I pray every night for safety and to feel God's heart for my friends. So far, I haven't left the Bridge at night without feeling His heartbreak and His overwhelming love for both the volunteers and the guests.
I get that homelessness isn't a heart issue for everyone like it is for me. But I strongly encourage you to find out what your heart issue is.
Ask yourself these questions
What bothers you? What injustice do you see around you? What do you think is hopeless?
Then ask… What do I know about this?
Then: What can I do about it?
[share_sc]
Then go do it.
I think your life will be changed for the better.
***
Note from Joan: Jenna's post really touched something in me. I have lived in the same town my entire life. In fact, I described myself as the "anti-Baker" in my Man Vs. Debt introductory post because of that.
But, like Jenna, I truly believe that where I am is where I ought to be. I make a difference in my community in different ways – donating food to local organizations is a big deal for our family, as is caring for our local parks – but the cause isn't the point.
I've often in the past thought I couldn't do "big things" with my life because I stayed in my small town. Jenna reminded me that you can make a difference anywhere – under a bridge in Portland, Oregon; in a newspaper column in York, Pennsylvania; or traveling across the country to film a feature documentary.
The real question isn't "Can you make a difference?"
The question is…
WILL you make a difference?