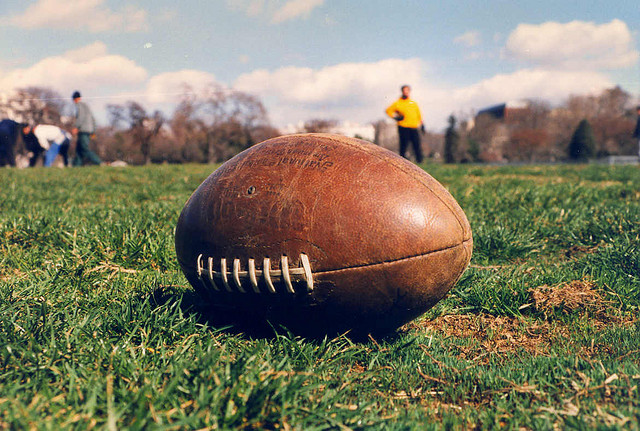 [share_sc]
Note: This is a post from Courtney Baker, chief seller and long-time running wo-man of MvD.
While the Ravens and 49ers are prepping for the big game this weekend, the Man Vs. Debt team has been prepping for a showdown of our own – the You Vs. Debt Kickoff 2013 session.
You see, as we sat down to review the daily lessons and challenges that make up our six-week class, we couldn't help but notice how the journey of our previous student felt like their very own Super Bowl: Student Vs. Debt.
Bear with me…
Tons of hours have been put in behind the scenes to get ready.
Many of the players have waited their whole lives to compete in this one game.
There's a humming of excitement for the participants – who's going to win, who's going to give it all they have, who's going to leave everything out on the field, and who is going to walk away a winner.
The coaches have lain the foundation and are pacing in the locker rooms – ready to keep their players accountable and lead them to victory.
The rest plays out once they hit the field (or in our case – Day 1 of the class)…
Pre-Game (Week 1 – Mindset)
Starting now, this exact moment – it's all about mindset.
You run out onto the field and the gravity of the situation hits you.
Hunger creeps in, and you want this bad. Not to mention, you deserve this.
But you can't do this alone… you need a team. Lucky for you, your classmates are rushing the field with you. They're lining up alongside you on the sidelines. And you line up for the kickoff together.
First Quarter (Week 2 – The Numbers)
It's game time.
This is when you stop theorizing and start getting into action.
The first quarter is used to feel out your opponent. Where do we stand? Who has the momentum? What are we in for?
Our members track their spending, list every debt they owe, check credit reports, and decide which debts they hate the most. A plan of action is developing.
Second Quarter (Week 3 – Real Budgeting)
Now that we have a feel for the opposition, it's time to start pulling out the game book.
We're using fundamental strategies that we have proven to be successful- no trick plays. Your skills and research are finally coming into play.
We're talking about budgeting, determining what kind of spender you are, and deciding whether credit cards are a part of your future.
Third Quarter (Week 4 – Slashing Expenses)
Halftime is over.
By this time, you know what you're doing. You might be a little beaten down, you might be cruising to victory. But the game is far from over.
The third quarter is where teams either take off and seal the deal or get buried behind. It's time to tighten up our strategies and position ourselves to win.
We bring out the specialty skills like negotiating contracts, understanding your insurance premiums, and really assessing needs versus wants. We're slashing expenses, making more room in our lives, and increasing our flexibility to handle any situation.
Fourth Quarter (Week 5 – Maximizng Income)
Go for the jugular.
This is it. Leave nothing behind!
We're going to scrape up extra money to throw at debt. You're going to Sell Your Crap, talk to your employer about a raise, possibly hunt for a new job, or start a side business.
It's time to squeeze out every dollar you can. You are not going to settle, not now.
You are going to finish strong. You are going to win.
Postgame (Week 6 – Making it Stick)
Time to celebrate! You've worked hard.
The journey is far from over. This is just one game. One chapter. One surge of momentum.
But for now, we celebrate. We go into the "offseason" making sure we keep doing what is working – and that we set ourselves to bounce back from some of the "life happens" events that will surely come our way.
Every game has a winner and therefore a success story.
Success stories from those who've "won"…
Last week, we offered a sneak peek into You Vs. Debt with a challenge to write your financial success story.
We know, it's possible – even likely – that your success story hasn't happened quite yet – but we asked you think about what you want to be able to say 8 weeks, 6 months, a year from now… what will your success story look like?
Here are a couple of examples of what fellow Man Vs. Debt readers have come up with:
Matt & Tina- Empty Nesters
Matt and Tina have been together and married for more than 30 years.

When they met each other, Matt brought $10,000 debt into the relationship. Neither had grown up with proper guidance on money management. Tina had overspending issues she learned from her mother.

In spite of having a relatively high-paying job at the same company for the last 30 years, Tina and Matt stumbled along living paycheck to paycheck, burdened with debt, over these same years.

Occasionally, the frustration would mount that "something needed to be done," but there was always some urgent reason standing in the way of getting out of debt… children's orthodontic work, house repairs, college tuition, etc. Their last child (4th), just graduated debt free from a top, expensive US college, thanks to Tina and Matt, and then had an expensive wedding just a week after graduating.

Matt and Tina are both in their 50s, and now that their parental responsibilities are behind them, are keen and determined to pay off all of their $54,000 debts (except for mortgage, which might take until 2015) in 2013, which FORTUNATELY, is a realistic goal, given their income.

In fact, this is the number one goal in life right now – to finally experience for the first time, what it is to be debt free.

Tina is really wanting to pursue a more minimalist lifestyle, and Matt is on board. This month, Tina has started with a personal challenge, to not purchase anything unnecessary for 2013, inspired by Joshua Fields Milburn's successful challenge posted on The Minimalists' blog.
Katie- Disappointed in the American Dream
Katie thought she had it made!

She went to college, bought her first car, bought a home, and found a great man she wanted to spend the rest of her life with. Instead of being happy with the way her life had blossomed, she had the looming reality of nearly $20,000 in credit card debt, $50,000 in student loans, and a $50,000 mortgage at the age of 27.

Sure, she has a job she loves, but found herself living paycheck to paycheck with her boyfriend, EJ, giving her half of his wages to help her stay afloat. This was becoming unacceptable to her, and he deserved to keep more of what he earned.

One day, Katie was reading a magazine article in All You magazine and read about a woman's success with the "You Vs. Debt" course. This inspired her to get control of her debt once and for all.
Are you ready to start pre-gaming? Our Kickoff 2013 You Vs. Debt course just started, but if you'd like updates and some more sneak peeks before the next session begins in April, make sure to register for updates here! 
[share_sc]
Who are your fans? What's your success story going to be?
We can't wait to help you find out!