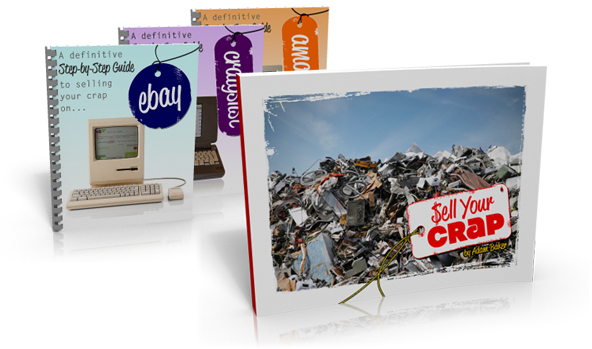 Finally!  It's here! It's here!
I rescheduled it on purpose last week.  The internet gods blocked it from coming yesterday.  But nothing can hold it back today!
*knocks on wood*
[If you can't wait, check out Sell Your Crap's new home for more information!]
I'm more excited now than I have ever been before.  I finally get to share this huge project with you that has taken up so much of my time and creative energy over the last 3-6 months.  🙂
Final combined weigh-in:
65,000+ words, 328 pages, and 110+ screenshots over 4 separate pdfs.
*thud*
I'm not going to lie, it was a ton of work… but it was worth it.  For the second time now, I'm releasing a product that I'm proud of.  I'm not afraid to show it off.  I'm not afraid to give it to family and friends.  I'm exhausted, but proud.
My two primary objectives…
I have two primary objectives with this guide:
Enable you to LET GO of the things in your life that are holding you back. There are dozens of ways Sell Your Crap can benefit you (more here), however they all come back to this one for me.  It's what was at the heart of our personal journey.  The stuff in our life was holding us back from our potential.  It was owning us.  Letting go of it (and the pursuit of it) has enabled us to live life more deliberately.  Almost every core concept in the guide can be traced back to this one underlying benefit.
Teach you how to get MORE money for your crap… in a fraction of the time. While we talk about many different ways to purge your crap (donating, recycling, etc…), the focus of the guides is on SELLING.  Money.  You know… in your pocket?  That starts by understanding where to sell what.  Getting familiar with the platforms, first, and then applying advanced strategies to ramp up your selling.  This is where the three modules (eBay, craigslist, and Amazon) come into play.
My first priority is to get you into ACTION. Because ultimately getting you into action, will help you achieve the two priorities above.
Without action you get… clutter.  You get a muzzled, clogged life… physically and mentally. I can say that without getting smacked because we used to live it (and still have to fight against it regularly!).
But the truth is, you have more options.  The typical American life path spent collecting and upgrading stuff is only one of your hundreds of options.  Reject the notion that there is only one way to do things.  It's just not the case.
Our whole journey these past two years (and the whole purpose of this blog) has been about removing barriers in life and exploring what other options exist out there.  Attack our debt… selling everything we owned… these were just ways for us to remove barriers.  To simplify.
When we did all we had left was… options.  Flexibility.  The ability to move and adapt.  We could let the chips fall wherever they may.
I'm ranting… I know.  That's ok, because that's me.  Those of you that have been around a while know that.  🙂
Back to the focus of this post…  Sell Your Crap.  Ah, yes:
What You Get (it's really juicy this time):
The Primary Sell Your Crap Guide – a 20,000+ word, 67-page anthology describing in minute detail both the "why" and "how" of selling off your crap to earn a life free of materialism.
The Definitive Step-by-Step Guide to Selling Your Crap on eBay – a 35,000+, 171-page word monster with over 65+ screenshots that takes you step-by-step through the many layers of eBay.  It's thorough enough that anyone – regardless of experience – can gain all the benefits.
The Definitive Step-by-Step Guide to Selling Your Crap on craigslist – a 7,500+ word, 49-page manual for hacking and mastering the mechanics of the world's largest digital classifieds.
The Definitive Step-by-Step Guide to Selling Your Crap on Amazon – a 5,000+ word, 41-page quick-hitter to leverage Amazon.com to maximize your profits on your media items.
[Holy cow, I wanna skip the rest of this crap and just buy it now!…]
Short, powerful video interviews (10-20 minutes each) with your favorite anti-clutter Rockstars:
Two Different "Editions" This Time…
This time around, with all the different documents and interviews, I decided to break it up into two different options for people.
"Sell Your Crap" – Barebones Edition – ($37)
The Barebones edition is just that – the least you know to get started.  It doesn't have the full value of the complete package, however I did include the two primary (and largest guides) to get you started:
"Sell Your Crap" Main Guide
The Definitive Step-by-Step Guide to Selling Your Crap on eBay
$100 Effectiveness Guarantee
Get more details… or Buy this edition now…
"Sell Your Crap" – Clutter Crusher Edition – ($47)
The Clutter Crusher edition maximizes the value.  It's the whole kit and caboodle.  Nothing is left out – this is everything you need to attack your clutter and actually win:  (Yes, it's possible!)
"Sell Your Crap" Main Guide
The Definitive Step-by-Step Guide to Selling Your Crap on eBay
The Definitive Step-by-Step Guide to Selling Your Crap on craigslist
The Definitive Step-by-Step Guide to Selling Your Crap on Amazon
Special Access to All 10 "Anti-Clutter Rockstar" Video Interviews
$100 Effectiveness Guarantee
30-Day "Ask Anything" Email support!
Get more details… or Buy this edition now…
Oh look… I went and made it Risk-Free…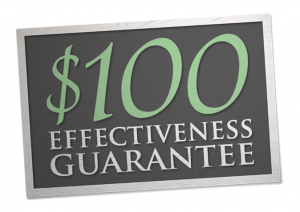 The $100 Effectiveness Guarantee!
I have a very simple refund policy (or guarantee whatever)… 100% no-questions-asked, no-time-limit guarantee.  If it doesn't blow your mind, just ask and I'll instantly refund it.
But that's pretty boring right?  I jazzed it up last time a little, but for this baby I wanted to go all out!
For both Sell Your Crap editions, I'm offering a $100 Effectiveness Guarantee. You'll get more than just satisfaction… you'll get results.  (Um… I guarantee it).  If you aren't able to turn at least $100 worth of useless clutter into cold hard cash, just email me and ask for a refund. Same deal. No questions. No time limit.
This product will get you into action and get you results. I have no doubts about that, which is why I'm willing offer this. This one is truly risk-free. Lots of people say that, but I'm for real.  Try me.
Thank You…
Lastly, thank you.  Thanks for sticking with me while I banged this out.  Thanks for all the emails, the support, and the suggestions.
It's an exciting time for me, but I'm not going to stop.  We return to regularly scheduled blog programming next week.  With this beast running wild now, I'm going to have some time to really pump things up on the blog.  🙂
If you've read this far, you probably don't need to re-read the landing page for Sell Your Crap.  It's mostly the same stuff.  😉
Here's the direct buy link for those that can't wait another second:
"Sell Your Crap" – Clutter Busters Edition
You guys rock.
Xoxoxo,
-Baker