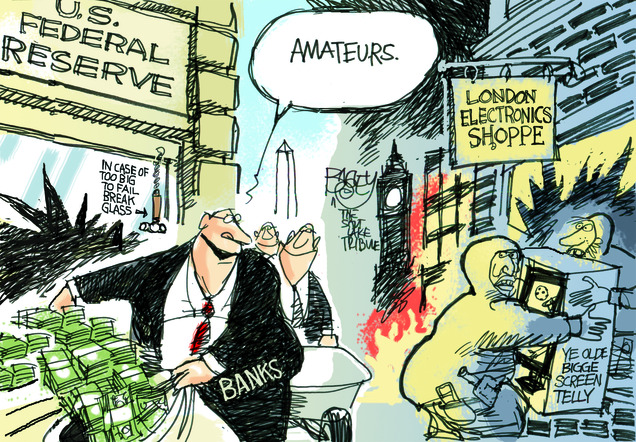 [share_sc]
Note: This is a post from Adam Baker, founder of Man Vs. Debt.
The Debt Ceiling.
It's been around for almost 100 years now, but few of us really knew much about it before the last three months or so.
Originally created so that Congress didn't have to approve every individual expense of World War I, it's now turned into an extremely polarizing and extremely dangerous piece in the United States' financial puzzle.
[Read more about the debt ceiling's origins and history on Wikipedia]
Here's the bottom line: The United States is financially screwed if we don't make drastic changes in the next five to ten years.
I haven't met very many people who disagree with that fact. For decades we've been "letting ourself go" financially. We've been pushing the problems onto the next Congress, onto the next President, and onto the next Generation.
One of the best resources – of any type – that I've seen in the past few months is this video:
Pretty scary stuff right? If you have a few minutes today, you should really watch that video (and share it with your family and friends)!
Note: Want even more food for thought? Did you see the recent CNN Tech article claiming Apple now has more cash than the U.S. Government? I don't know whether to be depressed at the government or wildly inspired by Apple – probably both.
What if the U.S. Government were an American Family?
This comparison has been done in several places before, but it's a great exercise for visualizing the enormous debt levels we face in this country.
The estimated numbers (according to Wikipedia) of the 2011 budget show that you U.S. will bring in around 2.17 trillion dollars, spend around 3.82 trillion dollars, and currently carries over 14 trillion in debt.
But what happens if we divide all these numbers by $50 million dollars?
Imagine a young family with the following numbers:
They earn $43,400 per year.
But spend $76,400 per year.
That means they spend $33,000 per year more than they earn! Ouch.
Even worse, the currently carry $280,000 in debt. They are trapped, buried, with several huge changes needing to be made to fix their situation.
So, after much arguing, they devise a plan to eliminate an average $1,834 per year for the next ten years.
$1,834 a year…  from the $33,000 a year they need just to break even! Nice plan.
They realize that just cutting the cable out of their budget (about $153 per month) may not do the trick, so they also agree to make a plan sometime soon to eliminate another $3,000 per year (over the next 10 years) – but they need time to argue about it more before they decide what to cut.
Over the next ten years, if this young family play theirs plan out perfectly (no hiccups, no increased costs, no new fights with neighbors, no disasters) then they'll get to break even.
But over those ten years, the debt will continue to skyrocket each year – adding more and more weight to their struggles – and more and more payments to the interest on that debt. That's assuming they can find people that'll keep lending them money!
It's not enough…
I'm going to blame both parties here. I'm afraid we haven't done enough.
We've got to cut spending much more dramatically. Yes, that includes finding ways to cut Social Security, Medicaid, Medicare and other bloated programs that help the nation's most poor. And, yes, that means cutting our military spending, too.
Sorry to say it, but we also have to raise taxes. While I'm all for smaller government and lower taxes – we simply can't dig out of this hole with spending cuts alone. We bear the burden of the generations of low taxes and high spending before us.
If it were up to me (it's clearly not), I'd favor a 2:1 ratio. We'd cut twice the spending (as I believe our spending is our core problem) than we would raise taxes – but we'd still do both.
We'd do it hard and fast. We'd do it starting in 2012.
The current solutions aren't big enough. They aren't fast enough.
So what can we do?…
No matter how great I think my plan may be (3 trillion in spending cuts and 1.5 trillion in increased taxes per year for the next 5 years), I know it would never fly in Washington. It's too unpopular – and would hurt everyone (the poor, the middle class, and the wealthy).
We are going to have pain, folks. Pain now, or pain in ten years. It'll come.
The best way to minimize the pain?
Use this debacle to FUEL your own balanced personal economy.
The primary thing you can do to fight back is to get your own house in order.
Aggressively design your financial life to be free, flexible, adaptable. I don't know what the future holds, but I know this debt ceiling stuff is just the tip of the iceberg for the changes we will have to make.
I realize a decent portion of my audience is international, but this still applies. If the U.S. or any other major world economy or two start really hurting (some are already on their way) it'll affect all of us.
In this day and age, we should already have  enough motivation to aggressively attack our finances, but let's use this as even more fuel.
Mad at your government's handling of money?
"Be the change you want to see in the world."
[share_sc]
Show them how it's done.