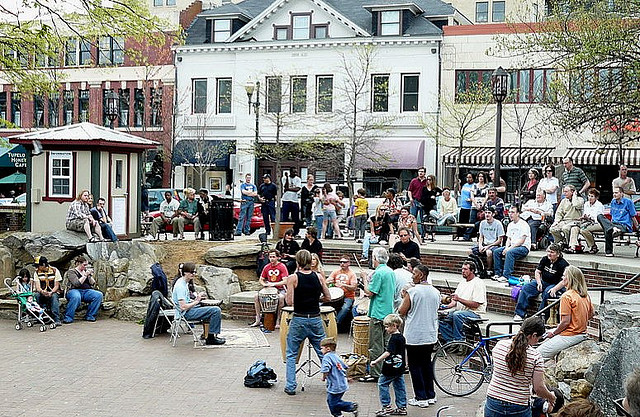 [share_sc]
Note: This is a post from Adam Baker, founder of Man Vs. Debt. It was published in August 2011.
For the last two and a half years, I've been sharing our story and message online in an attempt to grow the amazing community here at Man Vs. Debt.
By taking a stroll through the archives, you can see just how much we've been through together. (Hasn't it been fun?)
Reflecting back, there's been 4 clear phases of our journey – or chapters, if you will:
Chapter 1: The Struggle (the months in the trenches – selling stuff & plowing debt)
Chapter 2: Freedom Realized (our time spent traveling Australia, New Zealand, and Thailand)
Chapter 3: Return of the Family (coming back to U.S. – launching Sell Your Crap)
Chapter 4: Life is a Highway (our RV Tour around the U.S.)
And, I'm excited to announce that last month we entered in to the newest chapter of our person lives – Chapter 5: Mountains & Music.
In other words, Courtney and I decided to wind down the R.V. tour and we've rented a home here in the beautiful city of Asheville, NC for the next year.
There were dozens of factors that played into our decision. Some of the major ones were:
Our primary personal goal of the entire RV tour was to scout places we'd like to spend a year or two. In our 6 months on the road we became comfortable with a couple places even sooner than we thought! (Portland and Asheville, for those wondering)
While I love so many aspects of traveling, I've realized that hosting friends and family is ingrained deep into my personality. Courtney and I wanted to spend some time returning a portion of the hospitality we've received all over the world.
Our business and message won't be able to spread and grow in the manner we want if we stay on the road. I've been leveraging coffee shops, intermittent wifi connections, and picnic tables for two years. The next evolution of the business requires some more stable working space. 🙂
A couple friends have asked me whether or not this decision was made as a result of our miscarriage on the road. The answer is: Yes & No.
No, it's not a direct response – we were already on this path. Honestly, it didn't really factor in the decision much itself.
Yes, if only for the reason that it was a catalyst for self-reflection.
When Courtney and I were starting off our journey, it was bringing Milligan home from the hospital in the days after her birth that opened our eyes. We didn't start traveling just because Milligan was born. However, the experience granted us the clarity to see the life the we really wanted to be living.
The same is true this time around. Our loss simply gave us the clarity to step back from the day-to-day hustle and the clarity to see what we really wanted for the next year or two of our life. In this case, it was choosing between Portland and Asheville to settle in for a year.
Once you've been given the vision of what you're life could be – and you know you want it – why wait?
What good is all the freedom in the world, if you aren't willing to use it?
Two years ago, freedom was traveling the world with our one-year-old daughter.
A year ago, freedom was buying an RV in cash so that we could visit all our friends and explore potential areas of the U.S. to spend time in.
Last month, freedom was the ability to move into a (slightly bigger than we need, but great) home here in a wooded area of Asheville. 🙂
Next year, I have no idea what freedom will mean to us. But I'm excited to know our possibilities are nearly limitless – as long as we can gain the clarity to be honest with ourselves.
The clarity to know what freedom means to you may be the most powerful currency in the world.
What's next for Man Vs. Debt?
To be honest, in the first 6 months of 2011 I've been disappointed in my commitment to the community here.
I underestimated the hectic nature of our mobile lifestyle, which led me to underdeliver over the last few months. I haven't been producing the amazing content that I'm capable of. I've been giving my C-game, instead of my A-game.
I've been mediocre, which for this community is simply unacceptable. You deserve better!
So I've done the only thing I know how to do. I've taken massive action to break free of the funk of mediocrity.
For the last two months, I've been buried working on several exciting changes:
First, I've hired two full-time team members to help me take things to the next level. I'll introduce Joan and Dustin to you soon. Working with this new team has been amazing. We are starting to realize how much is possible (it's exciting!).
We're also going to be switching the content direction of the site. Instead of leading with personal updates "hey look at me I'm in XYZ city," we're going to be leading with amazing resources and content. Specifically, we are going to start a weekly video Q&A series. We'll also be focusing on covering more case studies from real people going through similar struggle in achieving freedom in different areas of their lives.
Lastly, I've been pouring myself into the next evolution of our premium products. After studying behavior change and psychology for nearly 2 months without coming up for air, we've completely revamped our You Vs. Debt course. We broke the course down into daily lessons and actions for 6 weeks straight. I spent two weeks filming the new videos with a dedicated video editing team (think DVD quality). This is the largest scale project I've ever undertaken – but the final product is *amazing* (take that mediocrity)! I can't wait for you to see it – and in the next few days I'll give you a peek. 🙂
Here's the summary: Over the next month you'll see a lot of changes around the site. We'll be re-releasing You Vs. Debt, and we'll be launching the first site redesign in several years. We'll also be starting our weekly Q&A video series & a string of case studies and interviews of community members achieving inspiring results.
Most importantly, Courtney and I are extremely happy to be entering Chapter 5 of our journey.
[share_sc]
Xoxoxo,
-Baker