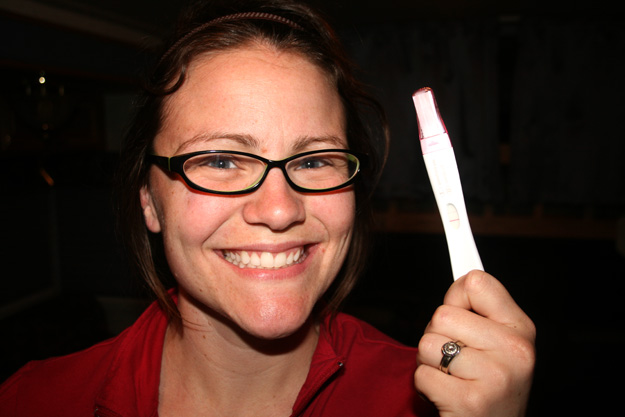 [share_sc]
Today, I'm excited to announce the biggest news in Man Vs. Debt history…
We're expecting our second child in early November!
We've known for a little while now, but with our lifestyle on the road – we wanted to make sure we were able to see a midwife/physician and double confirm everything is moving along healthy. So far, so good!
We've been sharing the news with people at the last few meetups (Courtney is showing much earlier this time around!) – and I wanted to take some time to answer some of the common questions that have been coming up. 🙂
Did you plan this?
Yes. Though it happened quickly!
What does this mean for life on the road?
We aren't 100% sure. For now, we plan to continue everything at the very least into early August. We have a very full schedule still – and as long as Courtney's health and energy allows it, we'll likely keep going.
How does Courtney feel in the RV?
Overall, she's feeling great. She's much more tired on average than she remembers feeling the first time – and is showing more quickly than the first. I know little about pregnancy, but Courtney claims these are actually common for women their second time around! 🙂
Where will you have the baby?
We're about 80% sure we'll have the baby back in Indianapolis. We still have many family and friends there – and until we know that everyone is happy and healthy after the birth – we'll likely spend that time with our support network. We are also considering home birth, which will be easier for us in our home town. As a bonus, this will also put us back for Thanksgiving and Christmas.
What will you do with the RV? Will you live in it after the baby is born?
We don't know. We have no plans to get rid of the RV, nor are we convinced that we will stop traveling and settle down. We may do just that, we may continue traveling. We may live in the RV for another year. In short, we are keeping our options open – but won't make any big decision until the first of the year, after the birth.
Is it a boy or a girl?
As of now, we don't plan on finding this out ahead of time. We'll wait for the surprise.
Is Milligan excited?
She seems to understand the situation and is very excited. She's taken a much bigger interest in babies now – and when people talk about them around her – she is very forthcoming with the fact that "Mommy has a baby in her tummy, TOO!"
Does this change your financial plans or goals?
It doesn't really affect us drastically. The pregnancy will likely cost at least $4,000-$5,000 out-of-pocket. This is because we have high-deductible insurance (we knew this going into it).
Our primary goals of investing in our business and finishing our student loans will remain the same. We don't anticipate a huge lifestyle switch (financially at least – mentally this is going to be an adventure!).
If anything, this makes me even more serious about getting the business to the point where I can take most of November and December off. I'd like to work maybe 5-10 hours per week during these months this year – and with some planning and savings this should be very possible.
*****
Thanks again for all your support. I say it often, but I mean it – I'm blessed to have a community to share events like this with openly!
xoxoxo,
-Baker, Courtney, Milli, and ProjectX