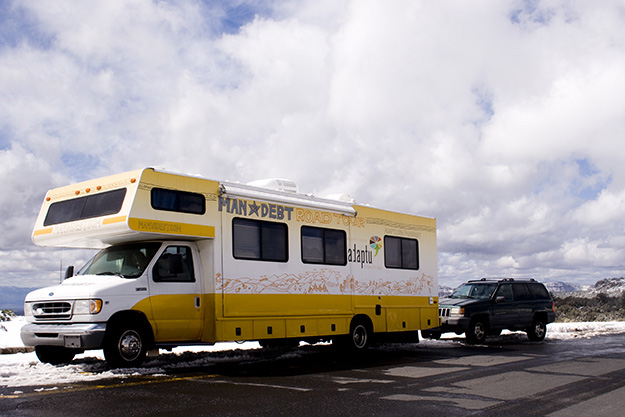 [share_sc]
Each month, as part of an ongoing transparency project, I share the income, expenses, and master plans of my pursuit to earn a living online. This includes many of the expenses related to our RV lifestyle.
Personal finance should not be a taboo subject in our society. The more light we can shed – and the more examples we can share – the better off we are!
April's Business Income/Expenses…
Sell Your Crap income:  $1,261.64
You Vs. Debt income:  $5,107.60
Additional Income:  $1,368.89
Direct Expenses:  -$6,734.12
YvD Launch Consulting:  -$4000.00
WDS Conference Tickets: -$610.84
YvD Graphics: -$501.25
Affiliate Payments:  -$393.77
Food/Meals: -$289.31
Cell Phone (final): -$175.32
Website tech work: -$130.00
YvD Transcriptions: -$112.15
AppSumo Deal: -$99.00
Premium Web Cart: -$79.97
Optimizely: -$79.00
Aweber:  -$49.00
Virgin Mobile: -$40.00
Rebel Strength Guide: -$39.00
Cloud Blogging Guide: -$37.00
Wufoo: -$29.95
Travel Hacking Cartel: -$25.00
MailChimp:  -$15.00
E-junkie:  -$10.00
DropBox:  -$9.99
Domain Name: -$8.57
Net (Income – Expenses):  $1,004.01
Over the last 13 months, this brings the average net to: ~$5500/month.
Want to know even more details? My friend Corbett Barr (from ThinkTraffic.net fame) and I will be hosting a live Q&A this coming Wednesday on "Building Momentum for Your Online Business". We'll leave no questions unanswered, but there are only 100 spots on the webinar. Here's the link to save your spot if interested.
As you can see, we successfully launched the very first private "You Vs. Debt" course behind-the-scenes last month. We're in the middle of the course now, tweaking and testing the content, gathering feedback, and helping people radically change their financial approach.
It's thrilling to see the first group of people take the course, as I've never before approached my courses/eBooks in this manner. I can already see the impact it will have on the eventual public release (likely late next month).
Even still, there is a lot left to do – the grunt work is far from over as far as the course is concerned!
You may also notice a $4,000 payment to a team member. Keep in mind this actually represents several months of hard work – and is an investment in a piece of my team that I want to play a core role for years to come. 🙂
As always, I'll answer any questions below!
RV Tour Updates… Keep Rollin' Rollin' Rollin'…
April saw us visiting and hosting meetups in the cities of Phoenix, San Diego, and L.A.
The Phoenix meetup was especially fun – as we had a BBQ out at a local park – and 30-35 people, including several families with kids were able to swing by. This was a welcome unique-twist to our normal gatherings!
In San Diego, I was interviewed and featured in the San Diego Union-Tribune (which was fun). Our meetup had a smaller, but very mighty turnout – featuring what ended up being mostly other entrepreneurs and bloggers!
We also had a great time while staying with friends in Hollywood, Los Angeles. We had a strong showing of personal finance industry folk and bloggers turn out and share some great tamales and stories at the meetup.
Let me pause here to share that at each step of the way our sponsor, Adaptu.com swooped in and bought free food for everyone – at each meetup.
To be clear, this isn't something they are supposed to do. Nor is this something I'm required to talk about here. I'm just extremely fortunate to have found and created a really great relationship with the team over there.
They've been a fantastic company to work with – and offer a valuable service that is completely free. Thanks again to Adaptu for help making this tour a great experience for us so far! 🙂
Next stop: SAN FRANCISCO!
May brings us into San Francisco (where I'm writing this as of now), for the first couple of weeks.
In mid-May, we'll spend a week driving through northern California and southern Oregon. We hear these areas are especially beautiful for driving.
Ultimately, we'll pull into Portland, Oregon toward the end of the month – and are looking forward to a couple weeks with good friends and allies before the World Domination Summit in early June.
RV Expenses/Lifestyle Cost…
Speaking of the tour, here's a glimpse at the expenses related to our RV lifestyle (for April).
Gas: $605.03 (-58%)
Whoo-hoo, down over half! While gas prices have continued to go up, up, up… we've driven less, less, less.
Essentially, we drove only two legs: from Phoenix to San Diego and from San Diego to L.A.
Campground Fees: $489.50 (-13%)
We stayed the far majority of the time at campgrounds this time, but did benefit a small amount from having cheaper parking with friends in the Los Angeles area at the end of the month.
As it seems moving forward, $500 appears to be a realistic and comfortable budget for us. We *could* do it on much smaller incomes, but we also could easily spend more as frequently as we are moving.
Hotel/Hostel/Lodging: $0 (0%)
Once again, we've avoided any extra cost from lodging outside the RV – making two months in a row now.
This isn't much of a feat, but early on we had several circumstances that forced us into more expensive lodging.
Propane: $35.06 (+100%)
We only had to fill our propane tank once in April (after not filling it at all in March).
It appears as long as we stay out of cold weather, propane won't add any significant pain to our budget. It's actually fairly affordable.
Tolls/Parking: $0 (-100%)
April didn't see any toll roads, parking garages, or miscellaneous fees that we encountered on the road.
We did get stopped along the Mexican/U.S. Border – but all they wanted to know was if I was a U.S. Citizen. Check.
Repairs: $ 55.25 (-40%)
As with last month, we only had one very minor problem with the RV or Jeep this month.
It came to our attention that we had the wrong size of "hitch ball" that we were towing the Jeep with. While it had still towed several thousand miles, it was starting to warp a bit – and wasn't the most safe option.
In addition, the wiring jack that connects the RV lights to the Jeep lights when we were towing was shorted out (this is important so the brake lights and such work on the back of the Jeep when towing).
I'm proud to report, I fixed both problems myself with a trip to AutoZone. Now, these are the most simple problems in the world for anyone who works on… well, anything. But for me, splicing the wires and installing the proper trailer hitch are HUGE accomplishments!
I'm very happy with our expenses this month. We saw reductions in nearly every category. We live a VERY comfortable RV lifestyle (and a fairly mobile one) and our expenses are becoming much more controllable.
Hoping to keep it up!
*****
As always, I'm willing to tackle any questions you may have in the comments below.
I'm excited to have you along for the ride – and to have a community where I can share so openly.
Xoxoxo,
-Baker
[share_sc]