[share_sc]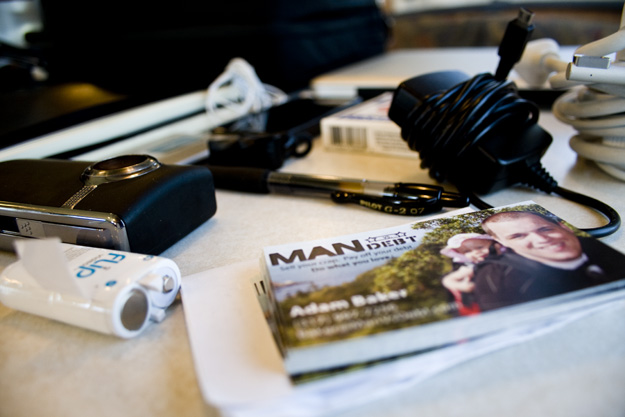 One of the most common questions I get from people (when they find out we work/travel full-time in an RV right now) is… how?
How do I work on the road?
What do I use for internet?
How can I stay up with my business?
What kind of gear or gadgets make this possible?
To be honest, it's really not that complex. Over the years, I've refined the minimal amount of stuff that I need to carry around to ensure I can handle just about any work situation that may come up.
Everything I need is stored in my laptop bag at all times – which means within 30 seconds I can be packed up and on-the-go without worrying that I forgot something that I'll need.
[share_sc]
In the video, I go through every item in my simplified ready-to-go work bag.
For those of you that can't watch it, here's a quick list of every item (w/ amazon links) ranked by importance:
15″ MacBook Pro – This is my primary weapon of choice. I love this computer. I also carry around the charger of course. 🙂
(2) Moleskine notebook – All my ideas, concepts, blog posts, or projects start in these notebooks. It's essentially what I use (in combination with gmail) as my productivity system. Again, I really enjoy these notebooks.
iPhone 4 Black – The amazing Chris Jourdan sent Courtney and I new iPhone 4s earlier in the year! I use the apps Yelp, Mailchimp, WordPress, Paypal, Chase, and Skype for business on the road all the time. The charger comes with me, too.
Virgin Mobile MiFi – This gives us wireless internet anywhere we can get 3G. It's $40/month with NO CONTRACT which is why we initially got it! Still works pretty well.
iPhone headphones – Still stuck with the very basic headphones. Looking for an alternative that is more comfortable for multiple hours of use.
Jawbone ICON bluetooth headset – I use this to take calls or do interview while driving in the RV. I'm not convinced it's really that great, but I guess it does help reduce external noise a bit.
Spare set of business cards – Just in case I meet someone who needs some more information!
A Deck of Cards – Always need a deck of cards – you just never know. 😉
BodPod paperwork – I keep the "BodPod" bodyfat measurements paperwork I got at the beginning of my weight loss journey with me (as a reminder to stay focused).
That's it! As always, I'm more than willing to answer specific questions in the comments below!
*****

I've told you *what* I use to work, but nothing about *how* I build my business while on the road. That would simply take too long to do in blog post format!
Which is why early next week, Corbett Barr and I are opening the doors on what we are calling "The Hustle Project".
It'll be a series of webinars (twice per month) with insights into the exact step-by-step tactics and strategies we used to build momentum in our online businesses. Along with live Q&A sections, audio downloads, full transcripts, and accountability profiles.
Here is our theory, boiled down into a simple formula:  Action + Accountability = Momentum
This project will only be for online entrepreneurs who are serious about building something sustainable, it's not meant to be for hobbyists, people deep in debt, or casual businesses. Sorry!
If you are interested in the "do what you love" part of my message (and are serious about it), sign up here to be notified early. If you aren't interested in building an online business, that's cool too – back to regular programming next Thursday. 🙂
xoxoxo,
-Baker