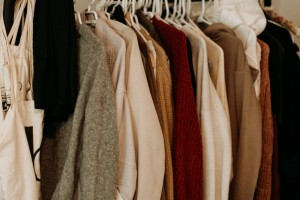 According to the Census Bureau, the thrift industry in the United States amasses a staggering revenue of about $17.5 billion annually. 
What's more? Statistics from numerous experts believe that this shopping method is currently growing. This shopping method has expanded, as stores now leverage the internet to sell their clothes.
Whether patronizing a thrift store online or within the vicinity, consumers have maintained that these stores have been a valuable means of saving money.
If you're looking for an article that provides in-depth knowledge about this industry, then you're in the right place. The points we'll discuss in this article are: 
Definition of a thrift store, 

How to find the best thrift store? 

How to find the nearest thrift store? 

How to start a thrift store?
Let's dive right into the crux of the article: 
What is a Thrift Store? 
According to the Cambridge dictionary, a thrift store is where used items like clothes, books, artifacts, etc., are sold to raise money for charity. 
Thrift stores are sometimes called consignment stores. However, this is a wrong view. For a better understanding, let's make a quick comparison. 
Thrift Store
Consignment Store

Profit from item sales goes to charity. 

Items donated remain in the store till they're sold. 

A good number of thrift items are of poor quality. 

Ownership of the item is automatically transferred to the store once the item is donated. 

Profit from sales goes to the seller. 

Owners consign their goods to the store for a specific time. 

Consignment items have a high value. 

The ownership of items remains with The consignor until the item is sold. 
For more information, read this article that properly details thrift stores vs. consignment stores. So, how do you find the best thrift store to use? Let's discuss this: 
How to Find the Best Thrift Store? 
According to census.gov, the United States alone has more than 25,000 Not for Profit resale shops as of august 2022. With this high number of stores: how do you find the best amongst them? 
To find a great thrift store for your shopping, do the following: 
Read through reviews on reputable platforms, 

Check if it's located in a reasonable vicinity, 

Inquire about the time it closes and how frequently it's open. 
Let's discuss each of those points. 
Check out their Ratings and Reviews. 
Ratings and reviews are summaries of past customers' experiences, providing insight into the quality of their thrift collections, customer-friendliness, and whether the purchase is worth it. 
Beyond this, the review also lets you know the best and the worst items to purchase in the store. Since most reviewers are honest, they'll likely detail their pre-purchase and post-purchase experiences. Thus, helping to inform your decision on which item is genuinely worth buying. Sometimes the seemingly valuable product is of poor quality, but by checking reviews, you'll know the durability of the thrifts they sell. 
Is the Thrift Shop in the Right Location? 
Ideally, it would be best if you shopped at a thrift store nearby. 
However, here's a little trick to getting better quality. 
Quite often, the quality of donations to thrift stores varies from location to location. Generally, high brow areas tend to have thrift items of better quality than low-income earning areas. 
Let's compare goodwill stores in different localities as an example: 
Goodwill Menlo Park CA vs. Goodwill Salinas
Goodwill Menlo park is located in a high-brow area, while salinas are located in a low-brow one. 
Taking Google reviews on Goodwill Menlo park into account, items in this thrift shop are reasonably priced compared to alternatives. However, they are of top-notch value. Also, the clothes there are renowned brands like Calvin Klein, Coach, Jimmy Choo, Michael Kors, Kate Spade, etc. Each of which sells at $15 to $20 per piece. 
Google reviews on Goodwill Salinas suggest that the items there are of low quality. Albeit ridiculously cheap, some reviews described most of the thrifts there as "trash." There are also complaints that the store has a multitude of resellers who are hurriedly hunting for the few high-quality items available. Thus, the chances of getting something of quality are extremely low. 
Goodwill Mountain View vs. Goodwill San Fernando
Goodwill mountain view is located in a high-brow area, while the other is not. Let's compare what Google reviews say about how both differ. 
Google Reviews on Goodwill Mountain View, also called Goodwill of Silicon Valley, portrays the location as numerous high-quality items. Reviewers also show that it's the ideal place for finding random items like woodcraft, fancy dinnerware, and other items you won't easily find online. The only demerit noted by reviewers is that items are somewhat pricey but still significantly cheaper than the cost of purchasing new items of the same quality. 
On the other hand Google Reviews on Goodwill San Fernando portrays that most items here have poor quality. Reviewers opined that the only way to get high-quality items is to be somewhat lucky and aggressive. People can push you out of the way to hurriedly get their hands on new bins. One reviewer even noted that they probably sell items that don't get sold in other stores. 
As you can see from the examples given above, location is one of the primary factors to consider before patronizing a thrift shop. Another factor to consider is when the thrift store closes.
What Time Do the Thrift Stores Close? 
As with other stores, thrift shops have closing and opening hours. Thus, before scheduling a visit, you should run a quick search–particularly for visitation to thrift stores outside your locality.
Popular Thrift Stores
Opening Hours 

Goodwill

Most Goodwill thrift stores open: 

9:00 am – 8:00 pm (mon-sat)

9:00 am – 6:00 pm (sun)

For specific opening hours of Goodwill stores per location, click here.  

The Salvation Army

Stores open: 

10:00 am – 6:00 pm (mon – sat)

Closed (Sun)

Click here for store location and specific opening hours. 

GoodFair

Always open. (online-based)

America's Thrift store

Most America's Thrift stores open: 

8:00 am – 9:00 pm (mon-sat)

11:00 am – 7:00 pm (Sun)

Click here for specific opening hours per location.  
As seen in the table above, opening hours for thrift shops differ from brand to brand. And in some cases, it also varies per location. 
How to Find the Nearest Thrift Store? 
Finding a thrift store by yourself can be difficult depending on your locality. However, you can easily find stores near you by asking friends, families, and neighbors. Or by using these websites.
Google  
The easiest way to find a thrift store close to your home is via Google's "Near By" feature.  
To use this tool, type in the keyword "thrift stores near me" on Google, and a map of available thrift stores will pop up. The map also provides directions on how to get to the store. And if you have a specific item you're searching for; you can narrow your search to only specialty stores. 
Specialty stores are those that have unique offerings. For example, some thrift stores specialize in providing second-hand books. You'll likely find a high-quality book at a specialized store than a generic book store. 
Thrift Store Locator
There are web-based platforms that aim to provide users with thrift shop reviews and generic info about specific stores, e.g., The Thrift Shopper. These platforms allow you to locate stores via postal code and location. 
Check Through Your Neighborhood
All thrift stores work by receiving donations from people. And as we've demonstrated earlier, shops in high-brow areas have better quality thrifts than those in low-brow areas. Thus, you may want to visit specific neighborhoods in your city for thrifts. 
Review Platforms
Like any other enterprise, thrift stores are featured on review platforms like BBB, Yelp, etc. Review platforms help you search for businesses per location and also tell you if the store is worth visiting or not. It's in your best interest to carefully read these reviews as past customers make them and let you know what to expect from these stores. 
Acquaintances 
Chances are high that someone you know in your neighborhood has either used a thrift store before, seen one nearby, or knows someone that uses it. Ask within your circle of influence, and you'll likely get a much-needed answer. 
How to Start a Thrift Store 
Starting a thrift business is undoubtedly a lucrative enterprise, and there are statistics to prove that. One such is by IBISWorld, which reported that the thrift store market will grow by 2.4% this year alone. Another interesting stat is that over 40% of thrift purchases are by Gen Zs and millennials. 
Thrift companies like ThredUp, Poshmark, etc., are experiencing rapid growth. If you're thinking of joining this line of business, you should first choose your niche. Would you rather opt for an online store or a physical store? Let's educate you on both. 
Online Thrift Store
Before you start selling thrifts online, it's best first to choose your niche. In considering a niche, think of your interests, items you can quickly get donors for, and items that are easily resaleable. Examples of thrifts you can sell are: 
Antiques,

Furniture, 

Home Decor,

Clothing Shoes.
Once you've chosen a niche, the next step is selecting a suitable platform. Top platforms for selling thrift items are: 
eBay
eBay is a low-priced eCommerce platform that allows sellers to display items for sale. Sellers can either display items at one-off prices or encourage bidding. 
To sell thrift items on eBay: 
Open a seller account on eBay, 

Pay the requisite fee, 

List your items for sale, 

Set the parameters and price. 
Etsy
Etsy is a platform that connects individuals that want to sell vintage items, crafts, arts, and handmade goods with buyers. To make sales on Etsy, you should follow these steps: 
Create an Etsy account, 

Choose your category, 

List the item, 

Pay $0.20 per listing. 
Note: Etsy takes an additional 5% on the sales fee. 
Instagram
Instagram is one of the most popular social media platforms. The platform has business accounts that let users sell services on the internet. You can sell thrift items on social media by following these steps: 
Create a business account on Instagram, 

Upload your thrift items, 

Sponsor your posts.
Perhaps you don't wish to sell your thrift items online. You can also sell them offline. Let's discuss how to open a thrift store. 
In-Person Thrift Store
If you're willing to start an in-person thrift store business, one thing to consider is licensing. Let's discuss this: 
What License Do You Need to Start a Thrift Store Business?
The United States has some basic licensing requirements to start a thrift shop at the federal, state, and local levels. Albeit these requirements differ per location, there are some basic permits you should be aware of. These are: 
Thrift stores in the United States must adhere to the US Consumer Product Safety Commission  (CP stipulationsSC). This organization oversees thrift store regulations. It also restricts thrift shops from selling certain items like cribs of a certain age, leed paint, toddler and infant products, etc.
Although states determine most thrift store regulations, some cities also have restrictions. Cities with such laws are New York and Iowa. 
Other licensing you'll need to get are: 
Business name registration, 

General business permit, 

Sales tax permit. 

Federal employer identification number 

Resale certificate 

Certificate of occupancy.
In Summary,
Thrift stores provide users with household items for some of the most cost-friendly prices possible. However, to benefit from this shopping style as an end user or an entrepreneur, there is some information you should be aware of. This article contains all the tips and tricks you need to shop right. We also talked about some vital information about owning a thrift business.