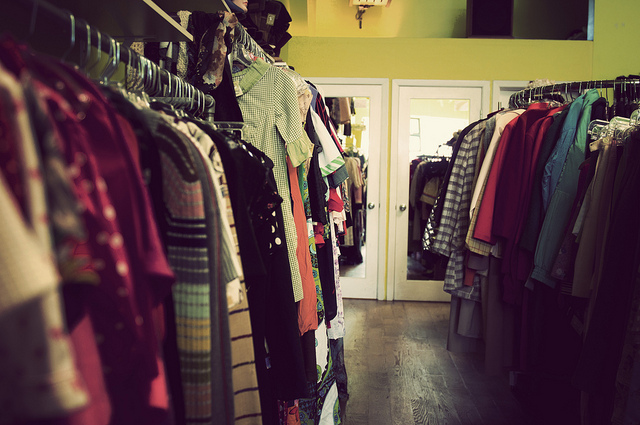 [share_sc]
Note: This is a post from Courtney Baker, chief seller and long-time running wo-man of MvD. This article may contain affiliate links that help support this website.
For the longest time, I misunderstood the world of second-hand shops. I assumed that all shops gathered their inventory by buying goods from people directly, or from donations. I was completely oblivious to consignments.
I also was completely unaware that online marketplaces like craigslist, and eBay are also considered second-hand shops.
It turns out there are four types of second-hand shops – consignment, pawn, classified and thrift.

The difference between each one comes down to:
When you relinquish ownership of the physical possessions
When you are paid
Whether someone helps you sell your items
Consignment
Consignment is when a shop sells goods for an owner. The owner keeps ownership of his item until it sells, if it sells. As the owner, you'd pay a small fee to the shop as compensation for them selling your item.
For example, you consign a children's bicycle for $20. Generally, when they sell your bicycle, they take their 50% or $10. You receive $10. If the bicycle doesn't sell, then you take your items home for no charge. (Some places do charge a small "activation" or consignment fee.)
There are two consignment options – physical shops and weekend sales.
Consignment shops
Consignment shops are locally owned businesses with a mom-and-pop feel. They set their own terms for how their consignments work, so it's important to research the store policies before committing. When you visit the store, the items will have an identification code on the tag to identify which account gets credit for the sale.
How it works for the seller
It's standard for you to drop off your items for a 30-, 60- or 90-day cycle. If your item doesn't sell within that period, some shops will discount the item (by say, 30%), or you will need to pick it up. You can expect to be charged a 25% to 60% commission, which the shop collects as its profit. Some shops offer you higher percentages if you take in-store credit instead of cash.
Is it worth it?
There isn't a ton of inventory in these shops, so your item has less competition, but in many cases, there also isn't a ton of traffic coming through the door. It takes quite a while to see results from many of these shops, so it's not a great idea if you need cash pronto.
I think consignment shops are only worthwhile if you have quality goods to sell. For clothing, you need to have high-end brands. You'll need antique furniture or nearly new high-end pieces. Auctions are hit and miss. I've even found the children's consignment shop circuit to be impossible to make money at with kids' stuff unless you have some really high-end brands.
I avoid consignment shops as a seller, but love them as a buyer!
Examples of consignment shops:
Consignment sales
Consignment sales are short, but intense events. They usually pop up for a weekend, 2 to 4 days, in random vacant spaces. I've seen them in strip malls, hotel conference rooms, and school gymnasiums. They are intense, because hundreds of people will be thumbing through the items throughout the weekend. The energy is high, and you can expect to see shoppers' cars packed to the brim!
How it works for the seller
The week before the sale, you'll prepare your items with tags specific to your sale (most sales have a website with full information). A few days before the sale, the organizers will open the doors for you to drop off your items. It's standard to earn 60% of the sale price as a base rate on your sold items, but you'll also pay a $10 to $15 entry fee.
After the sale, you can either collect your items or have them donated on your behalf.
Is it worth it?
Consignment sales have the opposite problem of consignment shops. There's an incredibly large inventory. I've never seen so many play mats, strollers or onesies in one place! Your item will have a harder time standing out, but there are literally hundreds of shoppers ready to load up their cars.
I personally prefer a consignment sale over a consignment shop, because I get immediate results. I find that I can send less-than-perfect items to a consignment sale that wouldn't be accepted in a consignment shop.
Plus, I love the frenzy, which would be an absolute con for several of my girlfriends!
The most important thing to know about consignment sales is that they are only worth it if you have a large selection of things to sell. It's hard to turn a profit with five smaller items and a $10 entry fee.
Examples of consignment sales:
Pawn shops
I have a very stereotypical picture of pawn shops. It involves jewelry, ripped-off cell phones and wrought-iron bars. I never thought of resale clothing stores as pawn shops, but technically, they are.
In a pawn shop, you relinquish your ownership of your item in exchange for immediate payment.
There are actually several nationwide chains that resell goods under pawn-shop policies, like Half Price Books and Plato's Closet.
How it works for the seller
For example, you want to sell baby clothes. You bring in your tubs of clothes for the shopkeeper to evaluate. At the end, they offer a quote for the cluster of items they're interested in. If you agree, then they'll pay you from the cash register.
The items no longer belong to you. They may never sell the clothes, but it doesn't affect your payout. All the risk falls on the store.
I've found these types of shops to be inconsistent in how much they pay you. Your quote may be different on a Tuesday than on a Thursday for no real reason.
I say this very lightly; but technically, it's 50% of what they'd sell it for. So, if a pair of Children's Place pants in their store resells for $7.50, you'd earn $3.75 up front. A book will resell for $10, so they pay you $5 for it.
Is it worth it?
You don't have any control over how much your item sells for. The company will make an offer, and you can accept it or turn it down. This is a great option if you want immediate, same-day results and never worry about your crap again.
Do I think you're getting the best for your money? No, not really. I think you'll get better results from the next types of second-hand shops – classifieds. I do think they're better than consignment shops.
This is where you have to look at your priorities for time and money. Is it better for you to just be done with it? Or are you wanting to really recoup as much value out of it?
Examples of pawn shops:
Classifieds
Classified ads are the alternative to the standard second-hand shop. They're widely popular for eliminating the expensive middle man. While there nominal fees for placing your ad in a newspaper, magazine or online marketplace, it's usually smaller than consignments or pawn shops.
Classifieds also provide a marketplace for items that are rarely sellable in the other shops, including RVs, collector's items, renovation scraps or items in bulk.
How it works for the seller
The costs and procedures drastically vary from platform to platform. Newspaper spaces can cost $15 or more for an ad, while the online marketplaces can cost $1. Craigslist is beloved, because it's a completely free marketplace for selling your stuff.
The pro to a classified ad is that you have more control over your item, but that also means you have more decisions to make and more responsibilities to get it sold.
You'll want to consider:
How much is the ad?
How many people will see my ad?
Do I know anyone who's successfully used this platform?
How much time do I have to sell my item?
Is it worth it?
With other types of sales, you are paying some of your profit to businesses to get the job done. With classifieds (person-to-person sales), you can save that money, but now you are the one connecting with potential buyers, negotiating prices and handling the transaction.
I've found a system that makes this a no-brainer for me. I've learned how to quickly write ads, to know which marketplaces to sell different items in, and how to handle interested buyers.
This is the route that allows me to get the most money out of my used crap, most efficiently. As a warning, though, this type of second-hand selling can also flop if you don't do any research.
Examples of classifieds:
Thrift shops
It's important to point out that some second-hand shops operate solely based on donations. These thrift shops frequently work as non-profit organizations, but not always.
How it works for the seller (or in this case, donater)
You drop of your donations at the store (although some offer a pickup service), and they'll give you a tax-deductible receipt based on the estimated value of your items. You feel good about yourself while increasing your tax deductions, and they place your items on their shelves.
Is it worth it?
There are some scenarios (like donating an old car) where the tax-deductible receipt is a lifesaver, but I rarely actually use it.
When the payouts from other second-hand shops would be tiny, I prefer to just donate those items. I might be missing out on a couple of bucks from that item, but I'm avoiding the hassle of selling it while also helping a good cause.
I regularly donate my baby clothes to local shelters (obviously, not a second-hand "shop," but a non-profit). Every time I take them into consignment or pawn shops, I get offered quarters for nice clothes. Instead, I'm happy to give it to a needy family!
Examples of thrift stores:
Smaller local non-profits
The resale store full of donated goods down your street might not be labeled a thrift shop. And Half-Price Books doesn't market itself as a pawn shop. But it's true!
Selling your stuff second-hand is a great way to clear out your house and pocket some extra cash. Hopefully these tidbits will help you decide which second-hand marketplace is the best option for you.
[share_sc]
Where do you sell your stuff second-hand? Have you had any success with consignment shops?
Comment and let us know!